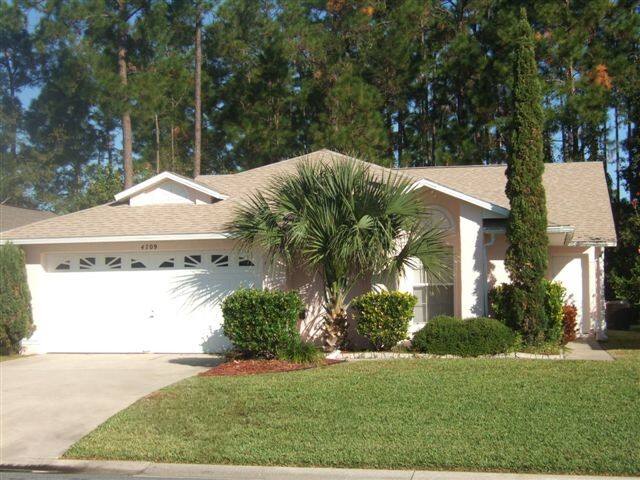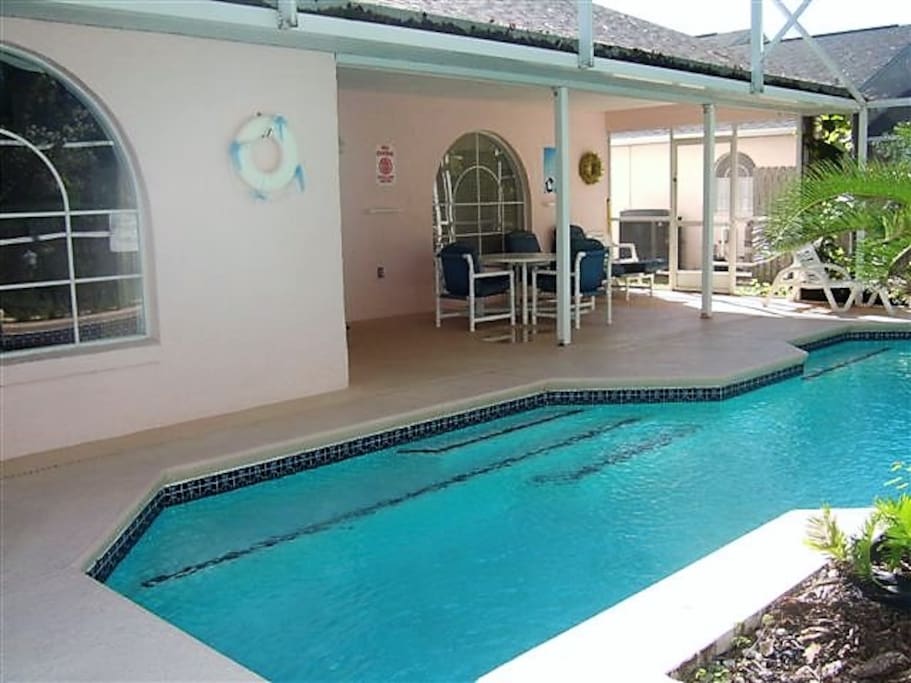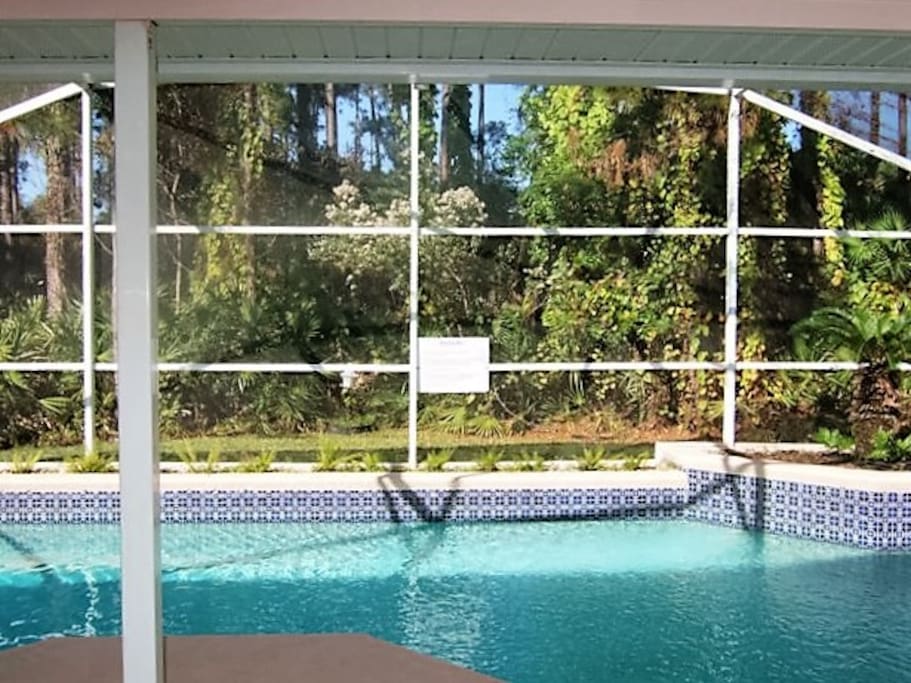 3 Bedroom Disney/Orlando Private Pool Home with Conservation View!
The space
3 BEDROOM, 2 BATH Disney Area Vacation Pool Home featuring PRIVATE SCREENED-IN POOL, GREAT LOCATION and FREE WIFI! brbrThe BEST choice for your next Florida vacation, this rental home is perfect for large families, sports groups and family reunions. You'll stay near the Walt Disney World resort, Universal Studios Florida, SeaWorld Orlando, Shopping, Restaurants, Outlet Malls and Golf. Florida's beaches are a short 45 minutes away.brbrThis family friendly Orlando Vacation Home will not last! Make your reservation today! brbrBEDDINGbrSleeps 6br1st Master Suite: King Size Bedbr2nd Bedroom: Queen Bedroom br3rd Bedroom: 2 Twin BedsbrbrVACATION HOME AMENITIESbrPrivate Screened-In Pool brFully Equipped Kitchen with Dishware, Glassware, Microwave, Blender and Coffee PotbrFull Size Washer DryerbrAir ConditionedbrTowels Linens Supplied (Excluding Beach Sized Towels Personal Washcloths)brFREE ParkingbrFREE High Speed Internet brTelephone with FREE Local Calls including Canada and Puerto Rico brCable TV, DVDbrbrCOMMUNITY AMENITIES: brThe very best of Florida Living, this exclusive and tranquil established residential neighborhood of Winwood Cay is surrounded by Lush Landscapes, Walking Trails and Florida Wildlife. Conveniently located just off US 192 in Kissimmee and close to Walt Disney World Resort, Universal Orlando, SeaWorld Orlando, Shopping, Resturants, Outlet Malls and Golf.brbrLOCATIONbrWalt Disney World Resort - 10 MinutesbrDisney Water Parks - 10 MinutesbrUniversal Studios Florida - 20 MinutesbrIslands of Adventure - 20 MinutesbrSeaWorld Orlando - 20 MinutesbrOrlando Convention Center - 10 MinutesbrFalcons Fire Golf Club - 05 MinutesbrMystic Dunes Golf Club - 15 MinutesbrOrlando Intl Airport (MCO) - 25 MinutesbrGatorland - 20 MinutesbrLEGOLAND Florida - 45 MinutesbrFloridas Famous Beaches - 45 Minutesbr
Other things to note
Florida Law requires that sales tax and occupancy hotel-motel tax be collected on all rentals. Tax requirements are subject to change by state and local taxing authorities.
---
---
Check in is anytime after 4PM
Rental Terms Conditions
Welcome to Florida Villas Homes DBA Elite Homes and/or its affiliates and partners (Management Company, We) provide property rentals and management in the Kissimmee area subject to the following conditions. If you place a booking with us, you accept these conditions. Please read them carefully. In addition, if you place a reservation through one of our affiliates or partners, you will be subject to the guidelines, terms, and agreements applicable to such business.
This contract is between the Management Company and the party leader (You, Guest) who must sign the booking form accepting these conditions on behalf of all persons named on the booking form (Guests), including those substituted or added by agreed amendment of the booking. Only persons named on the booking form are entitled to use the property. A contract exists when you have paid a deposit and the Management Company has confirmed the reservation in writing.
Guest Responsibility
Guests must treat the property, its furniture, fittings, utensils and other facilities with care and respect. Any loss or damage incurred to the property must be immediately reported to the Management Company. You will be responsible for any loss, damage or breakage caused during the stay.
Occupancy
Properties range from 3 to 15 miles from the Main Gate of Walt Disney World Resort. All properties are limited to the bedding capacity and to registered guests. The Management Company reserves the right of eviction for unauthorized occupancy (maximum occupancy standards are regulated by the county fire chief and local authorities).

Check-in/Arrival
Check-in time is after 4:00pm on the day of your arrival. While we work hard to provide earlier check-in times to the Guest, We are unable to guarantee this due to the cleaning service that each property requires. The Guest must check-in at our office; you may not arrive directly to the property. If arriving after office hours, property keys and directions will be left in an afterhours lock box at the front door of the office. All Guests arriving after office hours must register at the front desk the next day – failure to do so can result in being locked out of the property.
Office Location
5299 W. Irlo Bronson Hwy
Suite #4
Kissimmee, FL 34746
Check-out/Departure
Check-out time for all properties is strictly 10:00am on the day of your departure. Any request for a late check-out must be previously approved by the Management Company within 48 hours of departure. Late check-out is subject to property availability as well as an additional charge. Late check-outs may not be available during peak Holiday periods.
Payment
Full balance must be paid on arrival. If you arrival after office hours then payment is made the following morning. We accept cash, money orders, cashier's checks and major credit cards.

Deposit and Fees
A non-refundable payment if full is due 29 days prior to arrival.
Taxes
Florida Law requires that sales tax and occupancy hotel-motel tax be collected on all rentals. Tax requirements are subject to change by state and local taxing authorities.
Refunds
The Management Company cannot offer any refunds due to early departure and/or eviction from the property. No refunds or reductions in rent are granted for mechanical failures or malfunction, interruption of utilities or other maintenance problems concerning air conditioners, heaters, dishwasher, washers, dryers, televisions, DVD/VCR players, swimming pools, other appliances and amenities.
Cancellation Policy
If you cancel your reservation 30 days prior to your arrival date, there is no charge for cancellation. Bookings cancelled 29 days or less, to the arrival are non refundable.
Advanced Reservations
Reservations are accepted up to two years in advance. Those that are made for a future period, for which rates have not yet been set, are considered tentative. Once rates are set, notice will be given. At such time, guests will have the option of guaranteeing their tentative reservation with a deposit.
Minimum Length of Stay
Length of stay requirements vary by property and time of year. Rentals that do not meet the minimum stay will be charges a one-time short stay fee (fees vary by side of home/condo). This charge will automatically be applied to reservations 5 nights or less.
Property Guarantees Substitutions
The Management Company strives to comply with all reservation requests for specific vacation residences. However, due to changes in residence ownership, unforeseen mechanical problems, or any other circumstances, we cannot guarantee a specific rental property. We reserve the right to change assignments without notice or liability should a residence become unavailable. We do not guarantee specific properties when stays are 5 nights or less although every effort will be made to allocate the chosen home.
Group Reservations
We specialize in group reservations where a guest needs multiple homes in one community. Ask one of our sales specialists for more information and to assist you in making a group reservation.
Age
The Management Company will not rent to vacationing students or singles under 21 years of age. Any reservation made under false pretenses will be subject to forfeiture of advance payment of rent and deposit as well as possible eviction.
Behavior
Loud or unusual behavior is strictly prohibited. The Management Company reserves the right to evict, without refund, any person who creates a disturbance or become a nuisance. Violation of any property rules, including but not limited to the throwing or dropping of any object from patios and balconies, will result in an immediate eviction without refund.
Smoking
All residences are designated as non-smoking. For the convenience of smoking guests, an ashtray is provided on the outdoor patio.
Pets
Pets are not permitted. Should a pet be found in any home without authorization, a $500 fine will be charges to the guest's credit card.
Property Parking
The number of available parking spaces will vary according to each property. Many properties have restrictions for trucks, campers, boats, trailers, etc. Do not park on the grass lawn or you may damage the underground sprinkler system and will be held liable.
Barbecue Grills
Propane BBQ grills are available from the Management Company for rent. Due to Florida State Law, charcoal grills are strictly forbidden in screen enclosures.
Cribs, Highchair and Sofa-Beds
Any additional requests for roll-away beds, cribs, and high-chairs are subject to an additional fee.
Pool Heating Safety
Guests acknowledge that lifeguards are not provided at the property's swimming pool. Guests are responsible for the safety of themselves, their children, and their guests. NO reciprocal agreements exist between properties. Pools are for the use of property residents and guests only. There is an extra charge for the heating of pools and must be pre-paid prior to arrival. Pools will be cleaned weekly by staff. During this period there may be times when the pool must be treated, causing to be unusable by guests. This will be done according to the pool maintenance department schedule and cannot be scheduled according to the guest's request. During some occasion when it rains or when screen doors are left open, bugs and debris may get into the pool. We have provided each pool with a net in case this happens.
Telephone Service Charges
All residences have a telephone, which is not connected to a central switchboard. Local and tollfree calls are included with the reservation, and a pre-paid phone card is required for long distance calls. For more information please contact our main office.
Lock-out Charge
Should you be locked out of your rental residence during office hours, we will make every effort to provide you with a spare key at no charge. However, an after-hours lock-out will result in a $100.00 charge. PLEASE DO NOT EXIT THROUGH THE GARAGE.
Entry of Premises
An authorized employee or repairman may enter the property during regular business hours for any purpose connected with the repair, improvement, care and maintenance of the premises. The property you occupy may be listed for sale. If so, there is a possibility that our real estate office will call you and request a convenient time for a showing during your stay. Every effort will be made to schedule showings so as to not interrupt your vacation.
Agency Disclosure
The Management Company serves as the representative of all owners in its rental program, and is acting at all times in and for the best interest of the owners and guests.
Force Majeure
The owners of the property or their servants or agents will not be liable for any loss or delay due to, but not limited to, any of the following: Strikes, Riots, Political Unrest, Hostilities, War, or threat of War, Terrorist Activity, Closure of Airports or any other event beyond the owners' control. This includes losses during Hurricanes and storms.
---
Elite Vacation Homes offer the best selection of Vacation Rental Pool Homes and Resort Condos located in Kissimmee, Florida.  Our luxury vacation rentals are conveniently located just 10 minutes from the Walt Disney World Resort, 10-20 minutes from Universal Studios Orlando, SeaW…
Response rate:
100%
Response time:
within a day
Explore other options in and around Kissimmee
More places to stay in Kissimmee: