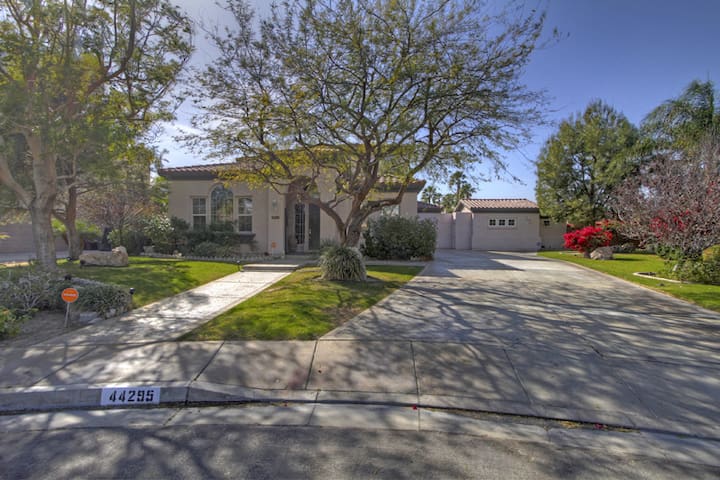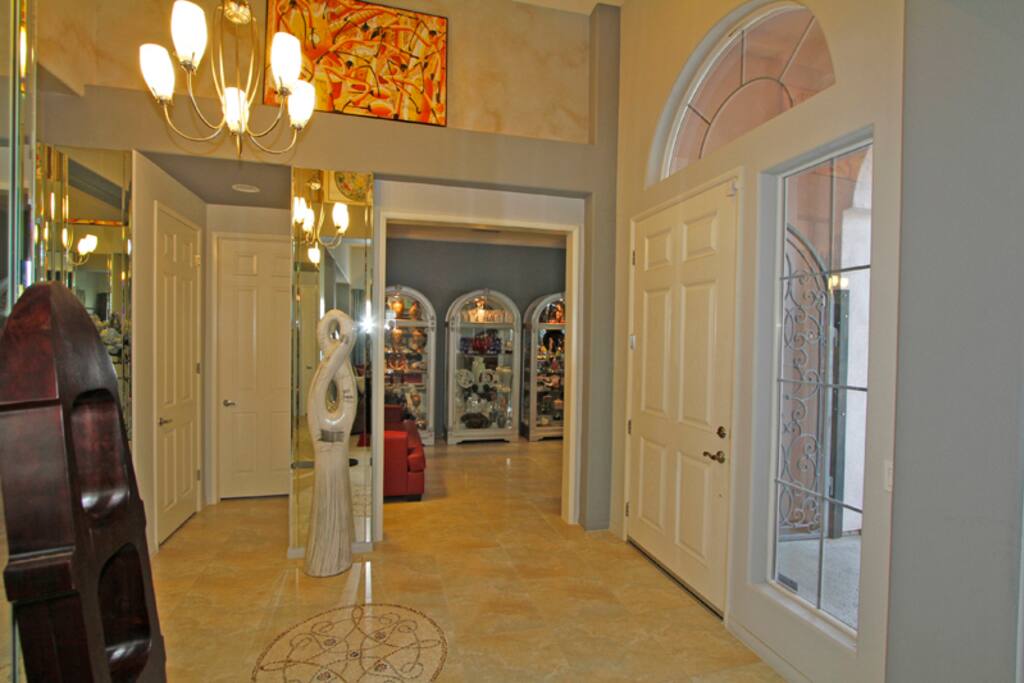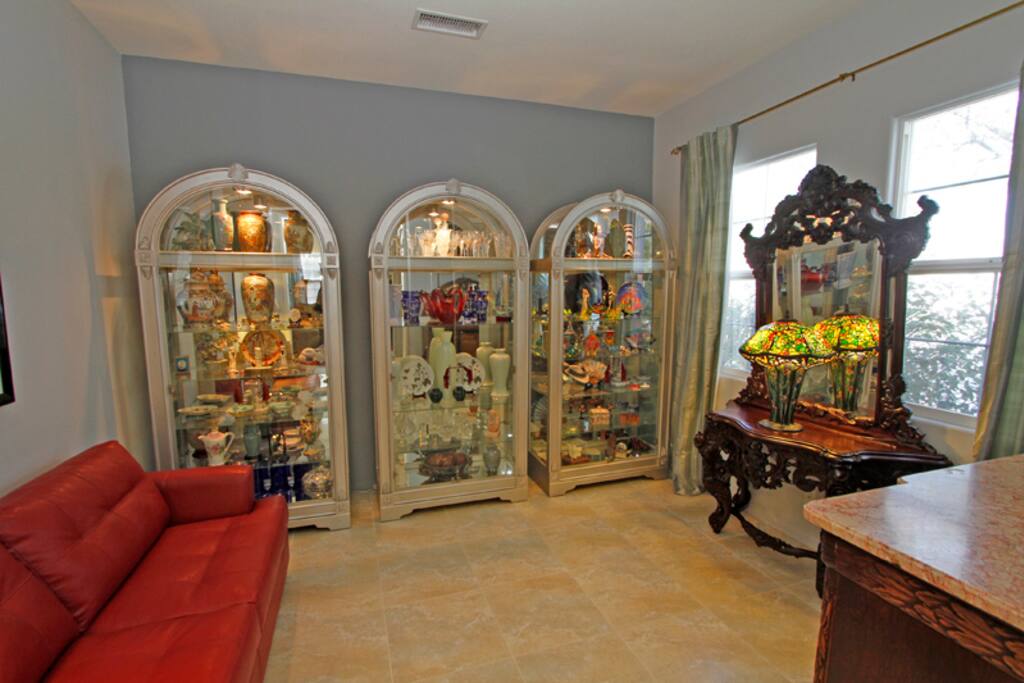 Luxury Via Coronado La Quinta, Pool, Sleeps 12
• Executive 5 Bedroom, 4 Bath 3900 Sq. Ft POOL home on cul-de-sac for privacy. Sleeps 12. Near Indian Wells Tennis Garden, Shopping, Restaurants, Movie Theatre, Golf & other special events.. You'll love this beautiful home because of the location, the privacy, the amenities, the views and the ability to just relax and enjoy.. Great for families, couples, solo adventurers, business travelers or a girls or mens retreat.
The space
• Executive 5 Bedroom, 4 Bath 3900 Sq. Ft POOL home on cul-de-sac for privacy.
• Entertainer's delight in North La Quinta - Walk to Indian Wells Tennis Garden, 5 minutes to shopping, groceries, great restaurants, post office and medical facilities.
• Five bedrooms plus a den with a sofa-bed can accommodate a family of 12 or 12 adults.
• Designer quality fully furnished and a gourmet kitchen with all amenities including granite counter tops.
• A great Pool, Waterfall and Patio area to dine or just relax and unwind. Spacious for entertaining!!
• WIRELESS (secured) high speed internet throughout the home and outside.
• Phone: FREE local and long distance…..Canada & USA
• BBQ on PATIO next to bar area.
• Several Cable TVS and DVD players with HBO, Showtime. Cinemax, Starz, Flix, Tennis, Golf, etc.
• Coachella Music Festival, Stagecoach Festival and Polo Grounds- 7.1 miles (13 minutes).
DINING ROOM: seating for 12 people Multiple dining areas.
BEDROOMS: 5 Bedrooms plus Den - Sleeps 12 Max.
Bedroom 1 Master - 1 king
Bedroom 2 - 1 king
Bedroom 3 - 1 queen , Poster Bed
Bedroom 4 Casita Detached - 1 King or two XL Twins in private Casita near pool
Bedroom 5 - 1 sleep sofa /futon , Sofa bed and Library
Bedroom 6 (Den) - 1 sleep sofa /futon , Open Den near entry with SofaBed and private bath nearby
Master has 37' HDTV with DVR, HBO, CineMax, Showtime, Starz, Flix. Casita has 42' HDTV with DVD Player and HBO, Cinemax, Showtime and Starz and FliX.
BATHROOMS: 4 Bathrooms
Bathroom 1 Master - Toilet, tub, shower, double vanity
Bathroom 2 - Toilet, combination tub/shower, double Vanity
Bathroom 3 - Toilet, shower
Bathroom 4 - Casita - Toilet, shower, Spacious
• All Baths are stocked with basic soap, shampoo, towels and toilet paper. There are also a few hair dryers available.
Guest access
Access to full home, garage, rear patio, parking in garage on on drivway for a minimum of 5 autos. Wine cabinet is locked and off-limits.
Interaction with guests
We live close by in Bermuda Dunes Country Club and will do our best to make your visit enjayable.
Guest Comments:
MEG .W of San Clemente, CA: Rating 5 of 5 STARS.
Large home with terrific location!
My group enjoyed a wonderful few days at this property! The management company was so easy to work with and the accommodations suited our group (8 ladies on girl's trip) perfectly. The neighborhood was quiet and friendly, and the location near the tennis garden and thoroughfares was ideal. We only wished that we had been able to stay longer to enjoy the property! Thank you so much for a wonderful experience!
Hugh & Sally: Denver, CO. - Rating 5 of 5 STARS.
Great Home
Very nice home with lots of amenities. It had four bathrooms which worked great for our group. The kitchen was huge with new appliances. We had a great time in the pool. It's very close to the Tennis Garden and lots of places to eat. The bedrooms were large and very nice. We will rent this home again.
---
---
Check in is anytime after 3PM
- Quiet Neighborhood. No loud parties.
VIA CORONADO RENTAL AGREEMENT
1) Guest(s) agree to rent this turnkey furnished 5 bedrooms plus a den with a sofa bed, 4 bath home for residential purposes only and for no other purpose whatsoever; for the dates specified and at the rates specified. Max overnight guests are 12. This is a great neighborhood, but for added security: Guest is advised to keep all doors locked and their vehicles and to not leave any valuables in their vehicles.
2) Home Facilities include a Pool with extra charges to heat.
3) Guest(s) will receive two sets of keys for entry/exit to home.
4) Blank.
5) UTILITIES: a) Electric, Basic Cable TV, Water -Unlimited included in rent; b) WiFi; c) PHONE: Use your cell phone for all calls. You are also responsible for all TV Channels where one has to pay to access and any channels you add to the service during your stay.
6) SUPPLIES: Home is stocked with 1 week basic supplies such as Shampoo, paper towels, toilet paper, soap, laundry detergent, etc.
7. PAYMENT: We accept payment only from Credit Cards and other sources shown on Airbnb website. All fees except for $1000 damage/pool heat deposit shall be made using the Airbnb website. Host requires $1000 refundable deposit to cover any damages and pool heat expenses. Pool Heat Fee is based on $300 Initial Heating plus $30 per night for bookings for first 14 nights and $20 per night for each additional night. This deposit shall be paid by sending a check payable to "TEAM WHEELER Rentals" at least 15 days prior to arrival date. Mail check to: 42575 Baracoa Drive, Bermuda Dunes, CA. To pay by Credit Card (mandatory if less than 15 days to arrival day) call or text owner with Credit Card info and you will be charged $1000 deposit plus $40 (4%) processing fee for a total of $1040. Host will return unused portion of $1000 deposit within 10 business days from checkout.
8) Cancellation Policy per Airbnb.
9) Deposit Refund will be made after the home is vacated and subject to the following provisions:
a. No smoking by any person inside the Home. Smoking is permitted in all areas outside the interior of the Home. Any evidence of smoking inside the Home will cause 100% forfeiture of deposit.
b. The entire home, including BBQ, Bar areas, stove, refrigerators, bathrooms, closets and cupboards are clean and in similar condition as on the first day of occupancy. $40 additional fee if BBQ is left uncleaned.
c. All keys are returned per guideline policy in home.
d. All debris, rubbish & garbage shall be placed in designated containers outside home. $50 from deposit if any garbage is left in the home.
e. Once all of these conditions have been met to satisfaction of the Host, and any cost for extra cleaning, repairs and any other unpaid fees have been deducted, the remaining balance of deposits will be returned by check within ten (10) business days of departure.
10) Guest(s) agree to return keys per guidebook instructions. $50.00 will be charged for each lost key. These fees will be taken from the deposit or credit card or you will be billed direct if amount exceeds deposit.
11) CONDITION OF PREMISES: Guest shall examine Premises including furniture, bedding, furnishings, appliances and fixtures including and provide Hosts via email a list of items or areas that need additional cleaning or maid service, all items that are damaged or not in operable condition within twelve (12) hours of arrival, not as a contingency of this Agreement, but rather as an acknowledgement of the condition of the Premises. No response within twelve (12) hours means that Guest acknowledges all items and areas on Premises are acceptable and in operable condition.
12) MAINTENANCE USE AND REPORTING: GUEST shall properly use and safeguard Premises, including all furniture, furnishings, appliances and all mechanical, electrical, propane gas and plumbing equipment and fixtures and keep them and the Premises, clean, sanitary and well ventilated. Guest shall immediately notify Hosts by email of any problem, malfunction or damage. Guest shall be charged for all repairs or replacements caused by Guest, pets, and/or guests of Guest, excluding ordinary wear and tear. Guest shall be charged for all damage to Premises as a result of failure to report a problem in a timely manner. Guest shall be charged $200 minimum for repair of drain and toilet blockages or stoppages. Host charges one (1) hour minimum at $60 the first hour and $50 each additional hour to cover time and travel related to Guest caused damage, repairs, replacement or return of items left at property. This will be deducted from the deposit or credit card on file.
13) AIR CONDITIONING, HEATING, POOL EQUIPMENT and other equipment: In the event any Air Conditioner, heater, fan, pool equipment or other equipment fails to work, Host will do their best to expedite repair or replacement. It normally takes 24 to 72 hours for a contractor to respond unless it is a life threatening emergency. For any problems relating to Premises A/C, Heating, Pool or other equipment, the max nightly credit for any one item will be $20 per night and for multiple items, the max nightly credit will be $30 per night. Max refund for all visits over one week for any one or more failures is $150. There will be no exceptions to this policy.
14) Guest(s) agree not to use or permit the premises to be used for any illegal or improper purposes, not permit any disturbance, or noise or annoyances, whatsoever, detrimental to the premises or its neighbors.
IMPORTANT NOTE - PLEASE READ THIS: This home is in a quiet community where Hosts and their guests come to relax. Big, loud, and/or late night parties will NOT be fun at this home, because the neighbors WILL be upset, they WILL come knocking, and they WILL call the Host and the police to put a stop to the party. This has happened only once before. This situation is seriously NOT FUN for everyone involved, especially the guests and the neighbors. For your own sake and for the sake of your fun-loving friends, PLEASE DO NOT BOOK THIS HOME FOR PARTIES. That said, reasonable, small family/guest gatherings of the quiet and respectful type (you know what we mean) will be no problem.
15) Guest(s) agree to not sublet this property or any part thereof or assign this agreement without the written consent of the Host.
16) UNAVAILABILITY OF PROPERTY: In the event the Property is not available for use during any portion of the Rental Term due to reasons, events or circumstances beyond the control of Hosts, Hosts will apply due diligence and good faith efforts to locate a replacement property that equals or exceeds the Property with respect to occupancy capacity, location and value that meets the reasonable satisfaction of the Guest. If such replacement property cannot be found and made available, Hosts shall immediately return all payments made by the Guest, whereupon this Agreement shall be terminated and Guest and Hosts shall have no further obligations or liabilities in any manner pertaining to this Agreement.
17) OVERSTAYING WITHOUT THE HOST'S CONSENT: Guests agree that a confirmed reservation is merely a license granted by Host to Guest to enter and use the Property for the limited duration in accordance with the Guest's rental agreement. Guests further agree to leave the property no later than the checkout time that is specified in this agreement or such other time as mutually agreed upon between Hosts and Guest. If a Guest stays past the agreed upon checkout time without Hosts consent, they no longer have a license to stay in the Property and the Host is entitled to make the Guest leave. In addition, Guests agree that the Host can charge the Guest, for each 2 to 24 hour period the first day and each 24 hour period after the first 24 hour period that the Guest stays over the agreed period without the Host's consent, an additional penalty fee of two (2) times the average nightly Rental Fee originally paid by Guest to cover the inconvenience suffered by the Host, plus all applicable Fees, Taxes, and any legal expenses incurred by the Host to make the Guest leave (collectively, "Additional Sums"). Guests agree that Hosts in its role as collection agent for the Host, shall charge the Guest's credit card to collect these Additional Sums. In addition, Hosts may recover any costs and expenses (based on a labor rate of $60.00 per hour) it incurs in collecting the Additional Sums by charging the Guest's credit card on file.
18) Maid Service: Yacht will be clean and in order upon arrival. Maid service fee of $260 is for 10 hours cleaning after check-out. This charge has been satisfied prior to arrival. Maid service exceeding 10 hours upon check-out will be $50 for each additional hour and will be deducted from your deposit.
EMERGENCY or MAJOR PROBLEM: Contact Terri or Zeke per guidebook in home.
This Agreement is Confidential between Guest(s) and Hosts and shall not be discussed or disclosed to any other person or neighbor. If anyone asks, just tell them you are guests of Zeke and Terri Wheeler. I fully understand this confidentially agreement and agree to fully honor it.
WAIVER OF LIABILITY AGREEMENT
This Agreement waives the liability the legal Host, Zeke & Terri Wheeler hereinafter referred to as HOSTS for any and all use of the home, the pool and any other entities within the owner's legal lot hereinafter referred to as "the property".
1) Traveler Guest who books this home wish for myself, my spouse/significant other, my parents, my children, all visiting guests and all pets hereinafter referred to "using parties" to rent and utilize ""the property"". I hereby agree that the use of "the property" is at each of the "using parties" own risk.
2) As a condition of the use of "the property", I on behalf of "using parties" expressly agree to forever discharge, waive and release HOSTS and their heirs, successors and assigns from any and all claims, demands, injuries, damages, actions, or courses of action, and from all acts of active or passive negligence on the part of HOSTS, that "using parties" may have or acquire against HOSTS on account of bodily injury, mental injury and/or property damage from, any mishap, accident, loss, damage or injury suffered by "using parties" resulting from, connected with or caused by the use of "the property".
3) I further agree to defend, indemnify and hold harmless HOSTS, their heirs, successors and assigns from any and all claims, losses or liability arising from, connected with or caused "using parties" use of "the property".
4) I have read and understand the foregoing, and acknowledge my consent to the terms of this Waiver and Release for "using parties". I further certify that I will discuss all details of this agreement with all "using parties" immediately upon their entrance to "the property" and if any of the "using parties" disagree with any of the terms of this agreement, I shall ask them to immediately leave "the property".
5) BOOKING THIS HOME THROUGH Airbnb IS MY ACKNOWLEDGEMENT THAT I HAVE READ THIS ENTIRE AGREEMENT AND UNDERSTAND IT FULLY INCLUDING THIS WAIVER OF LIABILITY AND THAT I AM IN FULL AGREEMENT WITH ALL TERMS HEREIN.
---
Terri and Zeke both love real estate, dancing, great food, good music, power boating, fun and positive people. We are young senior citizens living life to its fullest. We have multiple homes and a yacht that we manage and rent to guests.
Languages:
English
Response rate:
0%
Response time:
a few days or more
Explore other options in and around La Quinta
More places to stay in La Quinta: