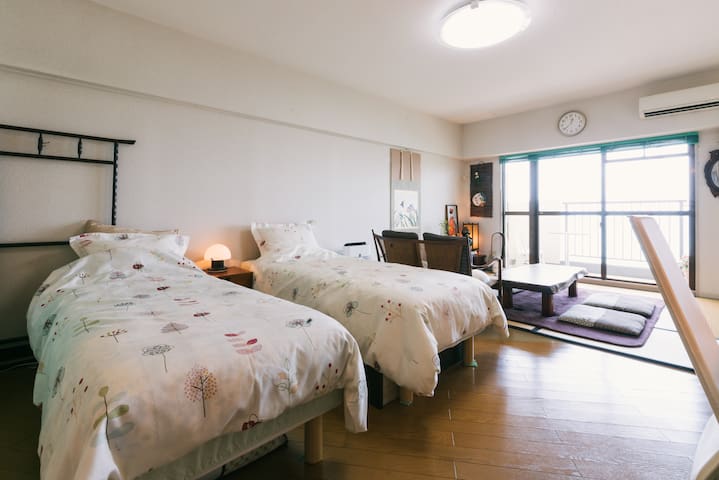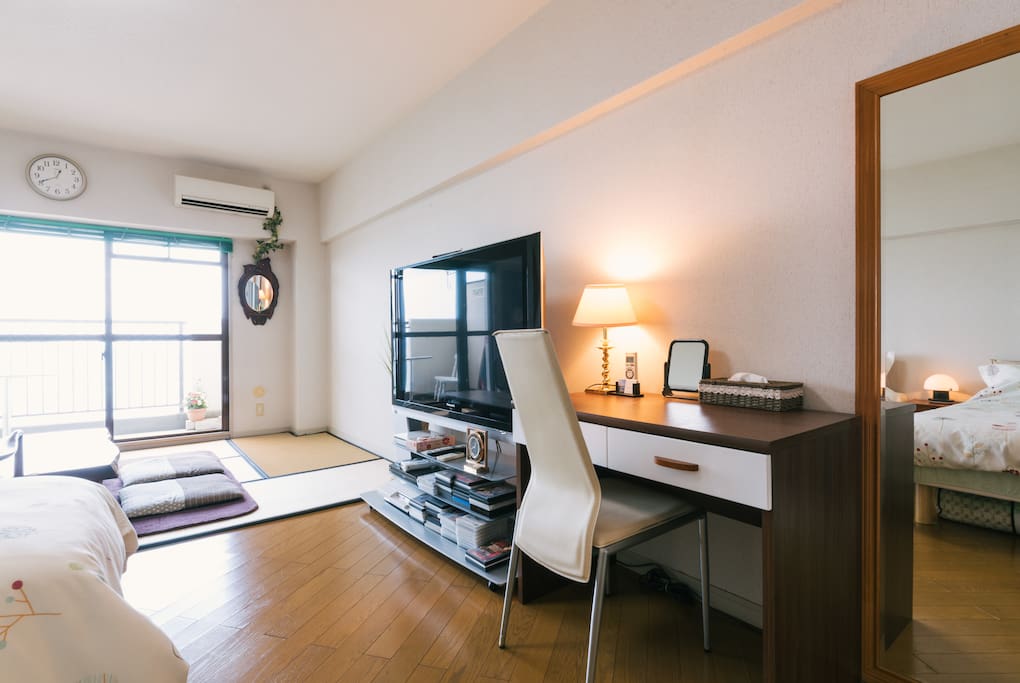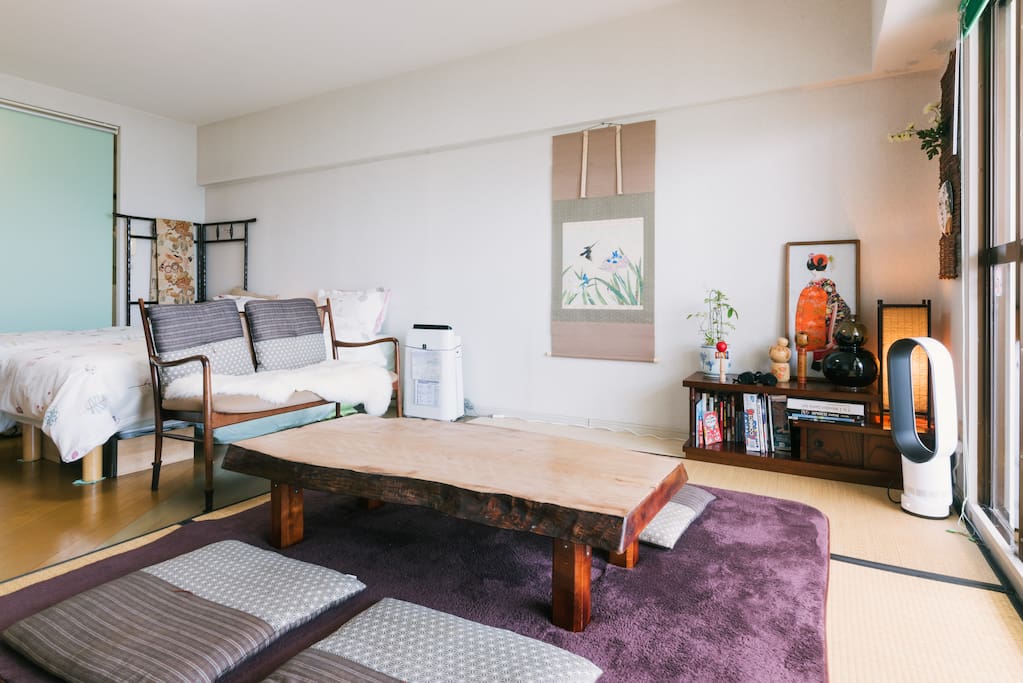 Moments from a quiet swimming beach and famous fish market, this cozy fully equipped apartment sits amongst a view of Japan rarely seen by foreigners. Just outside Kitakyushu this area of Japan is quiet and beautiful, but convenient to public transport, local attractions and amenities.
The space
---Addresss---
842-9 Yamaga Ashiya Onga District Fukuoka Prefecture Japan (8F)
---Room---
The room is equipped with a large tv and beautiful Japanese wooden table.
Traditional Japanese styling mixed with western tastes, this one room apartment offers tatami and wood flooring and both beds and futons.
---Beds---
The room has two semi single beds that can be joined and 2 optional futons, comfortably sleeping four adults.
---Kitchen---
All common eating/cooking utensils and items are provided for use in the kitchen.
---Washing machine---
A washing machine (powder too) is provided.
---Bicycle---
Rental Bicycles are available at 2,000 yen per bike.
We don't keep Bicycle in this apartment because they get rusty very quickly near the sea.
Please let us know if you need any bicycles before you come.
(Including Lock,Helmet & Torch)
---Internet (Room Wifi) ---
Room Wifi is available in the room from 6th June 2017.
Mobile Wifi device will be not available from 31st July 2017.

---Surf board---
Two Surf boards are free to use.
---If you need something---
If you have further needs please ask us as we may be able to provide these items easily for you free or possibly at a small cost. (Baby cot, English Japanese dictionary e.t.c)
---About Us---
I will happily answer any and all questions via email throughout your plans and stay. As this is a family venture, my mum Kumiko and brother Jiro will be on site to help with your arrival as well.
---Attractions---
If just looking at the beautiful ocean view off your balcony isn't enough, the area has an amazing array of attractions to keep you entertained. Moments from your front door is a lovely swimming beach, round the corner is a great market with fresh produce and a great variety of fish. Local attractions include a big water park (summer only), horse riding club, SCUBA diving (summer only), many good fishing spots and a cycling course along with beach.
---Restaurant---
Toto ichiba (Infront of the apartment) is a good place to have breakfast and lunch.They have cafes, restaurants, and a BBQ area.
You can not bring food into their BBQ area but you can buy most anything for a Japanese BBQ on site. It is 300 yen to use the BBQ area per person.
Dinner - pre-purchase at toto-ichiba or the local stores or head into town a bit for a variety of foods.
You must try this once, it is very traditional and exciting. For dinner time I recommend you try the Japanese restaurant called "Senjyoujiki Gyoan"
It's 4.5km away from apartment so you would need to use a car or bicycle.
Once you get in the gate Kimono lades welcome you immediately. Full course starts from 4,000 yen.
Dinner is great but my favourite thing is their beautiful gardens and interior of the restaurant.
You won't be disappointed.
Taro's No 1 recommended Japanese restaurant around here.
You must go.
--- Ashiyagama no Sato "traditional tea pot museum"---
It is a small museum surrounded by a beautiful traditional Japanese garden including a large Koi pond and Japanese tea houses. Within your entry fee is included a cup of real Japanese green tea.
20min by walk. Entry fee 500 yen.
You must come here too. It is so close and well worth more than one visit just for the Japanese feeling. Make sure to bring your camera.
---Car Park---
Car parking is free and available if needed.
Please park anywhere on the sea side of the apartment building.
Please do not park in the formal front of the apartment (not sea side) as these are all allocated parking.
------ Access------
If you come from Fukuoka airport you can catch subway from airport to Hakata (Fukuoka)Station.(5min)
JR Hakata Station (Fukuoka) to Ongagawa staion (56 min)
You can catch a bus from JR Ongagawa Station to Natsuigahama (30min)
2 min walk to accommodation from Natsuigahama bus stop.)
Please note:
Only 4 bus are available a day.
Please check time table from here.
---Weekday---Infront of Ongagawa Sta to Natsuigahama Bus stop.
Ongagawa Sta 7:49 - Natsuigahama 8:17
Ongagawa Sta 10:46 - Natsuigahama 11:14
Ongagawa Sta 12:08 - Natsuigahama 12:36
Ongagawa Sta 19:09 - Natsuigahama 19:37
---Sat, Sun , Public holiday --- from Ongagawa Sta to Natsuigahama
Ongagawa Sta 9:50 - Natsuigahama 10:18
Ongagawa Sta 11:05 - Natsuigahama 11:33
Ongagawa Sta 19:09 - Natsuigahama 19:34
---Week day--- from Natsuigahama to Ongagawa Sta
Natsuigahama 6:18 - Ongagawa Sta 6:48
Natsuigahama 7:15 - Ongagawa Sta 7:47
Natsuigahama 9:29 - Ongagawa Sta 10:01
Natsuigahama 14:33- Ongagawa Sta 15:01
Natsuigahama 17:27 - Ongagawa Sta 17:59
---Sat,Sun, Public Holiday--- from Natsuigahama Bus stop to Ongagawa Sta
Natsuigahama 9:00 - Ongagawa Sta 9:32
Natsuigahama 12:13 -Ongagawa Sta 12:45
Natsuigahama 14:12 - Ongagawa Sta 14:44
----------------------------------------------------------
---Pick Up Services--
We also offer a pick up service from Orio station for your convenience at One way 3,000 yen.
Return 5,000 yen.
Guest access
Full access to the apartment
Interaction with guests
---About Us---
I will happily answer any and all questions via email throughout your plans and stay. As this is a family venture, my mum Kumiko and brother Jiro will be on site to help with your arrival as well.
Other things to note
---Extra local transport info---
Ongagawa Station to Kokura Station ( 33 min)
If you want to go to Pusan (Korea) you can catch a ferry from Fukuoka
If you would like to hire a car from Fukuoka or Orio, Please let me know i will send you more info.
---I can help you find things of special interest to you---
If you have a hobby or favourite things to do or are interested in attending any local classes or community activities please let me know and I may be able to find something for you .
For example; A local Judo or Kendo club, Horse riding, Sailing, Scuba diving, the Paragliding club or even the local stamp club.
I know it's hard to find that info in English especially here, off the beaten track.
---
This listing has essential business travel amenities.
---
---
Extra people £17 / night after the first guest
Always communicate through Airbnb
To protect your payment, never transfer money or communicate outside of the Airbnb website or app.
Learn more
---
Common spaces
2 single beds, 2 floor mattresses
---
Check in is anytime after 3PM
No smoking allowed in the room.
No parties or excessive noise
No additional (not booked) guests
Please turn off all power as you leave
Be sure to lock up every time you leave the apartment
---
---
---
This was our favourite accommodation during our road trip in Kyushu. The cosy and modern space was clean and comfortable for the three of us. In the mornings when we opened the door to the balcony and the cool air gushed in along with the sound of the waves, it was pure bliss. We enjoyed lunching on fresh sushi, sashimi and scrumptious floats/drinks on the patio of the Totoichiba seafood market across the road. Kawachi Fuji Garden was about 1.15 hrs away by car, a good distance for a one-day trip. This accommodation was family-friendly and perfect for us to unwind after a long day out. Taro was very thoughtful, helpful, professional and quick to respond. We will surely visit again and recommend his place to our friends and family.
---
Everything was perfect. We had no problems getting to the apartment and Taro kept great communication throughout. I would definitely recommend staying in this apartment.
---
We travelled here from England and Thailand, see my friend Mali's review in Thai below.. This place ticked all the boxes, affordable, great views, away from the tourist hustle and bustle, quiet rural area, with easy to access from Fukuoka Airport, just a one hour train journey and a bus ride. Taro himself lives in Australia, he is on hand to answer any questions by email and is quick to respond. Walking into the apartment, we had an immediate sense of arriving 'home'! The place is so homely and comfortable, with everything you could possibly need for your stay. Even a massive TV (must be 50" or more!), never seen one so big, great for rainy movie nights in the apartment! The area is beautiful! So quiet, with just the sounds of crashing waves to send you into a restful sleep. There is even a resident Eagle that swoops past daily, which I tried quite unsuccessfully to photograph! Taro provides Bicycles on request, which come in very handy for getting to the local 7-Eleven, restaurants, and simply exploring the local area, there is many miles of cycle routes in this area. I believe Taro can also provide a car rental too, which would be great for exploring further afield! There is a Theme park close by 'Space Mountain' which unfortunately I didn't manage to visit, and in the summer months July - September, there is an outdoor swimming park with flumes, very close by, perhaps just 10 minutes on the bikes. Directly across the street there is a local farmers market (closed Wednesdays), inside is a massive fish market, fresh green grocers (the best salad I have ever tasted!), German meats shop, and Herbal tea seller, coffee shop (fantastic cake in here!), BBQ rental to cook your own food, local craft shop, with lots of pretty, although quite expensive hand-made items, ice cream vending machine, plus much more! You never need go hungry when staying at Taro's apartment with the convenience of all this so close by! One word of advice I would say, is try to learn some basic Japanese before you arrive here, as this is not a tourist area, most people don't know English, public transport, menus etc..all Japanese, of course this can add to the fun of the adventure, but also can lead to drastic mistakes, as in our case, waiting at the wrong platform for a train, causing us to miss our flight to Tokyo! (luckily for us the flight was delayed too!) We booked this trip to Japan, very last-minute, just one week before, but if I could do it all again, I would learn some of the language first, one to help the trip run smoother, and two, to just simply not feel so rude toward the local people. สถานที่สะอาด น่าอยู่ สงบ เหมาะสำหรับการพักผ่อนแบบเรียบง่าย สบายๆ มีจักรยานให้ 2 คัน สำหรับสำรวจสถานที่รอบๆ ถือว่าเจ๋งค่ะ มี 7-11 อยู่ห่างไปไม่ไกล และข้างหน้าจะมีตลาด ร้านอาหาร ที่ขายตั้งแต่ ผักสด ไปจนถึงปลาสด มีร้านกาแฟ เค้ก นั่งชิลๆ ร้านขายชา(สำหรับใครสนใจของฝาก) เข้าไปในเมืองใช้เวลาไม่นานแต่ใช้เส้นทางให้ถูก จะมีทางเป็นซอยอยู่ตรงข้างขวาของร้านค้า แนะนำให้ใช้ทางนั้นค่ะ สรุป รวมๆ ก็แนะนำนะคะ สำหรับคนอารมณ์บ้านพักตากอากาศไรงี้ เพราะเงียบจริงๆค่ะ หรือว่าตอนไปไม่ใช่หน้าเทศกาลก็ไม่รู้นะคะ แต่ทะเลสวยมากค่ะ
---
Thanks to Taro's beautiful place, we had such a wonderful holiday this summer. Just about everything is there, whatever you need when you "travel-like-living". On top of breath-taking scenery from the high floor apartment room, you can always enjoy heart-easing sound of waves, tranquillity atmosphere around the area. One of the incident we can't forget were, when the time wifi signal was stop coming due to some mechanical problems of the router (There was no such thing occurred before, so this was just one time accident so please don't take it otherwise!). Taro and his family were super attentive and helped us through until everything was solved. Not all the host could extend their assistance until that! We were very amazed and appreciated for their professional attitude and heart-warming care. Thank you so much, we strongly recommend this place to everyone who wants to have relaxing good time near the beautiful beach with the fantastic host who could take good care of you.
---
--About Taro ---
Kitakyushu is my home town and I have always loved Ashiya beach.
I moved to Australia in 2007 when i was 25.
I married Catherine in 2009 and we have two kids (6 year old boy and 2 year old girl) now.

I am woking for my online business at home,
So I can respond to all your inquiries and questions within a hour over the internet from Australia but my mum Kumiko and brother Jiro are there to look after you.

I love reading lots of books and think about business, also i have huge curiosity for the spiritual world.

My next aim is to open Airbnb accommodation in Australia.

I have open mind to people who has different culture, religion , same-sex marriage

My hobby: Piano ,BJJ , Judo, fishing, skin diving
My respected musicians: Micheal Jackson , Beatles, Chopin, Mozart.
Favorite food: Vietnam noodle Pho, Udon, Pig trotters ,Ox tongue , Steamed Zuccini with rock salt, Cod roe pasta, fresh sea urchins e.t.c
Favorite Beer : Asahi Beer and Victorian better,
Favorite Authors : Robert Kiyosaki ,
My future dream: Sailing around Australia in a 45f Catamaran Yacht with my family.
Favorite Words: "Practice makes perfect"


---About Cat ---
I am from Ballarat Australia, near Melbourne.
I keep myself busy working as a child carer, playing in a brass band and serving my local community in the Volunteer rescue service (SES).
I love Japanese curry and my husband's slow cooked pork belly.
Our children keep us on our toes.


Languages:
English, 日本語
Response rate:
100%
Response time:
within an hour
Explore other options in and around Ashiya, Onga District
More places to stay in Ashiya, Onga District: