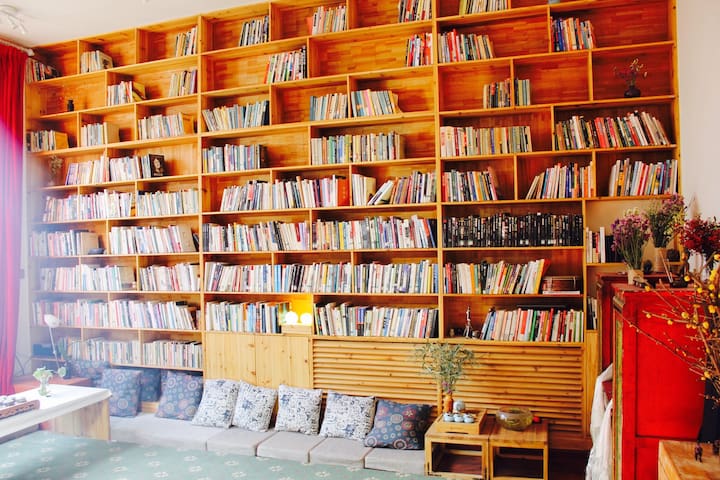 读诗抄经看电影阅读会绕城跑步,每周末主题活动让你感受不一样的西藏之旅
Tibetan incense is the most prosperous God of Wealth Temple Zaki Temple next to a wall is a dozen acres of trees, natural oxygen is very rich, high anti-probability is very low. Luxury mattresses, eliminating travel tired. Large public space, nearly 3000 books.
西藏香火最旺的财神庙扎基寺旁,一墙之隔是十几亩的大树林,天然氧气非常丰富,高反概率极低。奢华床垫,消除旅行疲惫。超大公共空间,近3000本藏书。
The space
I think the early rhythm is a "good bed, a good book, a natural Aura, there are warmth, there are people who have the road" of the home. As a home, there is a comfortable mattress, sleep one night, limbs stretch, the dream is also warm. Bed sheets quilt, is dry washed cotton. The fabric is very particular about Yi Yi girl, last fall specifically to Lhasa, to help me pick. Higher than the average building height, large windows, the whole space like Tibet this land, let you thoroughly transparent, no repression. The first floor of the hall a full wall of the ten-story bookcase, is the most attention. There are books, to attract the early rhythm of the natural love is more people. Like reading people, used to read people, are not too boring, are not too noisy, but also will not be too closed. Chat Krishnamurti, talk Feng Tang and Tagore, talk about desperate track. Talk about an open world. The courtyard of a wall separated, dozens of acres of trees, willow trees stretched out, drooping, swaying. All kinds of birds and sounded, surrounded by clouds of colored, when the light shines, nature so you conquer. You do not say a word, do not move a read, so sitting, sitting, it seems to be a Buddha. Then there is life. In life, there is food. Occasionally chefs, such as pony brother to do a few bowls of eighteen Lohan face, there are Han Yu obsessed with a "people eat comfortable" small restaurant. In life, there are poems and songs. Erwang, dare to live, small 甫 thousands of miles went to Lhasa, resident in the early rhythm, and Li Bei for the survival and infinite music dream rush. Late night drink, dare to speak to do a poem, he was wearing a blanket standing in front of the bookshelf look, is a poem, a painting. Life, there are enzymes. Do the enzyme Xiaoyan, and finally fled home, looking for her to become a. She had the enthusiasm of the enzyme surprised me, and now no nostalgia to give up a house of treasure, and scared me. Life, there are Zhang Ting teacher's guqin, as well as Kang Ming sent cinnamon tea, as well as Jianfei sent letters, as well as Kunming sent flowers, as well as Chiang Chuan chanting the King Kong and Hui Pu Master Singing the heart. Early rhythm, because of this bed, this book, this natural and human, this Reiki and warmth, they come from a lot of fellow people. These people, but also for the early rhythm of the many songs can be added to the story. May I want you to come to the early rhythm you want.
我想早期节奏是一个 "有好床,有好书,有自然灵气,有人间温情,有道合之人" 的居所。
作为一个居所,有一张舒服的床垫,睡上一晚,四肢舒展,梦也温暖。
床单被罩,是干爽的水洗棉。对布料很讲究的祎祎姑娘,去年秋天特意来趟拉萨,帮我挑选。
比一般建筑略高的层高,大窗,整个空间像西藏这片土地一样,让你彻底通透,毫无压抑。
一楼大厅一整面墙的十层大书架,是最受注目的。有书,吸引来早期节奏的自然是爱书之人多一些。
喜欢看书的人,习惯阅读的人,都不会太无聊,都不会太聒噪,也都不会太闭塞。
聊克里希那穆提,聊冯唐和泰戈尔,聊亡命行迹。聊出一片开阔的天地来。

院子一墙之隔,几十亩的大树林,柳树的枝丫伸进来,低垂着,摇曳着。
各种鸟声和鸣着,各色云雾陪衬着,各时光线映照着,大自然就这么把你征服。
你不发一言,不动一念,就这么坐着,坐着,似乎便可成佛。

然后,还有生活。
生活中,有美食。偶有大厨,如小马哥做上几碗十八罗汉面,也有汉雨念念不忘地要开一家"让人吃得舒服"的小馆子。
生活中,也有诗和歌。二旺,敢生,小甫千里赴拉萨,常驻早期节奏,和着李北为生存和无边际的音乐梦奔波疯狂。深夜酒后,敢生说要做一场诗会,他披着毯子站在书架前的样子,就是一首诗,一副画了。
生活中,还有酵素。做酵素的晓燕,终于逃离家乡,追寻她想成为的了。她曾经对酵素的热情让我吃惊,如今毫无留恋地舍弃一屋子的宝,又惊了我一下。
生活中,还有张汀老师的古琴,还有康明寄来的肉桂岩茶,还有剑飞寄来的书信,还有昆明寄来的干花,还有蒋勋念诵的金刚经和慧普法师吟唱的心经。

早期节奏,因着这床,这书,这自然和人间,这灵气和温情,便汇流而来了许多同道之人。这些人,又为早期节奏添了许多可诗可歌的故事。

愿我想的你,来你想的早期节奏。
Guest access
Early rhythm free of charge: wireless WiFi, sandals, towels, towels, bath towels, toothpaste, shampoo, shower gel, conditioner, humidifier, hair dryer, water purifier, invoice, electric heating, electric blankets, Early rhythm to provide: automatic washing machine (5 yuan each time), the kitchen (10 yuan per person), medical oxygen machine (100 yuan per day), morning and evening dinner (on demand), transfer machine (280 yuan per Times)
早期节奏免费提供:无线WiFi,凉拖,布拖,毛巾,浴巾,牙膏,洗发水,沐浴露,护发素,加湿器,吹风机,净水机,发票,电暖气,电热毯,热水袋,
早期节奏付费提供:全自动洗衣机(5元每次),厨房(每人每次10元),医用制氧机(100元每天),早中晚餐(按需收费),接送机(280元每次)
Interaction with guests
All these years of my efforts and expectations is to do a funny person, I want to live a colorful life. So I came from Lhasa, Guangzhou, done a cafe attendant, and later in the Tibetan television station has done secretarial, assistant, advertising, and now opened the inn, would like to walk around, but also want to write a story. The inn is a place where a storyteller travels to another storytaker. I want to record these beautiful people and rich stories in my inn. I can also be more interesting by your story.
这些年我所有的努力和期待就是做一个有趣的人,我想把生活过得色彩鲜艳些。于是我从广州来了拉萨,做过咖啡厅服务员,后来在西藏电视台做过文秘、助理、广告,现在开了家客栈,还想四处走走,也想写写故事。
客栈是让一个有故事的旅行人遇上另一个有故事的行者的地方。
我想在我的客栈里记录下这些美好的人和丰富的故事。我也可借由你们的故事变得更有趣儿些吧。
---
---
Check in time is 12PM (noon) - 2AM (next day)
You must also acknowledge
Some pet(s) live in the house
---
十分好 房源坐落西藏的高档小区(我猜的),周边有很多藏民自己爱吃的茶馆,包括著名的扎平茶馆。 走路10分钟可到扎基寺(听说是财神庙) 步行3分钟可到公交车站,可以前往布达拉宫,色拉寺,大昭寺等著名景点 房东是个爽快的菇凉,很能提供帮助,在那里可以自己煮饭吃,稳稳地照顾好了自己的胃。房东还给我们煮了很好吃的红枣粥。 我们住的房间是三楼的房间,虽然第一天爬上去心会砰砰乱跳,可是我觉得那是最好的房间,房间面对着小清新的阳台,中午的时候会洒满阳光,很舒适 房间有两张1.5米的单人床,床品舒适,有加湿器,电暖炉,电热毯,沐浴间还有暖灯,怕冷的南方孩子也不怕 整个旅程因这个民宿而很自在
---
我是2012年从暨南大学新闻系硕士毕业的,2013年10月底,单枪匹马到西藏,刚开始在一家咖啡厅打工,后来去了西藏电视台。2016年初从西藏电视台离职,开始全职运营早期节奏。 我特别喜欢单枪匹马这个词,它有一种在荒野中奔腾的悲壮,有种不与众人同的孤傲,也有一种沸腾于内心的欲望,和沉默里千转百回的故事。
Response rate:
100%
Response time:
within an hour
Explore other options in and around 拉萨
More places to stay in 拉萨: