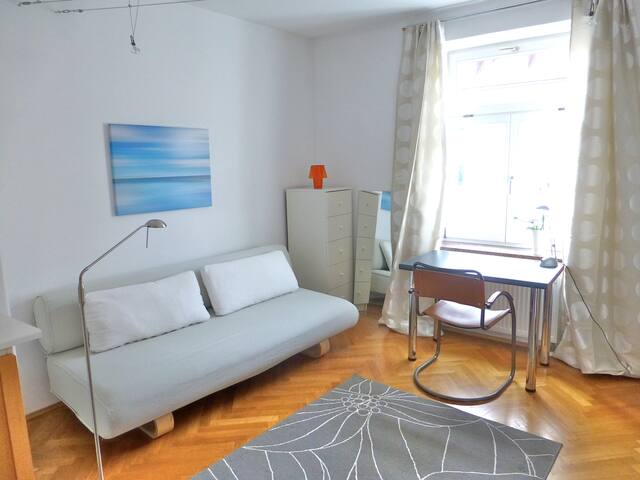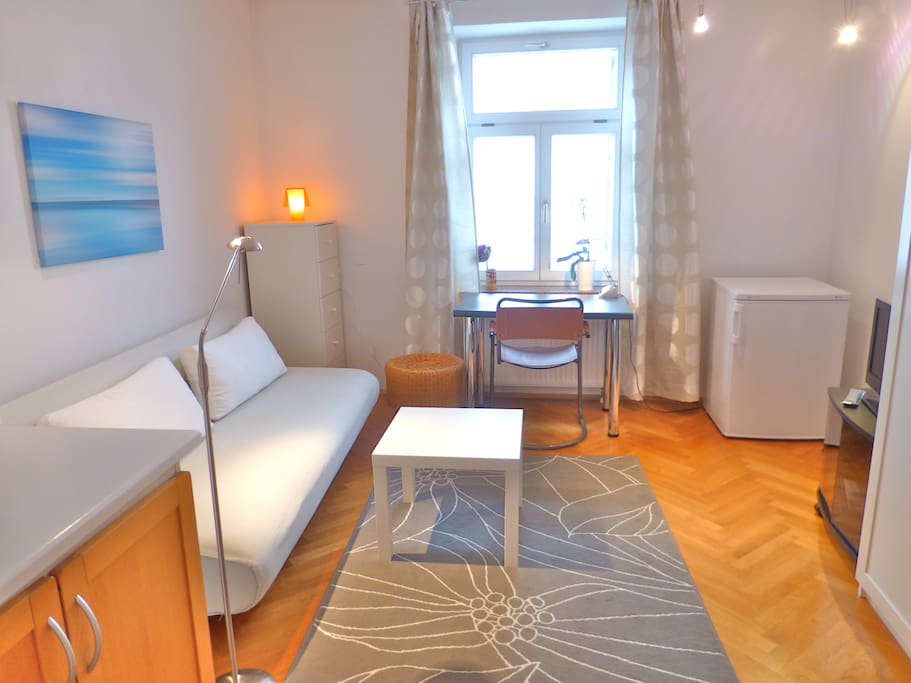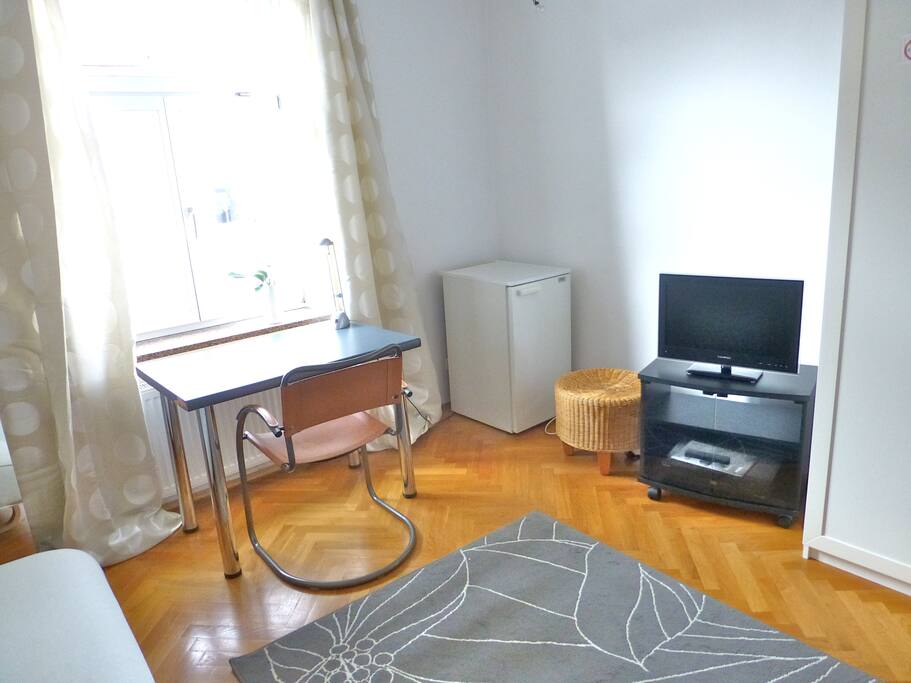 Best Schwabing environm+kitchenette
---
Check In: Anytime after 5PM
---
---
Always communicate through Airbnb
To protect your payment, never transfer money or communicate outside of the Airbnb website or app.
Learn more
---
The apartment is big enough for five people, although it has only one bathroom. This works perfectly well, as everybody gets his own 'slot' which is arranged at move-in, according to the guest's needs and availability.
So please allow a little more time in your daily schedule, as it may happen that your slot is a bit earlier or later than you may have expected.

The apartment has free wlan, but don't expect a home office with heavy data volume in no-time. It is an old building and the walls diminuish the speed of 16Mbit per second download and 1Mbit per second upload, available for all five users - although there is an extra repeater / access point.

The thick walls guarantee your privacy, in addition to that there is an extra door between the host's private rooms and your room. You are a welcome guest, and the host's policy is to get you a peaceful and cosy place to relax and to enjoy yourself. Due to the hosts very busy schedule, breakfast, sightseeing trip, go out for a beer in the evening would be a challenge. But I am happy to help you with tips and recommendations regarding car park, eating out, shopping, sporting, public transport etc.

Please also note the following guidelines:
- smoking inside the house is not allowed
- smoking legal tobacco in the houses back yard is allowed as long as the rear door is closed
- bringing spontaneously 1+ people overnight (outside an emailed consent) costs a fee of 30€ per extra person
- screaming, shouting or talking in an overly loud voice after 22 o'clock (10 pm) is not allowed
- it's not allowed to wear the street shoes in the house, especially not in winter. The shoes need to be undressed in the hall / house entrance.
- using the toilet is exclusively allowed in a seated position (this house rule is based on some really bad experiences with guests in the past)

- Terms of use for your personal WIFI:
• Die Nutzung erfolgt durch Eingabe eines WLAN Passwortes. Dieses wird nur Gästen des Hauses ausgehändigt, die die nachfolgend ausgeführte Nutzungsvereinbarung akzeptieren.

• Die Nutzung ist unentgeltlich und auf die Dauer der Anwesenheit auf dem Areal der Unterkunft beschränkt. Dabei kann seitens des Gastgebers keinerlei Gewähr für die tatsächliche Verfügbarkeit des Internet-Zugangs übernommen werden. Das Passwort darf Dritten nicht weitergegeben werden.

• Durch die Ausgabe des Passwortes übernimmt der Gastbeber keinerlei Verpflichtungen. Die Verwendung erfolgt nach Maßgabe der technischen Möglichkeiten. Insbesondere erwirbt der Nutzer kein Recht, das Internet WLAN auf irgendeine bestimmte Weise oder eine bestimmte Dauer zu nutzen.

• Hiermit wird jegliche Haftung, insbesondere für Gewährleistung und Schadenersatz ausgeschlossen. Insbesondere wird keinerlei Haftung für die Inhalte aufgerufener Websites oder downgeloadeter Dateien übernommen. Ferner wird auch keinerlei Haftung für einen allfälligen Virenbefall durch Verwendung des Internet WLAN übernommen. Der Nutzer nimmt ausdrücklich zur Kenntnis, dass das Internet WLAN ausschließlich den Zugang zum Internet ermöglicht, aber keinerlei Virenschutz oder Firewall beinhaltet.

• Der Aufruf von Seiten mit rechtswidrigem Inhalt und die Verbreitung rechtswidriger oder rechtlich geschützter Inhalte sind untersagt.

• Ausdrücklich untersagt ist es dem Gast insbesondere, das Internet WLAN zum Download oder zur sonstigen wie immer gearteten Verbreitung urheberrechtlich geschützter Inhalte zu verwenden.

• Jede missbräuchliche Verwendung des Internet WLAN, insbesondere eine Verwendung, die für Dritte oder dem Gastgeber nachteilige Rechtsfolgen nach sich ziehen kann, ist untersagt.

• Sollte der Gastgeber durch die Verwendung des Internet WLAN durch den Gast aus irgendeinem Grund Ansprüchen Dritter ausgesetzt sein, so ist der Gast verpflichtet, dem Gastgeber diesbezüglich schad- und klaglos zu halten.

• Bei Verstoß gegen die Nutzungbedingungen oder bei Verdacht eines Verstoßes kann die Verwendung des Internet WLAN jederzeit ohne Angabe von Gründen gesperrt werden. Eine Haftung für Datenverlust ist ausdrücklich ausgeschlossen.

Mit der Entgegennahme des WLAN Passwortes stimmt der Gast als Nutzer des Internet WLAN den obigen Nutzungsvereinbarung zu.

---
---
---
Fabulous location in the heart of Schwabing with plenty of shops and restaurants to suit the most discerning traveller. Good-sized well-equipped self-contained room. In 8 weeks, I never queued up to go to the bathroom/toilets shared by 5 persons.
---
The stay at Ursula's was really nice. The room is big enough for one person but the "bed" might be a bit small for some people and is not amazingly comfy. The bathroom was always very clean and I never had a waiting line for it (even though several person share the flat). The location is quite amazing, right next to a tram, a grocery store, restaurants. Only major negative point is the internet connection. It is slow and disconnects very often (it could barely handle a (SENSITIVE CONTENTS HIDDEN) call in the evening). Most of the ports are blocked so don't expect using anything past port 80. Good place overall for short stays.
---
Ursula is a great host. We managed to agree on really short term notice time. As well as she helped me with all questions I had. Additionally the room is as it is described: it is nice and comfortable. I like staying here and recommend this place for others.
---
Location was great, there were groceries nearby, including Asian store. Also, a lot of nice restaurants and bakeshops. Tram nearby, within 2-3 minutes walk. The room is well equipped as shown. I have no problem during my arrival, as I can locate the unit easily. Shared bathroom, and each has their own time. I have no problem during my stay. You just need to get water from the bathroom if you need to cook for something as the room has no washbasin, and also for cleaning the dishes after since the apartment has only one bathroom. Privacy for the tenant is okay since there is a door separating from the owner. The host is nice and accommodating and reply within the day for inquiries. Overall I will recommend this, if you want a good neighborhood, good food, closer to city center and museums nearby. Thanks Ursula for accommodating me during my stay!:)
---
To begin positively, the location of this flat is perfect. It's situated right along a tram line with plenty of restaurants and groceries within a two-minute walk. However, the room itself is quite small and not well-suited to a long stay, making the 27-day minimum somewhat puzzling. The bed, which is falsely advertised as a "real bed," is nothing more than a tiny, urine-soaked couch; it isn't designed for sheets or any other sort of bed linens. Cooking in the room is essentially impossible given the tiny prep space and the constant need to lug water from the bathroom. Furthermore, the wifi works poorly at best and at worst requires nonstop rebooting -- patience truly is a virtue. The bathroom was actually a bright spot. It was fairly large and clean, and despite multiple people sharing one shower and toilet, I rarely found myself inconvenienced. Ultimately, given the high price and the long required minimum stay, I would recommend that anyone planning to spend a month or more in Munich look elsewhere for their accommodations.
The couch is a couch and a bed at the same time: It has the size of a normal bed 200x90 cm, an entire unfolded innerspring matrass, and the backrest can be flipped when sleeping. The couch cover is removable and washed on a regular basis. Before handed over to Mathieu, it was checked by the cleaning lady (as I was abroad). One word would have sufficed and we could have solved the problem within a day. As for cooking: All facilities are shown in the pictures exactly as they are in real. If you come directly from mother's home as it seemed to be the case with Mathieu, it may seem small. So many guests before him however were able to cook with double stove and microwave and all the kitchen utensils. Mathieu had a wifi repeater that reinforces wifi signal directly in his own room. It sometime needs - as any other rooter - a reset: Unplug and plug in again. Then wifi works with 18 mbit a second. Just a hint would have sufficed... Although Mathieu taunts his room in his comment as inadequate, it didn't hinder him to host friends in his room without any notice. When confronted with the terms of 15 € a night, he left the apartment at night two days before the end of his stay, without a word or a goodbye - and no payment of course.
---
Ursula was a wonderful host, i had help when i needed it. The room was comfy, well equipped (bed linen, dishes, tableware, stove, microwave etc.), i had privacy (there is a lock on the door if you need it) and a good nights rest. The internet was very fast and worked well all the time. The neighborhood is very nice, there is a Tengelman supermarket on the opposite street, there are shops, cafeteries etc. You can reach the center of Munich quite easily by tram, even walking is not so difficult.
---
l loved the location so much, Tram way, Taxis, Supermarkets and everything that one needs is just around the corner from Ursula's place. l had all the privacy that l needed. She is a very friendly individual. l arrived at her place very early in the morning and her daughter was there to welcome me. Nice atmosphere l really felt comfortable and at home the whole time.
---
Ich bin gebürtige Münchnerin, und liebe meine Stadt. Auch meine Eltern sind hier geboren. Ich reise sehr gerne, und habe schon oft die Gastfreundschaft in fremden Ländern kennenlernen dürfen. Jetzt versuche ich, ein bisschen was davon zurückzugeben. Im Hauptberuf bin ich Kommunikationstrainerin für Geschäftsenglisch. Neben Englisch spreche ich auch noch ziemlich gut Französisch, Italienisch für den Hausgebrauch, ich verstehe Spanisch und Portugiesisch, muss aber auf Englisch antworten. In den letzten zwei Jahren habe ich mich intensiv mit der Sanierung meines Hauses - einem alten Familienhaus - beschäftigt. Es ist eines der ersten sanierten Altbauten in Deutschland, die mehr Energie aus Sonnenkraft produzieren, als alle Mieter samt Heizung übers Jahr gesehen verbrauchen. Das Haus ist außerdem komplett emissionsfrei und klimaneutral. Darauf bin ich ein bisschen stolz, und hoffe, dass es mir noch viele Hausbesitzer gleichtun werden.
Languages:
Deutsch, English, Français, Italiano
Response rate:
100%
Response time:
within an hour
Explore other options in and around Munich
More places to stay in Munich: