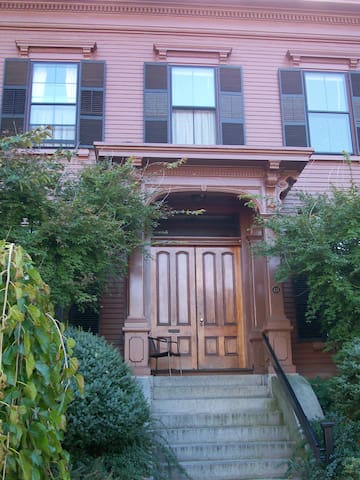 Third Floor Studio Apartment
This sunny apartment in a restored Victorian mansion, walking distance to downtown Portsmouth features an open concept kitchen, wood floors, exposed brick chimney, a TV (for DVDs) and access to about the nicest porch and gardens in Portsmouth.
---
Room type: Entire home/flat
---
---
Always communicate through Airbnb
To protect your payment, never transfer money or communicate outside of the Airbnb website or app.
Learn more
---
Tools and Agreements for Living at 411 Middle Street(Apr/17)
Our Mission Statement We are a learning community with intentions around mutual support, health and planet-friendly living in a beautiful and well-maintained setting.
Who Lives at 411 Middle Street (411) When fully occupied we have about 17 housemates, all of whom value our mission. They vary in age from 20 – 70, about half are men and half are women. Several work in walking distance and do not have a car here. All can enjoy an extraordinary community living room, porch and garden and several share a common kitchen in our two larger apartments.
Tools for Supporting Community
Incentives At a base level, community is about increased safety. As we get to know each other we can better look out for each other's possessions, pets and guests. When a stranger appears on the property we think to ask if he or she needs help. Next, community is about supporting and inspiring each other's quest for healthy and planet-friendly lives. We each have distinct gifts to offer and needs, and we can enrich each other by giving and taking. Finally, community can accelerate personal growth especially when the inevitable conflicts occur. Growth includes increasing our capacity to give and receive love, sometimes tough love.
The Landlord's Role First, my job is to assure that the beautiful common areas are well-maintained and attractive places for residents to visit with each other and their guests. These areas include the carriage house living room, our porch, sundeck, grounds, mail room, bike shed, laundry room, etc. Second, my job is to search for and select residents who appreciate the opportunity to live in a community-oriented house and have gifts that might enrich the house community. Third, it's my job to introduce residents to each other via email, the 411 Contacts Sheet and house gatherings. Finally, in cases where residents have tried but failed to resolve conflicts, I can serve as a mediation option with the understanding that I can as a last resort ask a resident to leave the community per the terms in his or her rental agreement.
Residents' Role First, you can clarify to yourself and then to your housemates the level of community that interests you at 411. If you are interested in the benefits of community, make an effort to get to know your housemates including their passions and most-frequent guests. Share similarly with them. When inclined, take advantage of the opportunity at house gatherings to tell your story to a group that is listening intently and lovingly. And offer such listening when others are telling their stories. When conflicts occur, see this as an opportunity to grow and work them out before seeking outside mediation. If your conflict is with me, open yourself to mediation support from a housemate we both view as neutral in the conflict.
Covenant of Right Relations We agree to 1) cultivate speaking with care and listening attentively 2) recognize that we will have differing opinions 3) speak from our own experience rather than hearsay 4) trust in one another's good intentions but realize that our actions may still have a negative impact 5) communicate our discomfort directly when we are hurt by another or when we inadvertently hurt another 6) resolve conflicts through compromise and collaboration and when necessary request mediation support.
Regular Monthly House Supper and Meeting We aim for the third Sunday of the month. The usual time is 6 pm for appetizers, social time and prep time, 7 pm for holding hands around the buffet with grace, 7:30 pm for telling our stories. This is a great opportunity to tell your housemates what might help them and what you might need help with. You are urged to attend and encouraged but not required to share something about your life
Scheduled Use of Porch/Yard or Carriage House Living Room for Special Events These areas are for shared common use by all residents. It is assumed you are in a social but quiet mood when you use these areas. If you want to schedule a private party in one of these areas, coordinate with Bob who keeps the calendar. Because the Carriage House Living Room is the "through' room for CH residents, only non-confidential and "non-raucous" events can be scheduled there; again, coordinate with Bob.
Chore Team Responsibilities (See 411 Middle St Contacts Sheet for Current Assignments) All residents have agreed to work an average of two hours per month over their stay here. More is appreciated but not expected. Non-compliance is grounds for being asked to leave.
When Away Overnight, Consider Renting Out Your Bedroom for a Housemate's Guest Do this by emailing the house distribution list and letting your housemates know exactly when you are leaving and when you are returning. Choose a price that makes it an attractive option for them to offer it to a guest of theirs and explain how you want to handle bed linens and towels. Remember you want it to be an attractive package yet worthwhile for you to do as well. Start with $20 - $40 per night and over time you will know if your pricing works. If you have a guest visiting and the guest loft is not available or you want something more private, you can email the house list to see if someone is planning to be away and might be lured to rent out his or her bedroom to you.
Tools for Supporting Extraordinary Health
My Personal Passion As a trained spiritual counselor, long-time yoga teacher, raw vegan chef and Hippocrates Health Educator, I hold periodic Tools for Extraordinary Health classes by donation in the Carriage House living room. In the spring of 2015, I began growing wheat grass, sunflower shoots and pea shoots and offer these to those who help with the growing. See me for ways for help out. Also, I am always available for personal coaching sessions at no charge for housemates.
Use of the Carriage House Raw Vegan Kitchen This kitchen is equipped with top-of-the-line tools for raw vegan food preparation including Omega and Breville Juicers, Cuisinart Food Processor, VitaMix Blender and Excalibur Dehydrator. All 411 housemates are welcome to use these appliances respectfully in support of moving you in the raw vegan direction. This kitchen also has a spigot connected to the water distiller located in the basement and all 411 housemates are welcome to draw drinking water from this spigot. Other carriage house kitchen appliances are not available to 411 housemates except by special exception or for a special event. If you need to use any item that belongs to this kitchen, please return it within hours, not days! The everyday items stored on the drying racks as well as food belonging to carriage house mates are not meant to be used by non carriage house mates.
All-House Water Filters In April of 2017, we installed two all-house water filters: a carbon filter that removes organic chemicals and chlorine and a softener to remove pesky minerals including lead, copper, calcium, magnesium, iron and other heavy metals. The resulting clean water requires much less soaps, detergents and shampoos. Please note that this clean water is slippier in tubs and showers, so you might want to consider rubber pads.
Water Distiller for Drinking Water In addition to the filters noted above, we have a 20-gallon water distiller in the basement which converts clean water to super-clean water for drinking. This is the best water for drinking that you can find because it has a cleansing effect on the toxins in your body, and tastes great! You can get this water in larger jugs in the basement or from the small tap on the right side of the carriage house kitchen sink.

Far Infrared Sauna Our sauna uses far infrared rays that are the part of sunlight that generates the warmth we feel on sunny days. These rays penetrate your skin and excite blood vessels, improve circulation, reduce inflammation, help to relieve nerve pain and improve overall well being. They address a wide range of issues from skin blemishes to scar tissue.
Guidelines for Infrared Sauna Use
1) Turn sauna on by pressing on/off button – ideally 15 – 30 minutes before you enter so it is comfortably warm. The clock will automatically time-down from 60 minutes and the temperature will automatically start climbing to 150 degrees. Do not adjust these settings. The current temperature takes a minute to register.
2) Sign in on log located on the piano – under today's date with name and turn-on time so next user can estimate about when you will be finished. If someone is ahead of you, sign in after the current user's name so he or she can notify you when finished.
3) Bring in two towels – one to sit on and one for under your feet, and take these towels out with your sweat when you leave. Some clothing is required, but can be as skimpy as a towel or underwear.
4) Either drink plenty of water before entering sauna or bring water in with you.
5) Once in the sauna, re-start the sauna so as to re-start the clock time-down to 60 minutes. Stay in at least long enough to break a sweat, but no more than 60 minutes. Start with say 30 minutes and build gradually.
6) If temperature is uncomfortably hot for you, crack the door a bit to let some heat out, rather than turning off sauna. This keeps the extraordinarily-healing infrared rays going.
7) When done, turn off sauna even though there is someone signed up to begin after you. Check the pad and if there is someone signed up after you, notify that person that you are done.
8) Consider a cold shower immediately after the sauna (amazing benefit!), but use your shower rather than the one in the front hall.
9) Contact Bob if you have any questions.
Tools for Planet Friendly Living
Mindful Use of Radiator Thermostats to Conserve Gas The temperature of the hot water in our heating system is regulated by an outside thermostat. In addition, each radiator in the building has a state-of-art local thermostat to regulate hot water flow into that radiator. Please turn the thermostat dial clockwise all-the-way off in the summer and when you are away for any overnight trips. When home, we find the number 2 position a good place to start. Turning counter clockwise, the higher the number the higher the temperature. Since during the heating season the water in the heating system is always hot, the radiator will heat up quickly when turned up.
Recycling and Composting Creating as little landfill waste as possible is important to us and we want to support the recycling rules in Portsmouth. Use the two large 96-gallon bins beside the bike shed for corrugated board, paper board, paper, glass, plastic and metal. Use the square-ish compost bin in the bike shed for all your food scraps including animal products, eggshells, bread, seafood, wooden stirrers, sugar packets, paper napkins, paper plates, wax muffin wrappers, tea bags, coffee grounds and filters, wax paper liners, fruit pits, compostable cups, utensils, plates, etc. This bin is picked up once a week by Mr. Fox Composting. See Contact sheet for contact info. Use the three round-ish trash cans in the bike shed for all other trash.
Support for Shifting to a Plant-Based Diet The most significant thing anyone can do to lead a healthy and planet-friendly life is to shift to a plant-based diet. The raising of animals for food uses more energy than transportation and heating combined, and condones animal brutality and the spread of many of our diseases. At 411, you will be supported in this shift, baby step by baby step.
Lights On/Off Policy, Storm Windows Use The outside front and side door lights should be left on all night, but turned off during the day. The front hall table light and light by the sauna and the light to the right of the sprout rack in the carriage house living room are kept on 24/7. All other common area lights should be turned off when not in use -- like you would do in your home. In windows which you want to use the screens, push the storm window all the way up (for looks) and use the inside window to regulate how much air you want. During heating season, please keep storm windows closed and screens down. This gives the house a more uniform look. If you crack open your windows during heating season, make sure your radiator is off and the door to your room or apartment is closed.
Other Agreements for Living at 411 Middle Street
Please Pay Rent On or Before the First of Each Month This is very much appreciated. If you cannot pay on time, call or visit Bob to make arrangements.
Competitive Pricing Our apartments and rooms are priced to reflect the unique benefits of living here. As Portsmouth rents rise along with taxes, insurance, maintenance costs, etc., the rents at 411 Middle St will periodically increase. This funds the costs of superior maintenance and the tools noted above. Competitive pricing is also important so that the owners feel grateful rather than resentful for each resident; and so that residents feel able to leave anytime and find acceptable housing in Portsmouth rather than fearful or trapped here.
Quiet Hours Between 11:00 pm at night and 7:00 am in the morning, please enter and leave the house, your apartment/room and bathroom quietly. Normal bathroom uses such as flushing toilets, shower taking and hair drying are not restricted. If you need to talk, please keep it to a whisper in all the common areas, including the grounds, as you are never far from someone's bedroom.
Lost and Found Since we have low tolerance for personal items in the common areas, put such "lost" items on the counter across from the laundry room sink, but email housemates the details.
How Utilities are Apportioned to Each Unit at the End of Each Calendar Quarter
In 2009, we converted our heating furnace from oil to gas and in 2011, we converted our oil-fired tank hot water heater to two on-demand tank-less gas heaters. In 2012, we added 61 solar panels to our roof. In the fall, winter and spring quarters, the gas bills are apportioned by approximate volume of units as follows: Apartment # (%) 1(12%) 2 (11%) 3A (9%) 5 (16%) 5A (heated mostly by electricity) (6%) 6 (10%) 7 (12%). Water bills are apportioned based on the number of people residing in each unit. In the summer quarter, we assume all the gas is used to heat water - so both the gas and water bills are apportioned based on the number of people residing in each unit. The dates on the bills determine which quarter they are assigned to, even though consumption precedes the bill. For example, the first quarter utility bills are calculated in April for the bills dated during Jan - March with consumption more like Dec – Feb; and payment is due with the May rent on May 1.
Please no Personal "Stuff" in the Halls and Common Areas This includes shoes and boots - to maintain a gracious and uncluttered atmosphere in the halls and common areas.
Floor Care Potted plants even with trays cause floor damage. Please set them on spacer pads.
Off-Street Parking Even though all our off-street parking spaces ae shared, if you have a choice, save the parking spaces close to the road for those with especially long vehicles. The area in the front of the house (with grass pavers) is a turnaround area to allow you to enter Middle Street facing forward. This turnaround is not for parking; there is free parking on both sides of Middle St. for overflow and for guests. During the day when there are empty spaces in our lot, it's fine for guests to park in our off-street lot, but not at night when these spots fill up.
Fire Safety The importance of this topic cannot be over-emphasized when so many individuals live in close proximity in an all-wood building. Hence the following paragraphs all apply!
No Smoking Anywhere on the Property This includes smoking marijuana - and applies to you and your guests. Vaping of medical marijuana is safe from a fire perspective.
No Fires Inside House, on Porch or on Sun Deck The house barbeque can be used on the Carriage House patio or on the lawn between the porch and the hammock. With my permission, camp fires are permitted in the metal fire pit on the Carriage House patio.
Use Candles Minimally Avoid tapered candles. If you must use candles, use only tealight or small candles that are in proper holders and rest on heat resistant surfaces away from areas where flames could shoot up and catch on flammable things. Only use candles when you are present, aware and awake!
Smoke and Combination Smoke/Carbon Monoxide Alarms It is my responsibility to replace any broken alarms but it your responsibility to replace any depleted batteries. The hall smoke/fire alarms are separate from the alarms in each apartment. If one hall alarm sounds, all the hall alarms sound. The apartment alarms are separate from the hall alarms and from each apartment, but within an apartment if one sounds the other(s) will also. Within each apartment, one of your alarms is a combination fire and carbon monoxide detector installed Feb 2011 throughout the building. These alarms are hard wired but require a back-up 9-volt battery which is the responsibility of residents to replace about once a year when you hear a regular chirping. The chirping can be stopped temporarily by pressing the center button. The batteries in the combination units can be replaced without removing the unit from the ceiling but instead by releasing the battery door mounted on the surface of the unit. See Bob if you want more information about how they operate. Or, call the phone number for Kidde customer support on the 411 Middle St Contacts sheet.
Fire Extinguishers and Fire Escape Ladders It is my responsibility to provide fire escape ladders to floors and rooms where they might be useful in case of a fire and for housemates who want one. It is your responsibility to learn where they are located close to your room and how to use them. Similarly for fire extinguishers. I provide a working extinguisher for every stove in the house and you make a point to know where the one is closest to your stove and how to use it. Find and read the directions on the extinguisher.
Snow Falls of 2-4" or More The Public Works Department of the City of Portsmouth typically initiates a ban on street parking sometime during or immediately after such snowfalls to facilitate street plowing. This ban is published on the City web site, is announced on tel. and tweeted on @PortsmouthDPW and @ParkPortsouth. During these bans we encourage all residents to park off the street. If our regular parking spaces are all taken, you can park either in the turn-around or in the driveway blocking parked cars. If you are blocking another car or cars, please email the entire house about when you plan to depart and unblock their cars. This way they will know to email or phone or text you if they need to depart 411 before your planned exit time. Once the snow ban is lifted, we need all vehicles out of the driveway and onto the street to facilitate plowing the entire parking area. Please be available to move your vehicle if you are blocking someone, or for this mass departure after the ban is lifted. If you are blocking someone and must leave the property, leave your keys with a note on the window sill outside Bob's office.
Use of the Guest Loft in Apartment 5 The Apt 5 Manager (currently Wes) keeps the calendar and collects $10 per night from you or your guest and adds these payments to the Apt 5 supplies fund. It's your job to make up the bed with the clean sheets and pillow cases and comforter stored folded on the mattress. After your guest leaves it's also your job to wash, dry and return these linens folded to the mattress – ready for the next guest. Bob has additional twin bed sheets, pillow cases, blankets and towels if needed.
Dogs Dog poop and urine are toxic to our lawn. When your dog needs to poop or pee, please bring him to the driveway or walk him or her down the street. Never leave your dog unattended in the backyard. You are welcome to use plastic bags from the Carriage House kitchen (container on the floor to the right of the sink).
Keep Common Areas Picked Up and Beautiful Leave them better than you find them!
Periodic Apt/Room Inspections Periodic inspections help insure that this is a safe place for all residents. This means that I or my handyman can enter your apartment or room during business hours of 9 – 5 weekdays even if you are not there - for inspection purposes. We will, of course, knock before entering and generally (but not always) we will give you 24-hour notice by text or email.
When You Move Out Please leave your apartment as clean as you found it. Or expect a charge for $30/hour for the time it takes to clean it and to repair any damages caused by you or your guests or pets. Cooperation with our need to show your space means that we can show it when you are not there without prior notification. If you need to leave before your agreed notification days, please do not use your security deposit toward last month's rent. If I can find a suitable replacement earlier than your notification days, I will pro-rate your rent up to the date when your replacement moves in. I will then add your "over-payment" to my calculation of the return of your security deposit. You are responsible for utilities up until your replacement moves in. I will subtract utilities cost from your security deposit along with the cost to clean and repair damages in your room or apartment. Use this check-list to guide you when you move out:
______All personal belongings are removed including items in any assigned storage areas like the laundry room.
______Windows are washed recently on the inside. There are no cobwebs around the frames and inside the storms. Sills are vacuumed and damp clothed including between windows and storms. Storms and screens are both down if it is heating season.
______Kitchen is meticulously clean including stove (burner pans and oven too), refrigerator (inside and out – all foods removed), sink and floor, including under the stove and refrigerator. Cupboards cleaned out and doors, shelves and drawers are damp clothed.
______Bathroom is meticulously clean including toilet, sink, tub/shower, mirror and floor.
______Walls have all nails and picture frame hooks removed and holes are spackled and touched up with correct paint. Walls are also washed as needed.
______Ceilings, especially along the walls have been vacuumed for dust and spider webs.
______Hardwood floors throughout the room or apartment are vacuumed and washed with vinegar and hot water, not an oil soap or wax that leave a film. Carpets are vacuumed and stains removed.
______Smoke detector batteries are installed and not beeping.
______House furnishings are left in good condition except for normal wear.
You must also acknowledge
Must climb stairs - Two flights up to this apartment!
Pet(s) live on property - There are two well-behaved dogs who live in other apartments in this house.
Some spaces are shared - All spaces in the parking area are shared and are available to Airbnb guests.
---
---
---
---
This apt is a great location for downtown access. The apartment is on the 3rd floor with lots of stairs. We found the apartment hot and not as comfortable as we had hoped. The community hallways we not well maintained.
The apartment is titled Third Floor Studio Apartment in a Victorian mansion. That means two flights of stairs plus several steps leading up to the front door as pictured in our listing. Sometimes I turn on the AC before a guests arrive. This time I didn't as we had a string of cool days prior to Ann's arrival. And it didn't register that the weather had turned warm on her arrival day. I apologize for that. As for the community hallways, I inspected them right after reading Ann's review and I consider them well maintained for a large community house. I wish Ann would have also noted that when she requested soon after arriving that she did not want to stay the third night that she had booked, I readily approved an alteration of her reservation so she would be refunded for the third night.
---
My wife and I were in town for our wedding anniversary and couldn't have been happier with our first Airbnb experience! Bob was a great host. Very forthcoming in communications (including helping us navigate a seeming booking systems snafu with ease and grace) and took the time to give us a tour of the grounds and sit down with us and get to know us when we arrived. He was quick with recommendations for coffee, breakfast, shopping, etc. All-around a great guy. 10/10, would Airbnb with him again! The space is very functional, bathroom was beautiful. We didn't spend much time in the apartment since we were out and about in Portsmouth, but it was nice to come "home" to a nice place to stay. The backyard is beautiful and back porch was amazing to sit on during a summer evening. Open, airy, and relaxing. Parking on the street was a breeze. We were about a ten minute walk from downtown. No complaints whatsoever!
---
Portsmouth, New Hampshire, United States
Joined in September 2013
I've been teaching yoga in the Portsmouth and surrounding area for 20 years. My studio is called Yoga by Donation where there are no set or even suggested fees, and where 20 teachers (including me) volunteer their time. In my retirement, I also manage our large apartment house located in a restored Victorian mansion near downtown Portsmouth. This work softens the reality of being an empty nester now that my three children are all adults. My partner is an architect and landscape designer and we love Portsmouth and hosting visitors to this amazing small city .
Response rate:
100%
Response time:
within an hour
Explore other options in and around Portsmouth
More places to stay in Portsmouth: