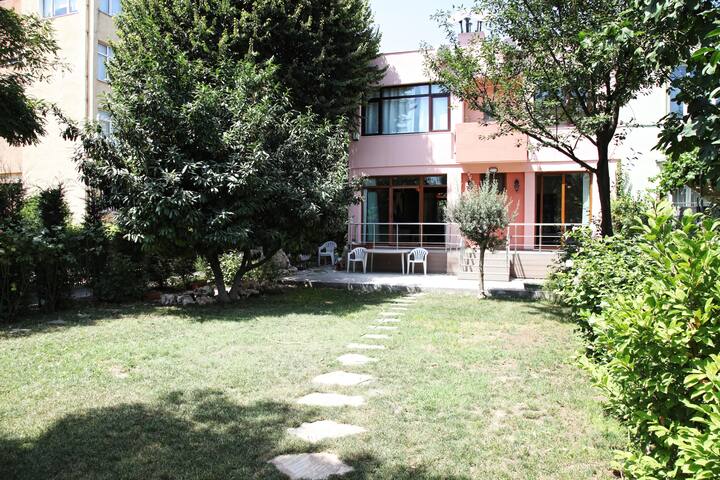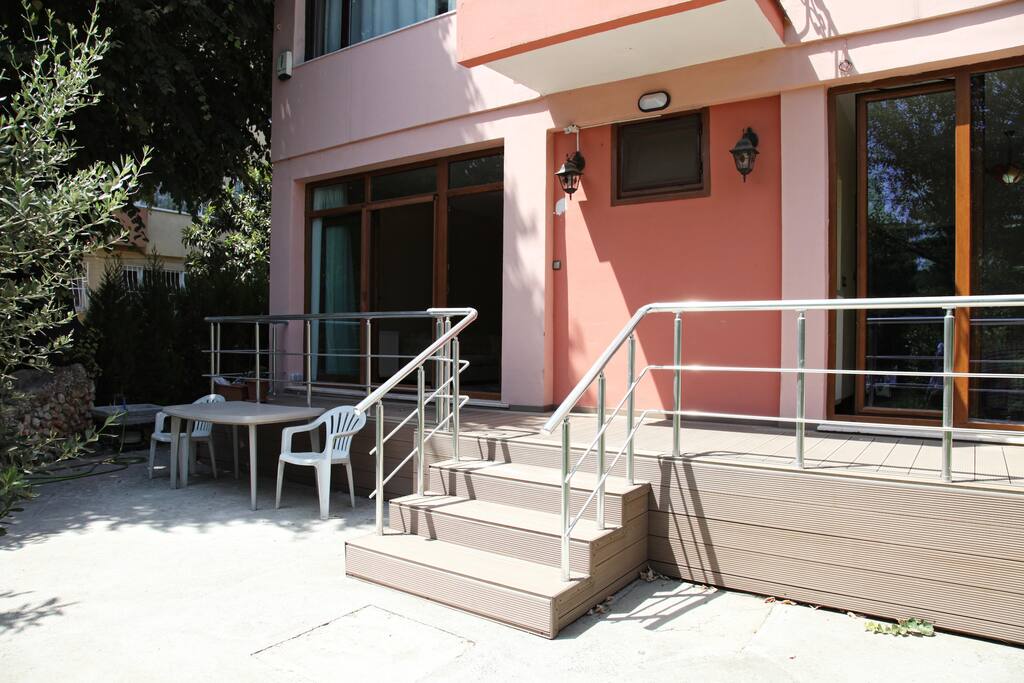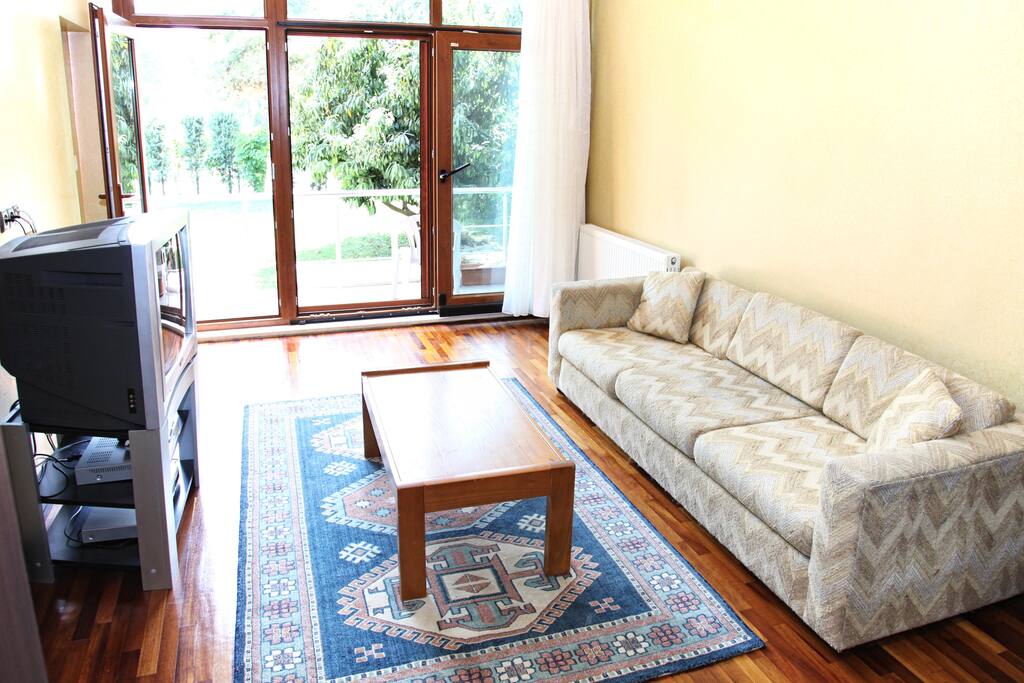 The space
-Villa with a marvelous 150 square meter garden.
-Excellent area with full of trees and gardens. There is also Florya wood 50 meters away.
-Cafes and restaurants are just near by.
-Great parking areas and gym. ( open area)
-85 meter square, 2+1
-2 WCs and a shower.
-A real double bed, two sofa beds ( one of them is a real type) and a couch.
-A large luxury American kitchen, washing machine and a big fridge.
-Internet available, wi-fi limitless.
-Satellite dishes with big screen Plasma Sony TV.
-A mini super market, a stationary shop, a pharmacy, a lady hair dresser and a post office and telephone booth just at the opposite of villa.
-5 minutes walk to nice shopping, cafes and restaurants areas.( Cennet Mahallesi -5 minutes walk and Florya-15 minutes walk)
-8 minutes drive from Ataturk International Airport.
-10 to 15 minutes walk to the sea and the lake (Kucukcekmece); beautiful view just near from the house.
- The metro bus (fast public transportation) is 100 meters away..
-A huge modern shopping center and modern underground passage connecting Metro Bus and other side of express road is being opened-100 meters away.
-By metro bus one can go to the center of town in 30 minutes to one hour.
-2 minutes walk to Taxi stand.
-10 minutes walk to hospital.
-5 minutes drive to a big popular aquarium and shopping center, Florya at the seaside.
-Close to international fairs: CNR is just next to the Ataturk Airport and TUYAP at Beylik Duzu.
---
---
Extra people £5 / night after 2 guests
Always communicate through Airbnb
To protect your payment, never transfer money or communicate outside of the Airbnb website or app.
Learn more
---
Pets are accepted at the (URL HIDDEN) smoking interior. Smoking is allowed at the terrace.
---
---
Mustafa is the most kindest of host and and helps you all the way. My family and I had the most wonderful experience staying at his house in Florya. He is ever so concern of your wellbeing. My sister had a bbq party for some 25 university students, he took her grocery shopping, instructed the butcher to do the marinade, set up the garden with tables, chairs and plates and actually man the bbq pit himself. 5 star!!!
---
Salam alikom. It was a very pleasant experience by leaving in Mr Moustafa'house. The house is fully equipped by all the necessary needs, and a lot of comfortable touches is always arround you, small beautiful details for you stay. Evrey things was like i wish , and the neighborhood is frendly , helpful as well, and evrey body knows you as MR' Moustafa guest. The area is safe and you don't feel or see any problem, it is really a quiet area. Mr. Moustafa is frendly before you see him and after you do , he is always asking about your stay and offers all the time to help in any way to please you. Even this kind of information that could make you happy about the pazar and any spacial occasions. He and his wife helps us too much and make us feel happy in our stay, and i would like to ask them a lot. Best regards.
---
What a lovely convenient space. It is appointed with beautiful furnishings and modern appliances. The home is also adjacent to tram lines, a small store, taxi stand and shopping within a 5 minute stroll. However, this is only a small part of the home. The host, Mustafa, is a gracious and caring host and defines the best of Turkish hospitality. You will appreciate his open and compassionate nature as soon as you have the pleasure of meeting him. I hear Istanbul and this beautiful home and host calling us to return and am not even over the jet lag.
---
It was stated in the advertisement that this is a two bed house. It has only one private bedroom. The other sofa beds are in a open plan sitting room, with a curtain on a rail as a divider. There is no bath in the house, as was stated in the advertisement. The only shower is in the on suite, which the other people who are not using the private bedroom have to walk through this bedroom to access. The hot water came and went during the showers. The heating was not in our control. It only came on at set times. This should have been mentioned in the advertisement. That said, Mustafa did come and fix the shower when we asked. This was an inconvenience though. He also collected us from the airport and dropped us to the airport on our day of departure which we appreciated. He also told us good tips about what to do in the area. The garden was lovely, and our favourite thing about the house. The house was well stocked with cooking equipment. He also brought people to view the house while we were there!!!That is not acceptable. The washing machine didn't work during our stay.
First of all thanks a lot for the good comments but there is one missing point: I went once more for the third time to the airport for the guests: Half of the family arrived and I fetched them from the airport and brought them back home. Then after about three hours I went back to the airport again to fetch the other half of the family coming from Iran. This was done by me voluntarily for free of charge and with pleasure.But I was shocked by the negative comments. For the negative comments my answers are as follow: 1- The house is 2+1. The center part of the wall has been removed instead a heavy curtain is used as a divider to be able to have a big salon when required. This is an advantage not a disadvantage I guess. 2-It is stated as 1.5 bathrooms at the adds. meaning WC and shower. Bathtub is never mentioned. All these can be seen at the photos in details as photographed by an airbnb professional photographer. 3- In this house everything is in perfect working condition at all times. It can be seen by all other reviews. The guest above had problems how to operate the heater and the washing machine. No problem for the heater I was happy to help. So I went immediately and reset the heater. But my excellent heavy duty Mielle washing machine was over tried and put out of order. I have found out this after they left. I am inviting him kindly to pay 40 Euros for the repair. 4-It was said that central heating was not at the control of the guest. During the stay of the guest Istanbul was sunny all the times but in spite of this the central heating was on in the evenings and the nights. The complaint must be from the over heating. The knobs could be turned off at the radiators. Or they could call me to fix it right away. 5- Only one time a guest of a friend of mine came from a long distance without my notice. We asked the permission from the guest to see the house only for one minute.That was it. Also we have waited about 10 minutes outside before entering the house to let them to be ready.. It was also admitted that I was on alert to help the guests at all times. Kind regards... Mustafa
---
Mustafa was a great host, his place is well equipped and clean, the garden was the best thing, we enjoyed a BBQ dinner. The location of the flat is very convenient even for public transport. Mustafa took great care in explaining everything in great detail, he lives walking distance to the flat which meant that he was available for help within minutes. The area is so beautiful, quiet and clean yet within few minutes drive to some of the most lively areas of Istanbul. Right across the flat are a small shop for all basics, food and drinks. We had a wonderful weekend!
---
Die Wohnung war schön. Genau so, wie es beschrieben war. Der Vermieter war super nett und sehr freundlich. Er hat uns alles, was in der Gegend war, wie Einkaufsmöglichkeiten, Apotheke, etc. gezeigt. Es ist eine ruhige Gegend. Und der Garten war für uns optimal mit zwei Kindern. Man konnte sich ruhig und frei bewegen, weil es rundum alles mit blickdichtem Büschen zugezäunt war. Wir würden jederzeit wieder hinfahren. Vielen Dank für alles
Madam Rabia and her husband were extremely kind, friendly and accommodating people. It was wonderful to meet them. They were very cooperative and understanding. They also had very cute children.They have taken care of the house well and amazingly they left very clean house. I am very thankful to them. I feel that I have got now wonderful friends... I am thankful to them a lot... I recommend them to the hosts very highly.
---
Reads and travels a lot, writes poetry, loves music and sports; appreciates sense of humor.
Languages:
Deutsch, English, Français, Türkçe, العربية
Response rate:
100%
Response time:
within a few hours
Explore other options in and around Florya/Bakirkoy
More places to stay in Florya/Bakirkoy: