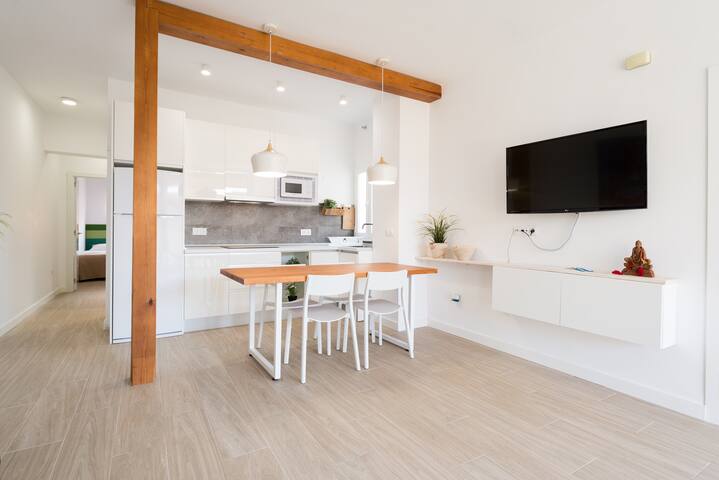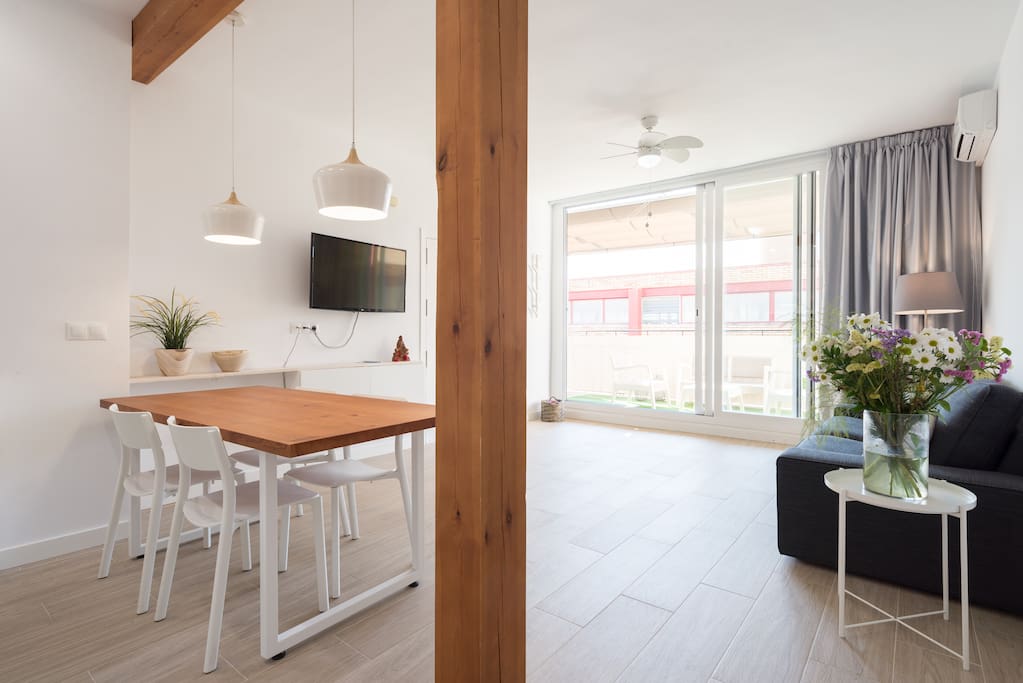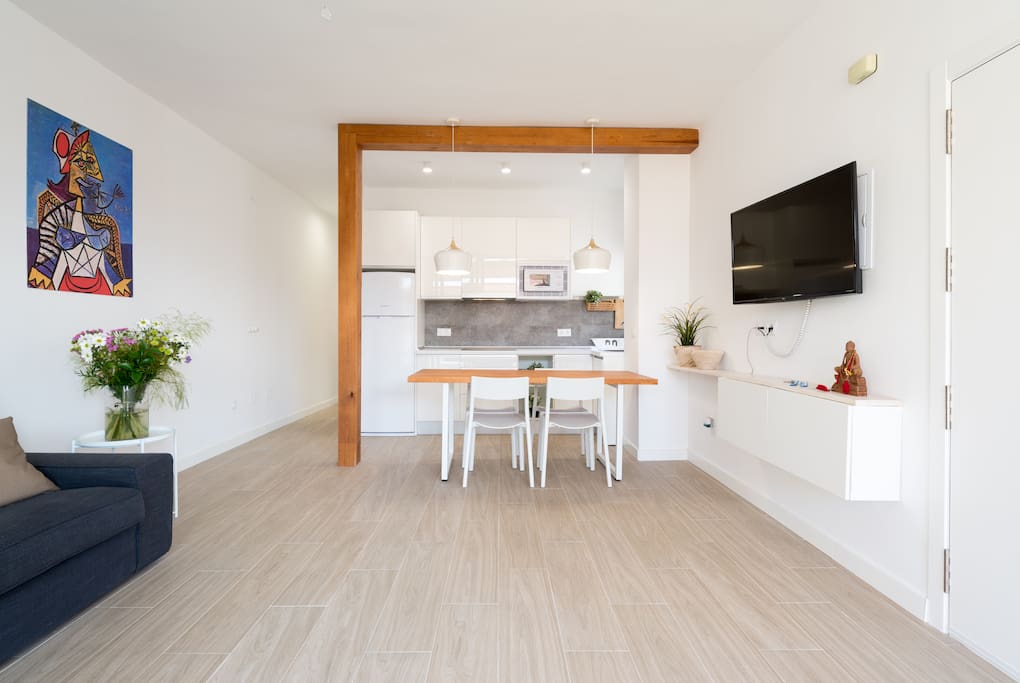 (PHONE NUMBER HIDDEN)
Penthouse 70 m2 with private terrace 16 m2, located in Historic Center of Malaga. Cozy, very bright, functional. A 5-minute walk from the Picasso, Thyssen and Bellas Artes Museums, 10 minutes walk from the Malagueta Beach. Ideal to know the city center, quiet street and well communicated. WIFI FREE AVAILABLE.
The space
Penthouse 70 m2 with private terrace 16 m2, located in Historic Center of Malaga. Cozy, very bright, functional.
Air conditioning hot and cold and ceiling fans, equipped kitchen. Fully renovated with private terrace 16 m2, furniture and new appliances.
4th floor, south facing terrace 16 m2 with sun all day. There is no lift.
WIFI FREE AVAILABLE.
San Felipe Neri area, La Goleta neighborhood. Quiet neighborhood, 8 neighbors, street well located and with very little traffic.
Located next to Local police station, in front of one of the 13 old brick chimneys of Malaga. Former Coal Thermal Power Plant "La Purificación", dates from 1890, now Industrial Heritage of Malaga. And next to the San José Carmelitas Discalzas Monastery, founded in 1585.
A 5-minute walk from the Picasso, Thyssen and Bellas Artes Museums, 10 minutes walk from the Malagueta Beach.
Ideal to know the city center, quiet street and well communicated. On foot you can visit the whole city center. In the Alameda, a 10 minute walk to buses to any point of the city. 5 minutes walk from the main museums of the city.
---
---
Check in time is 2PM - 11PM
---
If you fancy a trip to Malaga make Antonio your first choice if you want a first class apartment and
The perfect hosts. Right, kind, sensitive, polite and friendly people. Good communication, punctual and reliable. It was a great pleasure to be able to accommodate them in my apartment. They left the apartment in perfect condition. Thank you Linda and Neil .... !!!!!!!!!!
---
From the first day that we booked this apartment, Antonio was of great help and assistance, and extremely friendly. Sending us photos and recommendations, and answering any questions that we had. However a couple of days before our arrival, Antonio contacted us to let us know that they had been an accident in one of the apartments below, and this had, had an impact on his apartment, and we would be unable to stay there. Thankfully the dilemma was solved quickly, as Antonio offered to let us stay in his other apartment 'Don Rodrigo City Centre' at a discounted price, in way of apology. We were very surprised and grateful for his offer on the other apartment, we were just a little saddened because we were losing the outside space, as this was one of our main reasons for choosing the 'sunny' apartment. That said, the 'Don Rodrigo' apartment was large and spacious, very clean, and possessed all the equipment needed for a self catering stay. Including additional extras such as a parasol for the beach, a cool bag with ice packs, and even beach towels. These were all fabulous extras, and really added to the lazy afternoons on the beach, which is around a 20 minute walk from the apartment. The apartment itself is slightly out of the centre, but all major attractions are within a 5 to 15 minute walking distance, depending which side of the city you are trying to reach. There is a large supermarket a 5 minute walk from the apartment and they are many restaurants within a 5-10 minute walk. The 'Don Rodrigo' apartment we stayed in, is in the same street and only a couple of doors down from the 'sunny' apartment. There is currently a lot of building work taking place below the 'sunny' apartment, and even in the apartment where we stayed the noise was occasionally unbearable during the day, and sounded as though it was right next door on many occasions. Don't expect to sleep past 7am, between the monastery bells at one end of the street and the building work at the other, however throughout the night, it is a lovely quiet neighbourhood and sleep isn't disturbed. The only other issue we encountered was the continuous smell of petrol in the stairwell and outside of the 'Don Rodrigo' apartment, this was of concern on occasion as it could become quite overwhelming. Overall Antonio is a fantastic host, he checked up on us throughout our stay, made sure we were comfortable, and was on hand whenever we needed him, including booking us an very early morning taxi back to the airport. He went out of his way to make us feel welcome, is very knowledgable about the area and provided support at all stages. Thank you Antonio.
Nice friendly and polite couple. Very respectful people.Communication easy and smooth from the first moment of contact. I had to offer them an alternative apartment because of temporary construction works in one of the apartments in the building next door. There were some occasional noises due to these reforms, and fortunately they were soon over. It was a pleasure to accommodate these guests, extremely friendly. They left the apartment in perfect condition. Thank you Rachel.
---
Antonio's apartment is exactly as it looks in the photo - clean, light and airy, high up above the street, and very quiet at night. The centre of Málaga is quite compact, so although the apartment is located just outside the (much noisier) old town, everything is within easy walking distance. The furnishings are quite basic, but perfectly adequate, and it was a pleasure to spend time in the apartment, particularly on the large balcony in the early evening.
---
Had a brilliant stay at Antonios sunny attic apartment. All the way through booking process, check in and throughout our stay Antonio was so helpful and always prompt to answer any enquiries. Apartment was located on a quiet street but literally 5 mins walk to the action. There was a cafe right beside it and my brother went there in the mornings for his coffee. Perfect!! Air Conditioning was a godsend. Apartment is exactly as shown in the photos and even nicer in real life. Loads of space for 3 of us. Wifi worked perfect. Antonio even went and bought a new toaster for us!! Terrace was fabulous and also had a place to hang up washing or towels to dry... Would definitely stay here again. Antonio also kindly arranged a taxi to pick us up at the apartment and drop us to airport. Taxi was fixed price €20. Only one point to note which was no problem for us. There are about 70 steps up to apartment and no lift so you would need to be reasonably mobile. My mum is 61 and fit and she managed no problem but if there was somebody in your group who would find this difficult it is something to keep in mind! Thanks Antonio!
---
Antonio's apartment was the perfect place for our nine day stay in Malaga. Antonio met us at the apartment and provided information, maps and many suggestions as to what to see and where to eat. His English is very good. He was immediately available whenever we had a question or concern. The apartment is in a perfect location, a short walk to anywhere: the city center, museums, train station, tapas bars, beach, etc. The apartment itself is ideal. Recently renovated it has wifi, modern bathrooms and appliances, flat screen tv, furnishings, modern windows and blinds. One of the main draws is the outside porch. Antonio provided us with everything we needed to feel at home from the get go; towels, toilet paper, laundry soap, etc. This is an apartment, not a hotel room, thus expect to hear sounds of the neighborhood. However late in the night it is so quiet you can hear a pin drop. I highly recommend Antonio's apartment for a perfect Malaga vacation.
---
My husband and I returned from a great trip to Malaga recently. We spent nine nights at Antonio's rental apartment. Unfortunately our connecting flight to Malaga was changed on us but Antonio was super accommodating and understanding. We arrived in the night and Antonio kindly had tea and snacks available, which we appreciated. Before and during our trip, Antonio provided lots of information and was always quick to reply to any messages. The place was very clean and well laid out. The natural light was great. We enjoyed the balcony area, which is private with lots of sunlight. The kitchen has the supplies needed to cook/eat in and the supermarket is close. The bedrooms both had open shelving installed for clothes and such, which I loved. Antonio even has beach towels, beach umbrella, cooler bag and ice packs available for use, very thoughtful. The city is beautiful and you can walk everywhere. We hope to return to Malaga some day and would definitely stay at Antonio's rental again. Antonio was a welcoming, thoughtful and friendly host who went above and beyond. Thank you for everything Antonio!
---
Response rate:
100%
Response time:
within an hour
Explore other options in and around Málaga
More places to stay in Málaga: