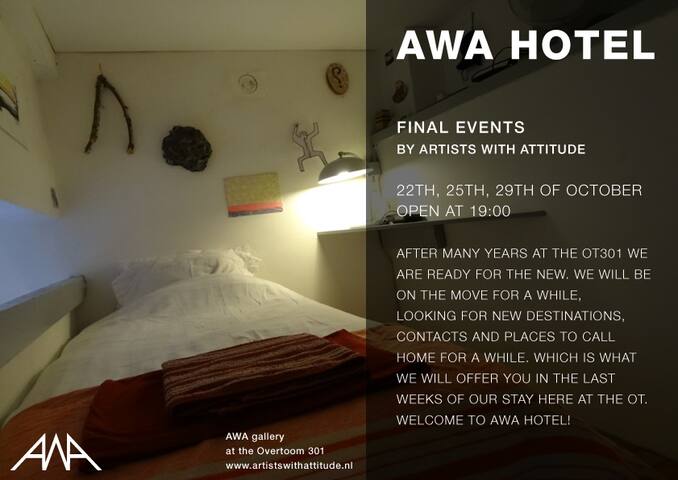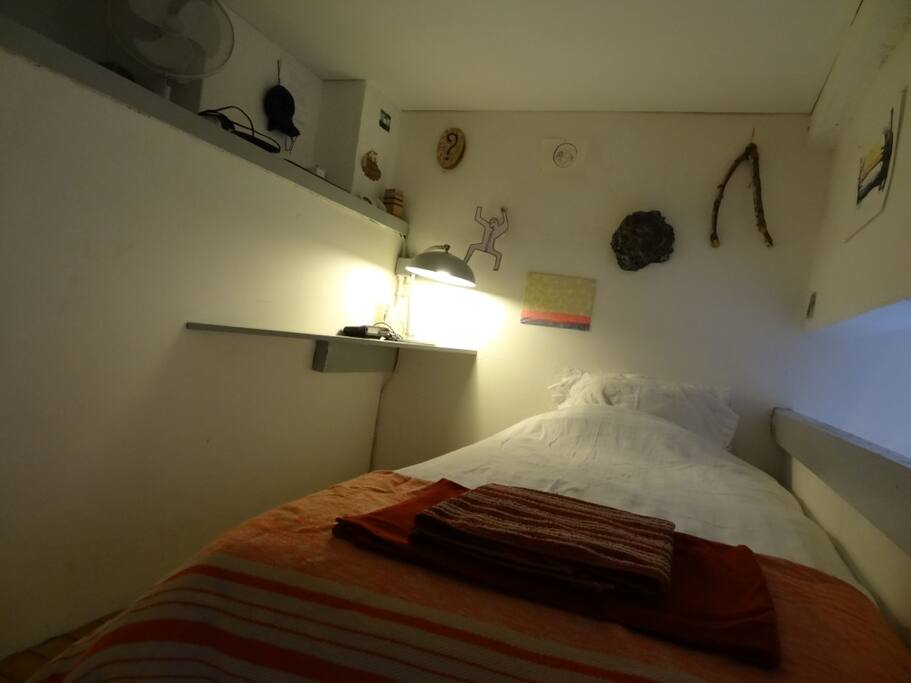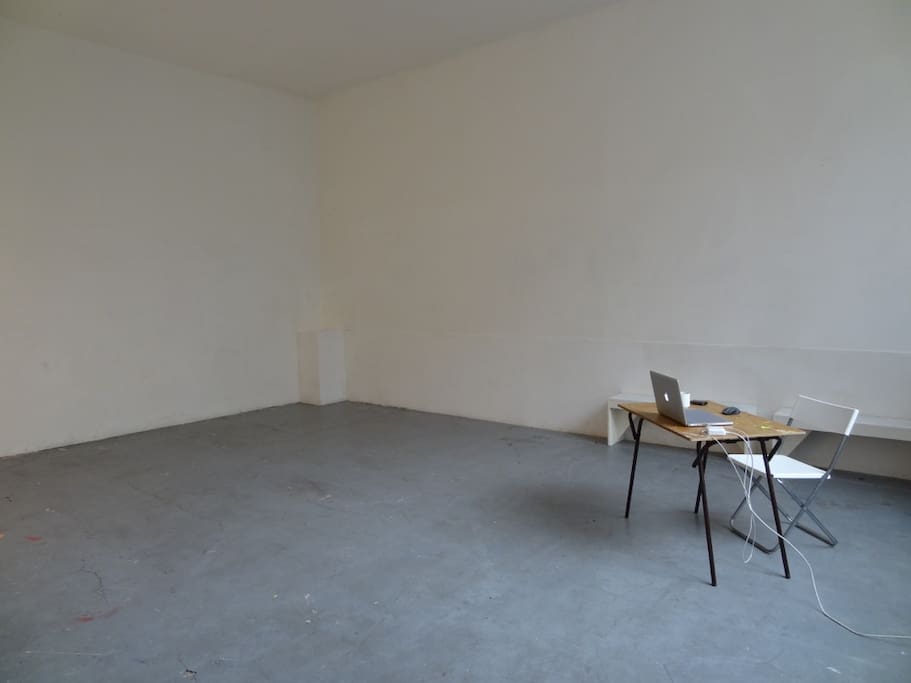 Sleep in an artpiece @ AWA hotel
Between 23th and 30th of October we will present a new project in our space in the centre of Amsterdam: The AWA hotel, a collaborative installation. Be part of an artwork and have a unique experience! Find us on that online 'book' for more info at Artists With Attitude.
The space
Our gallery/studio is based at OT301 in Amsterdam. The size of our gallery is 5,20 by 7,75 metres. OT301 used to be a squat in the Dutch city of Amsterdam which is located on Overtoom 301. EHBK has now bought the building which is used as a multi-media alternative cultural centre. The building is an old film academy and was squatted in 1999 by a group of artists. It is used in a range of ways, including as a venue for music and films, artists workspaces, a bookshop and an 'organic cultural kitchen' (a vegan restaurant) called De Peper.
The building is a very lively place.During the weekend there are often performances, bands and parties in the big studios of the OT301 building, this can be quite noisy but also very interesting. So if you are looking for a quiet hide away, the AWA HOTEL might not be what you are looking for, but if you are looking to find open, interesting, vibrant people this is the place to be.
Guest access
The gallery space will be hosting an exhibition of which you will be a part. The bedroom is part of the gallery space but private. There is a bathroom, toilet and a washing machine which are both shared.
Interaction with guests
During the AWA hotel project, we will have four openings that will take place in the evening and will be open to the public. The dates are 22th, 25th, 27th, 29th of October. You are, as part of the installation, required to be there. It will be fun! If you prefer not to be there, that is also ok. In return we will offer you a delicious breakfast.
---
imagine that you're an artist. you live in amsterdam. some of your friends have an artist-run gallery space, and you've been invited to stay overnight in the little loft room upstairs. this is what AWA offers you. to me, this was a dream. it was wonderful to meet my fabulous hosts, have a wonderful, stimulating chat and, at the end of the evening, to be left alone to enjoy my stay in this little art gallery located in a multi-use artists' building. the layers of good, creative, collaboration were the warmest blanket i could wish for. i stayed on a weekend when there were some fabulous dj's playing in another part of the building, but as i was good and tired when it finally came time to sleep, i locked the heavy door to the gallery and the fact that there was still a party going on in another part of the large, very solid building didn't disturb me at all. in fact, i enjoyed it. the people i met at the party were friendly and welcoming, but i didn't feel like i was expected to attend, only that i was welcome if i wanted to. note that if you're a very light sleeper, you might want to check to see if there is an event in the building on the night(s) you will stay. me, i'm a city girl who expects to hear a little bit of noise from her neighbors. but with the thick cement walls and a heavy door between us, i slept like a baby. the entire house was quiet in the morning, and i found nice cafe a block away. there is a lovely, large park located behind the building (with it's very own picasso sculpture!) if you'd like a stroll during the day, along with a couple of interesting vintage shops for browsing nearby. the gallery itself has very high ceilings (between 3 & 4 meters?) and poured concrete floors, but was quite cozy in an industrial sort of way. there's a small kitchen and music, as well as wifi. the bathroom is not in the gallery space itself but is located immediately next door to the gallery off the main hallway of the building. if you are looking for a unique, local feeling, both more intimate and more independent than a typical B&B experience, and especially if you are an artist who likes a live/work environment and the possibility to meet some local creatives, i can't recommend AWA enough. i hope i'll be back again soon!
---
Artists with Attitude (AWA) is a vibrant and diverse collective of visual artists that aims to enhance communication between artists, art lovers and those who happen to stumble upon the work presented in the AWA gallery at OT301. AWA uses a model of exhibition-making that focuses on the importance of facilitating artists with an open space to present their work and work-in-progress to a diverse audience. AWA are not curators but function as mediators; using their extensive network in the visual arts to generate both audience and participants for the AWA gallery.
Explore other options in and around Amsterdam
More places to stay in Amsterdam: