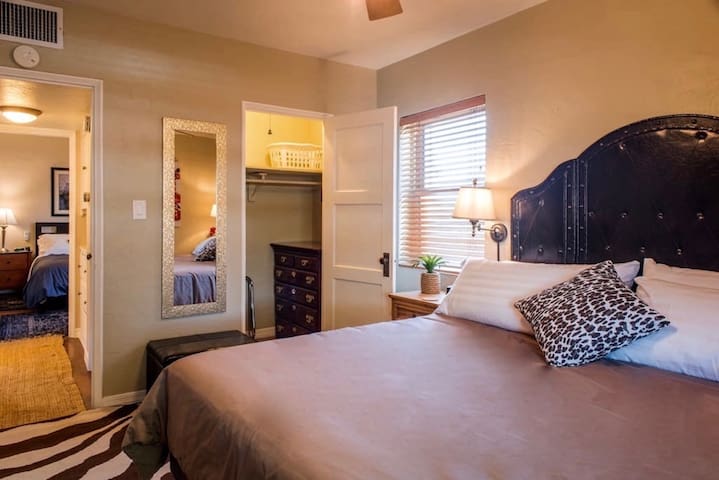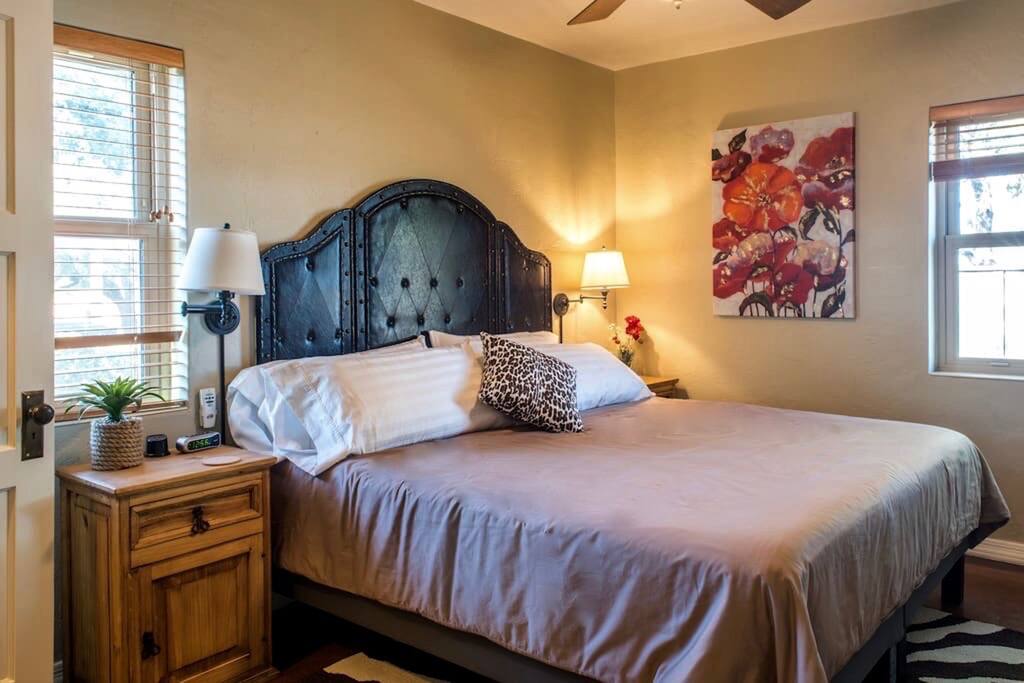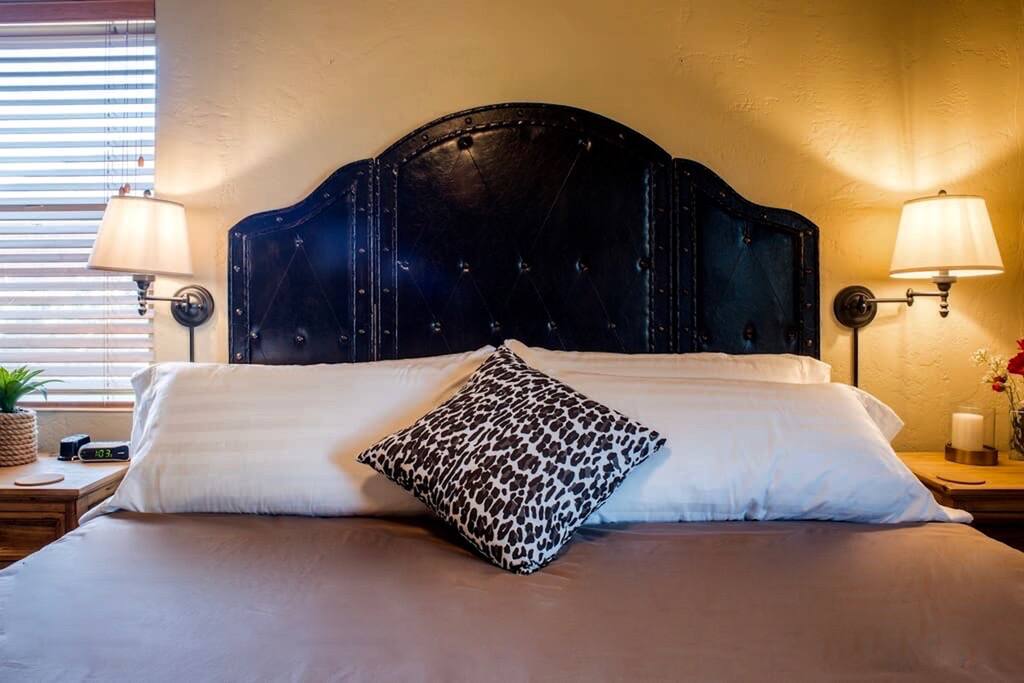 You can read several more reviews for our place if you check Shad's Casa Sr 2br.
Our Casa is Conveniently located 1/2 mile to shopping including, Starbucks, Whole Foods, Casa Century 20 El Con Multiplex Cinema,"Randolph Park & Reid Park Zoo", several popular dinning spots, golfing. Our neighborhood park is right down the street. Close public transportation with services directly to U of A & downtown area. Government ID required for all reservations & must match the one booking & staying in Casa.
The space
Rules for Casa that must be honored for stay at Casa:
-Government ID required! Government ID must match the one booking the Casa and be part of the party staying in the Casa. Picture ID presented Host to be presented at check in time.
-No smoking and/or vaping inside or outside.
-Absolutely no drugs are allowed at the property. This include marijuana use.
-No parties No loud noise from 10pm - 7am.
-Do not cut directly on the counter top. There are two cutting boards in below cabinet to right of stove. They can be put in dishwasher to be sanitized after wiping them off.
-No open flames in the home (this includes candles & incense).
-Bath towels, hand towels, & wash cloths are for bodies only. Do not use them to clean up spills and messes.
-Do not use washcloths to remove make up or clean your shoes.

ABOUT SHAD'S CASA JR:
Please keep in mind rules are only required to ensure that the Casa is as fresh and nice for you and future guests.
Our Casa is beautifully renovated property that accommodates a maximum of 2 guests that are looking for an economy stay in a single family home and not needing 2 bedrooms. Our Casa is kept exquisitely clean down to finest small details.
FOR EXTENDED STAY GUESTS: Any extended stay guests please ask about our cleaning services that are offered at reasonable rates. Even if its just to wash towels and linens. Extended Stay guests are asked to change sheets often to keep mattress fresh and clean. If you choose to handle your own laundry please ask Co-host before washing any of the linens or sheets on your own for special laundry methods. If there are any stains they must be handled before washing them and permanently damaging sheets or towels.
Laundry closet is located in Casa Carport right off the kitchen door. Liquid Laundry pods and bounce dryer sheets are provided for a few loads of laundry.
The Front door to Shad's Casa Jr. is very conveniently located close to its own covered Carport parking for unloading luggage.

Work desk station and bedroom has a charging station for phones and other portable devices. Iron and ironing board is located in bedroom closet.
On the desk is a salt lamp that is hooked up to a timer enabling the light to turn on in the evening and turning off late evening. If you do not want this light on there is a switch located on the attached cord close to the top is a flip switch where you can turn it off. Please do not unplug from the wall.
Bedroom over looks the private courtyard.
Beautifully remodeled bathroom. Complimentary shampoo & hair conditioner provided for first night stay.
Complementary cable TV with sports channels.
The kitchen is fully equipped with a dishwasher, gas oven/stove, microwave, Keurig coffee machine and/or a 4 cup European coffee press (If you don't know how to use the European coffee press please ask for assistance. You must make sure press is properly closed before pressing, hot water can spurt out if you don't know how to use it). Kitchen is truly fully equipped with everything you need including stainless steel pots, cooking utensils, cutting boards, large pizza pan, wine glasses, complementary tea, Keurig coffee pods, sugar, powdered Stevia, substitute sweeteners, honey, cracked pepper & sea salt grinder and basic spices you might need.
Shad's Casa Jr. has on designated covered carport parking for guest's for one vehicle and available lawful on street parking. PLEASE DO NOT BLOCK THE SECOND COVERED PARKING SPOT TO THE LEFT OF CASA PARKING SPOT. If you have a temporary visiting guest they can park lawfully on the street. If they are picking you up make sure they park as close to your car in carport as possible and not extend too far out to make the parking spot difficulty backing out.
Casa has its own private fenced-in front large patio space with beautiful "Better Homes and Garden" setting in private courtyard space with outside table, seating, lounge chair, a gas barbecue and ambiance outdoor night lighting and solar lighting. From time to time there will be maintenance to be done to the outside area of the home, including the private patio the potted plants may need watering, patio and carport sweep off and the watering system adjusted.
Absolutely no pets are permitted at the subject property, with exception of Service animals. If you wish to check-in with a service animal, we suggest you make an inquiry prior to booking your stay. You must provide proof of service animal's current copy of all his/her's animals vaccinations, and current proof of animal license & tags prior to your access to the property. Sorry, Shad's Casa is not set up to be pet friendly.
SURVEILLANCE SYSTEM: This property is monitored by an Outside surveillance system for the protection of guests and the property owner. The coverage of the system is limited to the exterior of the property, which includes the patio area. Guest privacy inside Shad's Casa is guaranteed.
Guest access
You'll find the front door to Shad's Casa Jr. by opening the brown wood gate to the "front house" on the property. Carport is off the front courtyard.
Please DO NOT approach backyard gates beyond carport. Once in the courtyard you'll see the bronze/brown wrought iron security front door. This door is the entrance to the home. Open the security door. The inside door has the August lock. Hopefully you have already downloaded the August Lock Ap. If you choose not to download the Ap you can be given an entry code to unlock and lock the front door. Please only use front door to enter and leave the property. Keep Kitchen door to carport locked at "ALL TIMES!" Check the carport door when you are leaving the property to ensure it is locked at before leaving the property. You will be responsible if you do not lock this door when leaving the property if property is access by unauthorized people. No one but the approved property is allowed to have access to the property when you are not the approved guest party at the property.
Once you are on the property of Shad's Casa the August Ap on our cell should connect to the August lock on the door. Follow the August instructions for the download. You can also contact August lock if you're having issues downloading. Once you have the Ap it is very easy to use and a breeze to open the front door even sitting in your car as you return to Casa.
A Large icon round button should appear in your program to press to open or lock the door. At first the circle maybe appear gray in color. Once it's connected to the door the gray button should change to either a red in color (this means door is locked) or green (unlocked). Press the Red icon on your screen to open the front door. It should turn green. You will hear the door unlock or lock. You will need to be on the property to access the lock or unlock capability. You can access the icon in the carport too once you have become accustomed to the program you can unlock the door prior to approaching the door to carry in groceries, etc.
Please contact Co-Host Julie prior to arriving to the property as soon as you have arrived at Airport or if you're driving as soon as you have arrived on the outskirts of Tucson. If you have previously arranged meeting with Julie she will meet you at the property to familiarize you with the property and assist you with the August lock. There are a few things you must be shown to ensure your stay is comfortable and you know how to use some items.
NOTICE: The August lock will not fully activate off sight and/or activate the key code number until 4PM of your check in date. FROM TIME TO TIME THE BATTERIES MUST BE CHANGED IN THE AUGUST LOCK AND THE KEYPAD! Batteries are changed on a regular basis but if there is high use of the August lock or keypad the batteries maybe needed to be changed more often. The August lock normally will display a message if they happens
Please DO NOT approach or enter the very backyard gate with "Beware of Dogs" posted sign. That backyard gate is located beyond the carport awning. The backyard is an entrance for another occupant. The backyard doesn't have access to Shad's Casa. Please note: Dogs are inside the backyard where it says "Beware of Dog!" Please do not disturb that occupant. Shad's Casa is totally separate area of the property and private from the back property.
Interaction with guests
Please do not hesitate to contact Co-host Julie if you have any issues or questions while at the property.
Other things to note
Honesty is important. If you have more guest's staying and they are not approved amount of guest's you will be forfeiting your deposit and reservation. No refunds will be given. Please book the right amount of people and ask permission for any changes of the amount of guests. Sorry, booking 2 guests and having 3-6 people staying is not acceptable.
Absolutely no pets are permitted at the subject property, with exception of Service animals. If you wish to check-in with a service animal, we suggest you make an inquiry prior to booking your stay. You must provide proof of service animal's current copy of all his/her's animals vaccinations, and current proof of animal license & tags prior to your access to the property. Sorry, Shad's Casa is not set up to be pet friendly.
---
---
Not safe or suitable for children (0-12 years)
Check in is anytime after 4PM
Self check-in with smart lock
Shad's Casa Jr. is a no smoking property! No smoking permitted in the residence, patio areas, carport, driveways and all landscaped areas within the property lines. No smoking policy includes all "e-cigarette" vapor devices. Guests who are found to be smoking any kind of material on the property can face an additional clean-up fees.
Guests can only park one vehicle on the property in the designated carport area (If facing the building on the right side covered parking) that is closest to the building. Please do not block the occupant's parking spot living in the back of the property. Back Occupant's parking spot is (if facing the building) on left side of the covered parking area. Additional vehicles can be parked lawfully on the street.
No burning of candles, incense or any like kind of burning materials are allowed to be used in or around the property.
If you use any linens, this includes sheets, blankets, comforters, pillows and towels that are stored in the closets or cupboards please do not put back from the place you took them out of. They are considered soiled and need to be cleaned only by us. Please do not wash any of Shad's Casa sheets, towels, blankets, bread spreads, or mattress covers without permission and/or instructions.
Absolutely no pets are permitted at the subject property, with exception of Service animals. If you wish to check-in with a service animal, we suggest you make an inquiry prior to booking your stay. You must provide proof of service animal's current copy of all his/her's animals vaccinations, and current proof of animal license & tags prior to your access to the property.
---
Julie, the co-host, was expedient in communicating and a pleasure to meet. Just a really nice down-to-earth gal. We lived in Shad's Casa Jr for 3 weeks. We've already done the tours while visiting our UA student, so mostly we relax at home. This home has a great practical floor plan. It's compact but spacious enough for my husband and me without getting in each other's way. While I worked at a desk/table, my husband used the dining room table as his workspace. I did a bit of cooking and, unlike some kitchens that are twice as big, Julie has thoughtfully provided all the kitchen items I needed. All the fruits/snacks were enjoyed too! This home is exceptionally clean in that it has quality EVERYTHING from the kitchenware to the towels and linens to the furnishings. The beautifully-landscaped private patio is serene and a wonderful area to relax or dine. There's a very nice BBQ that isn't grody either. Thoughtful black-out blinds in the bedroom and very quiet neighborhood - a great night's sleep in a king-sized bed. It's just a half block from a park where I felt safe as I did my daily walk. Super, excellent and not enough adjectives to describe Shad's Casa Jr. This is the home I'd live in if I moved to Tucson.
Robin, You are incredibly sweet and thoughtful. I love your private message you left us too. Incredibly detailed and also very thoughtful. :) It was such a pleasure to have you and Jim as a guest's and now as friends. I tried my best to make our Casa comfortable when setting it up. When decorating, buying items and organizing I tried to think of all the things I'd want if I stayed there that I might want and need. I'm so glad you and Jim enjoyed your stay at the Casa and appreciated it. I love our place too and it is important to us that all our guest's feel comfortable and enjoy themselves while at the Casa. And one ting I can't stand when staying other places is stinky pillows and blankets....I make sure our's pillows and blankets are exquisitely clean and fresh. Along with everything else in the Casa, too. I look forward to seeing you again. :) Thank you!!! Julie
---
I'm adventuresome, outgoing and happy! I like to travel but haven't been doing enough of it lately. I travel to Colorado as often as I can. I attended High School and College in Gunnison, Colorado. Living in Colorado I snow skied as often as I could while living there. I've onl…
Explore other options in and around Tucson
More places to stay in Tucson: