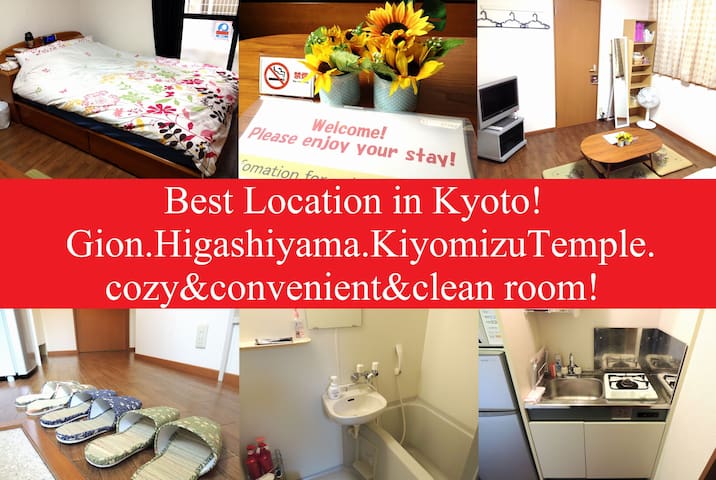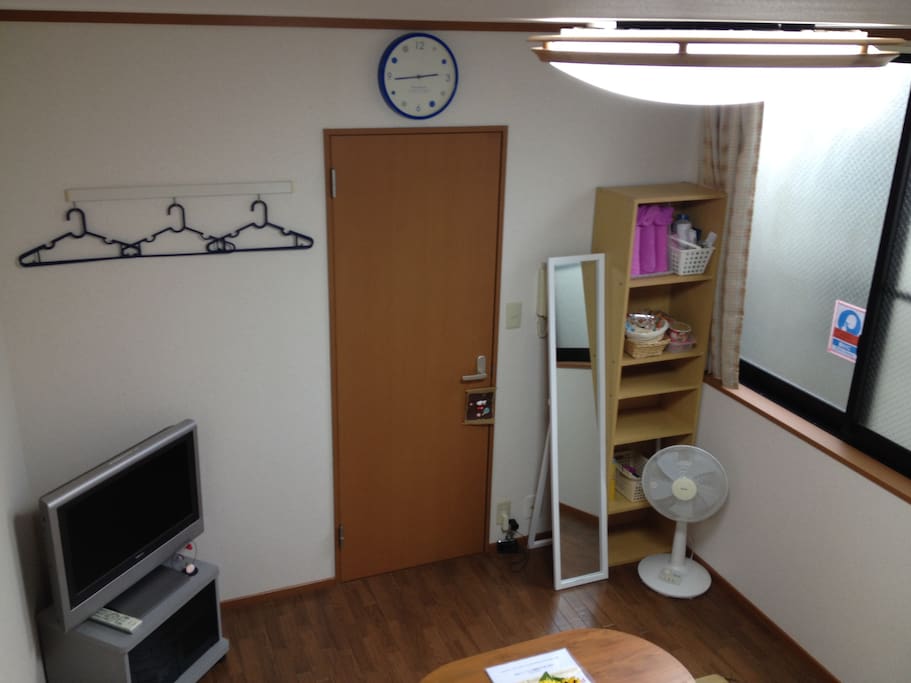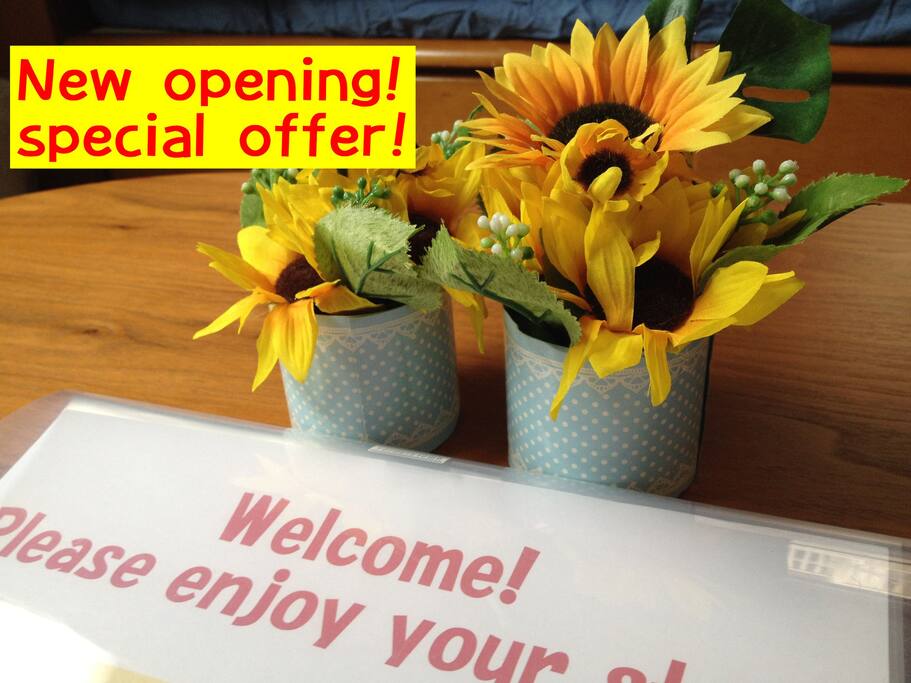 It is the best base for enjoying Kyoto. Location is very good. Gion, Hanami Kojiro, Yasaka Shrine and Kiyomizu Temple are all located in places that can be reached in about 5 to 10 minutes on foot. Furthermore, we can go to Kawaramachi where Kyoto's biggest downtown area, Pontocho full of Kyoto richness, Kiiya-cho area where there are countless eateries, and Nishiki market which is very popular for tourists in about 20 minutes on foot. There are various shops in the surrounding area, such as a supermarket convenient for living 1 min walk and a convenience store 3 min walk. There are also two old town bath houses within walking distance. There is one bicycle that you can use for free during your stay at any time. It is 3 minutes on foot from the main bus stop and 10 minutes on foot from the train station. It is also possible to move to various parts of Kyoto city such as Nijo Castle and Fushimi Inari Shrine. It is approximately 30 minutes by rail to Osaka. Osaka sightseeing is also possible on a day trip. Internet Wi-Fi is available free of charge in the room. This was my second holiday house. It is a room that boasts of good environment, cleanliness and high quality, living well enough to say "I want to live here" from my friends. In order to relocate to a separate house with my family, I wanted people traveling to Kyoto to use this vacant room and I posted it. Enjoy visiting Kyoto sightseeing from here!
京都を満喫する拠点に最高です。立地がとても良いです。
祇園、花見小路、八坂神社、清水寺など、全て徒歩5分~10分程で行ける場所に位置しています。
更に京都で最も大きな繁華街がある河原町、京都らしさ満載の先斗町、飲食店が無数にある木屋町エリア、そして観光客に大人気の錦市場へも徒歩20分ほどで行けます。
周辺には生活に便利なスーパーマーケット徒歩1分、コンビニ徒歩3分など様々なショップがあります。日本古来の銭湯も徒歩圏内に2か所あります。
滞在中いつでも無料で使える自転車1台あります。
主要バス停徒歩3分、鉄道駅徒歩10分にあり、二条城や伏見稲荷大社など京都市内各所への移動も可能です。
大阪まで鉄道で約30分。日帰りで大阪観光も可能です。
室内ではインターネットWi-Fiを無料でご利用できます。
ここは私の休日用セカンドハウスでした。友人達から「ここに住みたい」と言われるほど暮らし良い環境と清潔で高いクオリティを誇るお部屋です。
私は家族で別宅に移住するため、この空いた部屋を京都へ来て下さる旅行者の方々に利用して欲しくて掲載しました。ここを拠点に京都観光を存分にお楽しみください!
The space
·It is recommended because you can relax comfortably the stay of two people as well as staying alone. Up to 3 people are available but I think that 3 people use is a little narrow. ·Please use double bed (140 cm width) × 1 unit for bedding. ·If guests do not go to bed in the same bed, futon (single size) × 1 set is prepared so please use free of charge. ·The area around this apartment is close to famous sightseeing spots and it is in the area where the Japanese of the local Kyoto lives. It is a precious area where you can experience the lives of Japanese and Kyoto familiar people while staying. ·The apartment is a detached house independent from the neighbor, so there is no quiet environment where you can hear the noise of the neighbor. The building is young and beautiful and the quality is also the best. ·There is no view from the window or veranda because the room is on the lower floor. However, privacy from the outside is kept adequately. ·Since the large windows are on the second side, ventilation and ventilation in the room is also good and comfortable. ·It is a compact room, but it is a convenient room where you have everything you need for living and staying.
・1人滞在はもちろん、2人の滞在がゆったり快適におくつろぎ頂けるのでお勧めです。最大3人まで利用可能ですが3人利用は少し狭く感じると思います。
・寝具はダブルベッド(140cm幅) ×1台をお使いください。
・ゲスト同士で同じベッドに就寝しない場合は布団(シングルサイズ)×1セットを用意してありますので、無料で自由にお使いください。
・このアパートの周辺は、有名観光地に近く、地元京都の日本人が暮らすエリアにあります。滞在中は身近に日本人、京都人の暮らしを体感できる貴重なエリアです。
・アパートは隣家から独立した戸建風のため、隣家の騒音が聞こえるようなことも無く非常に閑静な環境です。建物も若く綺麗でクオリティも最高です。
・部屋は低層階にあるので窓やベランダからの眺望は無いです。しかし外部からのプライバシーは十分に保たれています。
・大きな窓が2面にあるので、室内の換気や風通しも良好で快適です。
・コンパクトなお部屋ですが、生活や滞在に必要なものが揃っている便利なお部屋です。
Guest access
·It is a fully private room. People other than guests will not enter or leave. ·Please use all items in your room freely. (Please use the futon set in the closet, the vacuum cleaner, the hanger, the iron freely, please do not use other fixtures) ·All rooms, of course, bath, kitchen, toilet, all for guests' guests. We do not share this facility with others. ·Free Wi-Fi is available. Communication is limited in the room. * Amenities * ·Bath towel·Father towel·Shampoo·Conditioner·Body soap·Toothbrush·Cotton·nail clipper·swab *kitchen* ·Freezing refrigerator·Microwave·Rice cooker·Electric kettle·Cooking utensil (mini skillet, pot, turner, etc.) ·Crockery (dish, small dish, bowl, cup, coffee cup, knife, fork, disposable chopstick etc) *living* ·Double bed·Single futon·Cooling heating air conditioner·Fan·Vacuum cleaner·Cleaning tool·TV·DVD player·table·cushion coupon·wall clock·digital clock watch (with alarm function) ·Hanger * Other * ·Automatic washing machine·Laundry detergent, Softener Soft·Iron·Ironing table·Slipper·Bicycle (1 set) Such
・完全プライベートのお部屋です。ゲスト以外の人が出入りすることはありません。
・お部屋にあるものは全て自由に使って下さい。(クローゼット内にある布団セット、掃除機、ハンガー、アイロンは自由にお使いください。それ以外の備品は使用しないでください)
・部屋の全てはもちろん、お風呂、キッチン、トイレ、全て宿泊者のゲスト専用です。この設備を他人と共有することはありません。
・無料Wi-Fiを用意しています。通信は室内限定です。
*アメニティ*
・バスタオル
・フェイタオル
・シャンプー
・コンディショナー
・ボディーソープ
・歯ブラシ
・コットン
・爪切り
・綿棒
*キッチン*
・冷凍冷蔵庫
・電子レンジ
・炊飯器
・電気ケトル
・調理道具(ミニフライパン、鍋、ターナーなど)
・食器類(大皿、小皿、丼、コップ、コーヒーカップ、ナイフ、フォーク、割り箸など)
*リビング*
・ダブルベッド
・シングル布団
・冷房暖房エアコン
・扇風機
・掃除機、清掃道具
・テレビ
・DVD再生機
・テーブル
・座布団
・掛け時計
・デジタル置時計(目覚まし機能付)
・ハンガー
*その他*
・全自動洗濯機
・洗濯用洗剤、柔軟剤ソフター
・アイロン
・アイロン台
・スリッパ
・自転車(1台)
など
Interaction with guests
·The rooms are self check-in & self check-out. ☆ Check - in ☆ From 15 o'clock anytime OK. ☆ Check-out ☆ strict observance until 10 o'clock. ·I live with my family in another place in Kyoto city. For questions and troubles, please feel free to respond if you can send a message at any time. ·Respect guest's privacy and I will not go to the room while you are staying. I will not visit the room unexpectedly to the guest. ·If you want to interact with me, please speak to me. Let's interact if time of each other matches. We will guide Japanese popular local restaurants, shops and big hot springs where travelers can not go. Let's go together! ·If you encounter any problems during your stay please send me a message soon. I will correspond as soon as I notice, but as I sleep at night, the correspondence may be the next morning.
・お部屋はセルフチェックイン&セルフチェックアウトです。
☆チェックイン☆ 15時以降いつでもOK。
☆チェックアウト☆ 10時まで厳守。
・私は京都市内の別の場所で家族と暮らしています。質問やお困りごとは、いつでもメッセージを送って頂ければお応えしますので安心してください。
・ゲストのプライバシーを尊重し、あなたが滞在中に私がお部屋へ行くことはありません。ゲストに無許可で私が突然に部屋を訪れることもありません。
・もしあなたが私と交流したい場合は声をかけてください。お互いの時間が合えば交流しましょう。旅行者が行けないような日本人の地元で人気のレストラン、ショップ、大きな温泉などを案内します。一緒に行きましょう!
・滞在中に何か問題が起きた場合はすぐにメッセージを送ってください。気付き次第に出来るだけ早く対応させていただきますが、夜間は寝ているので対応が翌朝になることもあります。
Other things to note
·Seasonings are not included. It is possible to purchase it in neighboring super market etc etc. ·Regarding transportation in the surrounding area, "Bus" is only driving around AM 7 o'clock ~ PM 9 o'clock, 'Train' is driving only around AM 6 o'clock ~ PM 23 o'clock. Please note that early morning and late night are canceled.
・調味料は置いていません。近隣のスーパーマケットなどで購入可能です。
・周辺の交通機関に関して、「バス」はAM7時頃~PM9時頃、「電車」はAM6時頃~PM23時頃のみ運転しています。早朝や深夜は運休していますので注意してください。
This listing has essential business travel amenities.
Extra people £17 / night after the first guest
Always communicate through Airbnb
To protect your payment, never transfer money or communicate outside of the Airbnb website or app.
Bedroom 1
1 double bed, 1 floor mattress
Not safe or suitable for children (0-12 years)
Check-in is anytime after 3PM
Self check-in with lockbox
==ハウスルール==
・部屋に入る時は靴を脱いでください。
・建物周辺、玄関前、室内、ベランダなど、全て禁煙です。
・周辺は閑静な住宅街です。窓を開けたままで大声で会話する、大きな音を立てる行為など厳禁です。
・特に夜22時から朝7時までの間は静かに過ごしてください。近隣は一般の住民が暮らしていますので配慮をお願いします。
・インターホンが鳴っても応答しないで下さい。
・問題が発生した場合は近隣住民へ相談せずに私へ連絡してください。出来る限りの事をします。
・この部屋は普通の住宅です。ホテルのようなコンシェルジュやクリーニング、ルームサービス等はありません。
・鍵を無くした場合は鍵交換の費用を全額弁償して頂きます。
・パーティーをしないでください
・室内や屋外は清潔に保ってください。
・備品類の紛失・破損・損害、近隣への迷惑行為による損賠賠償問題が発生した場合は実費請求します。

--------------------
== House Rule ==
· Please take off your shoes when entering the room.
· All around the building, front entrance, indoor, balcony, etc. are all non-smoking.
· The area is quiet residential area. Talking loudly while opening the window, acts of making a loud noise, etc. are prohibited.
· Please stay quiet especially from 22 o'clock in the evening to 7 o'clock in the morning. Because neighborhood is living in general residents, please give consideration.
· Please do not respond even if the intercom rings.
· In case of problems, please contact me without consulting the neighboring residents. I will do as much as I can.
· This room is an ordinary house. There is no concierge like hotel, cleaning, room service etc.
· If you lose your key, we will reimburse you for the entire cost of key exchange.
· Please do not party
· Keep indoor and outdoor clean.
· We will charge you actual expenses if compensation problems due to loss, breakage, damage, damage to neighboring items or damages caused by neighborhood occur.
--------------------
==众议院规则==
•当进入室内,请脱鞋。
而建筑物周围,前前门,房间,阳台等等,都禁止吸烟。
- 周围环境安静的住宅区。要大声说话,而对外开放的窗口,它是严格禁止的,比如做一个巨响的行为。
尤其是在晚上22时至早上7时,请静静地度过。附近是居民一般都生活会给我因为一个考虑因素。
对讲也响不响应。
•如果出现该问题,请联系我不说给当地居民。而且尽可能多地。
- 这个房间是一个正常的房屋。礼宾服务和清洗,如酒店,没有客房服务等。
•如果你丢失了密钥将被要求偿还全额密钥交换的成本。
- 请不要党。
- 室内和室外,请清洁。
,丢失,损坏等设备的损坏,如果你的儿子赔补偿问题滋扰已发生附近,实际费用索赔。
--------------------
== 하우스 규칙 ==
· 방에 들어갈 때는 신발을 벗고하십시오.
· 건물 주변, 현관 앞, 실내, 베란다 등 모든 금연입니다.
· 주변은 한적한 주택가입니다. 창문을 열어 둔 채 큰 소리로 대화하는 큰 소리를내는 행위 등 금지입니다.
· 특히 밤 22 시부 터 아침 7 시까 지 조용히 지내세요. 인근은 일반 주민들이 살고 있기 때문에 배려를 부탁드립니다.
인터폰이 울려도 응답하지 마십시오.
· 문제가 발생하면 인근 주민에게상의없이 저에게 연락하십시오. 가능한 한 일을합니다.
·이 객실은 일반 주택입니다. 호텔과 같은 안내 및 청소, 룸 서비스 등은 없습니다.
열쇠를 분실 한 경우 키 교환 비용을 전액 변상 해 주 십니다.
파티를하지 마십시오.
실내와 실외를 청결하게 유지하십시오.
· 비품 류의 분실 · 파손 · 손상, 인근에 폐를 끼치는 행위에 의한 손배 배상 문제가 발생했을 경우는 실비 청구합니다.
Great place to stay with easy access to transport and complete amenities. Also, host is kind and responsive.
---
Kiyoshi's house was splendid! It was so close to main attractions like Sannenzaka and Ninnenzaka paths, and the Kiyozumidera Temple. There were buses to everywhere from just a block away. Very cool place to stay! And the host Kiyoshi is very friendly and attentive!
---
Kiyoshi place is clean, spacious and well supplied, even done the extra to provide us with directions and recommendations. Place is near to the popular shrine Kiyomizu-dera. Highly recommend this place for all. However, even though Japan is a very safe country please be careful as the place is very dark at night. Will stay here again if we come back to Kyoto. Thank you Kiyoshi for providing us with drink and snacks too!
---
The room is spacious, really spacious. And it is located in a very quiet area and really close to kiyomizu temple. There are two fresco supermarkets around but I recommend the kohyo supermarket near Kyoto station. It is not too far if one takes the bike. Kiyoshi cares about the guest. He allowed me to check in earlier because of the weather. Since there was typhoon (twice) during my stay, he always sent me reminders about the weather and asked if I was okay. He invited me for a drink but I didn't get the message in time. Maybe we should do it next time? :D Also there is a hair spray which is quite convenient. A main drawback was the pocket wifi, It was really slow (luckily I bought a data SIM card in Osaka). Other than that, everything was fine. Kyoto is my most favorite city so far. I will revisit it someday.
---
Will stay again! Walk-able to many local attractions. There were many shrines in the vicinity that we were able to check out as well. I was also happy how clean and nice the apartment was. Apartment was in great condition. The bed was a bit firm for my taste although I feel like every bed in Japan is like that. Everything was provided for me and my husband. This place is like a 10 min cab ride from the Kyoto Station and a short bus ride as well. Kiyoshi also have a very detailed instructions on check-in and check-out process.
---
初めましてkiyoshiです。プロフィールの絵は私の最愛の娘が書いてくれた似顔絵です。
私は大阪の生まれ育ちです。学生時代は大阪で暮らし、社会人になってから京都に暮らして20年経ちました。ずっと関西に暮らしているので、関西のことは広く詳しいです。
趣味は運動をすること。時間があればジムに通って体を動かしています。
家族と食事や旅行を楽しんだり、友人とお酒を飲みながら楽しく語らう時間が大好きです。
私は料理を作ることが得意で、調理師の資格を持っています。普段は食品関係の仕事をしています。仕事柄、料理や日本食に関しては詳しいです。
好きな言葉は「雲の上はいつも晴れた青空」です。この言葉でいつも元気が湧いてきます。
日本にはたくさんの美しい景色、美味しい料理があります。ぜひ日本の良さ、京都の素晴らしさを知って欲しいと思います。
京都を知り尽くした私が厳選して気に入ったお部屋を提供しています。あなたの旅行が素晴らしい思い出になる為のお手伝いに役立てれば嬉しいです。
----------
Nice to meet you. My name is Kiyoshi.
The picture of my profile is the portrait that my beloved daughter wrote for me.
I was born and grew up in Osaka. I lived in Osaka during my school days. I moved to Kyoto after becoming an office worker. I have lived in Kyoto for over 20 years. Since I lived in Kansai for many years, I know widely about Kansai.
Hobbies are exercising. I am going to the gym and training if I have time.
I love eating, traveling, drinking alcohol with my friends, and having a good time with my family.
I am a good cook, I am a qualified cook. I usually do food related work. Knowledge of cooking and Japanese food is widely detailed.
My favorite word is "There is always light behind the clouds".
There are many beautiful scenery and delicious dishes in Japan.
Please feel the goodness of Japan and the splendor of Kyoto.
I use my knowledge that I know Kyoto so much and offer my favorite room.
I will help you make your trip a wonderful memory.

※ I can only speak Japanese. If you speak in English or Chinese, you will see an incorrect word because you use the automatic translation application.
Languages:
English, 日本語
Response rate:
100%
Response time:
within an hour
Explore other options in and around Higashiyama-ku, Kyōto-shi
More places to stay in Higashiyama-ku, Kyōto-shi: