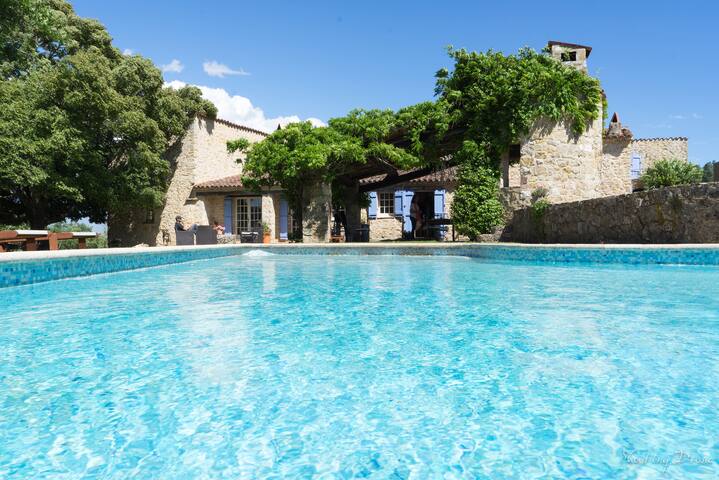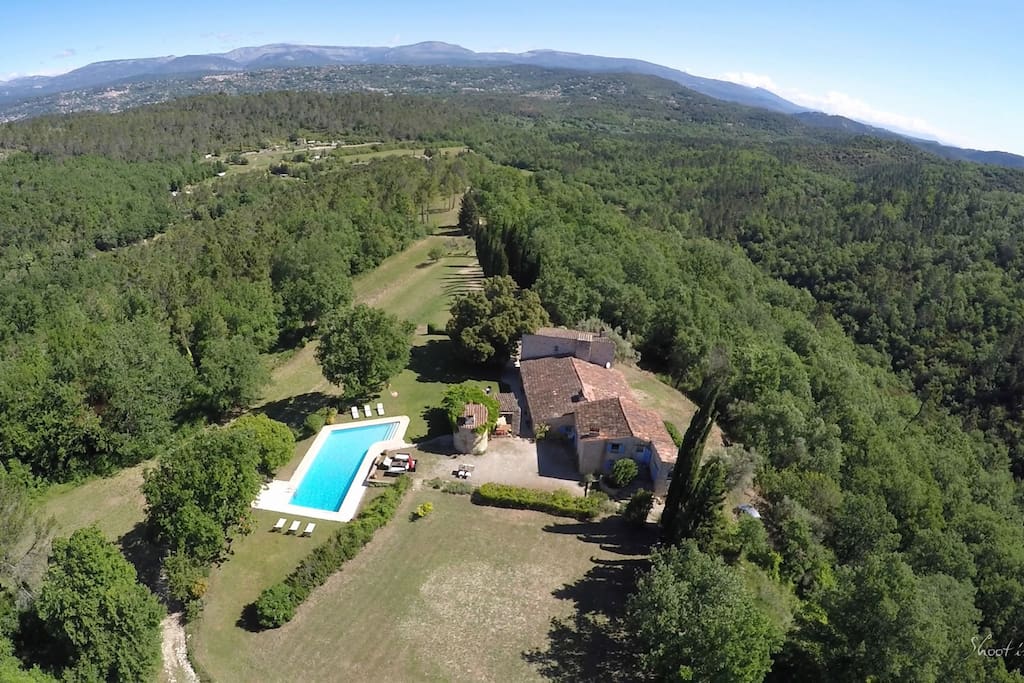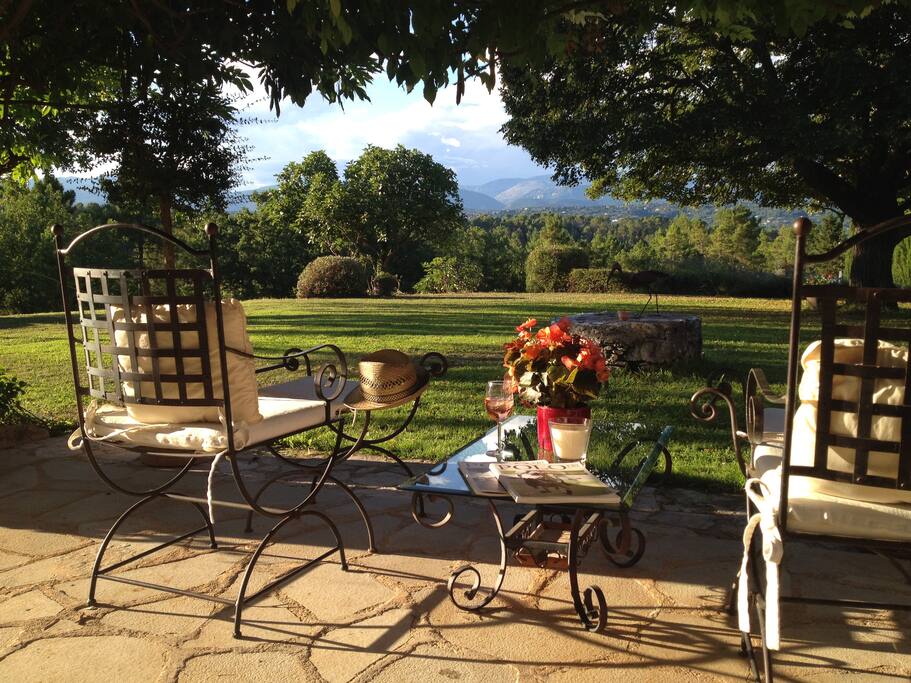 Wow! Unique 75-Acre Family Retreat w/ Private Pool
Wow! Unique 75-Acre Family Retreat w/ Private Pool
Sitting at the top of a hill on over 75 acres of land, this outstanding chateau has no rival.
With no neighbours in sight and a stunning panoramic scenery unfolding right before your eyes, this beautiful castles is fully equipped with all the modern luxuries from back home - including cable television, oversized BBQ, Wifi internet, fully stocked kitchen, Nintendo WII, and an immense private pool.
Let time stand still on your family retreat to the Cote D'azur backcountry.
---
Room type: Entire home/flat
---
---
Extra people £38 / night after 13 guests
Always communicate through Airbnb
To protect your payment, never transfer money or communicate outside of the Airbnb website or app.
Learn more
---
House Rules & Rental Agreement For Domaine Pijaubert
This Rental Agreement and Contract (the "Agreement") is a legally binding agreement made and entered into as of the Reservation Date written below by and between the undersigned person(s) or company (the "Guest") and the undersigned owner, manager or agent ("Rental Agent"), pursuant to which the Guest has agreed to rent the residence described below (the "Property"), for the duration of the Rental Term for the Total Rental Fee and other good and valuable consideration as described herein.
OCCUPANCY
Guest agrees that no more than the maximum number of persons listed on this listing shall be permitted on the Property at any time during the Rental Term, all of whom shall comply with the conditions and restrictions imposed upon Guest under this Agreement.
CONDITION AND USE OF PROPERTY
The Property is provided in "as is" condition. Rental Agent shall use its best efforts to ensure the operation of all amenities in the Property, such as internet access, satellite or cable TV access or hot tubs, fireplaces as applicable. Rental Agent shall not be held responsible for such items failure to work, but will make every effort to correct any issues as reported as quickly as possible. Guest acknowledges that use of amenities such as hot tubs, pools, spas, fireplaces, decks, and the like may be potentially dangerous and involve potential risks if improperly used, particularly with regard to children and such use is at the Guest's own risk. Guest shall use the Property for residential purposes only and in a careful manner to prevent any damage or loss to the Property and keep the Property in clean and sanitary condition at all times. Guest and any additional permitted guests shall refrain from l any immoral, offensive or unlawful purposes, nor violate any law, association rules or ordinance, nor commit waste or nuisance on or about the Property.
DEFAULT
If Guest should fail to comply with the conditions and obligations of this Agreement, Guest shall surrender the Property, remove all Guest's property and belongings and leave the Property in good order and free of damage. No refund of any portion of the Total Rental Fee shall be made and if any legal action is necessary, the prevailing party shall be entitled to reimbursement from the other party for all costs incurred.
ASSIGNMENT OR SUBLEASE
Guest shall not assign or sublease the Property or permit the use of any portion of the Property by other persons who are not family members or guests of the Guest and included within the number of and as permitted occupants under this Agreement.
RISK OF LOSS AND INDEMNIFICATION
Guest agrees that all personal property, furnishings, personal affects and other items brought into the
Property by Guest or their permitted guests and visitors shall be at the sole risk of Guest with regard to any theft, damage, destruction or other loss and Rental Agent shall not be responsible or liable for any reason whatsoever. Guest hereby covenants and agrees to indemnify and hold harmless Rental Agent and their agents, owners, successors, employees and contractors from and against any costs, damages, liabilities, claims, legal fees and other actions for any damages, costs, attorneys fees incurred by Guest, permitted guests, visitors or agents, representatives or successors of Guest due to any claims relating to destruction of property or injury to persons or loss of life sustained by Guest or family and visitors of Guest in or about the Property and Guest expressly agrees to save and hold Rental Agent harmless in all such cases.
RELEASE
Guest hereby waives and releases any claims against Rental Agent, the Property owner and their successors, assigns, employees or representatives, officially or otherwise, for any injuries or death that may be sustained by Guest on or near or adjacent to the Property, including any common facilities, activities or amenities. Guest agrees to use any such facilities or amenities entirely at the Guest's own initiative, risk and responsibility.
ENTRY AND INSPECTION
Rental Agent reserves the right to enter the Property at reasonable times and with reasonable advance notice for the purposes of inspecting the Property or showing the Property to prospective purchasers, renters or other authorized persons. If Rental Agent has a reasonable belief that there is imminent danger to any person or property, Rental Agent may enter the Property without advance notice.
UNAVAILABILITY OF PROPERTY
In the event the Property is not available for use during the Rental Term due to reasons, events or circumstances beyond the control of Rental Agent, Rental Agent will apply due diligence and good faith efforts to locate a replacement property that equals or exceeds the Property with respect to occupancy capacity, location and value that meets the reasonable satisfaction of the Guest. If such replacement property cannot be found and made available, Rental Agent shall immediately return all payments made by the Guest, whereupon this Agreement shall be terminated and Guest and Rental Agent shall have no further obligations or liabilities in any manner pertaining to this Agreement.
ADDITIONAL TERMS TO THE RENTAL AGREEMENT
In addition to the standard terms included herein, Guest acknowledges and agrees that the following additional terms and conditions apply to the Guest's rental of the Property:
1- You must provide a credit card or cheque for the damage deposit on check in
2- No smoking in the bedrooms and don't throw cigarette butts in the garden, flowerpots or forest
(high fire risk)
3- ONLY throw toilet paper in the toilets. We have ecological pipes and they will block and the motor
will break if anything else goes down the drains.
4- Please rinse the dishes before putting them in the dishwasher.
5- Take out the trash regularly as with the heat becomes very unsanitary and attracts wild animals.
5- Remember to do a trash run upon departure before loading suitcases in the car.
6- For fresh nights, open windows with mosquito nets at night and close during the day.
7- Please turn off the house lights and lock the doors if you leave the villa.
8- Remember to turn off the exterior lights during the day.
9- Children are welcome, however, it is your responsibility to see that they are supervised at all times.
10- Neighbours and hunters dogs sometimes get lost and wind up at the house. Please don't feed and
please contact Rental Agent.
11- The house cats, Garfiel, Tink and Pixie love cuddles and sometimes join in on dinner if invited.
Please don't give them chicken bones.
12- No glass in or around the pool. Use plastic glasses/cups provided.
CANCELLATION POLICY:
IF BOOKED THROUGH AIRBNB (strict):
For a 50% refund of accommodation fees, cancellation must be made seven full days prior to listing's local
check in time (or 3:00 PM if not specified) on the day of check in, otherwise no refund. For example, if check-in is on Friday, cancel by Friday of the previous week before check in time.
If the guest cancels less than 7 days in advance, the nights not spent are not refunded.
If the guest arrives and decides to leave early, the nights not spent are not refunded.
IF BOOKED THROUGH FLIPKEY (strict):
For a 50% refund of the total cost, cancellation must be made at least eight weeks before check-in.
For a 25% refund of the total cost, cancellation must be at least four weeks before check-in.
If the guest cancels less than 4 weeks in advance, the nights not spent are not refunded.
IF BOOKED THROUGH (SENSITIVE CONTENTS HIDDEN) (strict):
Bookings must be cancelled at least 60 days before the start of stay to receive 100% refund
If the guest cancels less than 60 days in advance, the nights not spent are not refunded.
GENERAL PROVISIONS
This Agreement contains the entire agreement between the parties with regard to the rental of the
Property, and any changes, amendments or modifications hereof shall be void unless the same are in writing and signed by both the Guest and the Rental Agent. This Agreement shall be governed by the laws of Tribunal de Draguignan. The words "Rental Agent" and "Guest" shall include their respective
heirs, successors, representatives. The waiver or failure to enforce any breach or provision of this
Agreement shall not be considered a waiver of that or any other provision in any subsequent breach
thereof. If any provision herein is held invalid, the remainder of the Agreement shall not be affected. Any
notice required to be given under this Agreement shall be in writing and sent to the contact information
included herein. This Agreement may be signed in one or more counterparts, each of which is an original,
but taken together constitute one in the same instrument. The execution of a payment, online acceptance
of these terms, or digital signature shall be deemed a valid signature.
---
---
---
The minimum night stay for this listing varies.
---
The Domaine de Pijaubert Chateau is professionally managed and has been a family-run for almost two decades. With a keen eye for detail and a focus on guest satisfaction, the Pike family is truly dedicated to providing its guests with the most comfortable stay imaginable. Always on hand to provide local tips and suggestions, experience the French Riviera as it was meant to be!

With experience in accommodating small groups, large family reunions, and even weddings, enjoy the Domaine de Pijaubert with a nice glass of wine and a smile on your face. Breathe in the fresh air while your recanted the history of your beautiful castle; A place where time slows and where you'll be given the opportunity to take in the simple pleasures in life.

This castle is professionally managed, fully cleaned before every stay, and for your convenience, it comes with clean luxury linens & bedding, towels, soaps, and everything else you'll need for a comfortable stay.

Your stay includes:
- On-site property manager to give you a welcome tour of the property and local tips (always available if needed)
- Luxury linens & bedding, towels, soap
- Free parking for 10 cars!
- Assorted cleaning products (Dishwasher tabs & liquid, mop, broom)
- Gardening staff to make sure the grounds are well-kept for your trip
- Help in event planning (we host weddings!)


WHY BOOK WITH US?

Not only are we dedicated to ensuring an unmatched experience during your stay, we're also dedicated to providing a truly exceptional booking experience, helping to manage your transition from reservation to check-in with unmatched convenience & transparency.

In collaboration with Guestio.club (by Vacation Rental Partners co), we'll give you access to your own virtual travel planner and concierge guidebook, compiled with the best travel services that will help you save valuable time AND effort while planning the rest of your trip.

You'll have quick and easy access to the best companies offering:
- flights
- taxi & car services
- rental cars
- airport parking
- travel and trip cancellation insurance
- and even V.I.P Access to hundreds of exclusive airport lounges worldwide!

Book now while you still can!
Response rate:
100%
Response time:
within an hour
Explore other options in and around Montauroux
More places to stay in Montauroux: