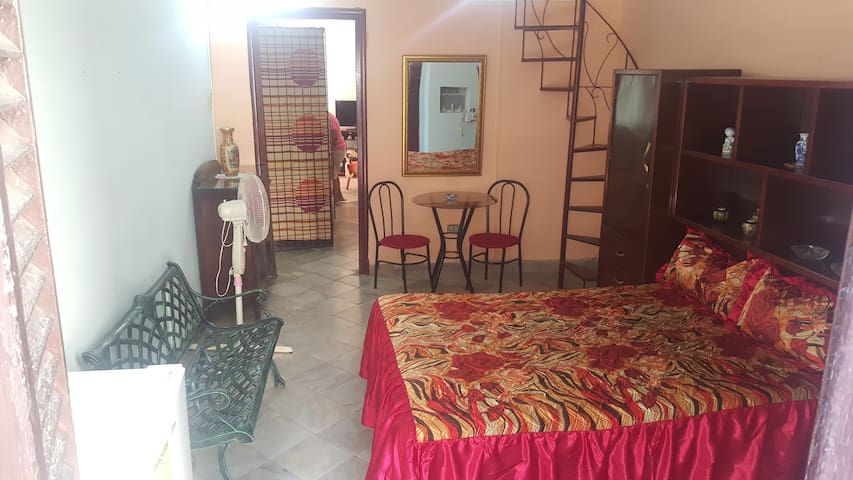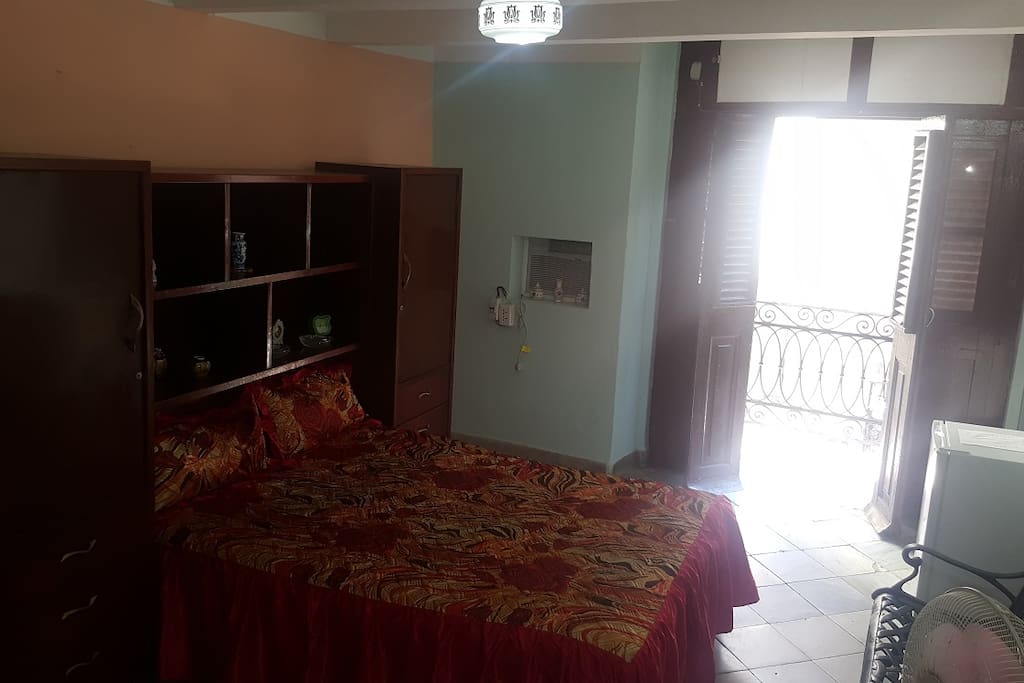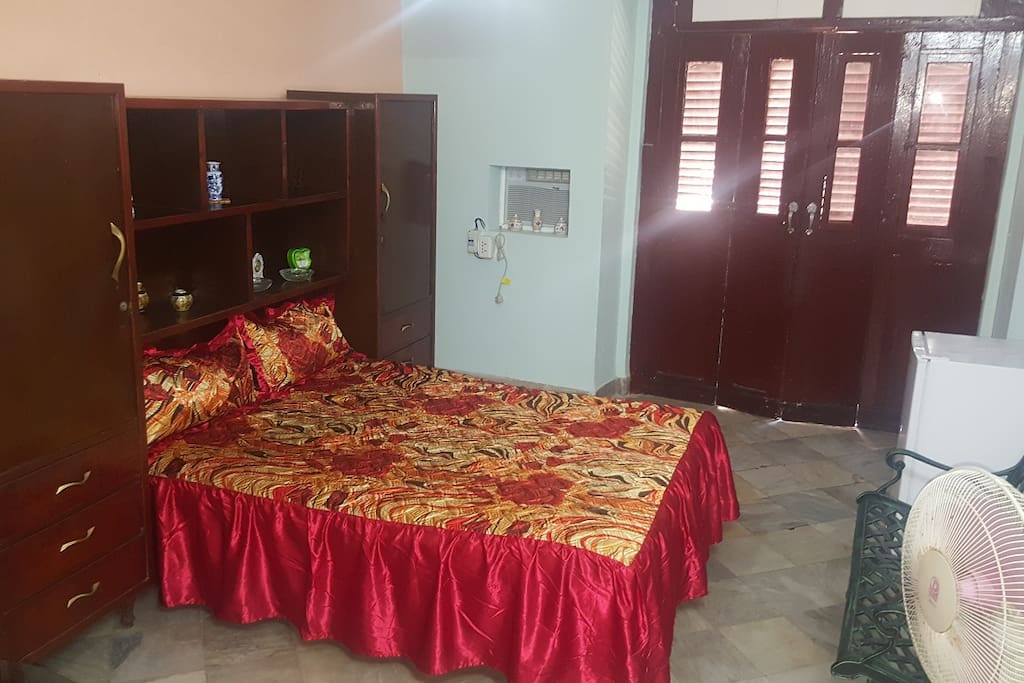 This is a cozy private accommodation at affordable price in the very heart of historic town of Havana. From this CASA you can visit every point of interest just walking. Here you will find the most renowned Restaurants, Bars, Arts Museum and Beaches just 20 min away. Since 1559, Plaza Vieja has been Havana's most architecturally eclectic square. Showcasing styles ranging from Cuban baroque to Gaudí-inspired Art Nouveau. Today, it is home to several splendid bars, restaurants and cafés.
The space
This is a cozy private accommodation at an affordable price in the heart of the historic city of Havana. From this CASA you can visit all points of interest on foot. Here you will find the most renowned restaurants, bars, art museums and beaches just 20 minutes away. Since 1559, Plaza Vieja has been the most architecturally eclectic square in Havana. Featuring styles ranging from Cuban Baroque to Gaudí inspired by Art Nouveau. Today, it is home to several splendid bars, restaurants and cafes.
This cozy private accommodation is located in a beautiful part of Havana. We are just two blocks from Plaza Vieja, a place recognized as the heart of Havana and historical heritage. Here you will find many interesting places such as the Cathedral of Havana, Morro Castle, Castillo de la Fuerza Real, Plaza de Armas, Plaza de San Francisco, Capitolio de la Habana and also the renowned restaurant La Bodeguita del Medio, El Floridita, The Rum Palace, Partagas Cigars Factory. Everything is located within walking distance. Just 15 minutes away are the beautiful beaches of Havana, where you can find the sun, the music and the party.
We offer excellent and friendly service. We will give you all the tips for a pleasant stay in your visit, we are the kind of hosts with many wishes that offer you a special service.
!!!!Attention!!!
Proposed travel must be EDUCATIONAL for any person (click on it) If Airbnb has not completed its booking process.
We offer:
-Two comfortable rooms with a bathroom.
-Exclusive guest bathroom
-Excellent balcony overlooking the colonial streets of Havana
-Hot and cold water
-Bar-fridge
-Air conditioner
-Fan
-Hair dryer
-Light to read
-Line quality lines
-Daily room service
-Delicious breakfast (extra charge)
-Money change (US dollars only)
-Taxi of the house available, must be coordinated in advance
We offer excellent and friendly service. We will give you all the tips for a pleasant stay in your visit, we are kind people with many desires to give you a special attention.
Our house has a very peculiar quality, we have two rooms that we rented together because to get to the upstairs room you have to go through the room below, the bathroom will be shared for both rooms, so we advise that our guests are families or friends
We are here to answer any questions and give recommendations / instructions as needed!
I am happy to show you everything and excursions deal. Airport pick-up / drop-off available.
This is not my main residence, but I will be around all day to see if I need help.
We offer a splendid breakfast service all morning with tropical fruits and juices, milk, tea, toast, butter, eggs, sandwiches, sweets and a delicious Cuban coffee and also juice, tea, only 5 CUC per person.
From its timeless Spanish architecture to its lively music, to its people, as warm and welcoming as its tropical climate, Cuba has its own ingrained culture. Just 90 miles off the coast of the United States, Cuba is a captivating journey back in time, with nine UNESCO World Heritage Sites, cobbled streets lined with classic cars and a landscape almost intact by Western influence.
There is an abundance of bars, restaurants, art museum, close views of the cities, and a wide variety of places to go depending on what you are looking for. Also easy access to the city.
Our location is close to public transportation.
-Taxi service
-International Bank (Get cash from your acc bank)
-CADECA (exchange of currencies)
- Office rental
-Driver driver
- Local service like Bike-Taxi
FAQ- QUESTION FREQUENTLY ASKED QUESTIONS
!!!!!!! You do not need to RENT a tour guide you do not know. We offer you the best qualified staff !!!!!! That for a modest price and with much pleasure will give you a city tour around our city and if you wish you can accompany the 24 hours, teach them to salsa dancing and much about Cuban culture, it is highly recommended to walk the streets of Havana with a Person who knows nothing of history, so you will not miss a detail or approach some characters a little undesirable, and will make your stay in Cuba the most beautiful of their experiences.
Note: Debit or credit card issue by american banks don't work yet in Cuba.
Major credit cards like Visa and MasterCard are accepted for payments and cash withdrawals, except when issued by U.S. banks, which obviously completely eliminates American Express. The same conditions apply for Travelers Checks, so cash is the only solution for U.S. visitors who do not have an account in a non-American bank.
We are 15 minutes away from airport
Taxi fare is around 30-40 CUC.
- ADDRESS IN CUBA
When filling out your tourist card you must include your address in Cuba. Make sure to include the address of a legitimate hotel or legal casa particular, even if you plan to travel around the country. This will help you to avoid any conflicts or confusion with Cuban immigration officers.
- HOW CAN I PLAN MY WEEKLY BUDGET IN CUBA?
Cuba is not the most expensive place in the Caribbean, nor is it the cheapest. However, in comparison with most other Caribbean destinations you can get by with much less if you're a savvy traveler and know how to spend your Cuban Convertible Pesos. Those staying in a mid-range casa particular will be covered for accommodation, food and transportation costs with $75 – 100 CUC per day. Low budget travelers could get by with even less, especially if buying food from local vendors on the street.
- IS CUBA SAFE FOR AMERICANS? Yes. Cuba is very safe. In fact, Cuba has the lowest crime rate in Latin America. The average traveler has little reason to worry about personal safety in the streets, hotels, or any other places he or she might visit. While petty crime does exist, it occurs only rarely and poses little problem for attentive travelers.
- CAN I EXCHANGE MONEY IN CUBA? Yes. In Cuba, airports, hotels, banks, and CADECA bureaus exchange currency (U.S. and Canadian dollars, Euros, British pounds, and other types). Hotels are often the most convenient places, and offer similar rates to banks and CADECA bureaus. Be sure to carry proper ID (typically, a passport).
- WHAT CAN I BRING BACK TO THE U.S. FROM CUBA? Currently, Americans are allowed unlimited quantities of informational or educational materials, such as books, lms, artwork, posters, photographs, and CDs. As of Decemb, Americans are also allowed to bring back as much as $400 worth of other goods, including up to $100 worth of cigars and rum.
- BOOKING
Don't worry your reservation will be respected, in the same way we expect that you notify us if you decide cancel it. CASA owner have to pay a huge monthly tax to rent out. We have to pay this tax even if we have guest or not.
- ABOUT AIRPORT PICK UP SERVICE
Our airport pick-up service is offered to prevent some unscrupulous taxi drivers from diverting guests to other untrustworthy lodgings.
If you do not accept our trusted pick-up service. Please take these precautions:
- Do not allow the driver to change the destination. DO NOT BE FOOLED! Although they are very friendly, they are only interested in their commission for bringing tourists to illegal lodging. They will disappear and leave you to deal with the authorities.
- When you arrive at your destination, and before the taxi leaves, speak with the personnel of the lodging and make sure they know your name. This is a way to check you are in the right place.
-The taxi driver may arrive at our destination, get off the taxi on arrival, and pretend speak with the staff and come back telling you that our casa is sold out. That is false information. Your reservation is safe with us.
-DO NOT give our phone number to the taxi driver. They will pretend to call and speak with the staff and actually speak with someone else and tell you our casa is full. That is also false.
-Speak with the taxi driver the least possible.
- Be alert to a long way, We are just 15 minutes, 20 KM and taxi fare is around 30-40 CUC
-Our honest and friendly staff will be waiting and expecting your arrival.
- What kinds of clothes should I wear in Cuba?
We suggest you should dress lightly, especially in summer. It is recommended to wear clothes made of cotton, linen or rayon; such as pullovers, shirts, T-shirts, shorts and comfortable shoes (sandals or running shoes). For winter, a light wool jacket or sweater and cotton pants can be enough for the occasional cold nights. Sunglasses, a hat and sun lotion are very necessary, as well as repellants against insects, especially if you travel to a beach area or a rural excursion.
-We strongly advise not missing some of this spots: VIÑALES, TRINIDAD, PLAYA LARGA AND VARADERO BEACH.
-Cuban Weather
Cuba is a tropical island. the average temperature is 21° C in January and 27° C in July.
Note:
The Cuban Convertible Peso (CUC) was introduced by the Cuban financial authorities to take out all foreign currencies from circulation, and offer an alternative that is in almost all senses equal to US dollars. It replaces the dollar as currency where previously dollars were quoted in places such as hotels, restaurants and so called 'dollar shops', and is the new 'tourist' currency.
US Dollars were widely accepted throughout the island, but since 8 November 2004 US Dollars are no longer accepted, and a 10% commission is charged to exchange them. The national banks have since introduced the Peso Convertible (CUC) in substitution of foreign currencies, which is almost equal in value to the US Dollar. Money should only be changed at official exchange bureau or banks to avoid scams confusing the two currencies.
Guest access
Our guests will have access to the whole house, kitchen, living room and dining room where you can dine, if you want to sprinkle a dinner or if you bring your dinner and want to dine at home, the shared kitchen and dining room are shared with the owner of the Home, so they feel as if their mother will prepare dinner for them, and they will integrate if they wish with our Cuban family.The lady who will be in the house full time is called Magalis, very kind and affectionate.
Interaction with guests
The lady of the house will always be available for the clients, but I will also be serca, to help them in what they need
Always communicate through Airbnb
To protect your payment, never transfer money or communicate outside of the Airbnb website or app.
Not safe or suitable for infants (Under 2 years)
Check-in time is flexible
A beautiful space and a wonderful time spent with our host. Definitely a highlight of the trip!!
James and his wife are great clients, on this trip they brought items to donate to people with material shortages, they did charity with needy little children, they also gave away toys, parents and people could not find a way to thank these very Good people, we went to the Malecón de la Habana at the opening of the summer and the children who passed we gave them toys and chocolates, was a very beautiful and unforgettable experience for all who were there, acts of charity in Cuba are very helpful to People, since Cuba is a country with many material shortcomings, a donation helps a lot to a Cuban family, be it medicine clothes or other things. In short, James and his wife had a nice vacation in our rental house, we hope they come back again
---
Damien's place was great! Picked us up from the airport, showed us around Havana, he had a tour guide to help us as well and answer any questions we had. We stayed right in central Habana vieja and couldn't have asked for a better location. We also went out with Damien and his friends for a great night. Just keep in mind that everything comes with a little charge - breakfast, etc. But very worth it :) next time in Havana we will no doubt contact Damien again!
Ryan and his friend Tim are two great guys, I had the opportunity to look for them at the airport, to share with them in a nightclub one of the nights they enjoyed in Havana and they are very good people, in the house they were very clean and organized , The lady who attended them gave me very good reference of them, who are very polite and pleasant, who respected the rules of the house and were very talkative. They enjoyed a weekend in Havana with Rum Rum and many other amusements, we hope they will return soon. Regards Damian
---
Soy licenciado en sociología e historia cubana, disfruto mucho de los paisajes y la arquitectura cubana, me encanta la cultura de mi país, las deliciosas cenas típicas cubanas, la salsa y la rumba, las playas y las inigualables fiestas.
Soy una persona de 30 años, muy sociable, me gusta trabajar con el público, se hablar inglés y un poco de italiano, le abro las puertas de mi casa y de mi corazón a cada cliente que llega a mi casa.
Languages:
English, Español
Response rate:
100%
Response time:
within an hour
Explore other options in and around La Habana
More places to stay in La Habana: