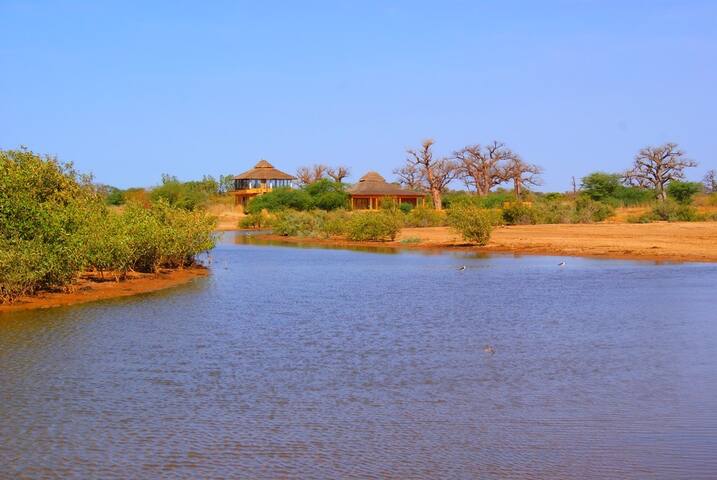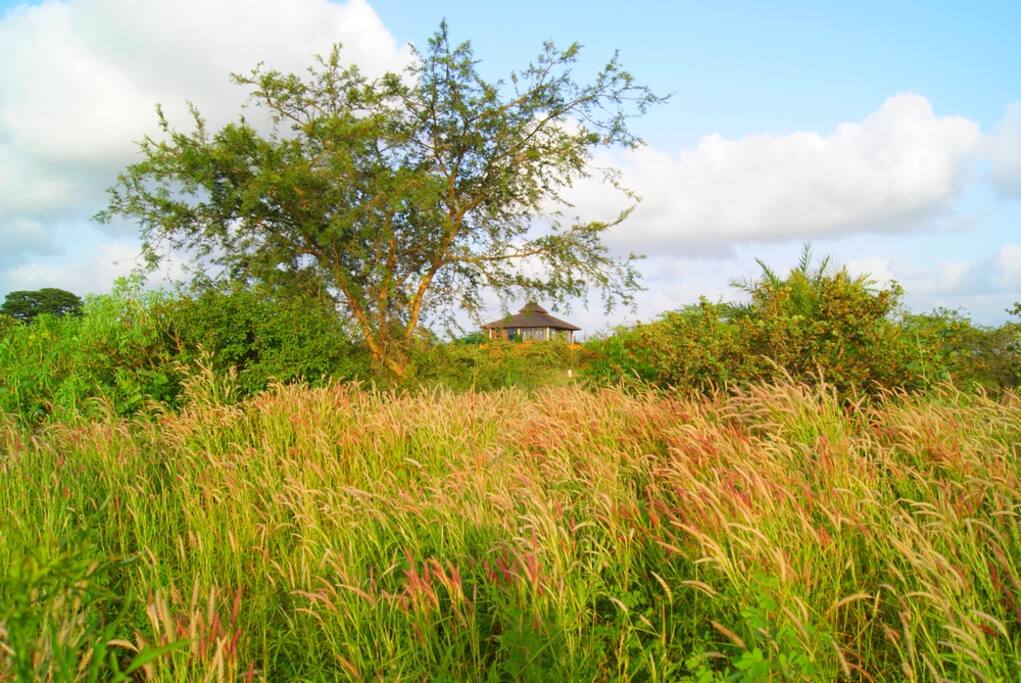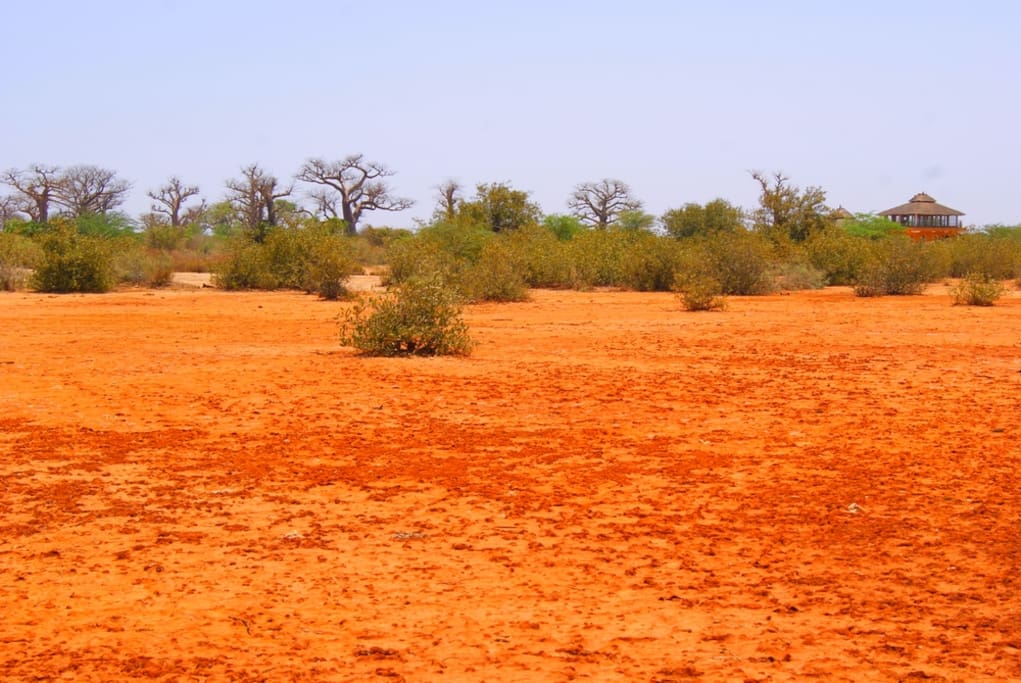 Loft-Observatory Osiris (Lodge Dalaal Diam)
Here, arises the intense charm of a lodge natural and authentic, planted like an oasis of greenery in the heart of the savannah ...
The 4 ha estate is located on an exceptional site on the edge of the Somone Nature Reserve.
---
---
Extra people £14 / night after the first guest
Always communicate through Airbnb
To protect your payment, never transfer money or communicate outside of the Airbnb website or app.
Learn more
---
---
---
---
---
Frederic was communicative and even arranged taxi service for us from and to Dakar including a drive through the Reserve. He spoke English and translated with our driver, which was a relief as my French is not very good! The place itself is gorgeous and remote. Perfect for unwinding and relaxing and taking in nature.
---
We passed another lovely weekend at Dalaal Diam Village. Despite the hot weather, the pool remained cool, and we spent most of our days relaxing by the pool, and taking walks in the evenings. Dalaal Diam Village is a very special place, and I recommend it to anyone who is in need of a quiet and beautiful place to rest.
---
This is my fourth time to visit Dalaal Diam Village, and it never fails to be a peaceful and relaxing place to spend a few days. Staff are friendly and helpful, but also allow space to be alone. The pool was refreshing, and there is nothing better than looking out on the dry landscape from the refreshing coolness of the pool. The food is good, and served elegantly in the restaurant area, and the view from the observatoire is one of my favorites in Senegal.
---
This is my third visit to Dalaal Diam Village, and this time I came with my two children, ages 2 and 5, to share the experience of staying in the observatoire with them. We were warmly welcomed by Fred and his staff and spent our time relaxing in the pool, playing games on the restaurant deck, walking near and through the shallow stream that is in front of the observatoire and watching the almost full moon rise from behind our mosquito net. Fred and his staff accommodated our vegetarian diet, and we had a wonderful time. We look forward to our next visit!
---
I passed two nights alone in the observatoire and it was delightful. I opened up all of the curtains to enjoy the panoramic view of the baobab trees, the shallow waters that flow through the campement, and the numerous birds. The staff were welcoming, helped me to settle in, and the cook made vegetarian Senegalese dishes, at my request. There is space to hike along the water, the pool was lovely, though too cold for this time of year, and it proved to be a wonderful place to come and relax if you are in need of the peace and quiet found in rural Senegal.
---
1966: Naissance de Frédéric PAPP, de pére Hongrois et de mére Congolaise-Portugaise. Il vécut à Kinshasa, capitale du Congo (ex Zaire), jusqu'à ses 18 ans. Les voyages, la Nature et la multi-culturalité l'ont toujours cotoyé.

1986: Poursuite des études supérieures de comptabilité à Bruxelles (Belgique). Mais le choc, à la fois sociétal, culturel et climatique, ne lui ont jamais permis de s'épanouir.

: Vendeur en pret à porter de luxe, Mannequin International, Gestionnaire Financier à la Commission Européenne de Bruxelles.

1998: Passionné par l'univers maritime, popularisé par Cousteau et les romans de Jules Vernes, il entreprend des études sur l'environnement marin. Le Brevet d'Etat (décerné par la Haute Ecole de Navigation d'Anvers) en poche, il prend la décision de tourner une éniéme page de sa vie et devient skipper professionnel. Capitaine de Yacht de plaisance, Vendeur de yachts à Antibes ... pour enfin créer son concept de bateau d'hotes. Croisiérement Votre est né aux Antilles Francaises.

2003: Traversée de l'Atlantique à bord de son catamaran à voile, pour un retour en France afin de se rapprocher de son fils Shai.

2004 et 2006: Alek et Ilona naissent à Antibes (France). Le regard toujours dirigé vers le large, il continue sa quete, en installant sa petite famille aux antipodes de la riviera azuréenne, sur la cote sud de la Méditerranée, en Tunisie (Afrique du Nord).

2010: A l'aube de ses 45 ans, il entend l'appel du continent de son enfance, cette Afrique qu'il sublime et idéalise : Naissance de Dalaal Diam Village. Accompagné par un collectif d'amis, de sa famille et d'investisseurs, il souhaitait créer un village empreint d'authenticité, entiérement autonome avec pour objectif : la promotion de la culture Africaine et de son art de Vivre !

Ils se lancent dans un programme ambitieux pour un développement global, alliant à la fois le développement humain (colonie de vacances pour les jeunes, agriculture et élevage), le développement économique (activités touristiques et diverses), le développement infrastructurel (architecture des bâtiments, viabilisation, construction de ponts, digues et pistes, puits..) et le développement écologique (reboisement, préservation de la faune et de la flore).

2012 et 2013: De nombreuses déconvenues apparaissent. Le bilan du programme initial n'ayant pas atteint ses objectifs, bon nombre de secteurs ont du etre abandonnés, en cause, le manque d'implications des cadres. Dés lors, Dalaal Diam Village recentre ses activités autour du concept d'Eco Lodge. Une part conséquente des ressources humaines et financiéres sont alors engagées pour le reboisement par de multiples essences, à la fois locales et tropicales. Arbres et arbustes fruitiers, plantes ornementales, fleurs, senteurs diverses, réseaux hydriques, étangs à poissons.

2014: Dés le 1er Janvier, le Lodge Naturel a enfin été ouvert au public. Le taux de satisfaction de nos visiteurs progresse de mois en mois et ce, également grace à un souffle salvateur; l'implication enthousiaste de sa nouvelle compagne, Céline. Celle-ci a entiérement redessiné la décoration intérieure. Elle a également repensé le site internet afin de redynamiser la visibilité de l'Eco Lodge sur le web. Enfin, elle est la voix scripturale répondant à toutes les demandes avec célérité.

Afin de donner un élan continu à notre progression, un réinvestissement total des recettes a été décidé pour poursuivre la finition et la décoration des batiments et des jardins.

Soyez donc les bienvenus ... Nous avons besoins de Vous ! De vos encouragements et de votre participation afin de péréniser et dévellopper ce programme. Merci d'avance !
Languages:
English, Français
Response rate:
100%
Response time:
within a few hours
Explore other options in and around Somone
More places to stay in Somone: