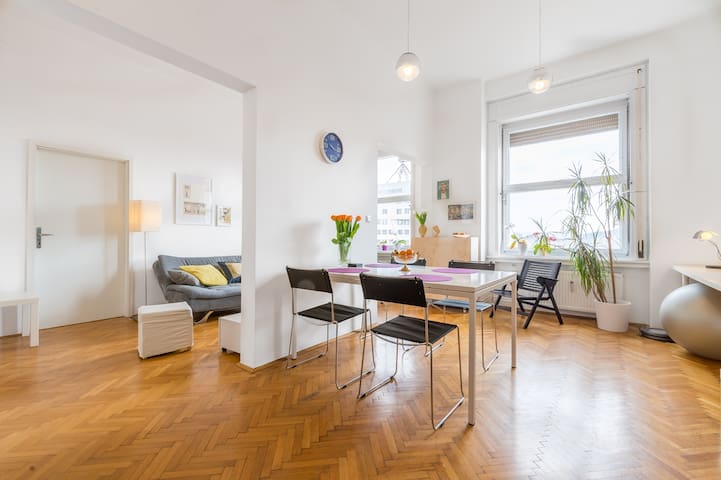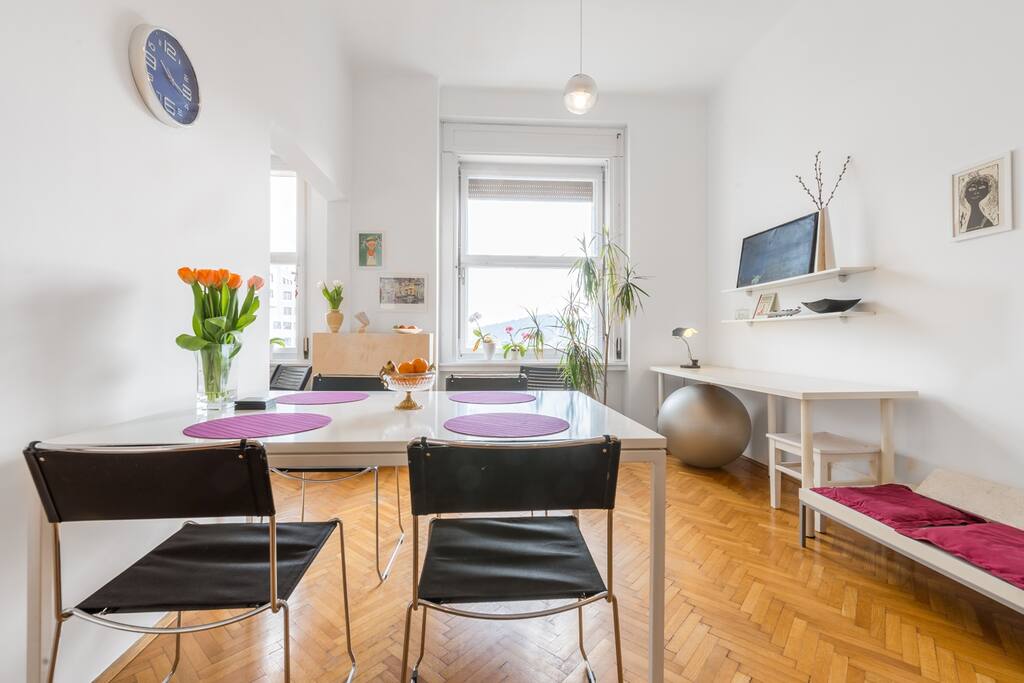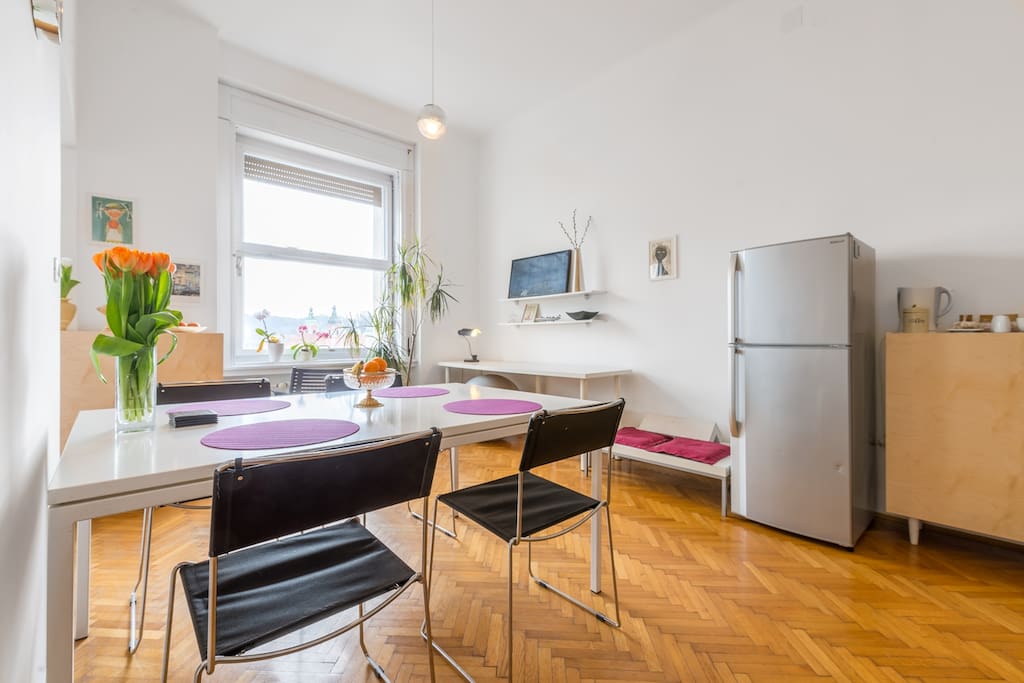 Architect's Home in Ljubljana's First Skyscraper
This 2-bedroom appartment is situated in the heart of Ljubljana - on the 6th floor of it's first Skyscraper, now a national cultural heritage, offering beautiful views of the historical center from your bedroom!
If that's not satisfying, you can grab a coffe from the restaurant from the terrace on top and you'll be WOW-ed. While enjoying your breakfast you can choose a new destination for your discoveries with a little help of a 360 degrees view.
The apartment if very brught and clorful!
Ljubljana's pedestrian cone.
Everything is in a walking distance.
---
---
Check in time is 2PM - 11PM
---
It's all about location about this place. You are right in the middle of the city. If you don't mind the loud music coming from the bars then this place is perfect for you. Staff was very helpful and quick responders to our calls and texts. It would have been much better if they had some refreshments or some fruit when we first arrived. A microwave would do great though. Other than that Thanks for the first time experience with airbnb
---
I would say this apartment has less pros than cons. It does look nice like in the photos, it is wonderfully bright because there are large windows throughout the apartment and it's in a great location. It's in the very center so you can get to all hip locations on foot within minutes. There is a supermarket right across the street and it is very convenient to have a bar & restaurant on top of the building. We also liked that the traffic in front of the building is for busses and bicycles only and when you cross the street, it's pedestrians only. We were given a map with supermarkets, bars and everything else marked on it, which was really helpful. But because the apartment is in the very center and Ljubljana is really full of life, you can forget about peace and quiet here. There is a bar across the street and the sound bounces all the way up to the 6th floor, you feel like a radio is playing right in your living room. That part is ok (if you like their music), but in the nighttime you will hear hordes of drunk people yelling in the streets until 3-4 in the morning. I am not exaggerating in the slightest when I say "yelling". So you have two options: keep the windows open and listen to the noise almost all night or close all the windows and wake up because of heat and lack of air. Which brings us to the next point… "Culturally protected window patent", as it is described on the photos, basically means the windows are hard to open and close. They are not allowed to install air-conditioning because it's a historical building so they cannot put an external AC unit on the facade. We were provided with some sort of mobile air cooler, but it does a poor job of cooling such a big room. We also found the chairs at the dining table extremely uncomfortable. They look like they were taken from a bank, office or some other waiting room. Wifi had occasional hiccups, and there were only two of us; we only used it for everyday browsing and social media. Watching videos required patience. The floor around the entrance is elevated, but just in front of the bathroom and the toilet, and not in the middle where the door opens. It is rather inconvenient and we tripped over it a few times. Even though the toilet is separated from the bathroom, it is important to say that there is no bathroom door, just a small plastic curtain separating the bathroom from the entrance. We really didn't mind, but I am mentioning it for those who are sensitive about their privacy. There is no shower curtain and no bath rug so you have to be careful when stepping out of the bathtub onto the wet floor. There was constantly a weird smell in the toilet, perhaps they used vinegar for cleaning. Even though...
Response from Fine Ljubljana Apartments:
Petra, thank you so much for this expansive feedback. We're always looking for ways to improve our future guests' holidays. We love the central location of the apartment and the cultural significance of the building, and are so glad you appreciated it as well! Unfortunately, we sometimes have to trade that off with a bit of noise from the nearby bars, especially on the occasional summer night. Luckily, we were able to offer the eco cooler to lower the temperature in your room. Thanks again for helping us out for the future.
---
Overall our stay was good! Apartment is located in iconic building - the skyscraper. It has 2 small separate bedrooms, divided living/dining area. Ceilings are high and rooms are bright. You can approach the entrance by the car to offload the luggage, very difficult to park just in front of the building, but you can easily park in neighbor streets (paid parking up to 4 hours). Both ladies at the check in\out were very nice and helpful. However part: It is very lively andy noisy street (around there are many bars working through the night and very central bus station near by), you can't properly sleep with open windows. If you close them it is hot... Installation of the AC is a must for comfortable night. Bathroom requires a door and shower curtain. I guess, the owners are aware of this and planing to sort these things out. When this is fixed - the staying will be amazing Hvala lepa!
Response from Fine Ljubljana Apartments:
Alexander, thanks so much for this specific feedback! We're so glad you enjoyed the location and the impressive, historic skyscraper! The bathroom door is being rectified, as you mentioned, and we can provide eco coolers for those "livelier" street nights, when you need to close the windows. Again, thanks for your help for future guests, and we hope to see you again soon!
---
Response rate:
100%
Response time:
within an hour
Explore other options in and around Ljubljana
More places to stay in Ljubljana: