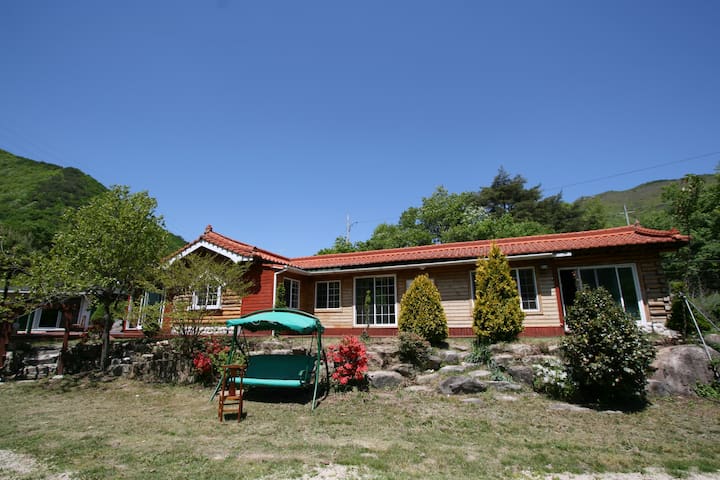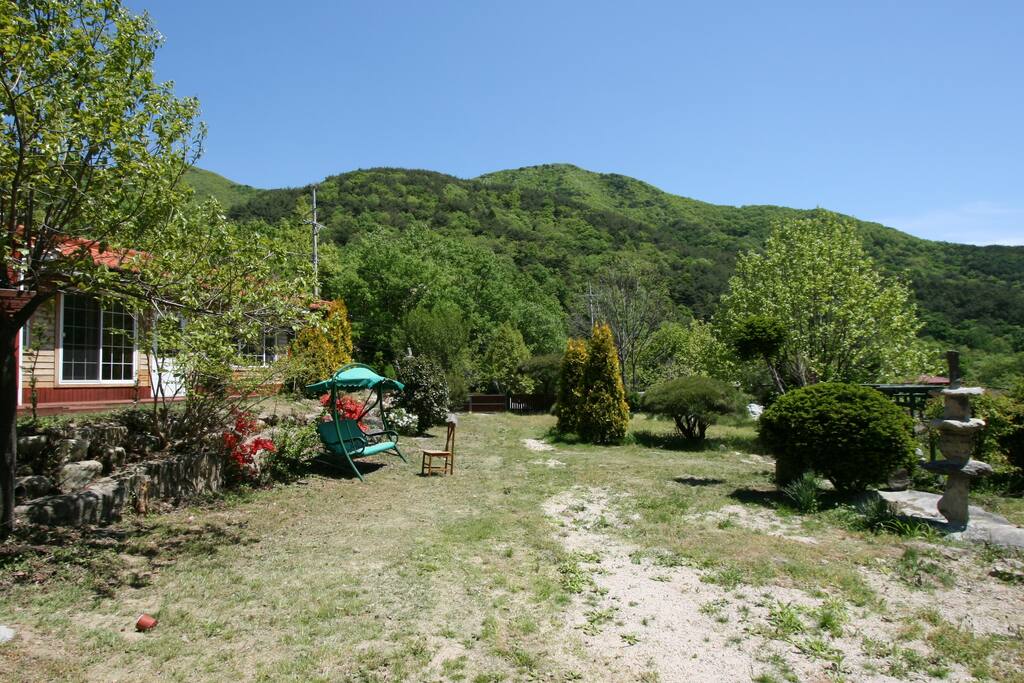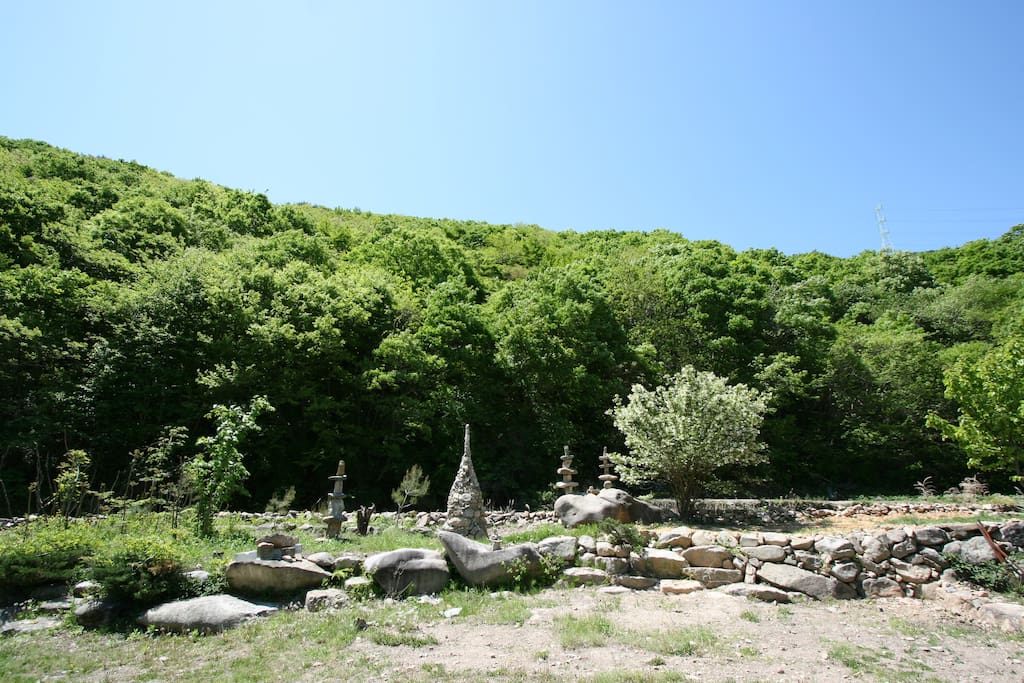 해바다통나무집 펜션&캠핑 (천여평의넓은마당에전체통나무로지은집독채 사용)
nice to meet you. Our "Haeundae Pension & Camping" is located in the valley near Baebangol. You can freely use the spacious log cabins and beautiful gardens in the spacious grounds of Chilpyeong, and the villas of the clear valleys directly adjacent to the gardens. There is also a space for camping equipment such as tents (tents and camping equipment only if you bring them). One large living room with bedroom Two bedroom units are fully furnished. It can accommodate 20 to 30 people. We hope that you will enjoy your memories here surrounded by nature's natural environment. Please feel free to contact us if you have any questions. Thank you.
반갑습니다. 저희 "해바다 펜션&캠핑"은 배내골 인근 계곡에 위치하고 있습니다.
천평의 넓은 땅에 지은 넓은 통나무집과 아름다운 정원, 그리고 정원에 바로 접해있는 맑은 계곡의 별장을 단독으로 자유롭게 사용하실 수 있습니다. 또한 텐트 등의 캠핑 장비를 사용하여 숙박을 하실수 있는 공간도 마련되어 있습니다.(텐트 및 캠핑 장비는 회원님께서 지참하시는 경우에 한합니다.)
침실 겸 거실 대형 1개와
침실 전용방 2개를 완비하고
20명에서 30명까지 수용 가능합니다
천혜의 자연 환경으로 둘러쌓인 이곳에서 즐거운 추억을 만들어 가시기 바랍니다.
문의 사항이 있으시면 언제든 연락바랍니다. 감사합니다.
Guest access
Entire log cabin is available. This is a place where you can live in a seated style. There is no separate bed.
통나무집 전체를 단독으로 이용 가능합니다.
좌식 생활이 가능한 숙소입니다. 침대는 따로 구비되어 있지 않습니다.
Other things to note
Young. It is one. Young. It is four. Five. It is eight. Young. It is four. Five. It is eight. It is eight. You can also contact us. If you cancel within 7 days of the check-in date, the refund will not be possible. A full refund will be made on request prior to that date. (For example, if the check-in date is May 18, no refund will be made for cancellation requests from May 11.) Please leave a message if you want to visit the dictionary in advance. The entrance time is from 1 pm and the departure time is before 11 am. You can adjust it according to the reservation conditions on the day. (For example, if you do not have a reservation for your next stay on the day you leave, you can postpone the departure time until 5 pm)
영입니다.
하나입니다.
영입니다.
넷입니다.
다섯입니다.
여덟입니다.
영입니다.
넷입니다.
다섯입니다.
여덟입니다.
여덟입니다.
으로 연락주셔도 됩니다.
입실일 기준 7일 이내로 남은 상태에서 취소 요청시 환불 불가합니다. 그 이전에 요청시에는 전액 환불해드립니다.
(예: 입실일이 5월 18일인 경우 5월 11일부터 취소 요청건에 대해서는 환불 불가합니다. )
사전 방문해보시기를 원하시는 회원님께서는 메세지 남겨주시기 바랍니다.
입실 시간은 오후 1시부터 가능하며 퇴실 시간은 오전 11시 이전입니다. 당일 예약 사정에 따라 유동적으로 조절 가능하오니 조정이 필요하신 경우 사전에 요청 부탁드립니다.
(예: 퇴실 당일에 다음 회원님의 숙박 예약이 없는 경우 퇴실 시간을 오후 5시까지 연기하실수 있습니다.)
---
---
Always communicate through Airbnb
To protect your payment, never transfer money or communicate outside of the Airbnb website or app.
Learn more
---
Check in time is 1PM - 6PM
---
---
---
Explore other options in and around Yangsan-si
More places to stay in Yangsan-si: