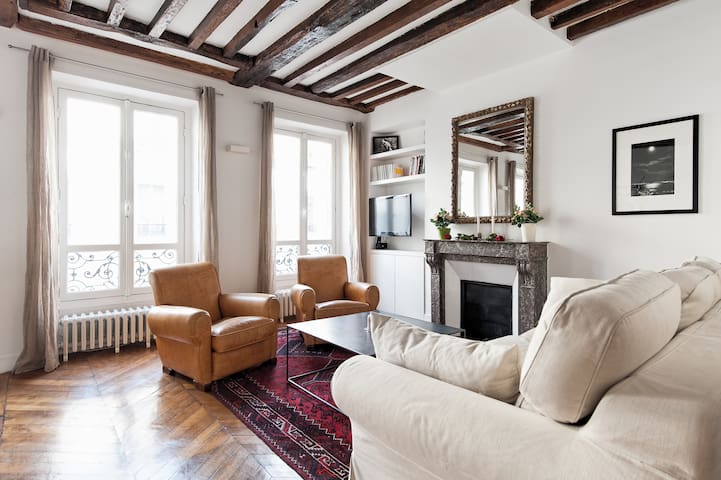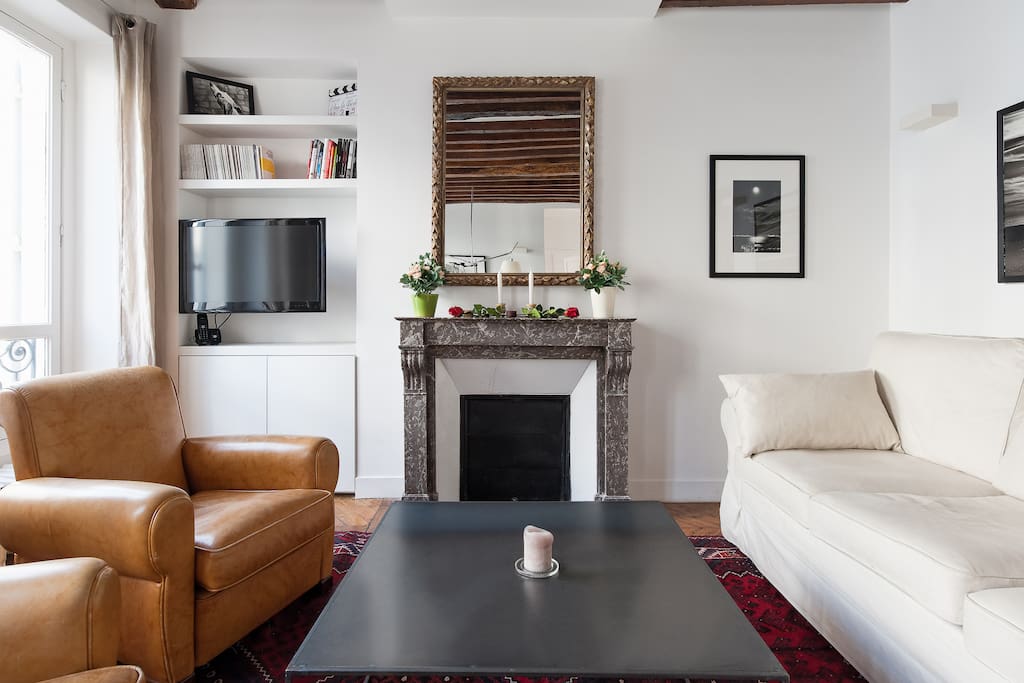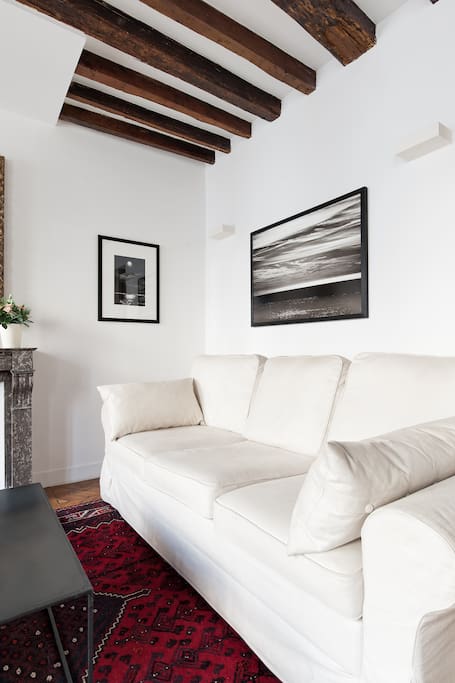 Sublime 5 étoile, centre, Le Marais
This new comfortable stylish decorated 830 sqft property, offers you 2 bedrooms 2 bathrooms right in the center of the trendy and fashionable Marais. You are surrounded with historical landmarks, museums, restaurants, bars and boutiques. Great place
---
---
Always communicate through Airbnb
To protect your payment, never transfer money or communicate outside of the Airbnb website or app.
Learn more
---
- Absolutely NO Smoking Our apartments are non-smoking. Smoking is NOT allowed by the windows. Please remember that the staircase and entrance are common areas and the neighbors should not be disturbed, we recommend for you to be discreet and to lower your voices in all the common areas. Thank you for your consideration. Remember to close all windows when you go out . Paris is known for its unexpected rain showers and rain can easily ruin the wood floors in your flat. Also, although Paris is generally quite safe, it is best not to tempt fate and keep your valuables safe. Be gentle with Paris locks . Locks in France are hard to use and keys can be difficult to turn. Please have your greeter show you how to use the key and please practice with them. Never put oil or other products in the lock. If the lock needs attention, please tell your greeter. Don't lock yourself out. The door can bang shut easily and will lock automatically. Keep your keys on you when leaving the flat, even for a moment. Never leave a key in the lock inside the apartment. In many apartments, if someone tries to open the door from the outside with a key inside the lock, the door won't open. When this occurs, a locksmith will need to be called (at a hefty cost). Keys are also expensive to replace in Paris. In fact, a lost key may cost over 1000€ (depending on the model in your apartment), as we must change all the locks to ensure your safety, the safety of future renters and that of the owners. Please do not carry the key and the address together or even near each other when you are traveling around Paris. Do not overload the elevator it can get stuck and do not attempt to send your luggage on its own up or down in the elevator, they will block the door and the elevator will get stuck. We will have to call a technician and it will take hours and the charges can be high. Suitcases and bed linens just don't mix. We will be very grateful if you don't place your suitcases on the bed. Although the desire is understandable, please consider that suitcases tend to be dirty and can easily damage fragile and expensive bed linens. Makeup and towels do not mix. Ladies, please use cotton balls/pads when taking off makeup, as it does stain the towels, and we will have to charge for any replacements. The plumbing is delicate in old Paris buildings. Please put nothing in the toilet other than human waste and toilet paper. We apologize for being so direct, but anything else (even a tampon or condom) may plug or damage the toilet. If you clean, please use only our cleaning products. Cleaning products are marked and located under the sink in the kitchen. If you are unsure, please ask your greeter. Please use the provided cutting boards for preparing meals. Please don't cut directly on the countertops; this will damage them. Please also avoid putting any acidic liquids (lemon, orange) on the counter tops, as they can stain easily. Do not use water on a fire triggered by electricity. To prevent an accidental fire, do not burn candles or incense.
Français:
Absolument pas de fumer Nos appartements sont non-fumeurs. Fumer n'est pas autorisé sur la terrasse. Il y a un accès à la terrasse mais vous ne pouvez pas monter dessus. Paris est connu pour ses pluie innattendues et la pluie peut facilement abimer le parquet de l'appartement. Quand bien même Paris est une ville généralement assez sûr, il est préférable de ne pas prendre de risque et garder ses objets de valeur en sécurité. Utilisez les vérous en douceur, les vérous en France sont dures à utiliser et les clefs peuvent être difficile à tourner. Assurez vous que votre hôte vous montre bien comment utiliser la clefs et essayez la avec lui. Ne jamais mettre de l'huile ou autres produits dans le verrou. Si le verrou a besoin d'être entretenu, précisez le à votre hôte. Ne vous enfermez pas dehors. La porte se claque facilement et se verrouille automatiquement. Gardez vos clefs avec vous quand vous sortez de l'appartement même pour un court instant. Ne jamais garder la clefs sur le verrou dans à l'intérieur. Dans de nombreux appartements à Paris la porte s'ouvre pas de l'extérieur si une clefs est déjà dans le verrou . Si vous vous enfermez de l'extérieur il faut appeler un serrurier. En fait refaire des clefs à Paris est chère, refaire des clefs peut parfois coûter plus de 1000€ (cela dépend de votre appartement) puisqu'il faut refaire tous les verrous pour assurez votre sécurité ainsi que celle des prochains loueurs et du propriétaire. S'il vous plait ne transporter pas les clefs ainsi que l'adresse de l'appartement ensemble ou à côté lorsque vous visitez Paris. Ne pas surcharger l'ascenseur il peut se bloquer et n'essayez pas de faire monter vos valises toutes seules dans l'ascenseur, elles pourraient bloquer les portes de l'ascenseur et il faudra appeler un technicien, ce qui prend des heures et qui est très onéreux. Les valises et les draps ne vont pas bien ensemble. Ne serons reconnaissant si vous ne posez pas vos valises sur les lits, même si l'envie est compréhensible. Comprenez que les valises ont tendance à être sales et cela peut facilement endommager des draps fragiles et chères Le maquillage et les serviettes ne vont pas bien ensemble. Mesdames, s'il vous plait utilisez du cotton lorsque vous vous démaquiller car cela tâche les serviettes, et nous devrons payer le remplacement des serviettes. La plomberie est délicate dans les anciens immeubles parisiens. Je vous remercie ainsi de ne pas jeter dans les toilettes autre que du papier wc. Nous nous excusons d'être aussi directifs, mais si vous y jetez quelque chose d'autre ( tel que des tampons ou des préservatifs par exemple) vous risquez d'endommager les toilettes en les bouchant. Si vous désirez nettoyer l'appartement, je vous prierais d'utiliser nos produits d'entretien. Nos produits d'entretien sont de bonne qualité et se situent en dessous de l'évier dans la cuisine. Si vous n'êtes pas sûr de l'usage d'un produit, nous vous prions de nous demander. Nous vous prions de ne pas couper vos aliments directement sur le plan de travail de la cuisine, ni d'aliments acides (comme le citron ou l'orange) car cela les endommage. N'utilisez pas de l'eau sur un incident provoqué par l'électricité. Pour ne pas provoquer d'incendie, n'allumez ni encens, ni bougies dans l'enceinte de l'appartement.
---
---
---
On Fridays and Saturdays the minimum stay is 3 nights.
---
An experienced greeter/host manager fluent in English, German, Italian and French. I am ready to welcome you in Paris.
Languages:
Deutsch, English, Français, Italiano
Response rate:
100%
Response time:
within an hour
Explore other options in and around Paris
More places to stay in Paris: