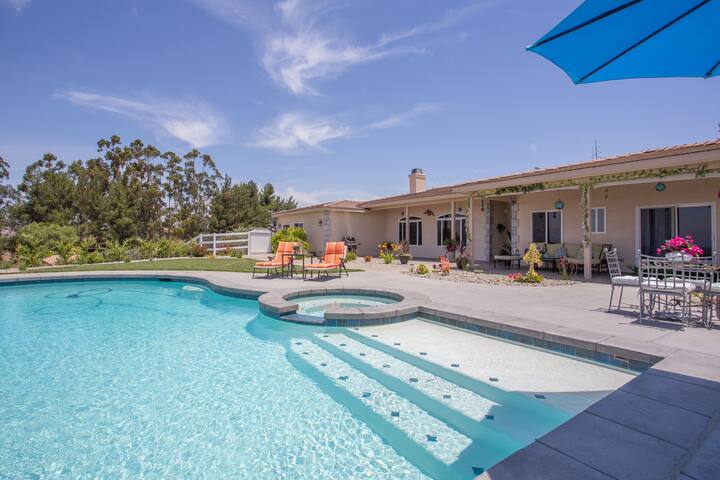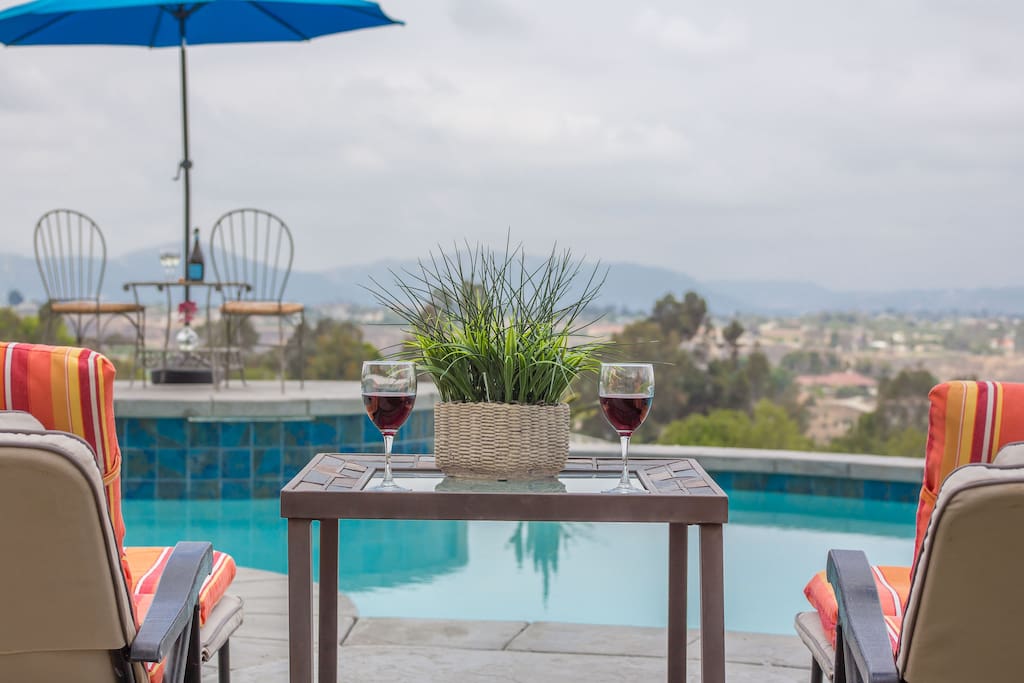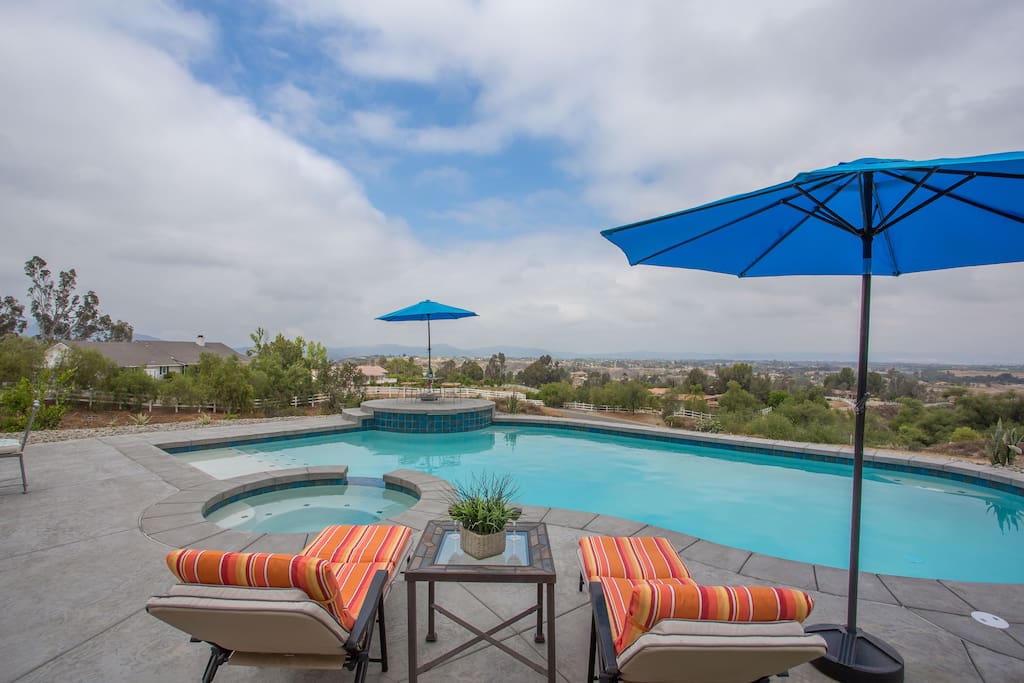 Villa del Sol is a luxury 4 bedroom 3 bath home located in the heart of the
Temecula Wine Country overlooking the entire valley and many of its
wineries. Minutes from all of Temecula's finest wineries this spacious
modern Ranch Style home sleeps 8 guests in beds and a maximum of 12 guests.
A separate Casa (guest house on the same property) is available as a
separate rental. This private Casa provides sleeping accommodations for 4
to 6 additional guests (4 in beds) on the same property.


Villa del Sol has 3 HD LED TVs and we have Direct TV Premium – which
includes most major movie channels and sports channels. The perfect
environment provides privacy and comfort for all of your needs. Excellent
for family vacations, reunions or romantic getaways.


Conveniently located between Los Angeles and San Diego, and just minutes to
the world-famous Temecula wineries, Pechanga Casino, Old Town Temecula, and
award winning golf courses. One hour drive to Disneyland, Sea World, the
San Diego Zoo or the Wild Animal Park. Come for the Balloon and Wine
Festival, Rod Run, Tractor Races, International Jazz Festival, Western Days
and Chili cook-off, Bluegrass Festival, or Film Festival.


A 12% Lodging Tax will be collected on rental fees and extra person
charges. This may show up as a "Special Offer" line-item on some booking
sites.


Security Deposit applies only towards heating pool and spa. Cost for
heating pool and spa is sub-metered and calculated upon check-out at the
current rate per gallon for propane.


Nearby Attractions


Lake Skinner Nature Preserve - 6.1 Miles


Sam Hick's Monument Park – 6.3 Miles


Temecula Valley Museum- 6.3 Miles


La Bella Vita – 6.3 Miles


Historic Old Town Temecula – 6.5 Miles


Gallery on Main – 6.5 Miles


Karl Strauss Brewing Company – 7.3 Miles


Pechanga Entertainment Center & Casino – 8.1 Miles


Temecula Valley Strawberry Farm – 13.7 Miles


Santa Rosa Plateau Wildlife Preserve - 18.5 Miles


San Diego Zoo Safari Park – 41.3 Miles


San Diego Zoo - 63.3 Miles


SeaWorld® San Diego – 65.9 Miles


Disneyland®
Park – 67.4 Miles



(URL HIDDEN)




(URL HIDDEN)




(URL HIDDEN)



Area Golf Courses



Temeku Hills Golf Course, 18-Hole Championship Course - 3.4 Miles


Redhawk Golf Club, 18-Hole Championship Course - 6.6 Miles


SCGA Golf Course, 18-Hole Championship Course - 8 Miles


Temecula Creek Inn, 27-Hole Championship Course - 8.7 Miles


CrossCreek Golf Club, 18-Hole Championship Course - 12.1 Miles


Additional Area Activities


Antique Shopping


Hot Air Ballooning


Biking, Hiking & Horseback Riding Tours


Limousine Tours


Carriage Rides


Gaming Casinos


Herb Farms



Weather in California


The weather is always beautiful in California, so no matter


how you choose to fill your days, you'll enjoy them under bright,


beautiful sunshine and gorgeous blue skies.


Average Yearly Temperatures



December-March: High 70°, Low 40°


April-May: High 75°, Low 50°


June-September: High 85° - Low 55°


October-November: High 80°, Low 45°


Guest access
Entire home and property are accessible to guests excluding the guest home and its designated areas unless it is rented in conjunction with the main home.
Interaction with guests
Owner and Manager live close to this property and are available 24 hours/day if guests need assistance.
---
---
Extra people £23 / night after 8 guests
Always communicate through Airbnb
To protect your payment, never transfer money or communicate outside of the Airbnb website or app.
Learn more
---
Check in is anytime after 3PM
Temecula Wine Country Villas
Terms and Conditions
TWC Villas VACATION RENTAL AGREEMENT (Intended for occupancy of 30 days or less)
1. ONLINE RESERVATIONS: Reservations made online are not guaranteed until the first payment is made and your booking is confirmed via email.
2. PROPERTY: Occupant rents, for vacation purposes only, the furnished real property and improvements described as: Villa del Sol, address to be provided upon booking.
3. ARRIVAL and DEPARTURE Check-in is no earlier than 3:00 PM on arrival date as set forth in the online rental booking. Early check in can be arranged based upon availability. Checkout is NO LATER than 11:00 AM on the departure date as set forth by the online booking. Late checkouts can be arranged upon availability.
TWC Villas can guarantee an early check-in or a late check-out for a fee.
It is VERY important that these times be adhered to. Guest turning away maid service due to failure to vacate Premises will be charged $50 starting 15 minutes after check-out time. If Guest's continue to occupy Premises past 12 noon on scheduled departure date, Guest will be charged for an additional night's stay. If other arrangements have been made then these times shall be modified accordingly.
4. AUTHORIZED USE AND GUESTS: The Premises are for the sole use as a personal vacation residence by the Occupant and their Guests per the Overnight Guest List provided. The Occupant is responsible for any guests that use the property during the term of this agreement. Authorized overnight Guests may not exceed the total allowable overnight Guests for Property at any time. The total allowable overnight guests are 14.
No other guests, visitors, or persons are permitted unless discussed and approved by management and appropriate fees have been paid. Parties and/or gatherings are allowed with approval. Non-Overnight guests will be charged at a rate of $10/person. Any type of gathering such as rehearsal dinners/lunches, family reunion festivities, or local celebrations, holiday parties, etc. are allowed with prior permission but are never allowed to have any amplified music outside.
Weddings and wedding receptions are not allowed under any circumstances.
If the Premises are used, in any way, by more or different persons than those identified in this paragraph, (i) Occupant, Authorized Guests and all others may be required to immediately leave the Premises or be removed from the Premises; (ii) Occupant is in breach of this Agreement; and (iii) Occupant forfeits its right to return any monies collected.
5. PAYMENTS: The Premises will not be held for Occupant until BOOKED online, outside 30 Days of Arrival: Payment of 50% towards total cost has been received and terms have been accepted. 100% of Balance is due and payable 30 Days before Arrival. If booked online, within 30 Days of Arrival: 100% of Total Cost has been received and terms have been accepted.
6. SECURITY DEPOSIT: In lieu of Cash Deposit, TWC VILLAS requires purchase of Property Damage Insurance. This is a one-time fee and will not be refunded. A $300 refundable deposit may be requested upon booking which will be used towards any propane used to heat the pool and spa and to use the fire-pit.
Additional charges may apply upon checkout for missing items, excessive cleaning, exceeding maximum occupancy and, if necessary, cost incurred to remove occupant from property.
7. CANCELLATION & REFUND: Any reservation may be cancelled outside of 60 days before Arrival to receive a full refund. Reservations cancelled between 30 and 60 days before arrival receive a 50% refund. Reservation cancelled with less than 30 days before Arrival will not be refunded.
TWC VILLAS will make reasonable effort to fill the property if Authorized Guest is forced to cancel Reservation. If able to fill the Reservation through another guest, Authorized Guest will be entitled to full refund less 10% of Reservation Total Cost and less any discounts TWC Villas offered to fill the property.
8. OCCUPANCY: Authorized Guest is person who will occupy the Premises. Parents may not book Premises for their children. Authorized Guest must be present on Premises for the Time of the reservation, and assumes full responsibility of all guests. No unlawful activity or any other activity that constitutes a nuisance is permitted on Premises. Temecula noise ordinance 847 is strictly enforced. Quiet hours begin at 10 pm daily, seven days a week, and ends at 8 am daily, seven days a week. In addition, any complaints from neighbors due to excessive noise caused by Guest will result in a fine of $500.00 per complaint, which will be charged to the card on file. Overcrowding or misrepresentation is grounds for immediate revocation of the license to the Property, and removal of Occupants without refund. Authorized Guest takes full responsibility for all lost or broken items, and any damages to the Property of any kind.
9. CLEANING: Premises will be delivered to Occupant in a professionally cleaned condition. Upon termination of occupancy, TWC VILLAS will arrange for cleaning to return property to same condition as before Occupant's arrival, less any normal wear and tear. Occupant is responsible for cost of this cleaning. Cleaning fee is mandatory and nonrefundable. The home will be inspected and thoroughly cleaned following your departure, the cleaning fee you have paid will provide for normal cleaning. If the home is left in such a way that additional cleaning time is required, beyond normal cleaning, then additional charges will be charged to your credit card on file at the rate of $20/hr., OR the rate required for professional cleaning and/or repair.
10. PETS/ANIMALS: Pets/Animals are not allowed on Premises unless approved by Management and the $50/pet fee paid. If an authorized pet/animal is on Premises, Occupant is responsible for all damage caused by the pet. If unauthorized pet/animal is discovered on Premises, Occupant must pay appropriate fee + $50.00 penalty. If Guest refuses to pay fee, Authorized Guests, pet(s) and all others may be required to immediately leave the Premises, or be removed from it as Occupant is in breach of this Agreement.
11. FIREPLACE: The fireplaces are not allowed for use. No open fires are allowed outside unless a propane-based fire-pit is being used, per county law due to wildfires that are dangerous to the area.
12. WATER AND SEPTIC: The home is on a septic system. The mineral content in the water is high. The septic system is very effective; however, it will clog up if improper material is flushed. DO NOT FLUSH anything other than toilet paper provided. No feminine products should be flushed at any time. If it is found that feminine products have been flushed and clog the septic system, you could be charged damages for the repairs Do not dispose of any food or grease down drains as well.
13. NO SMOKING: No smoking is allowed inside any of the homes. Outdoor areas with ash trays are available for guests. If smoking does occur inside the home(s) (i) Occupant is responsible for a fee of $250.00 and all damage caused by the smoking including, but not limited to stains, burns, odors and removal of debris; (ii) Occupant, Authorized Guests, and all others may be required to immediately leave the Premises, or be removed from the Premises; (iii) Occupant is in breach of this Agreement.
14. CONDITION OF PREMISES: Occupant shall, on arrival, examine the Premises, all furniture, furnishings, appliances, fixtures and landscaping, if any, and shall immediately report, in writing, if any are not in operating condition or are in disrepair. Reporting repairs does not give Occupant the right to cancel this Agreement or receive a refund, of any payments made.
15. RULES; REGULATIONS: NO COMMERCIAL USE. Occupant agrees to comply with any and all rules and regulations that are at any time posted on the Premises or delivered to Occupant. Occupant shall ensure that guests and licensees of Occupant shall not: (i) disturb, annoy, endanger, or interfere with its neighbors (ii) use the Premises for any commercial or unlawful purpose including, but not limited to, using, manufacturing, selling, storing, or transporting illicit drugs or other contraband; (iii) violate any law or ordinance; or (iv) commit waste or nuisance on or about the Premises.
16. MAINTENANCE: Occupant shall properly use, operate and safeguard the Premises including, if applicable, any landscaping, furniture, furnishings, appliances and all mechanical, electrical, gas and plumbing fixtures, and keep them clean and sanitary. Occupant shall immediately notify Management of any problem, malfunction or damage .Occupant shall pay for all repairs or replacements caused by Occupant, guests and licensees of Occupant, excluding ordinary wear and tear. Occupant shall pay for all damage to the Premises as a result of failure to report a problem, malfunction or damage in a timely manner. Occupant shall pay for repair of drain blockages or stoppages, unless caused by defective plumbing parts or tree roots invading sewer lines.
17. ALTERATIONS: Occupant shall not make any alterations in or about the Premises including, but not limited to, moving furniture (without prior approval), painting, wallpapering, adding or changing locks, installing antenna or satellite dish(es), placing signs, displays or exhibits, or using screws, fastening devices, large nails or adhesive materials.
Occupant shall not alter the Entertainment System in any way. Any unplugging of installed components, plugging in of external components (video game consoles, etc.) or tampering of any kind with installed system will result in additional charge to have professional return to regular functioning status.
18. ENTRY: Management and Management 's representatives and agents have the right to enter the Premises, at any time, (i) for the purpose of making necessary or agreed repairs, decorations, alterations, improvements, for maintenance or to supply necessary or agreed services; (ii) to verify that Occupant has complied with the terms of this Agreement; or (iii) in case of emergency.
19. NO ASSIGNMENT OR SUBLETIING: Occupant shall not assign any interest in this Agreement or sublet any part of the Premises. If this Agreement is assigned or the Premises or any part thereof is sublet, (i) Occupant, Authorized Guests, assignee(s), sub lessee(s) and all others may be required to immediately leave the Premises, or be removed from it; (ii) Occupant is in breach of this Agreement.
20. UNAVAILABILITY: If for any reason beyond the control of Management, the Premises is unavailable, Management may substitute a comparable unit or cancel this Agreement and refund in full all payments made by Occupant. Such Circumstances include but are not limited to Owner Sale of Property, Construction/Re-Model , Double Booking, etc.
21. OCCUPANT'S OBLIGATIONS UPON TERMINATION OF OCCUPANCY: Upon termination of occupancy, Occupant shall: (i) return all copies of all keys or opening devices to the Premises, including any common areas; (ii) vacate the Premises and surrender it to Management empty of all persons; (iii) vacate any/all parking and/or storage space; and (iv) deliver the Premises to Management in the same condition less ordinary wear and tear as received upon arrival.
22. PERSONAL PROPERTY AND INJURY:
• Owner Insurance: Occupant's or guests' personal property, including vehicles, are not insured by Owner or, if applicable, HOA, against loss or damage due to fire, theft, vandalism, rain, water, criminal or negligent acts of others, or any other cause. Owner/Management does not insure against personal injury to Occupant, guests or licensees due to any reason other than the condition of the Premises.
• Occupant Insurance: Management recommends that Occupant carry or obtain insurance to protect Occupant, guests and licensees and their personal property from any loss or damage.
• Indemnity and Hold Harmless: Occupant agrees to indemnify, defend and hold harmless Owner and Management from all claims, disputes, litigation, judgments, costs and attorney fees resulting from loss, damage or injury to Occupant, Occupant's guests, invitees or licensees or their personal property.
23. MEDIATION: Occupant agrees to mediate any dispute or claim arising out of this Agreement, or any resulting transaction, before resorting to arbitration or court action. Mediation fees, if any, shall be divided equally among the parties involved.
24. MEGAN'S LAW DATABASE DISCLOSURE: Notice: Pursuant to Section 290.46 of the Penal Code, information about specified registered sex offenders is made available to the public via an Internet Web site maintained by the Department of Justice at (URL HIDDEN) Depending on an offender's criminal history, this information will include either the address at which the offender resides or the community of residence and ZIP Code in which he or she resides. (Neither Landlord nor Brokers, if any, are required to check this website. If Tenant wants further information, Tenant should obtain information directly from this website.)
25. JOINT AND INDIVIDUAL OBLIGATIONS: If there is more than one Occupant, each one shall be individually and completely responsible for the performance of all obligations under this Agreement, jointly and individually with every other Occupant.
26. TRANSIENT OCCUPANCY: Occupant is renting the Premises as a transient lodger for the number of days reserved from Management who retains full legal, possessory and access rights.
27. KEYS, LOCKS: Occupant acknowledges that locks to the Premises have not been rekeyed. If Occupant rekeys existing locks or opening devices, Occupant shall immediately deliver copies of all keys to Management. Occupant shall pay all costs and charges related to loss of any keys or opening devices. Occupant may not remove locks, even if installed by Occupant.
28. POOL, SPA and FIRE-PIT: Pool and spa heat are NOT included. Additional charges based on actual use will be applied to heat the pool, spa and to use the fire-pit at the current rate ($/gallon) of propane. Due to the time required to heat the pool, pool heating arrangements may be made in advance. TWC VILLAS Management and or home owners are not responsible for ANY injury or damages occurred by you the tenant, your guests, or invitees while using pool, spa or fire-pit. You agree you are using them at "your own risk" and NO LIFE GUARD IS ON DUTY by checking the "I accept terms" below.
29. ENTIRE CONTRACT: Time is of the essence. All prior agreements between Owner and Occupant are incorporated in this Agreement, which constitutes the entire contract. It is intended as a final expression of the parties' agreement, and may not be contradicted by evidence of any prior agreement or contemporaneous oral agreement. The parties further intend that this Agreement constitutes the complete and exclusive statement of its terms, and that no extrinsic evidence whatsoever may be introduced in any judicial or other proceeding, if any, involving this Agreement. Any provision of this Agreement that is held to be invalid shall not affect the validity or enforceability of any other provision in this Agreement. The waiver of any breach shall not be construed as a continuing waiver of the same or any subsequent breach. This Agreement shall be governed and construed in accordance with the laws of the State of California. California shall have personal jurisdiction over the parties and the county in which the Premises is located shall be the forum for any legal action brought in relation to this Agreement.
RELEASE
In consideration of the right to visit the home, I hereby release to the fullest extent allowed by law, Owner and its Management, members, officers, associates, employees, agents, representatives, attorneys, assigns, and affiliates (collectively, the "Affiliates") from all liability or responsibility of any kind whatsoever for any personal injury, death, property damage or other loss sustained by me, my minor children, any guest identified on this form, or any guest or person allowed onto the property during my rental dates as a result of my, my children's or the guest's participation in a visit to the home, due to any cause whatsoever, including without limitation negligence on the part of Owner or Management. I understand that this release will bind my heirs, administrators, executors, and any other person or entity seeking to claim under or through me.
---
---
The minimum night stay for this listing varies.
---
Explore other options in and around Temecula
More places to stay in Temecula: