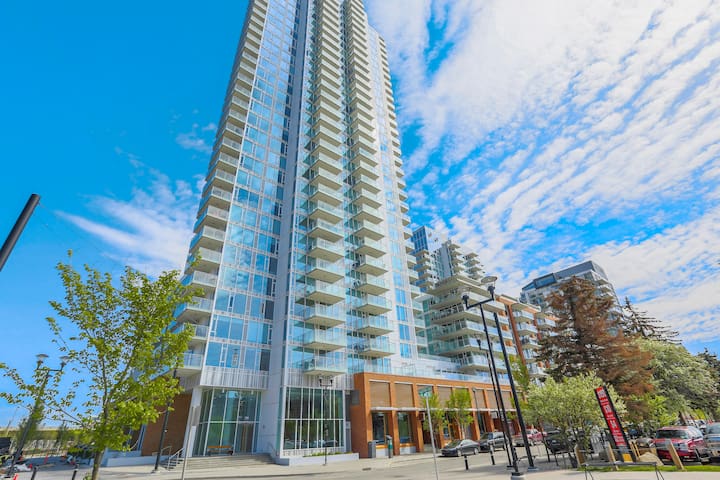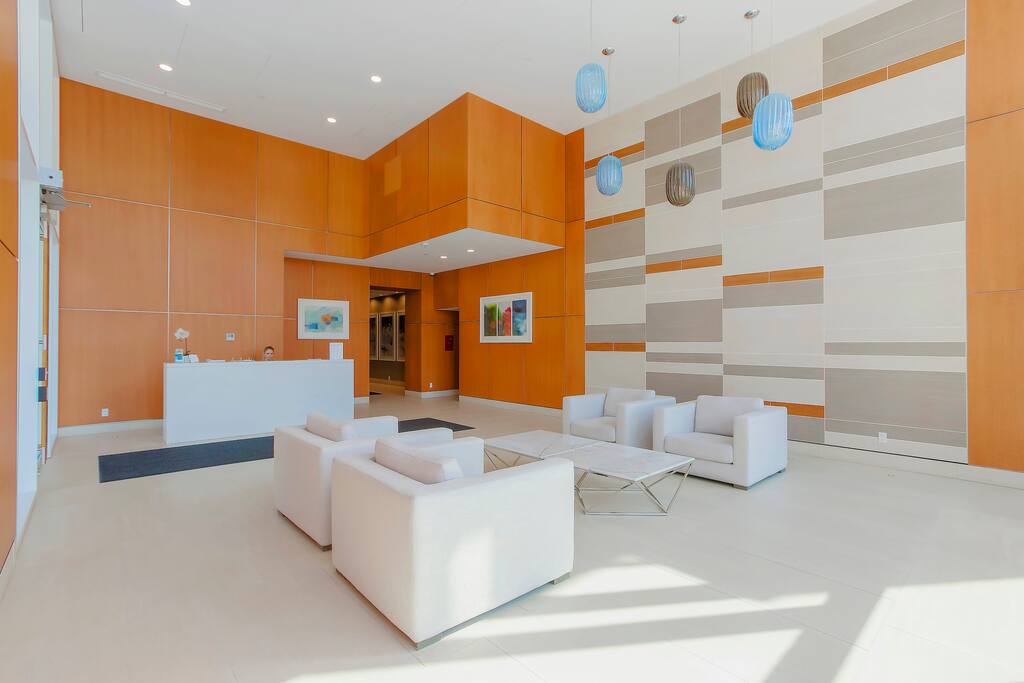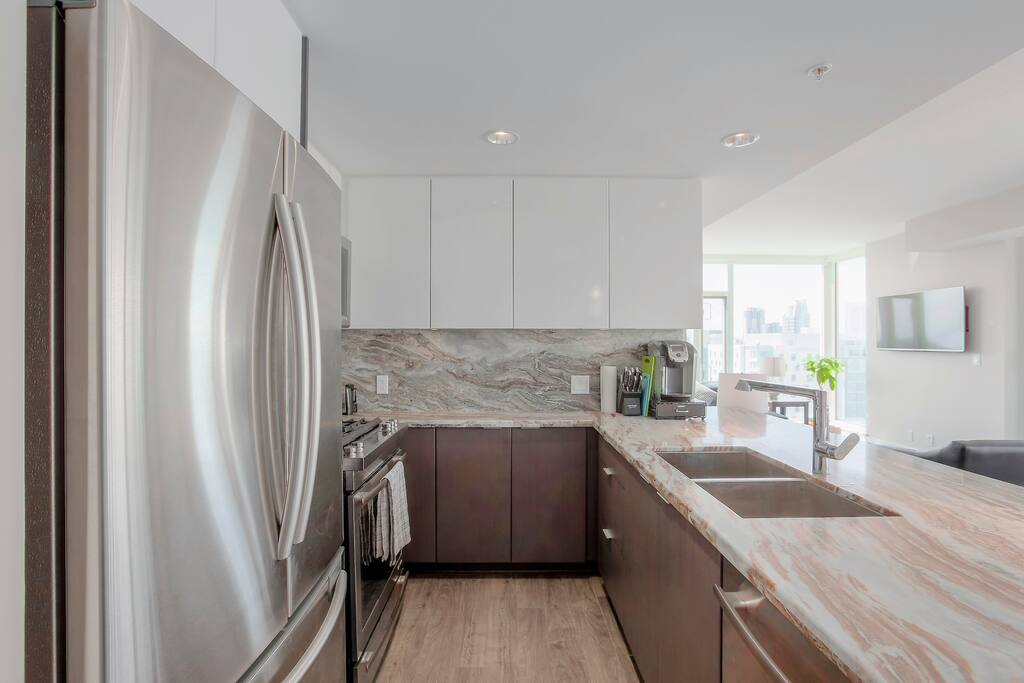 Billie's Beautiful Condo is sale available!
This beautiful property is located walking distance to the Bow River as well as easy access to the C Train in the heart of Calgary's East Village, an easy walk or walk and C train to the Calgary Stampede Grounds, only a 10 minute walk to historic Fort Calgary.
---
---
Always communicate through Airbnb
To protect your payment, never transfer money or communicate outside of the Airbnb website or app.
Learn more
---
---
Moderate
Cancel up to 5 days before your trip and get a full refund. Cancel within 5 days of your trip and the first night is non-refundable, but 50% of the cost for the remaining nights will be refunded.
---
---
---
This accommodation is worth it! It had all the basic necessities, more than enough TV's, fast wifi, and a stunning view of Downtown. What really caught me off guard (on a good note) was the housekeeper who works for the owner of the property, Jason. Jason went beyond out of his way to accommodate us. He recommended many eats, drinks, and local secrets/shortcuts/tips of the Calgarian ways. 5 out of 5 for sure would stay again!
---
This place is awesome, super great location, close to c train, lots of restaurants, and very close to stampede ground. The host was very helpful and knowledgable about the surrounding area. Would definitely stay here again!
---
Great stay. Well appointed, very comfortable spot, with attentive and friendly host. Would definitely stay here again!
Hi Megan, it was a pleasure to host you and your collective family/group, an awesome bunch of people all, even the wee one!! You are most welcome back any time, thanks for really taking care of the place on your recent stay, I hope you very much enjoyed your time in Calgary!
---
Jason was a wonderful host. From providing a welcome set of beverages for us to making us bread he was kind and very helpful in every way. His communication before and during our stay was very helpful in planning our time in Calgary
Thanks a bunch Karl, it was fantastic to host you and your family and thanks for your time in chatting about your experiences as an Airbnb host, it was helpful. I thought you all were just a super family and I would be honoured to host you again! Cheers to each of you!! :D
---
Excellent place to stay in Calgary! Great view, awesome building, even better sleeps! I highly recommend this place, Thanks again Jason! Till next time.
---
The condo was in a great location, but cleaning and maintenance was an issue. Even though check in time was at 3pm, when we arrived later that day at 3:45pm, there was the house person still cleaning and finishing laundry. The carpets and rugs were not vacuumed. The bath mats were still wet when we moved in and when the mats were lifted there was still pubic hair and hairs on and underneath the mat. The kitchen is lacking in bowls and cooking utensils. The toilet in the main bathroom became clogged and then the owner wanted to charge us for a plugged toilet. (In doing so they mentioned using Lysol wipes which were flushed down after every use. They do not dissolve as claimed.) There was no toilet plunger for us to fix the issue so we explained all but still they wanted an additional charge. Hopefully they leave you with a toilet plunger as any home or especially a rent unit would deem a worthy investment. A very humiliating and unnecessary issue.
Wow how different a guest can be a bit of time down the road, during Rosetta's family's stay I heard of NONE of the issues that she brings up in this review some 10 days later, barring her warning me of a clogged toilet the day of her hasty departure from a 2 night stay. If anyone is interested in reading the entire conversation between us on here let me know, I can bring it up on my computer or phone at check in; this was her message on departure.... "Jason so sorry for that messy issue. We did really enjoy the place and will book again when we go come through and recommend the place to others. Cheers 1 Jul 2017 · Rosetta" Things really went south it seems when I asked her what would be a fair charge for the substantial disruption of my day due to having to deal with the clogged toilet they left, I will spare all you good readers the details of what I was met with when I arrived at the Condo. On the note of not being there to pick up the key and fob this has only been an issue with one other guest who had to leave suddenly for a meeting and I could not make it down to the condo in time. If the mats were wet it may have been from being washed, sometimes they are not completely dry by the time I have to put them down, anyone who does cleaning can tell you laundry is the big time consumer and drying on low to not wreck the gel rugs takes a long time. The carpets get vacuumed for every new guest, floors are also vacuumed and/or swept and/or mopped every time. As to hairs, conceivable that I missed one I suppose, gotta tell you though since she brought it up pubes are quite rare, the vast majority of errant hair is head hair, but the bigger issue is why am I only hearing about this now as well as all the other problems now and in a public post? True there are no serving bowls (it is on the to get list) but there are now a full set of utensils (as of last week) and oven mitts going down in the next day or two, bakeware is also on my list to get but not okayed by ownership yet. The clogged toilet was not the one in the main bathroom it was the one in the on suite. In 45 plus years I have never clogged a toilet except when flushing kitchen waste (I hate garbage bagging organics), how is this a regular event for some people apparently? I can see how Rosetta was misled by my statements (she did claim the toilet was clogged from day one and stated "The toilet did not accept toilet paper..." in the last message to me on July 1st when they also stated "Not sure any reviews would need this either" and yet here we are. What I actually do with the toilets every time is blue squeeze on stuff (2 laps around the bowl for good coverage) let sit for 15 minutes plus, brush the bowl, rim, underside of the rim, sometimes the bottom of the seat and/or top of the bowl clean, wipe off the moisture with toilet paper and flush, I then go over all parts of the toilet I can reach with Lysol wipes and they go in the garbage. Bottom line both toilets in the condo's I represent work when I leave them after being done with the cleaning. I did not think to place a toilet plunger in each unit because again none of the three guy who did the bulk of the set up (me and the 2 owners) regularly plug toilets in our day to day, not on our minds, I will be buying plungers because apparently others do. As far as any humiliation goes that was never my intention, it is only biology, if they were feeling humiliated about the situation it seems to me that might represent something going on with them. I wish them well in future travels despite this "out of left field review". Jason the co-host and primary contact. Have a great day all! :)
---
This apartment was amazing! It was the perfect location for us to relax and enjoy downtown Calgary. The view was amazing and being right on the river was a definite bonus!
---
Response rate:
100%
Response time:
within an hour
Explore other options in and around Calgary
More places to stay in Calgary: