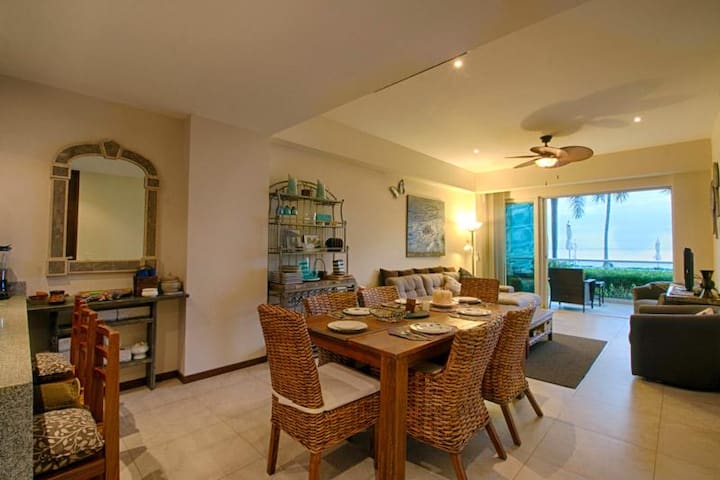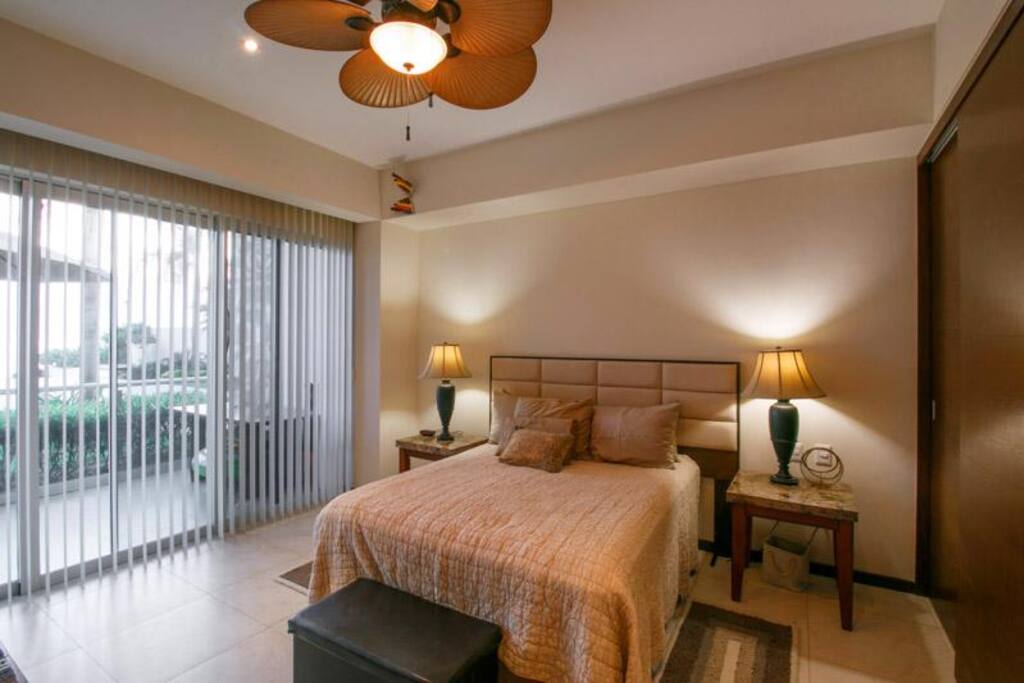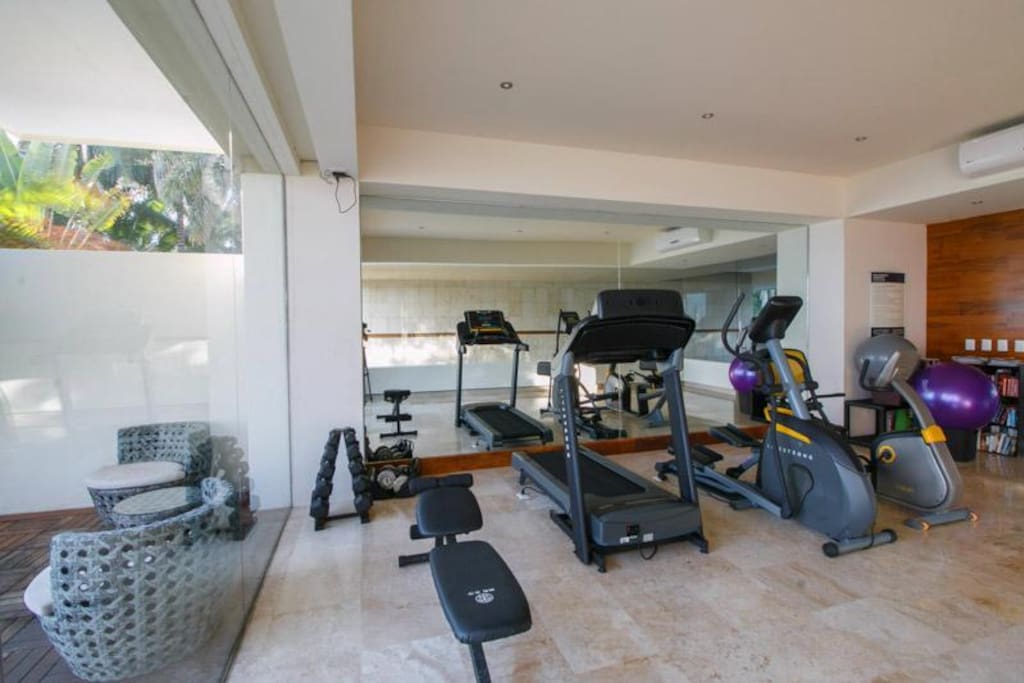 Azul Condominiums is truly the gem of the beachside condominiums in beautiful Bucerias. Situated right on the wide, ample beaches of the Bay of Banderas, in the very best-known town, part of the Riviera Nayarit, just north of the Ameca River, which divides the State of Jalisco (Puerto Vallarta) from Nayarit (Nuevo Vallarta), Azul exudes comfort and beauty all within an easy walk to the best that Bucerias has to offer. From world-class fine dining restaurants to traditional taco stands and Mexican garden and beach restaurants, Azul is close to them all. Whatever you do, plan to diet some other time, the food offerings are too much to pass up! Just a short walk from the famous Bucerias Art Walk, every Thursday evening from November to May, Azul is close enough to stroll thru the Art Walk, sip a cool beverage and take in a great dinner, before heading back to sit on your private patio looking over the Bay of Banderas and the colors of the sunset!PBB in Azul isn't just convenient, it's wonderful! On the main floor, PBB is just steps inside the 24hr secure gated parking area in luxurious Azul. This 2 bedroom, 2 bath condominium is wonderfully decorated with designer furniture, all chosen for an emphasis on comfort. The living room has a huge, comfortable couch with enough seating on it and the accompanying chairs to seat you all for an evening in. The satellite TV and DVD player will entertain you, or just sit on the spacious patio off the living room and look over the garden and pool area to the beach and the Bay of Banderas. Watch the sunset from your deck or the pool area with BBQ and eating area for condo use. The dining room seats your entire group and if you decide to cook in and not sample the local fare, the granite countertop and abundance of cabinetry, filled with every imaginable tool and appliance, will make the cooking a breeze. Stainless steel appliances: refrigerator, microwave, dishwasher, stove and oven as well as a full sized washer and dryer in the laundry room off the kitchen. The master bedroom features a king-sized bed, also decorated for comfort. The second bedroom features twin beds that convert easily to a second king bed if you desire. Both bedrooms have their own full sized bedroom with marble showers and plenty of counterspace. Ceiling fans, air conditioning, and overall comfort is emphasized. Azul also features an air-conditioned gym with glass to make the view from the treadmill wonderful. Come and enjoy, I promise you will want to return again and again!La Bahía de Banderas, parte de la Riviera Nayarit, justo al norte del río Ameca el cual divide el estado de Jalisco (Puerto Vallarta) del de Nayarit (Nuevo Vallarta) es bien conocida por su amplia playa ideal para caminar así como sus impresionantes puestas de sol y no hay mejor lugar que disfrutar de ambos como en los Condominios Azul.A corta distancia de los más finos restaurantes, galerías de Arte, actividades y vida nocturna, Azul es un lujoso lugar para vacacionar. Cuenta con 24 hrs de estacionamiento con seguridad, Azul se localiza en el lado suroeste de Bucería, el pueblo más popular en la Riviera Nayarit, conocido por su fine cuisine, ambiente mexicano y arte.Con su jardín junto a la playa, Azul también cuenta con una gran alberca para refrescarse y nadar. Rodeada de sillones y sombrillas, playas privadas para admirar sobre el océano y la bahía, Azul también posee una parrilla/asador a gas para el uso exclusivo de sus residentes, así como áreas externas para comer. A unos pasos de distancia está su gimnasio con aire acondicionado, donde te puedes ejercitar con la mejor tecnología en equipo. PBB se ubica en la parte baja del edificio lo que le da la ventaja de tener apertura directa hacia las áreas comunes y la playa. Adentro, PBB es suntuoso, con habitaciones bellamente amuebladas, diseñadas especialmente para dar el más alto confort, disfrutarás tu estancia tanto dentro como afuera. La sala con su televisión por satélite e internet inalámbrico, te mantiene conectado con el mundo exterior, si así lo deseas. PBB posee un comedor de gran tamaño con suficiente espacio para 6 personas, la cocina con sus cubiertas de granito y sus electrodomésticos de acero inoxidable: horno, estufa, microondas, refrigerador, lavavajillas, y variedad de utensilios de cocina… provee todo lo que necesitas para preparar una de esas comidas que te hacen quedarte en casa. Con su cuarto de lavado equipado con lavadora y secadora, tendrás todo lo que necesites. La recámara principal se abre a la terraza y tiene cama King size con énfasis en el confort. Con su baño completo privado con una gran ducha en mármol y mucho espacio en sus cubiertas, te sentirás como en casa. La segunda habitación cuenta con camas individuales o si lo prefieres las puedes convertir en una segunda cama King size, asi mismo cuenta con su propio baño completo con ducha y mucho espacio. Tiene Caja de seguridad para guardar sus valores. Siéntate y disfruta la quietud y la tranquila atmósfera o pasea por la playa, por el pueblo, o conoce el camino del arte en una de las principales calles de Bucerías, la desición es tuya. Ven y Disfruta
The space
Azul Condominiums is truly the gem of the beachside condominiums in beautiful Bucerias. Situated right on the wide, ample beaches of the Bay of Banderas, in the very best-known town, part of the Riviera Nayarit, just north of the Ameca River, which divides the State of Jalisco (Puerto Vallarta) from Nayarit (Nuevo Vallarta), Azul exudes comfort and beauty all within an easy walk to the best that Bucerias has to offer. From world-class fine dining restaurants to traditional taco stands and Mexican garden and beach restaurants, Azul is close to them all. Whatever you do, plan to diet some other time, the food offerings are too much to pass up! Just a short walk from the famous Bucerias Art Walk, every Thursday evening from November to May, Azul is close enough to stroll thru the Art Walk, sip a cool beverage and take in a great dinner, before heading back to sit on your private patio looking over the Bay of Banderas and the colors of the sunset!PBB in Azul isn't just convenient, it's wonderful! On the main floor, PBB is just steps inside the 24hr secure gated parking area in luxurious Azul. This 2 bedroom, 2 bath condominium is wonderfully decorated with designer furniture, all chosen for an emphasis on comfort. The living room has a huge, comfortable couch with enough seating on it and the accompanying chairs to seat you all for an evening in. The satellite TV and DVD player will entertain you, or just sit on the spacious patio off the living room and look over the garden and pool area to the beach and the Bay of Banderas. Watch the sunset from your deck or the pool area with BBQ and eating area for condo use. The dining room seats your entire group and if you decide to cook in and not sample the local fare, the granite countertop and abundance of cabinetry, filled with every imaginable tool and appliance, will make the cooking a breeze. Stainless steel appliances: refrigerator, microwave, dishwasher, stove and oven as well as a full sized washer and dryer in the laundry room off the kitchen. The master bedroom features a king-sized bed, also decorated for comfort. The second bedroom features twin beds that convert easily to a second king bed if you desire. Both bedrooms have their own full sized bedroom with marble showers and plenty of counterspace. Ceiling fans, air conditioning, and overall comfort is emphasized. Azul also features an air-conditioned gym with glass to make the view from the treadmill wonderful. Come and enjoy, I promise you will want to return again and again!La Bahía de Banderas, parte de la Riviera Nayarit, justo al norte del río Ameca el cual divide el estado de Jalisco (Puerto Vallarta) del de Nayarit (Nuevo Vallarta) es bien conocida por su amplia playa ideal para caminar así como sus impresionantes puestas de sol y no hay mejor lugar que disfrutar de ambos como en los Condominios Azul.A corta distancia de los más finos restaurantes, galerías de Arte, actividades y vida nocturna, Azul es un lujoso lugar para vacacionar. Cuenta con 24 hrs de estacionamiento con seguridad, Azul se localiza en el lado suroeste de Bucería, el pueblo más popular en la Riviera Nayarit, conocido por su fine cuisine, ambiente mexicano y arte.Con su jardín junto a la playa, Azul también cuenta con una gran alberca para refrescarse y nadar. Rodeada de sillones y sombrillas, playas privadas para admirar sobre el océano y la bahía, Azul también posee una parrilla/asador a gas para el uso exclusivo de sus residentes, así como áreas externas para comer. A unos pasos de distancia está su gimnasio con aire acondicionado, donde te puedes ejercitar con la mejor tecnología en equipo. PBB se ubica en la parte baja del edificio lo que le da la ventaja de tener apertura directa hacia las áreas comunes y la playa. Adentro, PBB es suntuoso, con habitaciones bellamente amuebladas, diseñadas especialmente para dar el más alto confort, disfrutarás tu estancia tanto dentro como afuera. La sala con su televisión por satélite e internet inalámbrico, te mantiene conectado con el mundo exterior, si así lo deseas. PBB posee un comedor de gran tamaño con suficiente espacio para 6 personas, la cocina con sus cubiertas de granito y sus electrodomésticos de acero inoxidable: horno, estufa, microondas, refrigerador, lavavajillas, y variedad de utensilios de cocina… provee todo lo que necesitas para preparar una de esas comidas que te hacen quedarte en casa. Con su cuarto de lavado equipado con lavadora y secadora, tendrás todo lo que necesites. La recámara principal se abre a la terraza y tiene cama King size con énfasis en el confort. Con su baño completo privado con una gran ducha en mármol y mucho espacio en sus cubiertas, te sentirás como en casa. La segunda habitación cuenta con camas individuales o si lo prefieres las puedes convertir en una segunda cama King size, asi mismo cuenta con su propio baño completo con ducha y mucho espacio. Tiene Caja de seguridad para guardar sus valores. Siéntate y disfruta la quietud y la tranquila atmósfera o pasea por la playa, por el pueblo, o conoce el camino del arte en una de las principales calles de Bucerías, la desición es tuya. Ven y Disfruta
No of people can fit in is 4
---
---
Always communicate through Airbnb
To protect your payment, never transfer money or communicate outside of the Airbnb website or app.
Learn more
---
Check in is anytime after 4PM
Non-smoking. No Pets Allowed.
---
---
1 night minimum stay.
From Aug 11, 2017 - Dec 31, 2019 the minimum stay is 7 nights.
---
This home doesn't have any reviews. If you stay here, your review will appear here.
Servicial, enfocado en hacer de tus vacaciones una buena experiencia, junto con mi equipo de trabajo. Pruébanos!
Response rate:
85%
Response time:
within a day
Explore other options in and around Bucerías
More places to stay in Bucerías: