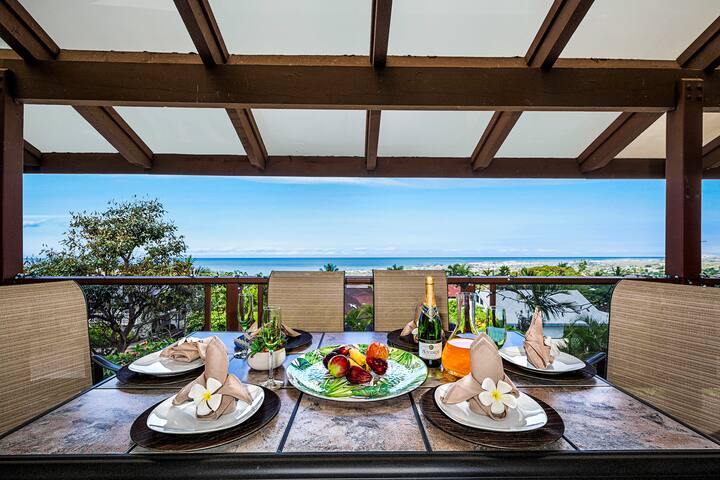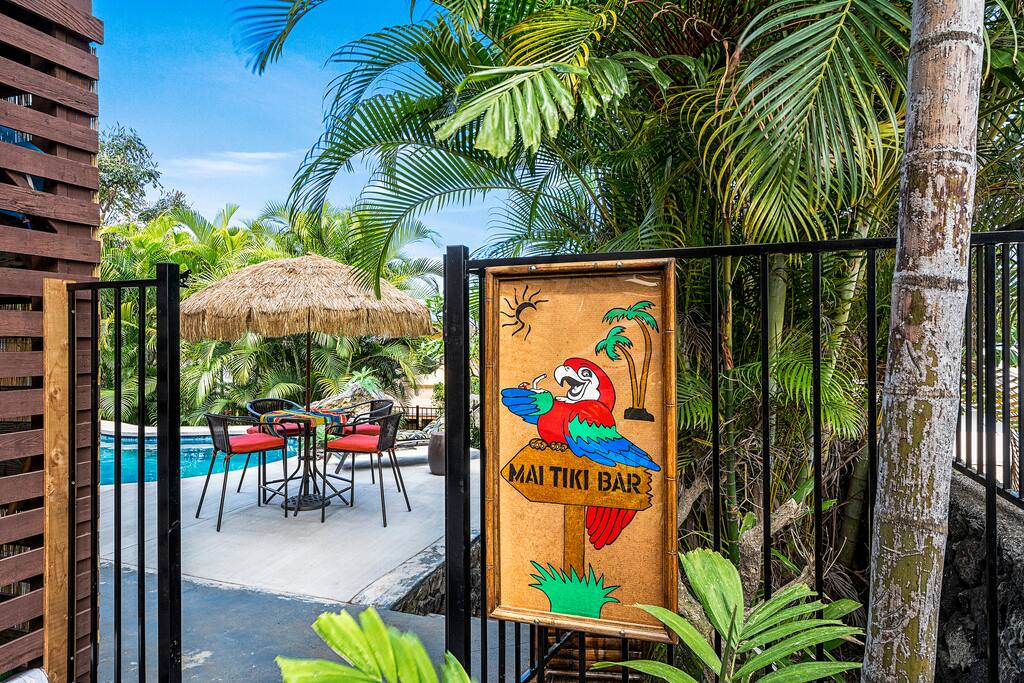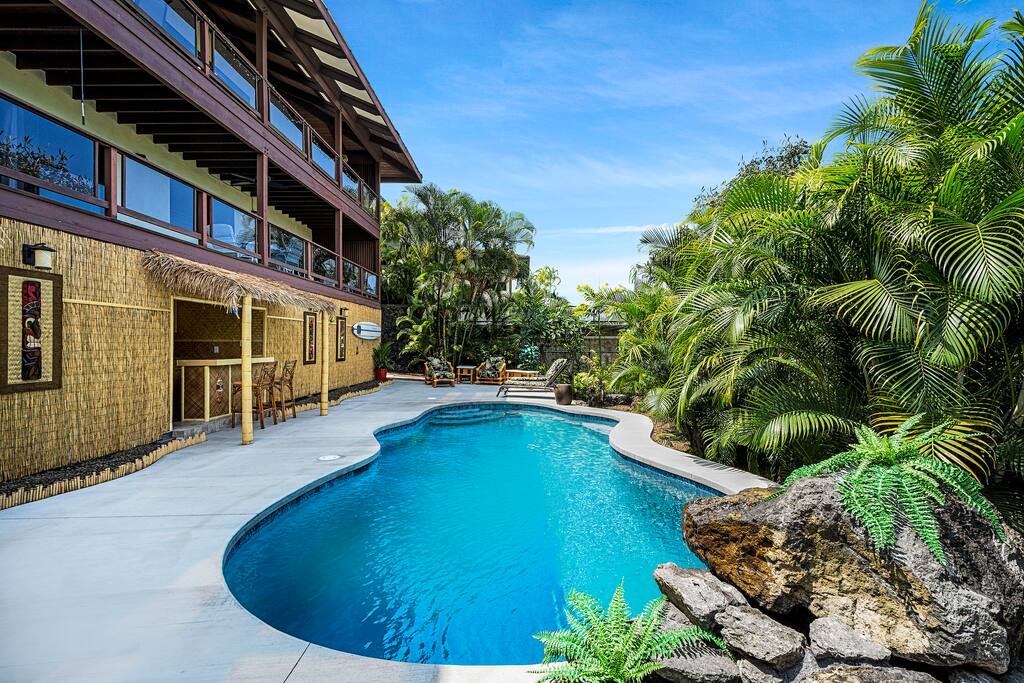 Family Friendly Home, OceanViews, Tiki Bar & Pool
Family Friendly Home, OceanViews, Tiki Bar & Pool
Welcome to Mai Tiki Retreat, where your ideal Hawaiian vacation meets all the comforts of home!
This gorgeous 2 bdm, 2 bth, stunning ocean-view, family friendly house is sure to please!
It offers two exclusive & completely separate homes in one. This listing is for the top level unit only, which can easily accommodate 6 guests, (up to 8 if 2 twin air mattresses are used) & includes full, private access to your own personal Tiki bar & resort-like heated pool! Also close to beach and town.
The space
The top unit has expansive vaulted cedar ceilings, with an open concept kitchen/living room space that compliments the open and flowing elements of the home. It is well designed and decorated - you will feel like you are right at home!
There are 2 large bedrooms, 2 full baths, and absolutely stunning views of the ocean/Kona Coast and spectacular sunsets from the lanai, and from just about every room in the house!
The large covered lanai offers magnificent panoramic ocean views, and stunning sunsets. The inviting interior and quiet location with cool breezes at a perfect 550 foot elevation allows for a relaxing and memorable stay, however, for those hot days we also offer air conditioning in each bedroom for a more comfortable and relaxed nights sleep.
One final amenity that we are so excited to offer is the opportunity for your little ones to sleep outside under the stars ---of course, in a safe and controlled environment, where you will be just steps away! You will find a large canvas teepee, folding foam sleeping pad, and extra blankets and pillows for their comfort in the master bedroom closet. You can set these items up on the large area rug found on the lanai just outside of the master bedroom. This extra special accommodation will leave your children with a memory they will never forget!
Guest access
There is ample parking available in the driveway or on the side of the streets in front of the home.
Guests have 100% private use and access to the pool and tiki bar area.
Interaction with guests
The Host is usually available on short notice to answer questions, provide any special needed items, and to offer local knowledge. They are on-site downstairs for emergency situations, but interact as little as possible for privacy of all guests.
Other things to note
Our check-in time is 4pm and check out time is 11am, but we may be able to accommodate early arrivals or late departures, so please request at time of booking.
---
Bedroom 1
1 king bed, 1 crib
Common spaces
1 sofa bed, 2 floor mattresses
---
---
Always communicate through Airbnb
To protect your payment, never transfer money or communicate outside of the Airbnb website or app.
Learn More
---
Check in is anytime after 4PM
- SHORT TERM RENTAL AGREEMENT This Short Term Rental Agreement (the "Agreement") is made by and between Dolly Lymer, Michael Lymer, Roxy Stekelenburg, and Jason Stekelenburg ("Homeowners") hereinafter called LANDLORD and all parties listed ("Guests") hereinafter called TENANT, as of the date last set forth on the signature page of this Agreement. This agreement consists of (1) one Guest reservation and part (2) two Lease agreement. TENANT has read all listed information and represent that We/I are executing on behalf of all of the parties listed herein and agree to all of the terms and charges stated and warrant that the lease and release of liability agreements have been duly agreed to and properly executed by all guests. TENANT hereby agrees to abide by the terms and conditions stated herein as follows: 1. Property. The premises are to be used for private residential purposes only, to be occupied by not more than the maximum number of people in the reservation. The property is furnished and includes linens, towels, wireless, basic cable, DVDs, games, books, kitchen/cooking equipment and utensils, gas BBQ, basic beach and pool gear, and an initial supply of household items such as hand soap, dishwashing detergent, laundry detergent, paper towels, toilet paper, and garbage bags. Not included: daily maid service, additional household supplies, baggage handling, or laundry service, although there are laundry appliances in the residence for personal use. 2. Rental Party: The rental party shall consist of TENANT and only the approved guests. 3. Maximum Occupancy: The maximum number of guests is limited to 6 persons, although unit is equipped with 2 twin air mattresses to allow for a total of 2 additional guests. An additional charge or $25 per person per night for guests will be assessed for occupancy beyond 6 persons. Only the individuals specifically registered shall occupy the premise at any time. Children are counted in the total of the occupancy. Over occupancy is a material violation of this vacation lease agreement. There shall not be "house parties" on the premises. There shall never be more than the number of guests in the reservation on the premises at any time, nor shall TENANT's guests be alone on the premises at any time. 4. Term of the Lease. The lease begins at 4p.m. on the day of check-in and ends at 11 a.m. on the day of check-out, as indicated within the reservation. Early check-in or check-out may be permitted, but must be pre-arranged with LANDLORD. TENANT's security deposit shall be forfeited if you do not vacate the premises by 11am, unless otherwise agreed to in writing. 5. Cleanliness: The premises shall be kept in a clean, healthy and safe condition, with no unsafe or unsanitary conditions. No junk or garbage will be allowed to accumulate on or near the premises. Extra care should be taken not to damage the sofa seat cushions with wet or soiled clothing or swimsuits. Beach towels provided shall be placed on all cushions to prevent soiling from water, salt, and suntan oils. Before departing, remove all trash, place it in plastic garbage bags in proper outside garbage cans, and leave the home tidy and orderly. 6. Furnishings: TENANT agrees not to alter any of the furnishings and will use them only for the purposes intended. TENANT shall be solely responsible for replacement value for any damage or destruction to furnishings on the leased premises. TENANT agrees to maintain the premises in the same condition as when received and will not allow any waste, misuse, or neglect. Should any waste, misuse or neglect occur on the leased premises, it will be the sole responsibility of the TENANT. 7. Alterations: No alterations shall be made to the premises, nor locks installed anywhere. 8. Pets: Pets of any kind are NOT allowed anywhere on the premises. 9. Vehicles: No more than (4) vehicles shall be parked on the premises at any time. You may also park on the street in front of the house. 10. Children: All children shall be supervised at all times. Severe injury and death can result from failure to properly supervise children. TENANT alone is responsible for child safety. 11. No smoking: Smoking is strictly prohibited within the home, on the lanai, and in the pool area. 12. Disturbances: The premise shall not be used in such a manner as to generate excessive noise (including loud music), which will disturb neighbors, nor will neighbors be harassed or bothered in any way. Absolute quiet begins at 9 pm through 8 am daily. 13. Repairs: Should any repairs be necessary; the TENANT will notify the LANDLORD as soon as possible. 14. Failure of A System, Appliance or Amenity: In the event the premises sustains a failure of a system, amenity or appliance – including but not limited to water, sewer, electrical, mechanical, or structure system, pool, electronic or entertainment equipment or service neither the LANDLORD, owner, their employees, agents, or contractors, or property managers shall be liable to TENANT in damages and no refunds will be given for such failures. However, the LANDLORD, upon being notified of any malfunction will make a reasonable effort to promptly repair or replace the failed system or advertised equipment. The salt air from the ocean inflicts tremendous strain on systems, equipment, and appliances. This coupled with the difficulty of getting parts to the island and the fact that there are limited service contractors in our areas, particularly on evenings or weekends, means immediate resolution is not a guarantee. TENANT understands and accepts the fact this property is leased for its tropical appeal and not its modern convenience, and therefore some systems, amenities and appliances may not be fully functional at all times and it may be unreasonably difficult or impossible to get malfunctioning system, amenity, or appliance operating within the lease period. 15. Site Conditions and Noise: LANDLORD shall not be liable for events beyond their control which may interfere with TENANT's occupancy, such as acts of God, acts of governmental agencies, fire, strikes, war, inclement weather and construction noise from nearby sites. 16. TENANT's Personal Property: TENANT's personal property and effects are the TENANT'S sole responsibility thought the tenancy. LANDLORD's insurance will not cover TENANT's personal property and TENANT agrees to carry his/her own insurance on such property and personal effects. All personal property of the TENANT on said premises shall remain his sole responsibility and risk, and the owner and agent shall not be liable for any damages to, or loss of such personal property arising from any acts or negligence of any other person, nor from the leaking of the roof, or from bursting, leaking or overflowing of water, sewer, or from plumbing fixtures, or from the handling of electrical wires or fixtures. TENANT expressly agrees to hold the owner and agent harmless in all such cause and events. 17. Abandoned Personal Property: When the TENANT vacates, or abandons the property any personal property left behind on the premises shall be deemed abandoned by the TENANT and LANDLORD shall not be held responsible. During TENANT's occupancy, TENANT is solely responsible for the security of all of TENANT's personal property, and the LANDLORD shall not be in any way liable for loss, theft or damage of the same. 18. Right of Property: The LANDLORD, his agents or representatives shall have the right to enter (after 24 hours notice) the premises during reasonable hours to inspect, make alterations and or repairs, or to provide maintenance, as LANDLORD may deem appropriate. TENANT acknowledges that routine care taking and grounds maintenance may occur periodically during the lease period. 19. Security Deposit: may be applied to actual damages caused by TENANT, cable charges, excessive cleaning charges, excess services required, moving furniture, fines imposed and/or costs of enforcing this lease. Within 30 days following the end of the tenancy the damage/security deposit will be applied, accounted for or refunded to the TENANT, If the TENANT has provided a credit card, the TENANT hereby authorizes the LANDLORD to charge these charges to his/her account. TENANT shall report any damage noted upon arrival to avoid any Damage/Security Deposit losses. 20. Insurance: TENANT agrees that LANDLORD shall not be liable for travel disruptions, TENANTs personal property or illness or injury. TENANT is strongly encouraged to purchase a Vacation Insurance Policy. 21. Indemnification and Hold Harmless: TENANT agrees to indemnify and hold harmless owner landlords and their representatives from and against any liability for personal injury or property damage sustained by any person (including TENANT's guests) as a result of any cause, unless caused by the gross negligence or intentional willful act of the Owner/ Landlord. 22. Assignment: TENANT may not assign this lease to a third party. 23. Surrender of Premises: TENANT agrees to surrender the premises in as good and the same condition as the commencement of the rental period, reasonable wear and tear excepted; and to reimburse LANDLORD the amount, including reasonable attorney's fee, for all the damages. Soiling and/or discoloration of the seat cushions are not considered reasonable wear and tear and will be billed as additional cleaning or damage. 24. Expedited Eviction: If TENANT (I) holds over in possession after the TENANT's tenancy has expired; (ii) commits a material breach of any provision of this agreement (including any addendum hereto) that according to its terms would result in the terminations of TENANT's tenancy; (iii) fails to pay rents as required by this agreement; or (iv) has obtained possession of the premises by fraud or misrepresentation, the TENANT aggress to an expedited eviction as the law allows. 25. Laws: Statues or ordinances of a jurisdictional government agency will not be violated on the premises, nor will the premises be used for any unlawful purpose. 26. Enforcement of Lease: That should LANDLORD incur any expenses in enforcing the terms of this lease, TENANT shall promptly reimburse LANDLORD 100% for such expenses. 27. Disputes: This lease shall be governed by and interpreted in accordance with the laws of the State of Hawaii and County of Hawaii. Any action relating to this agreement shall only be instituted and persecuted in courts in Hawaii. TENANT specifically consents to such jurisdiction and to extraterritorial service of process. 28. Default by TENANT: TENANT agrees that every condition, covenant and provision of this lease is material. A breach of any of these will constitute a material breach giving the LANDLORD the right to terminate this lease, the right to immediate possession of the premises, and the right to all damages including, but not limited to costs of enforcement and reasonable attorney's fees. 29. Sole Agreement: This document including any attachments incorporated by reference herein constitute the entire and sole agreement between the LANDLORD and TENANT respecting the leased premises, the leasing of the premises to TENANT, and the lease term created under this lease, and correctly sets forth the obligations of LANDLORD and TENANT to each other as of its date. Any agreements or representations respecting the leased premises or their leasing by the LANDLORD to TENANT not expressly set forth in this agreement are null and void. 30. Changes: The parties agree that any changes to this agreement are to be in writing to be enforceable or otherwise are null and void. 31. Rental Rules: TENANT agrees to abide by the Rental Rules attached as Exhibit A at all times while at the property and shall cause all members of the rental party and anyone else TENANT permits on the property to abide by the following rules at all times while at the property. 32. Door code: Approximately 10 days before the arrival date, TENANT will receive a welcome letter. Included will be the street address of the house and the code to the door lock. 33. Confirmation and deposit policy: The reservation will be confirmed upon receipt of the deposit. Upon payment of deposit LANDLORD shall send a confirmation email that TENANT is booked for the specified dates. The remaining balance is due 60 days before arrival. 34. Cancellation policy: If LANDLORD is notified 60 days before arrival or earlier, the deposit will be returned with a $200 cancellation fee, plus a 3% processing fee for domestic credit cards, or a 5% processing fee for international credit cards. Cancellations received after that date due are subject to a full forfeiture of all funds received. Failure to make timely payments as required herein will result in lease cancellation and forfeiture of funds. 35. Unavailability Of Premises/Duplicate Booking/Other: If for any reason the owner and agent is unable to provide the premises in a fit and habitable condition or make the premises available for this lease, the owner and agent shall either A) provide and TENANT shall accept a substitute reasonably comparable property and owner shall pay any additional charges that would be due in excess of the rate for the original booking OR (B) refund all rents and fees paid for the original booking together with a 5% (of base rental) override and cancel the lease with no further liability. It is hereby agreed that these are the only two alternatives and the sole remedy for any and all damages, liability, or inconvenience arising out of owner's failure to make the premises available. 36. Signed Lease Agreement: Copies and signatures by email are considered valid. The parties shall retain the originals for verification. Electronic signatures are considered valid. 37. Rental Rate and Fees Deposit: A deposit of $1000 is due at least 30 days prior to the Check-In Date. The deposit is for security and shall be refunded within 30 days of the checkout date provided no deductions are made due to: i. damage to the property or furnishings; ii. dirt or other mess requiring excessive cleaning; or iii. any other cost incurred by LANDLORD due to TENANTS stay. If the premises appear dirty or damaged upon Check-in, TENANT shall inform LANDLORD immediately. b. Rental Rate. Payment in full of the following fees shall be due within 60 days of the Check-in Date: Definitions: Wherever "landlord" is used it is intended to mean owners. The use of the word "tenant" shall include both singular and plural. Severability: If any part of this agreement is found by a court of competent jurisdiction to be unenforceable, then the remainder of the agreement shall still be in full force & effect. This document is not confirmation of a booking without payment of deposit. The booking dates requested are secured upon receipt of deposit and a confirmation letter (e-mail). All TENANTs/GUESTs agree to the terms of this Short-Term Rental Agreement Exhibit A RENTAL RULES House Rules: Do not lock the sliding glass doors, the locks are finicky & it is unnecessary as no one can access the lanai's from outside the home. Absolutely no climbing on the rock fountain in the pool. Absolutely no glass or plastic that can shatter is allowed in the pool area; there is 'approved' plastic ware available for use in the Tiki bar cabinets by the pool. No smoking in the house, in the pool, or pool area. Only the confirmed number of guests are allowed on the property. We do not allow parties on the property. This includes weddings or receptions. Observe the Hawaiian style by removing your shoes before entering. Clean any spills up immediately. Do not cut any food items directly on the granite countertops, use cutting board. Do not sit on furniture in wet swimsuits or with suntan oil on. Wash all sand off before entering the house using the hose outside near the carport. Do not flush sanitary products down the toilets or put food down the garbage disposal. Turn off all AC units, lights and fans while out to conserve energy. Pool Rules: Pool hours: 8am – 9pm Shower before entering the pool and after use of the toilet facilities. Outdoor shower is located on the side of the house near the hanging surfboard. No glass or plastic that can shatter is allowed in the pool area. No climbing or diving from the rock water fountain. Do not bring food, drink, gum, or tobacco into the pool. No animals allowed in the pool area, except for service animals. No spitting or other bodily fluids in the pool. All children in the pool area must have adult supervision at all times. Pool is 8 feet deep on the fountain end, lifejackets are provided, and must be worn by any non-confident swimmers. Swimmers who are not toilet trained must wear a swim diaper. Please ensure gate is shut and locked at all times. Plastic ware is provided in the bar area for your convenience, please ensure that all used dishes are washed & returned, as well as trash removed daily to avoid pests. Please cover outdoor furniture and lower the umbrella when not in use. Lastly, we ask that you be considerate of our neighbors.
---
---
---
---
Mia Tiki Retreat is the perfect vacation home for families or anyone looking for a place in paradise. Location is perfect, house is clean, amenities are all there and hosts are unbelievable kind and attentive. We loved everything about this house. It made our vacation a memorable one and we can't wait to return one day. Thank you for a great visit
---
We had an amazing time at this house. The location is great, the view is priceless and it has everything you can possibly need. We had an opportunity to meet our very nice and friendly hosts and they made us feel very much at home. I highly recommend their house and would definitely rent it again!
---
Hello, it is nice to meet you!

We would like to introduce ourselves and tell you a little more about our story and how we landed here in Hawaii! We are the Lymer's – Dolly and Mike, & the Stekelenburg's – Roxy & Jason. We are a super close 4-person family that co-owns Mai Tiki Retreat in beautiful Kailua Kona, Hawaii!

I'm Roxy; Dolly and Mike are my parents and I have been married to Jason since 2000. My parents and I were born and raised in Minnesota, a.k.a. Minne-snow-ta and Jason grew up in beautiful British Columbia, Canada eh'! We love our Canadian brothers and sisters and we enjoy making fun of each other whenever we can!!!
Response rate:
100%
Response time:
within an hour
Explore other options in and around Kailua-Kona
More places to stay in Kailua-Kona: