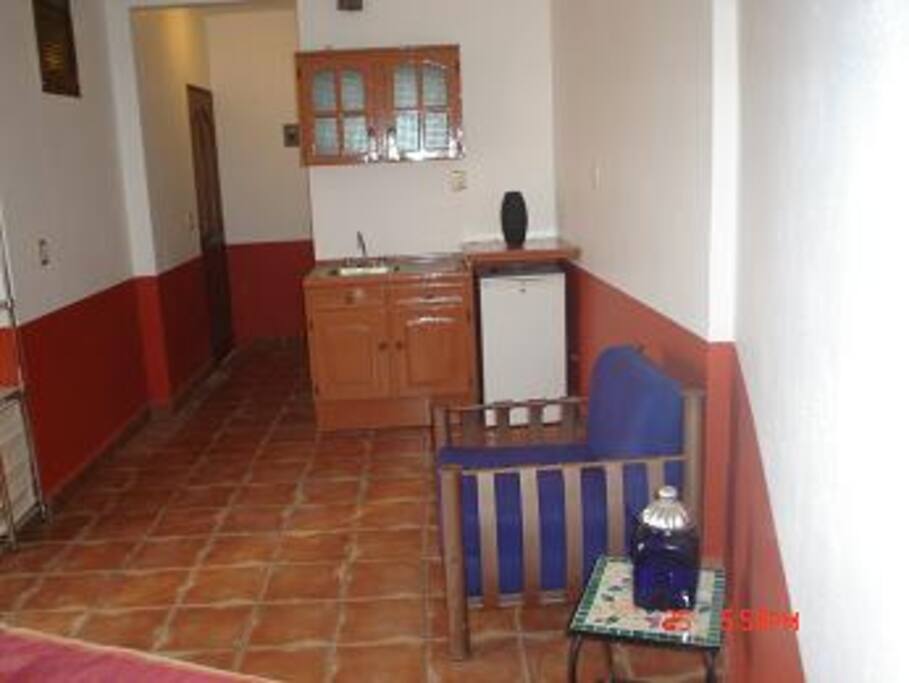 6 month contract. Small centrally located studio apartment with private bath and kitchenette. Great for single traveler prefers his/her own space to a crowded hotel. Includes Wi-Fi, Satellite TV. It's a 15 minute walk to the zocolo in a safe family neighborhood.
---
Although the studio is in an excellent location we found it was impossible for us to sleep because of the noise from the street below, traffic noise and barking dogs. Our host adviced earplugs, this did not work for us. So if you are a light sleeper don't stay here. We rate this as the noisiest place we have ever stayed in 3 trips to Mexico.
---
Anthony is nice and friendly , replied immediately when I had a question. Real nice location on a non touristy , Mexican street , friendly neighbors greet you in the morning. Nice walk to downtown . As for the noice , I'm a light sleeper , but I had no problem , of of course you wake up whem trafic starts in he morning. Wifi was super , best I had in mexico !! Would stay again !
---
Good location, great view, a little noisy from the proximity to the street, but I liked it very much. 10 minute walk down the hill to the center, with small shops on the street for necessities. Communication with Anthony was clear, prompt - all in all my stay there was excellent! Recommended if noise doesn't bother you.
---
Apartment located nicely on a hill so you have a nice view over centro. If you go a bit further up you will end up in El mirador where also is the restaurant El mirador, really romantic! Furthermore, the apartment is simple but we loved it as it has a comphy bed and small balcony, all we needed! Kitchen is well equipped if you would like to make foods. Bathroom is clean and More important, increddible hot water and waterpressure! I finally was able to wash my hair within 15 minutes instead of 1 hour :p Anthony is a great host and was nice enough to get our place ready really early in the morning and we are able to store our luggage, thank you for everything!!!
---
The room was a private studio, had amazing views, and made us feel like we were inside the community. The people in the neighborhood are very kind and understanding towards tourists. They will smile and say good morning to you, it was a very safe neighborhood. We left the doors open at night and it was a bit loud on the weekends, and in the morning I was awakened by roosters. However, I personally loved those little touches because it makes for an authentic experience. This listing fails to mention the coffee shop 'Brujala' that is only a few houses away and makes a great latte as well as smoothies, and brings in live entertainment. Location of Anthony's listing is very close to the town square and market. I loved walking through the neighborhood checking out the views We did not get a chance to meet Anthony (our fault not his). We got in late from our bus and only had two days in Oaxaca so we were out of the room almost all day. He did come by to check in on us, but we were out. If you're a foreigner I would avoid drinking the water supplied. We purchased our water from OXXO in the center of town.
---
Response rate:
100%
Response time:
within a few hours
Explore other options in and around Oaxaca
More places to stay in Oaxaca: