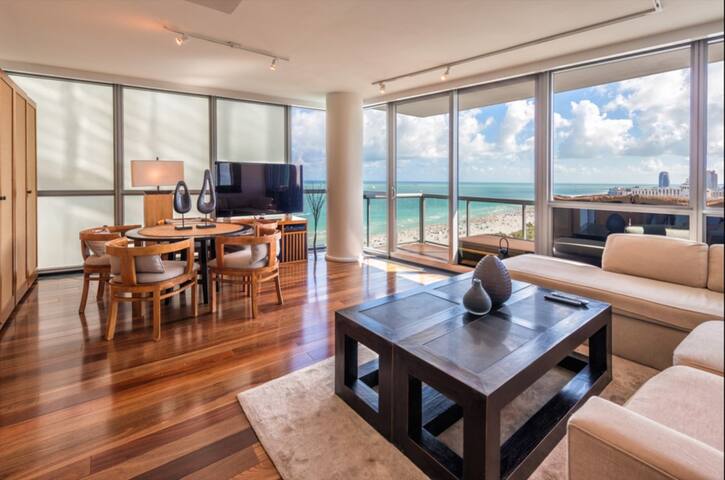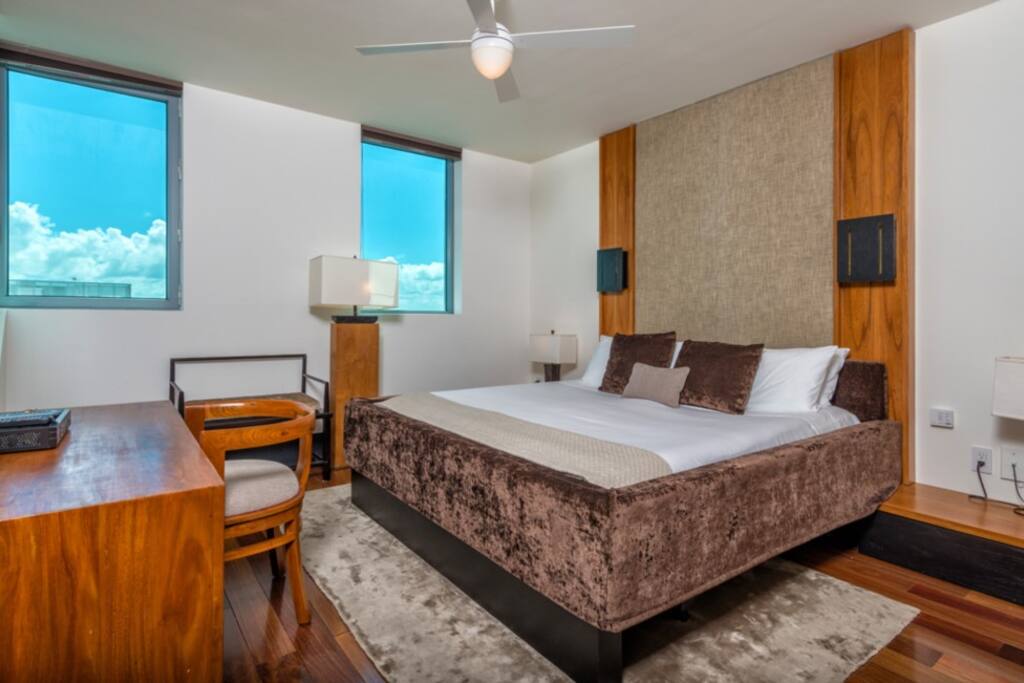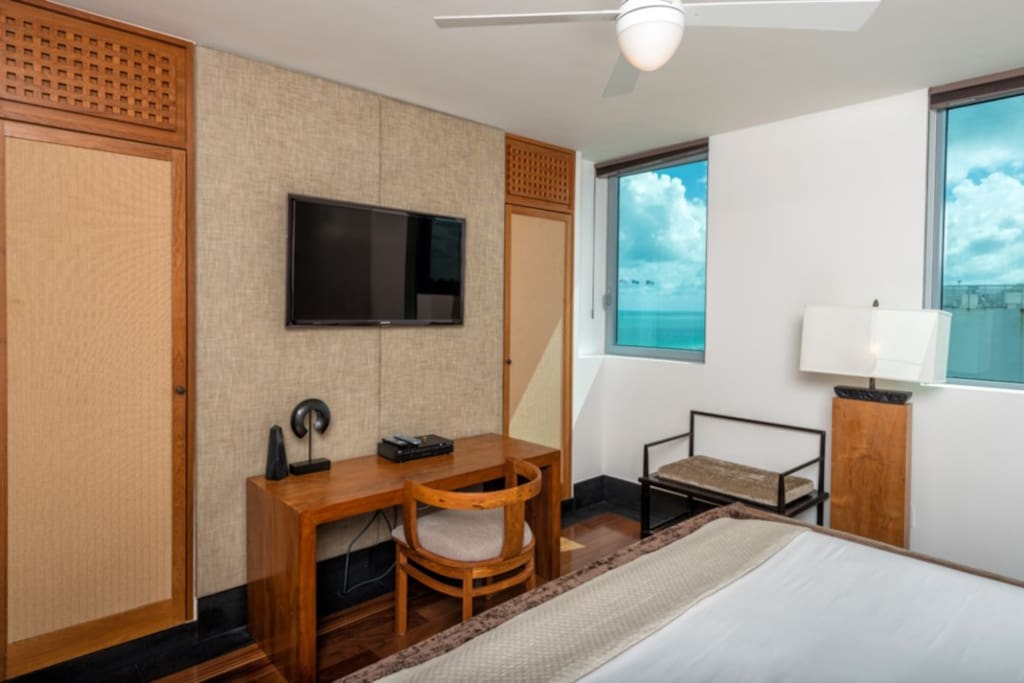 Setai Private Residence 2/2 Beachfront Unit 2704
Setai Private Residence 2/2 Beachfront Unit 2704
The space
This is a private residence located within the 5 Star Setai Hotel located at 101 20th St. or 2001 Collins Ave. (two entrances). The Setai was created with an Indonesian influence who thrives on personalized service, privacy, tranquility and excellence. brbrThis is a separate 2 bedroom, 2 bathroom unit with full kitchen, living room, washer/dryer a south facing balcony with beautiful ocean and city view. 1237 Sq. Ft. of living space. Bathrooms are fully stocked with premium amenities for your personal needs (just as a hotel would). Entertainment amenities within the unit include LCD TVs, DVD players, Cable, high-speed wireless Internet.brbrWhen you stay in our private residence you can pamper yourself in all the wonderful hotel amenities, which include 3 Azure pools, plush chairs on the white sand beaches, Spa, gym, room service and valet. You are treated just like a hotel guest yet you are paying less. Daily resort fee of $250/day INCLUDED in the advertised rate. Parking is Valet at regular hotel valet rate. The guest is responsible for paying $295 registration fee final clean fee directly to the hotel. LRMB provides private concierges service for additional desires like a private chef, a private driver or car, a day on the boat, tours or simply just advice on where to go and what to do. brbrA luxury specialist meets all guest for arrivals and departures. If you book online, LRMB will require you to sign the terms conditions. The agreement will be sent to the email address under which the reservation was made. brbrYou are in THE prime location. Beach front hotel. Heart of South Beach. Next to the W Hotel and 1 Hotel Homes. Walking distance from world-class shopping including Lincoln Rd., an array of restaurants, golf courses, clubs and other nightlife, as well as outdoor attractions and (URL HIDDEN)
Other things to note
The hotel charges a registration of $295.00 which will be paid directly to the hotel upon check-in
---
---
Check in is anytime after 4PM
Pursuant to this Vacation Rental Agreement ("Agreement"), Luxury Rentals Miami Beach, Inc., a Florida Corporation ("Licensor") located at 301 W 41st St. #402, Miami Beach Florida 33140, as agent of the Owner of the Unit ("Owner") agrees to rent Unit No. 2704 of the Setai Resort and Residence located at 101 20th Street, Miami Beach, Florida 33139 ("Unit") to ___________________________ ("Licensee" or "Guest")), whose address is ________________________________________, for $_________ USD per night beginning at 4:00 pm on _________________, 2017 and ending on ______________, 2017 at 11:00am. Late check out without permission from Licensor will result in day charge.
Our check out time (EMAIL HIDDEN)plimentary late check outs are only approved 24 hours prior to departure based upon availability. The check-out hours and rates are as follows(URL HIDDEN)Complimentary late check-out - 1p(URL HIDDEN)1/2 day rate charge - 1pm to 3p(URL HIDDEN)Full day rate charge - any time after 3pm
This vacation rental agreement is for a fully furnished apartment that includes water, electricity, basic cable, air conditioning, Wi-Fi and access to certain amenities in the Setai Hotel, including but not limited to: the pool, beach, gym, and spa. Licensee does not have access to the remaining amenities at the Setai Hotel. Any additional use charges shall be the sole responsibility of the Licensee. "Premises" shall refer to all of the common areas which the Owner of the Unit, and in turn the Licensee and its registered guests, may enjoy during the rental, subject to any limitations imposed by this Agreement, the law, or any applicable rules or regulations.
Licensee acknowledges that although its rental unit may be located in, or physically connected to, a certain hotel, Licensee is renting a privately-owned unit, which is not owned, operated, or otherwise endorsed, sponsored, or affiliated with or by the hotel.
At execution of this Agreement the following charges are to be paid: (a) payment of the lease in the amount of $______________, (b) all applicable taxes totaling 14% of the lease amount, $_______. Total amount due $____________.
Housekeeping: is not included in room rate.
Daily housekeeping is $250.00 plus 14% tax per visit and will include complete cleaning of the suite with complete refresh setup of clean linen terry and guest supplies. Random cleaning is $75.00 per hour plus 14% tax with a three hour minimum including complete cleaning of the suite with complete refresh setup of clean linen terry and guest supplies. The number of hours will be determined by the condition of the unit and is at the sole discretion of the Setai Hotel. 48 hour advance notification is required for these services to be performed. Any cancellation of a scheduled service within 24-hours will be subject to full charge. Housekeeping services will be paid directly to hotel.
Check in time: 4:00pm, Check out time: 11:00am
Cancellation/No show: Final sale / No refund Licensee Initial ______________
Travel Insurance: Offered at a rate of 6.95% of the total amount due. Must be purchased at the time of booking. Please contact your rental agent for more information.
Parking: valet at the valet rate
Payment: Our owners are not set up to process credit cards therefore we prefer payment via wire transfer. However, we have set Luxury Rentals up to process credit cards for the convenience of our guest. If you choose to pay with a credit card there will be a 4% convenience fee added to the total amount charged. You must provide a front and back copy of your CC and DL/Passport along with the Credit Card Authorization form.
Security Deposit: The day prior to the commencement date of the lease, Licensee will pay a security deposit in the amount of $1,500.00. This can be held as a pre-auth hold on a Credit Card. Failure to pay the security deposit on time may result in a forfeiture of the previous payments. The security deposit will be refunded to Licensee after an inventory and inspection of premises is completed (Approximately five (5) business days after departure). This deposit may be used to repair any damage to the condition of the unit after commencement of the lease. Including, but not limited to the following:
• Smoking: This unit is a nonsmoking unit. If any evidence of smoking is found inside the unit the Licensee will be charged $1,000.00 from the security deposit.
• Pets: No animals are permitted on the premise without the prior written consent of Owner or Licensor. If a pet is found on the Premise without the prior notification and consent, or if a pet of a different breed or size than is consented to be found on the Premises, Licensee shall be in violation of this Agreement. In the event of such a violation, Licensor may, without limitation on any other remedies available to Licensor hereunder, at law, or in equity, elect to either: (i) terminate this Agreement and cause Licensee and all occupants to vacate the Premises, in which event Guest shall forfeit all rental amounts paid; (ii) impose a surcharge against the Security Deposit in an amount equal to fifty percent (50%) of the full rental amount per pet to compensate Licensor for such violation and the additional wear and tear on the Premise.
• Events/Parties: No events/parties are allowed in the Unit at any point during the lease term. Violation of this term will result in entire forfeit of the security deposit in addition to any damages caused by the licensee and their guest.
• IPad: The unit is equipped with an iPad for your convenience, if the iPad is removed or damaged the cost to replace /fix the iPad will be deducted from the security deposit.
• Linens: You are responsible for all linens in the unit. There will be a charge for stains or tears.
• Registration Fee: $295 paid directly to the hotel
Limitation of Liability: Licensee acknowledges that Licensor is acting as an agent of the Owner in this transaction. Neither Licensor, Owner, nor any of their agents or employees shall have any liability to Licensee, or its guests, agents, and invitees, for any damage, injury, loss, or claims related to or arising from the interruption in the use of the Premises or any equipment or services therein, any accident or damage resulting from Licensee or Licensee's agent's or invitee's use or operation of the Premises, the heating, cooling, electrical, sewage, or plumbing equipment of the building or the Unit, or the termination of this agreement by reason of damage to the Unit or Premises by reason of fire, robbery, theft, vandalism, any other casualty, or any acts of any other tenant, guest, owner or occupant of the building. Additionally, liability for damage to, or loss of, Licensee's and/or guests' property is limited by Florida Statute s. 509.111. Notwithstanding, in no case shall the Licensor or Owner be liable to the Licensee, its guests or invitees, for any reason or cause whatsoever for any amount more than 50% of the total contract price of this Agreement.
Use: The premises will be used exclusively as temporary lodging for no more than 4 person(s), including minors. (Please provide a list of the names of all intended occupants). If persons not identified in this agreement as a Guest or other occupants are found to be using the Premises, for each additional person a fee of twenty percent (20%) of the total rental amount will be automatically deducted from the Security Deposit. Additionally, if any laws or condominium, association rules regarding occupancy are broken, Guest will pay all fines associated with each such violation. In addition, in the event hotel security is called more than one time to the unit the entire deposit is forfeited as a penalty for disturbing the peace and not obeying the hotel rules and regulations. Licensor may access the Unit to the extent necessary to service the Unit during Licensee's stay.
THE LICENSEE AGREES THAT ANY DAMAGES TO PROPERTY OR CONTENTS DURING THE TERM OF THE RENTAL WILL RESULT IN MONIES BEING WITHHELD FROM SECURITY DEPOSIT OF THE UNIT AND LICENSEE WILL BE CHARGED AT REPLACEMENT VALUE. IN THE EVENT OF EXTRAORDINARY DAMAGES, THE LICENSEE SHALL BE HELD RESPONSIBLE AND HIS/HER CREDIT CARD WILL BE CHARGED ACCORDINGLY.
Ejection of Guest: Licensor may remove, or cause to be removed, from the Unit and the Premises, any guest or Licensee pursuant to Florida Statute s. 509.141.
Statutory Radar Gas Disclosure (only required if rental is for 45 days or more):
RADON GAS: Radon is a naturally occurring radioactive gas that, when it has accumulated in a building in sufficient quantities, may present health risks to persons who are exposed to it over time. Levels of radon that exceed federal and state guidelines have been found in buildings in Florida. Additional information regarding radon and radon testing may be obtained from your county health department."
Merger Clause: The parties intend this writing as the final expression of their agreement and as a complete and exclusive statement of the terms of their agreement. No course of prior dealing between the parties and no usage of the trade is relevant to explain this agreement. Additionally, neither Licensee nor Owner is responsible or liable in any manner for any representations (or misrepresentations) made by any third party, including but not limited to statements made by Guest's broker or agent.
Choice of Law and Arbitration Clause: Any controversy or claim arising out of or relating to this Vacation Rental Agreement, or the breach thereof, shall be settled by arbitration administered by the American Arbitration Association in accordance with its Commercial Arbitration Rules and judgment on the award rendered by the arbitrator(s) may be entered in any court having jurisdiction thereof.
Claims shall be heard by a single arbitrator. The place of arbitration shall be Miami-Dade County, Florida. The arbitration shall be governed by the laws of the State of Florida. The prevailing party shall be entitled to an award of reasonable attorneys' fees.
Departure clean will be charged a day after check out at a rate of $75.00 per hour with a two hour minimum plus 14% tax. The number of hours will be determined by the condition of the unit and is at the sole discretion of the Setai Hotel. Service will be paid directly to the Hotel.
If excessive cleaning is determined by the housekeeping company that is beyond a "normal" final clean, additional funds will be deducted from the deposit.
This unit is currently on the market for sale. We may from time to time have to show the unit. We will provide a 24 hour notice via email if indeed we do have a potential client. In the event this unit does sell from now till your arrival date and the new owner wants to take ownership prior to your arrival date, and he does not wish to inherit the rental, then we would need to cancel the rental and provide a full refund.
---
The minimum night stay for this listing varies.
---
Languages:
English, Español, Français, العربية
Response rate:
100%
Response time:
within a few hours
Explore other options in and around Miami Beach
More places to stay in Miami Beach: