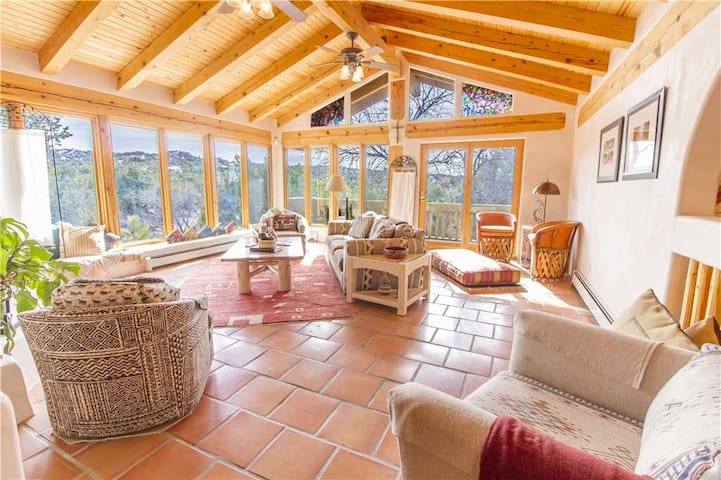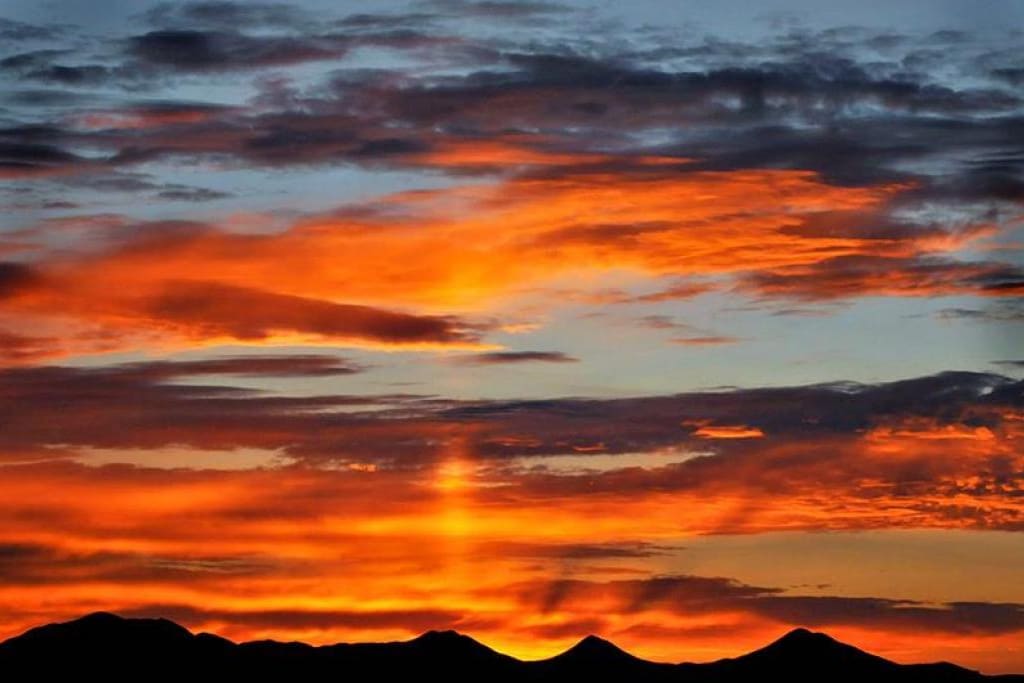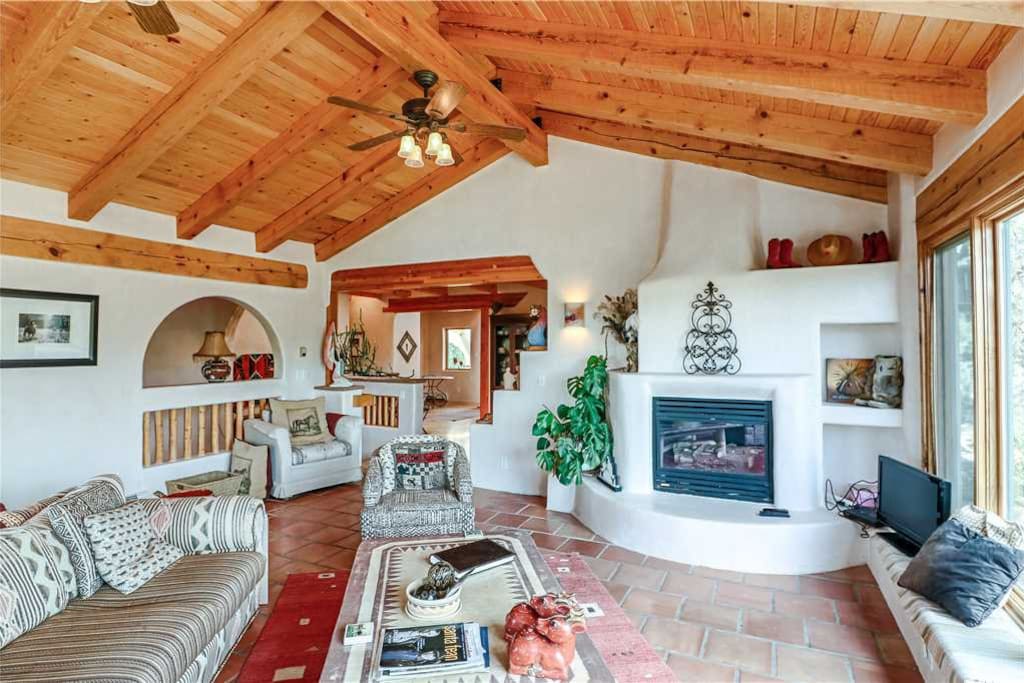 Nestled in the Tesuque Hills just north of the Plaza, Hacienda De Tesuque is all about enjoying the beauty of the natural surroundings and creating memories for you, your friends, or your family. You can also bring your dog, because pets are welcome.
The space
Nestled in the Tesuque Hills just north of the Plaza, Hacienda De Tesuque is all about enjoying the beauty of the natural surroundings and creating memories for you, your friends, or your family. You can also bring your dog, because pets are welcome.
From the moment you enter the walled compound, you will be struck by the rich natural beauty all around you. This is your dream vacation getaway. Instead of traffic, your mornings will begin with wildlife traipsing past the many huge windows that are a key feature of Hacienda De Tesuque. Nature is literally a feature of the décor in your main living room and throughout the home. Your décor is modern Southwestern. You'll have all the creature comforts you're hoping to find and just the right amount of Southwestern art and furniture. In short, it is perfect.
Gather your group in the spacious living room for games, conversation, or perhaps to catch some cable TV or to watch a movie on the DVD player. There's also a CD player so you can fill the home with music, a nice background if you decide to grab a book and settle in on the bench by the windows. There's also a fireplace to add a cozy touch on a cool evening. This is a home that is perfect in all four seasons. There's no "wrong time" to book a stay in Hacienda De Tesuque.
With your location near to Tesuque Village Market and the Bishop's Lodge Resort, you will probably want to stop in at some of the local cafes and restaurants for some of your meals. There are also a plethora of excellent options of every kind in Santa Fe.
But for those occasions when you want to dine at Hacienda De Tesuque, you will be impressed with the large and convenient Hacienda De Tesuque kitchen. Stainless steel appliances and a double oven make short work of cooking your favorite recipes. The long counters and good lighting are a delight and there's also a desk where you can sit, look out the window, and plan your next meal or activity.
You also have a charcoal grill where you can cook up some steaks or chicken and then enjoy them on the covered patio. With its beamed ceiling and Spanish décor, you'll feel like you're sitting on a veranda in Mexico.
Close by your Hacienda De Tesuque kitchen is a large farm table with seating for eight. With it's kiva fireplace, bay window, beamed ceiling, and skylights, you'll love gathering your group around this table for a meal or games.
Downstairs is a large family room encased in huge windows overlooking the property. There's another fireplace in this room along with a bar with stools and a TV. Imagine the fun of drinking a beer with your buddies while you watch your favorite team score a touchdown.
If the sun is shining, as it almost always is in Santa Fe, you may want to step out on the large balcony and work on your tan while you drink in all the beauty of your natural surroundings.
Skiing, golfing, or visiting the art galleries on Canyon road can wear you out by day's end. By the time it gets dark, you'll probably be more than ready to head off to your master bedroom for a deep sleep. What a treasure this room is. Your king-sized bed is set in a handsome natural wood frame. You also have huge windows surrounding much of the room, a wood-burning fireplace and chairs where you can sit and watch the flames. You will probably want to slip out your French doors onto the balcony to watch the unbelievable night sky over the Hills. Away from the city lights, you'll be astonished at how many stars are visible.
Your master bedroom is also a jewel. With a walk-in shower and huge Jacuzzi tub, you may just want to spend a little longer dawdling over your morning routine. There are also dual sinks so it's easy for two people to get ready at once in this attractive en suite.
Your second bedroom is outfitted with a queen bed. Guests will enjoy gazing out the large windows onto the property or sitting to collect their thoughts in this peaceful room with comfy chair and beamed ceiling.
The third and fourth bedrooms also include comfortable queen beds with plenty of seating and attractive furnishings. The fifth bedroom includes two twin beds, perfect for any children traveling with you to Santa Fe.
There are a total of four bathrooms within Hacienda De Tesuque, so guests will find it easy to get ready each morning without a lot of hassle waiting for a turn in the shower. There's also a complete laundry room in your vacation home with a full-sized washer and dryer, folding area, and soaking sink. You can just throw a load in and then head out for the golf course, hiking trails, or one of the three Internationally famous museums you'll find in Santa Fe.
Life is good in the Tesuque Hills when you stay in an exquisite home such as Hacienda De Tesuque. Book your stay in this New Mexican paradise today.
Guest access
This is a vacation rental, or a home away from home. We provide you with all of the entry and exit instructions in your confirmation and allow you privacy during your stay. There is a full kitchen, along with all necessary cookware and utensils for your use. Bath towels and bed linens are included.
Interaction with guests
After booking, we will send you all of your check-in instructions. When you arrive, our friendly staff will provide you with the keys to your rental as well as exact driving directions from our parking lot to the property. We are also available to answer any questions you may have. There will be detailed instructions provided to you when securing a reservation.
Other things to note
The guest reserving this property must be at least 25 years of age and must occupy the property throughout the duration of the reservation. Our cleaning fee includes a damage protection fee that covers up to $1500 of accidental REPORTED damages to the rental property and its contents. This fee does not cover intentional damages, theft, or unusually excessive cleaning required after guest departure. This is a privately owned condo. The family that is opening their home to you are trusting that you will treat it respectfully. If there is any concern during your stay, please contact the property management company directly.
---
---
Always communicate through Airbnb
To protect your payment, never transfer money or communicate outside of the Airbnb website or app.
Learn more
---
Check in is anytime after 4PM
CHECK-IN/CHECK-OUT -
• Check-in time is 4:00 PM.  We will diligently work to ensure that all properties are clean and ready for occupancy by 4:00 PM. However, in certain situations, it may be necessary to delay occupancy until the property is ready. There are no refunds for late occupancy.  Please do not go to the property before checking in at the office.
• Check-out time is 11:00 AM.  All properties must be vacated by 11:00 AM on checkout day or guest will be charged a late checkout fee of $50.00 per hour.  Please follow posted checkout instructions and return all keys to the office.  There is a $50 charge per key not returned to the office.  If the checkout instructions are not completed upon departure, there is an additional housekeeping charge.
CANCELLATIONS - Listings are subject to a 30 day cancellation policy. For outlines on this cancellation policy, please visit https://www.airbnb.com/home/cancellation_policies#super-strict-30

FALSIFIED RESERVATIONS- Any reservation obtained under false pretense will be subject to forfeiture of advance deposit and/or rental money and the party will not be permitted to check-in.

PENALTY FOR VIOLATING MAXIMUM OCCUPANCY PROVISION – All properties have a clearly stated maximum occupancy. Exceeding the maximum occupancy will result in guests being denied access to the property or subject to eviction without refund. The minimum age to rent a property is 25 years of age. If we determine at check-in or thereafter that guests do not meet the specified age requirements, the rental agreement is breached and the guests will be denied access to the property or subject to eviction without refund.

DAMAGES – Guest is responsible for any and all damages that occur to the property or its contents by guest or traveling companions while registered occupant(s) of the property. Damages will be claimed in accordance with the Airbnb security deposit policy (https://www.airbnb.com/help/article/140) for incidentals including, but not limited to loss, theft or damage. If host discovers that there has been damage to the property or its contents during occupancy, host will capture an amount from guest security deposit through the Airbnb Resolution Center. The amount captured reflects an estimated cost of materials and labor to replace or repair damaged item(s). Host will provide a statement of the damages and the receipt for the repairs after they have been completed. Guest and/or Host will have the opportunity to invite third-party mediation from an Airbnb customer service agent. Guest and/or their guest(s) shall not disturb, annoy, endanger, or inconvenience neighbors, nor use the premises for any immoral or unlawful purposes, nor violate any law or ordinance, nor commit waste or nuisance on or about the premises. Loud music systems and other disruptive noises are not permitted. Guest agrees that during the term of this lease and such further time as he/she occupies the premises, he/she will keep the leased premises clean and free of trash, garbage, and other waste; and all pipes, wires, glass, plumbing and other equipment and fixtures in the same condition as at the beginning of, or may put in during the term of the lease; reasonable wear and tear and damage by unavoidable fire and casualty only exception.

PETS – Not all properties are pet friendly. If bringing a pet to a pet-friendly property, Guest agrees to abide by the pet rules and regulations at the pet friendly properties, and Guest agrees to be liable for any damages or injuries caused by the pet(s), and shall not in any circumstance be the responsibility of Manager. Guest further agrees to indemnify and hold harmless Manager and its agents, and defend against liability, judgements or expenses or claims by third parties for any and all injuries or damages caused to property or any third parties by a pet of Guest or parties of Guest.

SMOKING – Evidence of smoking or smoking paraphernalia is strictly forbidden inside of the property. Smoking is only allowed outside. Evidence of smoking or smoking paraphernalia inside the property will result in immediate eviction and forfeiture of all amounts paid and will result in additional $500.00 Fee to Guest as Excess Damage Cost and will be charged against the credit card on file. Guest shall abide by Property rules which may prohibit smoking within certain distances of buildings or on balconies. If smoking outside is not banned, please dispose of all ashes and butts properly.  DO NOT leave cigarette butts on the ground, deck or any place other than a proper trash receptacle. 

GRILLS - Some owners have provided grills.  Do not place wood or charcoal in gas or electric grills.  Not all owners allow grilling.  If a grill is not provided at the property, you may not grill at the property. 

AIR CONDITIONING - Some of our properties do not offer refrigerated air conditioning. If this is a concern, please confirm that the property you have leased does have refrigerated air conditioning or evaporative cooling.

INTERNET ACCESS - Many of our homes have various types of internet access provided by various third parties. HOST is not responsible for data loss, theft, loss of internet access or connection or inability of a Guest to connect to the internet. 

FURNISHINGS – All properties are individually owned and furnished. Please do not rearrange the furniture, take any items outside that are part of the interior decor, move any furnishings from one room to another or into another property.  The guest will be charged if host has to rearrange the furniture after your stay.  The unit descriptions were correct at the time of printing but subsequent owner changes and renter wear and tear may have resulted in changes.  Although every effort has been made for accuracy, host is not responsible for errors, for property changes made by the owners, or for any conditions beyond our control upon arrival.

FIREPLACE - Most of our homes are equipped with either a gas or wood burning fireplace(s). In homes having a wood burning fireplace(s), wood may be furnished from Thanksgiving till Easter weekend. Kindling and/or fire starter logs are not provided. Due to lack of storage or Property Owner preference, wood is not furnished for Condos and in some homes. It is recommended that only compressed wax logs be used in condos. Be certain the flu is open on all wood burning units prior to starting a fire. Keep spark screens in place at all times. Fireplaces may not be operational during the months of May through October.  No foreign materials are to be burned in gas fireplaces. For your safety, never move the logs in the gas fireplace. Doing so can cause carbon monoxide and heavy black soot. Guest Agrees not to leave a fire unattended. Guest agrees that use of the fireplace is at your own risk; any damages or injuries to Guest, Guest's occupants, or third parties that result from such use are not the responsibility of the HOST, Agents, or it's Affiliates. Guest further agrees that any such damages and/or injuries are the sole responsibility of the Guest and at your own risk.  For those properties with a wood burning fireplace, complimentary wood may be provided for the first night.  DO NOT dispose of hot ashes.  Only use the metal ash bucket provided.  DO NOT PUT WOOD ON GAS LOG FIREPLACES.  A charge will be assessed for any damage done by misuse of the fireplace.

POOLS/HOT TUBS - Guest has been informed and understands that the property may have a hot tub or swimming pool on the premises. Guest agrees to assume sole responsibility for the safe and proper usage thereof and sole responsibility for the safety of all occupants of the property and guests. Use: Guest shall use the hot tub or swimming pool in a careful and proper manner and shall agree not to permit the hot tub or swimming pool to be operated or used in any illegal way. Only registered guests are authorized to use the hot tub or swimming pool. Indemnity: Guest agrees to indemnify and hold harmless Host and the property owner against all loss, damage, expense and penalty arising from any action of the guest which causes injury to any person by the operation or handling of the hot tub or swimming pool during the term and/or while the hot tub or swimming pool is in the control of the Guest. Release: Guest assumes all risks and liability for the loss of or damage to the hot tub or swimming pool or any part of the hot tub or swimming pool, from the death or injury to any person, property of another, and for all other risks and liabilities arising from the negligent use or operation of the hot tub or swimming pool at the property. Nothing in this lease shall authorize the Guest or any other person to operate the hot tub or swimming pool so as to impose any liability or other obligation on Host or the owner of the Property.

EVACUATION - All guests/occupants must evacuate the Property immediately upon the posting of an evacuation order by local, state or federal authorities.

INDEMNIFICATION AND HOLD HARMLESS - Guest acknowledges and understands that each and every guest or guardian is solely responsible for any property damage, accident, injury, or loss sustained to any person while in-residence, and neither the Host nor the Owner accepts legal or financial responsibility. Guest and guardians assume all risk of injury or other losses resulting from the use of residence or any other recreational activity while staying at the residence and will hold the Host and/or Owner harmless with respect hereto. Guest hereby agrees to indemnify and hold the Host, Employees, Officers, Contractors and/or Property owner harmless from any claims, including those of third parties, arising out of or in any way a result of Guest use of the premises or items therein. Guest agrees to indemnify and save Host harmless from all liability, loss or damage arising from any nuisance or harm made or suffered on the leased premises by the Guest, tenants, or guests or from any carelessness, neglect, or improper conduct of any persons entering, occupying or visiting the leased premises. Guest agrees that he/she shall not paint or make alterations to the property, including adding to or changing existing locks, without the Host' written consent. Upon not less than 24 hours' notice, Guest shall make available to Host or his agent for the premises of entering to make necessary or convenient repairs and to show the premises to prospective tenants. In an emergency, Host or his agent may enter the premises at any time without securing prior permission from Guest. Guest may not let, sublet or assign this lease for all or any part of the premises without prior consent of the Host. If Guest abandons or vacates the premises, Host may at his option terminate this lease, enter the premises, and remove all property. In the event that any action shall be commenced by either party arising out of, or concerning this lease or any right or obligation derived there from, the prevailing party shall be entitled to receive attorney's fees as fixed by the Court in addition to all relief at law or equity. Either party may terminate this lease in the event of a violation of early provision of this lease by the other party in the manner and as provided by law. Guest assumes full responsibility for fulfilling the terms of the lease for the period stated and assures the Host full recourse for the payment of any amount outstanding from the total amount due in accord with the terms as stated above including any outstanding or unpaid charges that are the responsibility of Guest. Guest assures the Host that the tenants will observe all conditions and terms of this lease as to maintaining the premises in good order and appearance and will conduct themselves in a manner inoffensive to neighbors. Guest assures the Host that any tenant who violates any of the terms of this Lease shall be immediately denied occupancy and shall remedy any damages or other expenses, which are caused by the tenant and/or the tenant's guest(s). The Policies and Procedures above are meant to protect our guests and owners alike. All guests and owners are required to conform to all Policies and Procedures.
---
---
The minimum night stay for this listing varies.
---
Vacation Rental Pros is New Mexico's premier vacation rental company. With rentals in Santa Fe, Angel Fire, Taos and Ruidoso, we have something to fit everyone's needs and budget. Our properties are fully furnished and provide necessities such as towels and linens.

Vacation Rental Pros is committed to providing our guests with the highest quality accommodations and services possible. We have emergency services available 24/7 and our friendly, attentive staff is here to meet your needs. With 2,000 rental properties all over the United States, we have the knowledge and experience to ensure each of our guests has a truly unforgettable vacation.

If you are looking for a wonderful vacation experience or weekend getaway, Vacation Rental Pros is your key to quality, courteous and professional service.

Response rate:
94%
Response time:
within an hour
Explore other options in and around Tesuque
More places to stay in Tesuque: