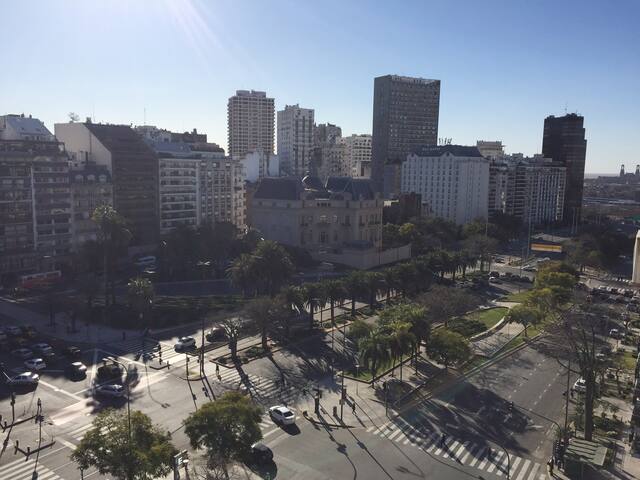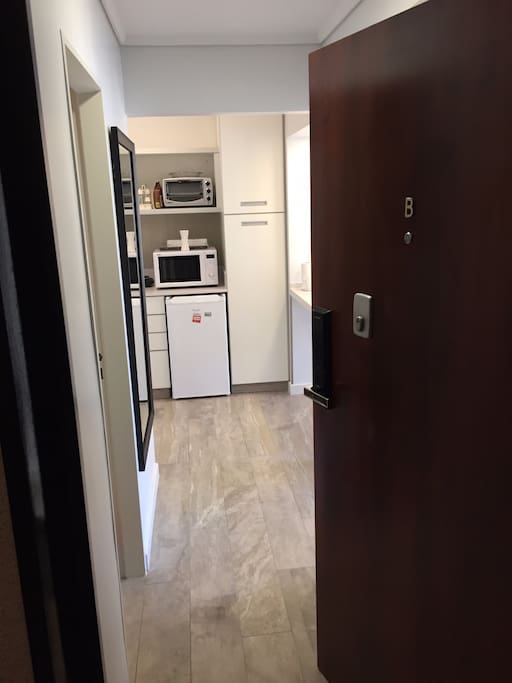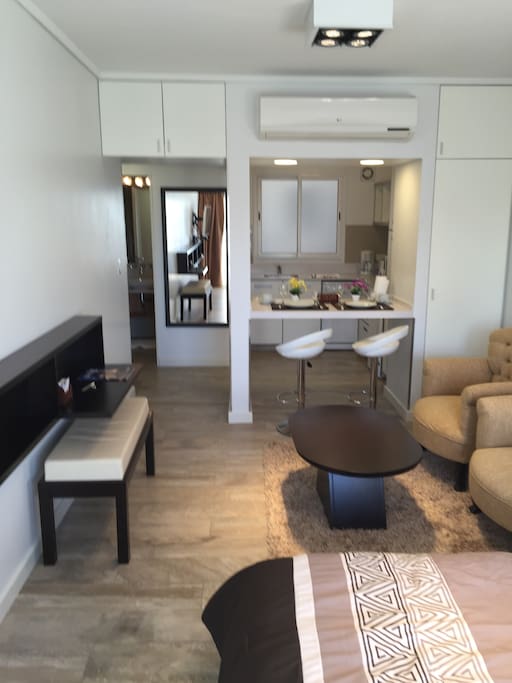 Remodeled Modern Studio Apartment with astonishing view and perfectly located.
The space
The apartment has been completed remodeled. New double glass windows with shades, all modern kitchen appliances, broadband internet and HD cable service.
Interaction with guests
The guest would be able to contact me in case of emergency or help during the stay. I keep the interaction to a minimal, for respect, but I would not mind at all receiving inquiries.
Other things to note
The building has three elevators. The elevators do NOT have automatic doors; hence, you will need to open and close them manually. It is extremely important that guests close BOTH sliding doors; that way anyone else calling the elevator will be able to use it. Avoid meetings in the elevator, landing areas, building entrance. Keep in mind that this is a residential building, and respect them by prioritizing the elevator use and common areas. The elevator can only take 3 people at a time. Avoid by all means being more. Make two trips if necessary and follow the instructions. Always be courteous with the doorman and other residents. Never open the door to unknown people; the building door is the first door to your Buenos Aires apartment. The apartment has a water-heater tank that controls the hot water temperature - it is normally set up at the right level. It hardly needs adjustments. The AC remote control is in English, yet the temperatures are shown in Celsius - it is for hot and cold air. The internet network and key will be provided upon check in. Please, keep in mind that Argentina uses 220 volts. You will find adapters for US equipment in the apartment; yet, NO converters inside the apartment. Most computers and Smartphones/i-Phones do have a built-in converter that reads 100-240 volts.
Always communicate through Airbnb
To protect your payment, never transfer money or communicate outside of the Airbnb website or app.
Not safe or suitable for children (0-12 years)
Check-in is anytime after 12PM (noon)
Self check-in with keypad
Lessee further agrees to abide by the terms and policies as outlined on Addendum A to this contract. Any breach of this rental agreement and addendum may result in forfeiture of all rental payments made by Lessee or Lessee's Guests (including deposits, rental fees, etc.) as liquidated damages, and/or eviction from the premises, at Lessor's discretion.
REFUND OF SECURITY DEPOSIT and CHECK-OUT REQUIREMENTS: On the last day of this lease term, Lessee shall surrender the premises to Lessor, including appurtenances and every part thereof, in good condition and in the manner in which they were received, including household furniture, fixtures, goods and chattels belonging to the Lessor, and shall agree to pay for all breakage, loss, and/or damage, with the exception of ordinary wear and tear. If the home is left in a condition that takes longer than 3 hours to clean, or, if any of the following are encountered: excessive accumulation of garbage, staining of sheets and towels requiring extraordinary laundering efforts/or replacement, furnishings re-arranged, etc., our costs and expenses for additional labor and time to remedy these situations will be deducted from your security deposit.
HOUSE RULES: Lessee and their guests shall abide by these rules:
- No smoking anywhere on the property.
- No pets/animals of any kind shall be permitted in or upon the premises. - - Respect of a 10 pm noise curfew is expected. The apartment is a private home, quiet and respectful behavior is required. The use of loud voices and/or foul language, excessive drinking, music played at a high volume, disregard of a 10:00 pm noise curfew, and other neighborhood disturbing activities are strictly prohibited.
- SECURITY AND ENERGY CONSUMPTION: If guests depart from the home leaving it unsecured for extended periods (doors wide open), or leave the air conditioner or heating systems running with windows or doors open, Lessor reserves the right to enter the home to secure it and stop the energy waste. A charge for excessive energy consumption will apply.
- REPAIRS & MAINTENANCE: Lessee shall notify Lessor of items needing maintenance or repair at the earliest convenience, rather than at the end of the stay, so that problems may be remedied promptly. Lessee agrees to grant Lessor permission to enter the premises for maintenance purposes during the term of the lease. If any mechanical failure occurs during your stay, when notified, we will immediately take steps to have any problem repaired. However, just as mechanical things break down unexpectedly in your own home, that happens for us as well, and no refund, or partial refund, will be issued for inconvenience.
- CHECK OUT: If your delayed departure interferes with our ability to have the apartment ready for incoming guests, your security deposit may be affected.
Addendum B
SMOKE-FREE POLICY:
Due to the increased risk of fire, and the known health effects of secondhand tobacco smoke, smoking is prohibited in any area of the property, both private and common, whether enclosed or outdoors. The policy applies to all owners, tenants, guests, and service persons.
Smoking: The term "Smoking" means inhaling, exhaling, burning, or carrying any lighted cigar, cigarette or other tobacco product in any manner or in any form.
Check Out Procedures
Please use the following guidelines to prepare for your check out. Following these guidelines will prevent any charges or deductions from your "damage deposit".
- Your check out will be scheduled for a specific date/time.
- Keys - Please return all keys received at check in. If any keys are lost or not returned the locks to the apartment will have to be changed and you will be charged accordingly.
Total cost: US$500
- Cleaning – Please return the apartment in the same condition it was received. Please clean and dust all furniture, sweep floors, clean the bathroom(s) and kitchen including all cookware, plates and glasses.
- Trash – Kindly dispose of all trash before vacating the property. Please remove and dispose of all food from the fridge / freezer and cupboards. (It is acceptable to leave unopened and non-perishable products).
- Laundry – Please leave all bed linens and towels at the apartment at the end of your stay. We will arrange to launder these items. Please leave dirty towels on the bathroom floor and clean towels folded on the bed. Note –makeup stained towels will be charge as follows:
Hand towel – each US$20
Bath towel – each US$40
We reserve the right to deduct from the "damage deposit" any costs of cleaning if the apartment is not returned in the same condition it was received, and if the above guidelines are not followed.
- Call Charges, Damages, Breakage and Lost Items – in the unfortunate event of the aforementioned, we would kindly request that you notify us and/or replace any such items with items of a similar quality.
- Personal Belongings - please check your apartment thoroughly before leavings so as to not leave any personal belongings behind. We are not responsible for any personal items left behind after you have checked-out.
Fortuitous Events
1. In the event of unexpected damage caused to the property before the guest checks in, which prevents occupation of the apartment, I will inform the guest of the unexpected situation, offering the refund of the reservation deposit which was paid for the initial reservation.
2. In the event of unexpected damage caused to the property at check in or during the guest's stay which prevents them from occupying the apartment I guarantee the guest that all necessary action will be taken in order to solve the problem. The guest is committed to accept all actions taken in order to create a resolution of the arisen problem. In case the problem is so serious that it cannot be solved and prevents the guest from occupying the apartment, I will offer the guest a Refund of the paid rent equivalent to the remaining days of the contract.
3. In no case will we accept claims due to noise or disturbances coming from outside the limits of the reserved apartment. For example: noise from the street or any noise coming from outside the property, either buildings under construction or other, from common area spaces of the apartment building, from repairs or construction taking place in neighboring apartments or in the building, or any other noise or disturbance taking place outside the limit of the apartment that has been reserved.
4. In case of the occurrence of fortuitous events such as: cataclysms, floods, earthquakes, volcanoes, storms, natural disasters, attacks, riots, acts of vandalism, or any other events that exceed the responsibility of the apartment owner, rental agency or property manager such as: electrical blackouts, telephone outages, internet service disruptions, gas or water disruptions, building elevator malfunction or any other any other similar event, all necessary efforts to collaborate in the resolution of the arisen circumstance will be taken, but in all cases any deposits or rent paid will not be refunded.
5. We are not responsible for any part of the renter's transportation before, during or after the rental contract. All transportation costs are the responsibility of the renter and the renter cannot make any claims for transportation costs due to any delayed, cancelled or missed: flights, buses, trains, ferries or any other means of transportation.
Appliances, Light Bulbs & Damaged Towels & Bed Linens
Renter assumes all risks when using and operating any household appliance including but not limited to: washer, dryer, iron. Renter is responsible for any damage to their personal property and to apartment property caused by the operation of any household appliance. The Property Manager or Landlord is not responsible for the replacement of: burnt out light bulbs, damaged towels or damaged bed linens after the 7th night of any rental contract.
Repairs & Maintenance
Tenant shall notify Property Manager or Landlord of items needing maintenance or repair at the earliest convenience, rather than at the end of the stay, so that problems may be remedied promptly. Tenant agrees to grant Landlord permission to enter the premises for maintenance purposes during the term of the lease. If any mechanical failure occurs during your stay, when notified, we will immediately take steps to have any problem repaired. However, just as mechanical things break down unexpectedly in your own home, the same happens to vacation rental apartments as well, and no refund, or partial refund of rent paid, will be issued for any repairs or maintenance performed while tenant occupies the apartment.
Plumbing
Property Manager or Landlord will not be responsible for drain blockages and backups in the kitchen sink, washing machine, toilets, bathroom sinks and bathtub caused by grease, paper, food, hair or any other objects. Clogged drains and blockages are the financial responsibility of the Tenant. Report all plumbing leaks immediately. If the Tenant uses our recommended plumbing company to repair the problem and if the plumber determines that the stoppage was not the fault of the Tenants, the Property Manager or Landlord will fully reimburse the Tenant for the repair.
Right of Entry
Property Manager or Landlord, during reasonable hours of the day, has the right of entry to repair and or inspect the apartment. Advance notice of entry will be provided to the tenant when possible. The Property Manager or Landlord has the immediate right of entry in cases of emergency, or to protect or preserve the premises. Tenant shall not alter or add locks without prior written consent. If consent is given, Tenant must provide Property Manager or Landlord with a key to all locks.
Personal Property
Management and property owner are not responsible for:
a) renter's lost, stolen or misplaced personal property including money, jewelry, documents, computers, software or any other item of unusual value.
b) any personal property left behind by the renter after checking out .
Parties
Parties are not permitted at any time. If a complaint about a party is received from any neighbor, building superintendant or the building management the entire damage deposit will be forfeited and may also result in eviction.
Check-in: Anytime after 12PM (noon)
Check-out: 12PM (noon)
On Fridays and Saturdays the minimum stay is 3 nights.
Languages:
English, Español
Response rate:
100%
Response time:
within an hour
Explore other options in and around Retiro
More places to stay in Retiro: