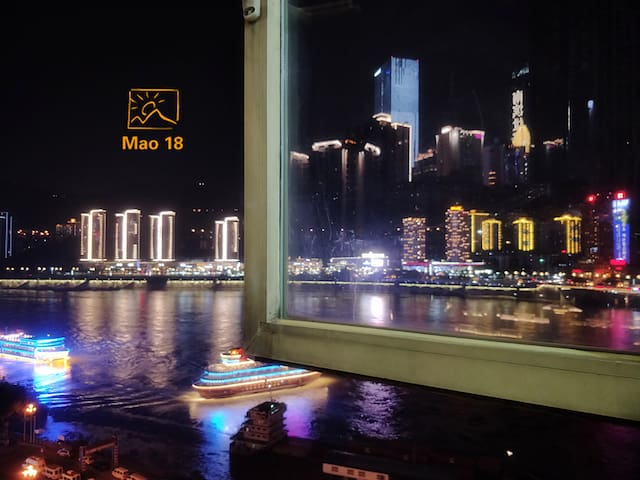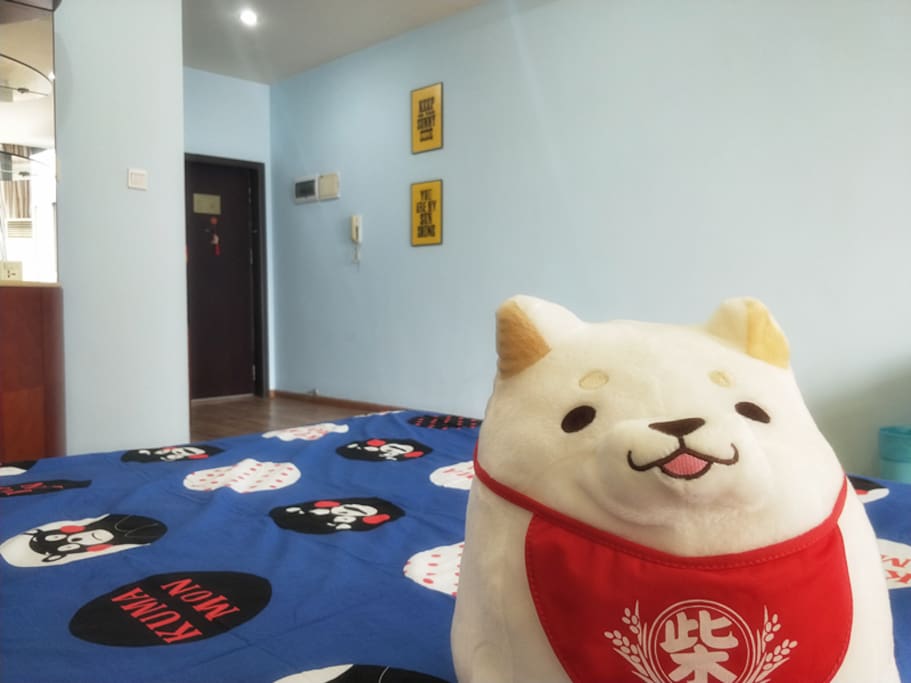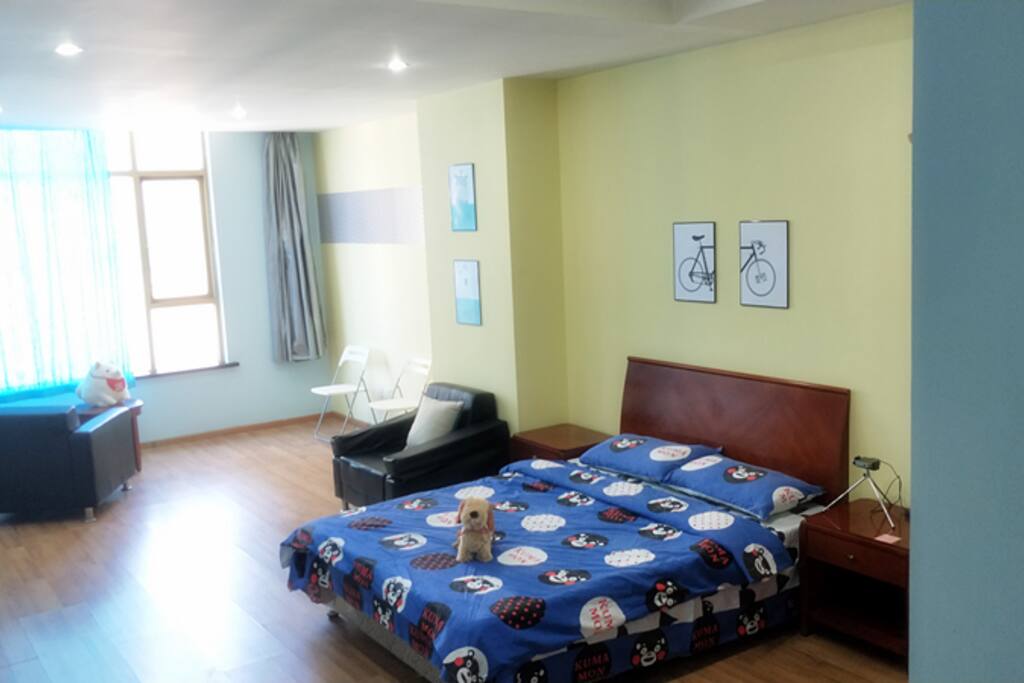 『蔚蓝江畔12』·Mao 18 解放碑一线江景公寓/超大落地窗/高清投影/提供交通卡
Double click on my picture to book my house. 2010 brother bought back to the hotel after the purchase, the current brother to recover themselves, we take care of this room. The room is an independent apartment, the whole set of rental, when the Jiefangbei Riverside Riverside, with a portable high-definition projector, enjoy the only Zhengnan south direction, adequate lighting, overlooking the 5 km Yangtze River water, near acres of Nanshan natural Tsui Window available The room is located in the Republic of China White Elephant Street, a hundred years on the text, the encounter memories of the old Chongqing; traffic is very convenient, the surrounding supporting perfect, close to line 1.2 than the station mouth, there are downstairs 503 bus directly to the mouth; Walk up to eighteen ladder, 10 minutes walk Jiefangbei, Bayi delicious street, mountain trails and so on. Room from Chongqing most of the attractions taxi prices starting price of only 10 yuan. I also prepared for the guests a variety of Raiders, this can have oh ~ ~ local police stations are not allowed to receive foreign tourists and fellow uighurs
双击我头像可以预定我的多间房子。2010年哥哥购买后返租给酒店,目前哥哥收回自住,我们一起打理这个房间。房间是一个独立公寓,整套出租,当居解放碑一线滨江,配有便携式高清投影仪,优享重庆唯一正南朝向,充足采光,俯瞰5公里长江来水,近揽万亩南山天然翠幕推窗可得。
房间位于民国白象街,百年文脉之上,邂逅记忆中的老重庆;交通非常便利,周边配套完善,紧邻1.2号线较场口站,还有楼下503公交车直达磁器口;5分钟步行可达十八梯,10分钟步行解放碑、八一好吃街、山城步道等。房间离重庆大部分景点打车价格仅仅起步价10元。
我也为客人准备了各种攻略,这个可以有哦~~Local police stations are not allowed to receive foreign tourists and fellow uighurs
The space
There are coupons for a few days but the total price does not reach the guests can contact me to change the price. The room in a hotel, sharing the elevator but not the hotel, they waiter is not to provide any help. [Kaixuan Road elevator] want to integrate into a city, we must take the city's most distinctive public transport, Kaixuan Road, you can not miss the elevator. We local travel tools, connecting Jiefangbei and the Yangtze River side of the vertical up and down the means of transport (the country's first, unique), only live in my room to fully appreciate the charm of 4D magic mountain city Oh! 【Wishu】 room for each guest are prepared to their own rechargeable rail transport card, disposable toothpaste toothbrush, disposable paper cups, bath towels, glass, WIFI, hair dryer, electric kettle, induction cooker, TV, Shampoo, shower gel, conditioner, comb, needle box, safety bag and so on. 【Bedding】 own home cleaning disinfection, not the hotel bleach, you can always visit their own laundry room. Bed sheets quilt strict implementation of a guest for a system, although the increase in cost and workload, but the taste of home to sleep more comfortable. 【Check luggage, early stay】 of course no problem pull! Store luggage are in the same building, very convenient, very self-help. Advance to or check out the storage of luggage are OK pull, early morning no problem, the day I will send the password to the pro [Security] every street has public security eye system, building aisle and hall are monitoring, the first floor of the left is the Public Security Bureau, although self-service, but the landlord and pro are living in the same building! 【Landscape】 Chongqing is a mountain, it is a city. There are mountains and water, there is a way to the city. Mountain, city, river, these three terms in the history of memory is representative of this unique city of Chongqing. And just the location of the room will allow guests to fully experience!
有优惠券想住几天但是总价没有达到的客人可以联系我改一下价格。房间在一栋酒店上,共用电梯但不属于酒店,他们服务员也是不会提供任何帮助的。
【凯旋路电梯】想要融入一座城市,一定要搭乘这个城市最具特色的公共交通,凯旋路电梯是你不能错过的。我们本地人出行工具,连接解放碑和长江边的垂直上下的交通工具(全国首创,独一无二),只有住我的房间才能充分体会到4D魔幻山城的魅力哦!
【生活用品】房间为每位客人都准备了需自己充值的轨道交通卡,一次性牙膏牙刷、一次性纸杯、浴巾、玻璃杯、WIFI、电吹风、电热水壶、电磁炉、电视机、冷暖空调、洗发液、沐浴露、护发素、梳子、针线盒、安全包等等。
【床上用品】自己家清洗消毒,不是酒店的漂白剂,可以随时参观自家的洗衣间。床单被子严格执行一客一换的制度,虽然增加了成本和工作量,但是有家的味道睡起来更舒服。
【寄存行李,凌晨入住】当然都没问题拉!存放行李都在同一栋楼,很便捷,很自助。提前到或者退房存放行李都OK拉,凌晨入住也没问题,当天中午我会把密码发给亲。
【安全吗】每条街道都有公安天眼系统,大楼过道和大厅都有监控,一楼左边就是公安局,虽是自助入住,不过房东一家和亲都住同一栋楼!
【风景】重庆是一座山,更是一座城。有山有水,有城有路。山、城、江,这三个名词在历史的记忆里更是代表了重庆这座独特的城市。而恰恰房间所在地就会让客人充分体验!
Guest access
The room all the facilities and equipment are free to use ~ ~ pay attention to saving water, go out please turn off ~
房间内所有设施设备均为免费使用~~注意节约用水用电,出门请关闭~
Interaction with guests
Usually though to work, but I was a mobile phone control, we add V letter, keep in touch with the communication!
平时虽然上班,但是我是手机控,我们加V信,随时保持联系沟通!
Other things to note
1, Chongqing, a summer will be very hot, it is recommended to bring some of the drugs on the body. If the air conditioning to pay attention not to stay all day in the air conditioning room, or can not afford the outdoor temperature; 2, Chongqing, the climate is wet, and sometimes wash the clothes the next day may not be dry, so take a few sets of light clothes for washing; 3, Chongqing people may be very loud, but they are not malicious to you, this is just their habits only. 4, Chongqing is the mountain city, it is recommended that motion sick friends do not take the bus, and try to take the subway. Chongqing subway by distance segment charges, starting price of 2 yuan, 7 yuan cap; 5, Chongqing, mainly to spicy diet, not accustomed to eating spicy with more fire and anti-diarrhea medicine; Chongqing people will eat a hot pot every week, in their eyes no mandarin duck pot ~ 6, Chongqing, a lot of mountain, uphill down the hole is very hard, need some foot strength, but also can exercise, it is recommended to wear sports shoes ~ Chongqing climbing on the hill a lot of terrain complex, veritable 4D city, can not only believe in navigation Hey hey! 7, Chongqing, after a large temperature difference between day and night, remember to prepare clothing; 8, carry valuables, especially check out the time; 9, Chongqing city is still in a strong development and transformation of the old city stage, please accommodate his lack of guests ~
1、重庆一到夏天就会很热,建议带些降暑的药物在身上。如果开空调注意不要一整天都呆在空调室里,不然承受不了室外的温度;
2、重庆的气候潮湿,有时候洗了衣服第二天不一定会干,所以多带几套轻便的衣服用于换洗;
3、重庆人说话可能会很大声,但是他们对你并无恶意,这只是他们的习惯而已。
4、重庆是山城,所以建议晕车的朋友不要乘公交了,尽量乘坐地铁。重庆的地铁按距离分段收费,起步价2元,7元封顶;
5、重庆的饮食以麻辣为主,不习惯吃辣的多带些降火和防腹泻的药;重庆人每周必吃一顿火锅,在他们眼里没有鸳鸯锅~
6、重庆的山路很多,上坡下坎十分辛苦,需要一定的脚力,但是同时也能锻炼身体,建议穿运动鞋~重庆爬坡上坎很多,地形复杂,名副其实的4D城市,不能只相信导航嘿嘿!
7、重庆雨后昼夜温差大,记得备好衣物;
8、随身携带贵重物品,特别是退房的时候;
9、重庆城区还处于大力发展和旧城改造阶段,请客人包容他的不足~
---
---
Weekend Price £22 / night
Always communicate through Airbnb
To protect your payment, never transfer money or communicate outside of the Airbnb website or app.
Learn more
---
Check in time is 2PM - 2AM (next day)
---
---
---

我是十八梯"茅十八",很开心与您分享我生长的地方以及重庆的文化!我有最用心的房间,最地道的攻略,希望您能带你的伙伴来体验4D山城的魔幻感受
Response rate:
100%
Response time:
within an hour
Explore other options in and around Yuzhong Qu
More places to stay in Yuzhong Qu: