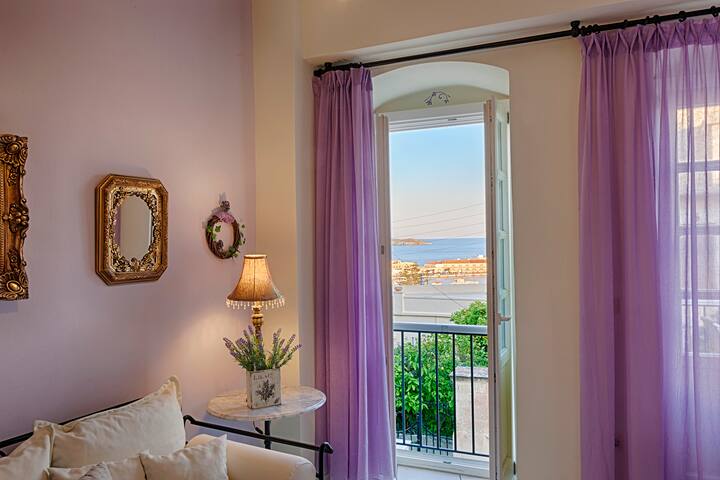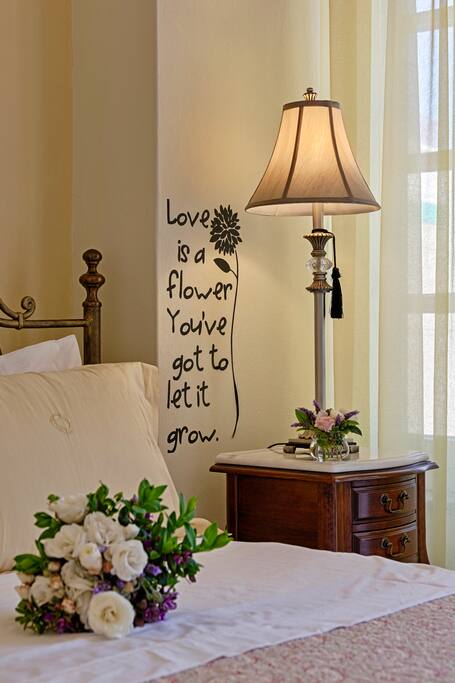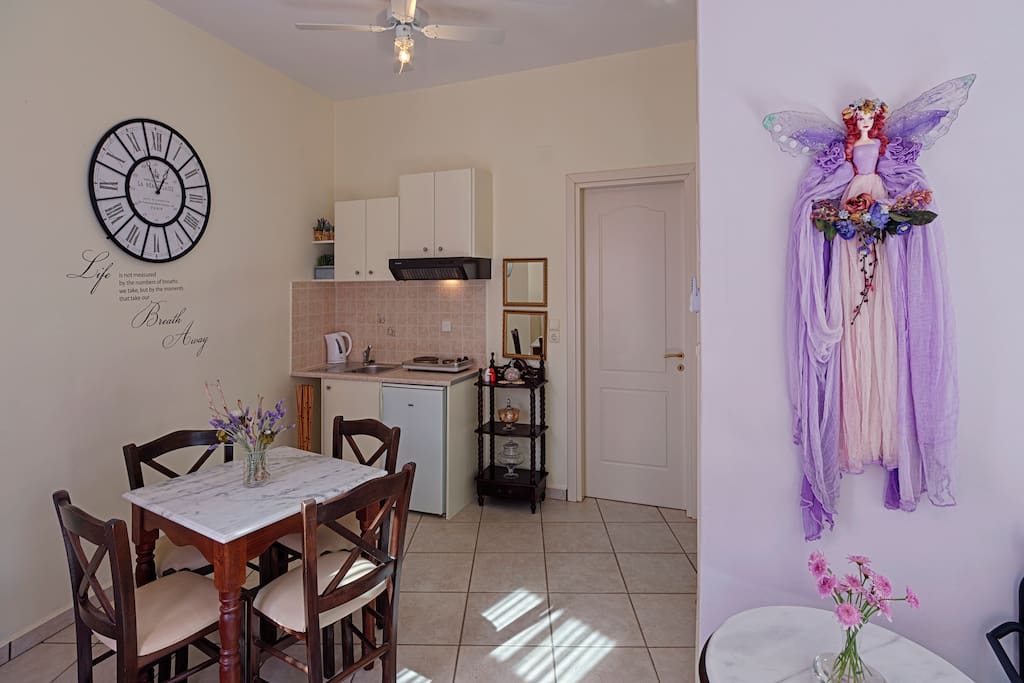 Apartment No2 - Double Room w View
Apartment No2 has two rooms. The first has double room and a small balcony with sea and garden view. The second room has a furnished veranda with the same nice view.
The space
The apartments are located in the historic center of Hermoupolis, in a traditional 1860 building that has fully been restored with utmost respect to traditional architecture.
All the apartments are sophisticated, furnished and decorated with elegance and care.
The Apartment No. 2 - Double Room with private veranda and balcony with sea view (Apartment Size: 60 m²) has seperate entrance, is fully equipped and has:
- free wi-fi access
- air-condition
- refrigerator
- kichenette
- electric kettle
- TV
- private bathroom with shower
- hair dryer
- bath amenities
- hand-made iron double beds with anatomical mattresses made of green materials and designed according to the new air-project tecnology, which helps air circulation through ventilation channels and contributes to greater comfort and better hygiene.
- a free bottle of water per day
Free public parking is possible at a location nearby. (reservation is not needed)
- distance from the airport 2 km
- distance from the port 250m
- five-minute walk from Miaouli Square (Town Hall), Archaelogigal Museum and Central Market
- Industrial Museum (unique in Greece)
- Apollo Theater (miniature of La Scala, Milan)
- hospital (Hermoupolis)
- casino (Hermoupolis)
Guest access
All the guests can visit our garden (130m²). It has tables and chairs for you to enjoy the garden.
Interaction with guests
There is a reception which is open for many hours every day. The rest of the time, our guests can contact me by phone and I can be there very soon.
On your arrival at the apartments I will give you a map of the island and the town with marked routes and places to visit.
I will be happy to give you information for anything you are interested in, tips for restaurants, timetables, and anything else you may want to ask.
Other things to note
Maps and directions can be sent to you by email so that you know how to find us from the port.
---
---
Extra people £18 / night after 2 guests
Always communicate through Airbnb
To protect your payment, never transfer money or communicate outside of the Airbnb website or app.
Learn more
---
Smoking is not allowed inside the apartments and in the common areas, but guests who wish to smoke may do so in the veranda or in the garden.
---
---
---
Once upon a time, in the historic center of Hermoupolis in 1860, a large house with lots of windows, plenty of doors and a garden with three sour orange trees was built. The pedestrian Omirou Street was filled with life and happy children's voices. Years passed slowly, as the owners and tenants succeeded one another with their happiness and their sorrows, writing the story of the house. And the time continued to pass chasing the years, the months, the weeks, the hours, the minutes. The house became desolate. No one lived in it anymore. Worn and silent, it conjured up the old days. It was the moment when Antouanetta decided to find a house in Hermoupolis. She saw lots of houses that were on sale those days, but none of them was suitable. The third year she noticed it. That was it. No one ever understood whether Antouanetta chose the house or the house chose her. In 1998 she began to deal with its renovation. It was not easy at all. Sometimes she was in despair and thought she wouldn't make it but she kept on. She never gave up the attempt. Then came the spring of 2009 and the house stood there at the same spot as in 1860, but happy and ready to continue its story. Antouanetta gave it her name.
Thank you for continuing its story with us.

Μια φορά κι έναν καιρό στο ιστορικό κέντρο της Ερμούπολης το 1860 χτίστηκε ένα μεγάλο σπίτι με πολλά παράθυρα, πολλές πόρτες και έναν κήπο με τρείς νεραντζιές. Ο πεζόδρομος της οδού Ομήρου γέμισε ζωή και χαρούμενες παιδικές φωνές. Τα χρόνια κύλισαν σαν το νερό, οι ιδιοκτήτες και οι ένοικοι εναλλάχτηκαν μαζί με τις χαρές και τις λύπες τους γράφοντας την ιστορία του σπιτιού. Ο χρόνος συνέχισε να τρέχει κυνηγώντας τα χρόνια, τους μήνες, τις εβδομάδες ,τις ώρες , τα λεπτά. Το σπίτι ερήμωσε. Κανένας δεν έμενε πια σε αυτό. Φθαρμένο και σιωπηλό αναπολούσε τα παλιά. Ήταν η στιγμή που η Αντουανέττα αποφάσισε να βρει ένα σπίτι στην Ερμούπολη. Είδε πολλά σπίτια που πουλιόνταν εκείνη την εποχή. Όμως κανένα δεν ήταν το κατάλληλο. Τον τρίτο χρόνο το είδε. Ήταν αυτό. Κανένας ποτέ δεν κατάλαβε εάν η Αντουανέττα διάλεξε το σπίτι, ή το σπίτι διάλεξε εκείνη. Από το 1998 άρχισε να ασχολείται με την επισκευή του. Δεν ήταν καθόλου εύκολο. Μερικές φορές απελπίζονταν, περνούσε από το μυαλό της ότι δεν θα τα κατάφερνε αλλά συνέχιζε. Πάντα συνέχιζε. Ήρθε η άνοιξη του 2009 και το σπίτι έστεκε εκεί στο ίδιο σημείο με το 1860 χαρούμενο και πανέτοιμο να συνεχίσει την ιστορία του. Η Αντουανέττα του χάρισε και το όνομα της . Σας ευχαριστούμε που συνεχίζετε την ιστορία του μαζί μας.
Explore other options in and around Ermoupoli
More places to stay in Ermoupoli: