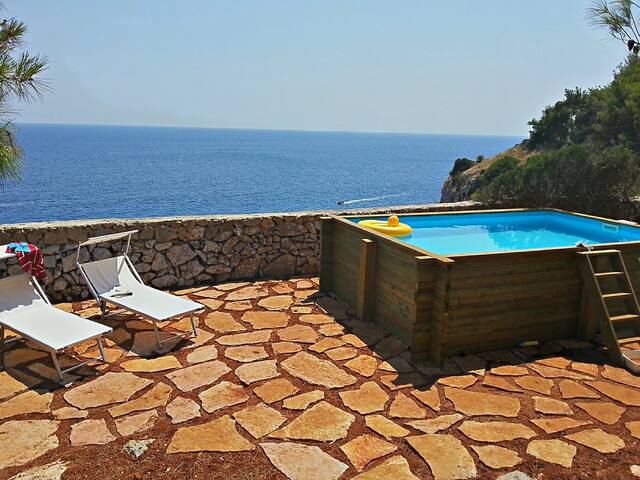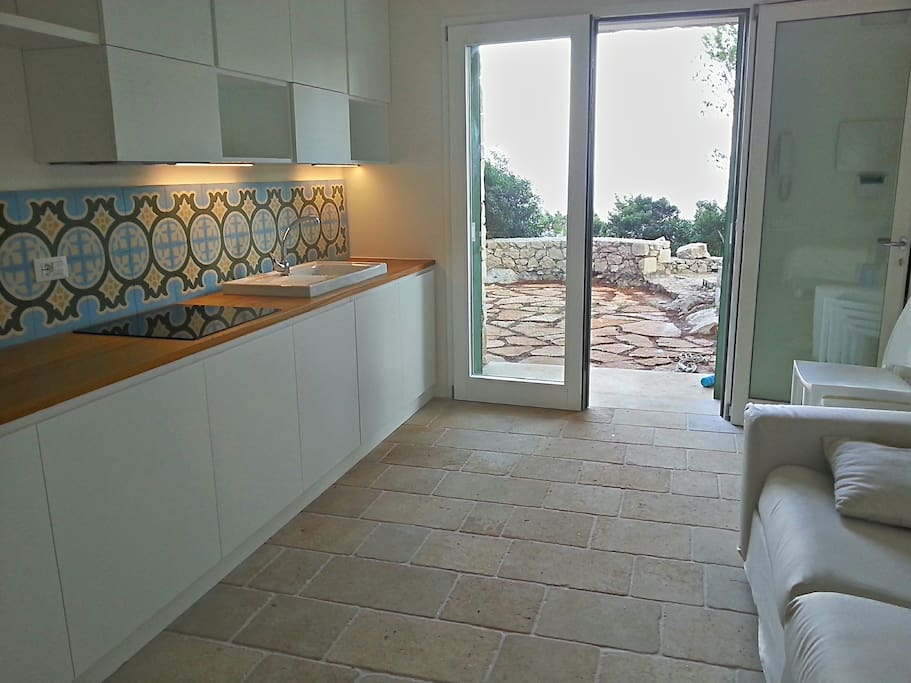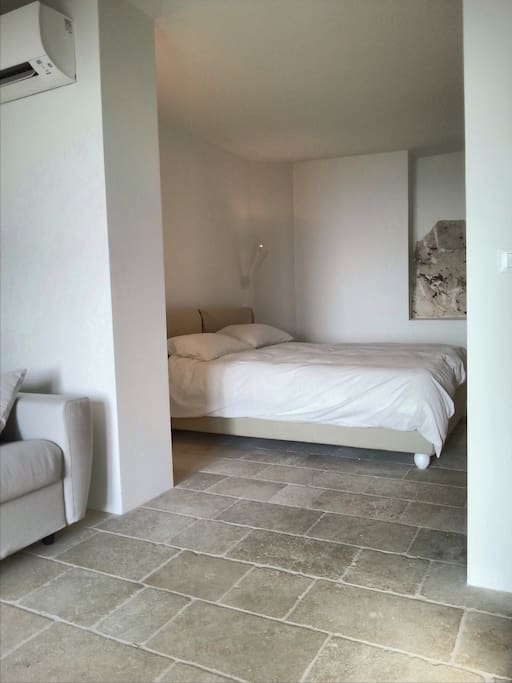 STUDIO APT, 2-4p, sea-view, pool
The space
INTRO
Newly stylish and renovated villa situated in a peaceful and panoramic cliff over the Zinzulusa Cave, Castro, Salento, Lecce, South of Italy.
Castro is named "the pearl of the Salento region": the crystal clear "bandiera blu" water, the history of the old town castle and the magnificent bay quickly explain the reason of this name.
The villa has been renovated in the respect of the original builder's idea (my father) and of the local materials and traditions. It overlook the sea from a 40 meters cliff and has a private way down to the sea (not really comfortable with babies, but doable for adults)

The villa consists in three completely separated and independent apartments, divided by two doors.
Locking these two doors the three apt can be rented separately.
The independence and privacy of customers is guaranteed for each apartment.
The villa can also be rented in the whole; in this case we can just unlock those two doors, and the whole villa is available for one big family or group of friends.
In this case the total capacity of the villa is 18 persons.

STUDIO APT
This apartment is perfectly organized with a kitchen, a bathroom, one main room divided into a living room and an open bedroom, and an outside sea-view area shadowed by an huge umbrella for breakfast, lunch and dinner.
The main room is equipped with a sofa-bed and with table and chairs that can also be used outside.
The total capacity of this apartment is 4 persons.
The apartment is fully equipped with built-in wardrobes, TV, WIFI, washing machine, oven, microwave and fridge.
The set of dishes is handmade in the tradition of the Salento ceramic, and it is made for our house.

COMMON EXTERNAL AREA

- POOL
The sea-view stunning over the cliff pool, is a out of the ground pool, 1m25 dept, 4m lenght, 2m5 large. It is located in the closest-to-the-sea part of the garden, and you can have an idea of the location in the pictures. The area around the pool is equipped with chairs and sun bed for sunbathing.
NOTE: the pool is available from Mai to September

- BBQ
there is a Barbecue area but it is reserved to the Main Apt

- PARKING
there is enough space to park up to 5 cars, in the garden

- PRIVATE WAY TO THE SEA
Near the swimming pool there is a private access to the sea. This way down is very steep and difficult for babies under the age of 6.

FAQ
- the final house cleaning is INCLUDED IN THE PRICE
- towels, naps & co. are all INCLUDED IN THE PRICE (just please indicate the correct number of people to prepare all the beds)
- CATERING: at 250m from our place you have a delicious hotel restaurant that can prepare your dinners and organize as well a home delivery if you organize a party, price are very reasonable, the taste is fantastic!
- TRAVELLING: you have two main airports: BRINDISI (1h away) and BARI (2h30 away). By train you have the main station in LECCE (50km), but you can arrive with a local train to POGGIARDO (10km) or by bus to Castro directly

SUGGESTED ACTIVITIES

"LI FUNNI" traditions

- in the early morning, going up to the old Castro downtown (by car or walking) and buy fresh "cornetti caldi alla crema" and the newspaper for the breakfast
- in Lecce, Piazza S. Oronzo, having a "rustico" at the Café Alvino
- in Castro Marina main square, having a caffé at Luigi's Speran Bar, overlooking the Castro Bay
- in the Zinzulusa square, during the summer, having a traditional "caffé con latte di mandorla" at "Signora Pina's bar"
MUST TO TASTE

Bar
- "caffé con le mandorle"
- the "rustico" or the "calzone" (but the rustico is exclusively from Salento): the two of them filled with tomato sauce and melted mozzarella cheese
- the "cornetto caldo alla crema" fro breakfast
Restaurant
- the "orecchiette" ("con le cime di rapa", or "con le polpette")
- the "gnummareddhi"
- the "pezzetti di cavallo" (this is horse meat, maybe not for everybody)
KIDS & ADULTS

- Visit of the Zinzulusa Cave, 0.5 km
- Gallipoli fish market, 35 km
- Gallipoli: visit to a "frantoio ipogeo" - an underground lamp oil factory to two centuries ago, 35 km
- Giurdignano: visit to DOLMEN & MENHIR, 20 km
- Tricase: the "Vallonea three", from the XII century, the legend sais that Federico II and 100 knights found repair during a storm under this huge three, 15 km
- Lecce: visit of the "barocco" downtown and the cartapesta shops, 50 km
- Sagre: a "sagra" is a typical local fair, dedicated to a particular product (example pasta, or fish, etc. etc.) and during the fair you can taste many typical dishes at exceptionally low price (ex 4eur for a pasta), and there are activities, "pizzica" shows (traditional dance) and so on around
- Porto Miggiano / Castro / Santa Cesarea: Rent a boat and visit the caves and cliffs around, 2 km
ONLY KIDS

- Andrando: riding school, 10 km
- Castro: tennis court, 1 km
- Tricase harbour: sailing class (during the summer), 15 km
- Tricase: farm activities for kids at "masseria nonno Tore" (during the summer), 15 km
- Castles: in this region almost every village has an old castle to visit ;)
- Castro: the Oaks forrest, 1 km
- Beaches: kids loves beaches, and south of italy is full, particularly near Otranto, 20 km, and near Gallipoli, 35 km
---
---
Extra people £11 / night after 2 guests
Always communicate through Airbnb
To protect your payment, never transfer money or communicate outside of the Airbnb website or app.
Learn more
---
Check in is anytime after 3PM
CHECK IN TIME: starting at 3pm
Please follow our arrival instructions and call us (phone numbers on the arrival instructions) at least one hour before your arrival at the apt, so that we can wait for you.
CHECK OUT TIME : 10am
Those indications are quite flexibles, and for sure you can leave your bags if you arrive early or if you are leaving with a late flight.
If your need a particular arrival time, please contact us.
---
---
We spent 5 nights in Sergio's studio apartment and had a great time! The studio is clean, has amazing views and is in a brilliant location. Shops and restaurants are close by, and it's easy to drive (or walk) to all of the beautiful beaches. It was very peaceful and like a paradise - we didn't want to leave! Sergio was very friendly and helpful throughout and always on the phone for anything. We would stay there again if we go back to Puglia. Thank you!
---
The location IS amazing - it is right on the edge of a cliff with a steep rocky path down to the sea (not suitable for swimming for children as the ad states and it's a hike back up so be prepared!). It is private and secluded and a short drive from castro (quite a long walk and Steep walk back). Castro is nice but v v quiet this time of year with only a few spots to eat. 20 mins drive from otranto where we went for dinner most regularly. there is a lovely outdoor space and we had the whole place to ourselves which meant it was particularly nice. The flat is decorated really well very modern spacious and clean. Sergio was on hand via text regularly if we needed anything at all.
---
We found the studio to be as advertised. Keep in mind you are renting an "apartment". We were received by a pleasant Italian woman who spoke no English whatsoever. She gave us an initial tour and presented a "rule book" which put us off. The rules are rather draconian. For example, tenants are responsible for the pool. Being the only tenants present during our visit, we were, according to the rules, responsible for the water level in the pool. Failing to do maintain the correct water level could damage the pump the cost of which would be deducted from our security deposit. Seriously? The rules also instructed us to clean the pool of bugs and whatever. These chores were easy because the pool is approximately 12' by 8". However, while, in the pool, the view of the sea and the land surrounding the pool were amazing. The apartment is well designed and properly represented on the website. We were put off by the small things we associate with Italian hospitality. There were only two towels per person. No beach towels. There was one set of sheets, no blankets, and just two pillows. No salt and pepper shakers. No corkscrew to open a bottle of wine. There were two rolls of toilet paper, no paper towels. You'll need to get to the market your first or second day. These were rather small inconveniences in the overall scheme of things. Being the only tenants we were responsible for getting the trash to the appropriate containers on Saturdays. The rules for recyclables are daunting. The bed was comfortable and roomy. The HV/AC unit is state of the art. Security was excellent and we had no fear of intruders or loss of property. The WiFi services was spotty at best and at times not available. The key mistake we made, and it had nothing to do with our rental, was that we didn't properly assess the location. Other than water activities in Castro, there is very little to do by the way of sightseeing, shopping and other activities we enjoyed during past trips to Italy. Our bad! Trips to Lecce and all that the city had to offer had us traveling 47 kilometers each way. We booked the studio for three weeks thinking we were in proximity to "old" Italy which proved not to be the case. We stayed just one of the three weeks we booked and headed up to Pescara, a city we well know having the local amenities we are accustomed to having spent time there on our last trip to Italy. We did not have the opportunity to meet or speak with Sergio. In the last of stressful days leading to our vacation, I exchanged email with Sergio. I asked him for the address. He told me to look it up in my Airbnb materials.
Dear Gerald, I have been in the short termal rental for 13 years as of today, and have hundreds of happy customers. It can happen to have a problem with the apt or with a rule of the apt, and we are here to receive your feedback and to correct our offer for the next guest. But opening the door of your beloved house to a complete unknown guest, and in response receive no communication, no answers, and rude behavior with the person helping with the house (Cinzia) is absolutelly the kind of bad experience that I would like to never repeat. Now ... lets address your problems one by one: 1) Maintenance of the pool: The main responsible of the water level is Cinzia. But if a guest play a lot with the water and goes under the level of the pump, that is a damage that is responsibility of the guest. 2) Two towels: for your information with AirBnB we do not have to supply you with towel, lines, and so on. This is a service that we provide to our guests free of charge together with final full cleaning of the house. In anycase, you just write me a message or ask to Cinzia and we are happy to provide your with beach towels. 3) One set of sheets, no blanket and only two pillows: again, with a just a short message, we are happy to provide your more sheets, blanket of pillows. We are not a 4 stars hotels, but we can answer very quickly if your need anything. 4) No salt and pepper shakers, No corkscrew to open a bottle of wine: this is normally in the apt. Probably after the summer rentals things got mixed in the three apartements, and with just a message we can solve the problem. 5) Only two rolls of toilet papers: we do not have to provide toilet paper. But we understand that after a long trip, you may have an urgency, therefore we provide some rolls for urgent needs. Hope they were enough ;) 6) Responsibility for Trash: yes, this is normal, you are in a villa, and have to take out the trash. Concerning the "daunting rules" we completelly agree with you, rules for recycling are complicated also for us, but you get used quickly. In conclusion, I think that most of those problems were no problems, and a little message through the efficient AirBnB system would have solved them. Communication is important for you as a guest, but also for us, as we are giving acces to our properties. In anycase thank you for your feedback, it will be used to have a better experience for the next guest. BR Sergio
---
La maison de Sergio est vraiment superbe! La vue est magnifique et cest tres agreable de pouvoir se baigner dans la mer en contre bas (même si l'accès n'est pas totalement évident)! Nous avions loué le studio qui a été refait tres récemment avec gout! Malheureusement nous n'avons pas pu utiliser la piscine en raison d'une panne de la pompe, l'eau présentait donc des impuretés dans le fond. Sergio est très attentif et disponible pour toute question! En revanche Paola qui nous accueille comprend seulement l'italien, et nous n'étions pas mesure de communiquer avec elle..
---
La descrizione nell'annuncio era fedele al 100% e la posizione della casa è stupenda. Cinzia l'incaricata dal Sig. Sergio è senz'altro una persona disponibile e nel limite delle sue possibilità ha cercato di risolvere alcuni problemini che si sono presentati. La connessione internet ha funzionato i primi 2/3 gg dopodichè si è piantata. Non so se Sergio può migliorare questo aspetto ma tant'è. Questo posto è a stretto contatto con la natura quindi la presenza di qualche animaletto non bellicoso c'è; anche se si riesce a tenerli a bada. In compenso durante il ns. soggiorno le zanzare non si sono affatto fatte sentite, il che è stato un bene. Un po' di umidità interna persistente lascia un odore non troppo gradevole ma tenendo aperta la porta per un po' passa. Lamenterei la necessità di un attaccapanni e dei cassetti sia nell'armadio che nella zona cucina. Eravamo soli èd abbiamo goduto dello spazio disponibile ma penso che sia il massimo per famiglie con figli. E' un luogo incantevole con mobili moderni, che a me tanto piacciono, e molto luminoso. Se riesco ad organizzare con altri potrei tornarci.
---
We are a couple of italians, and we lived in Paris in this apt for three years.

We are sharing our nest with our guests since 2002.

We hope you'll take care of it as it would be yours, and we wish this apt to be your home in Paris!!!
Languages:
English, Español, Français, Italiano
Response rate:
100%
Response time:
within an hour
Explore other options in and around Castro
More places to stay in Castro: