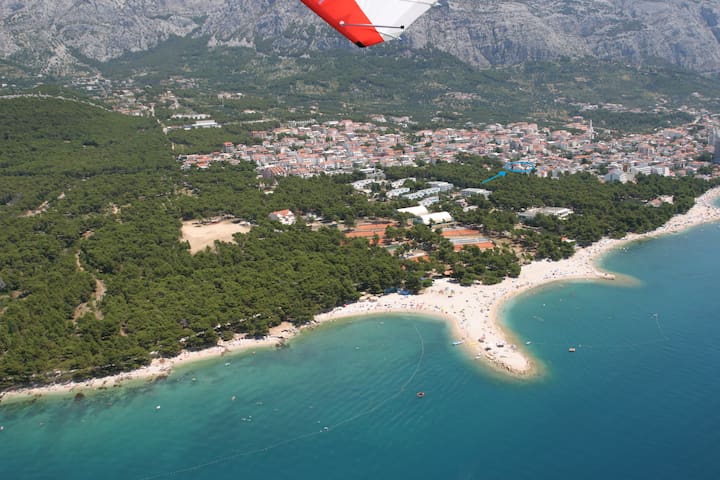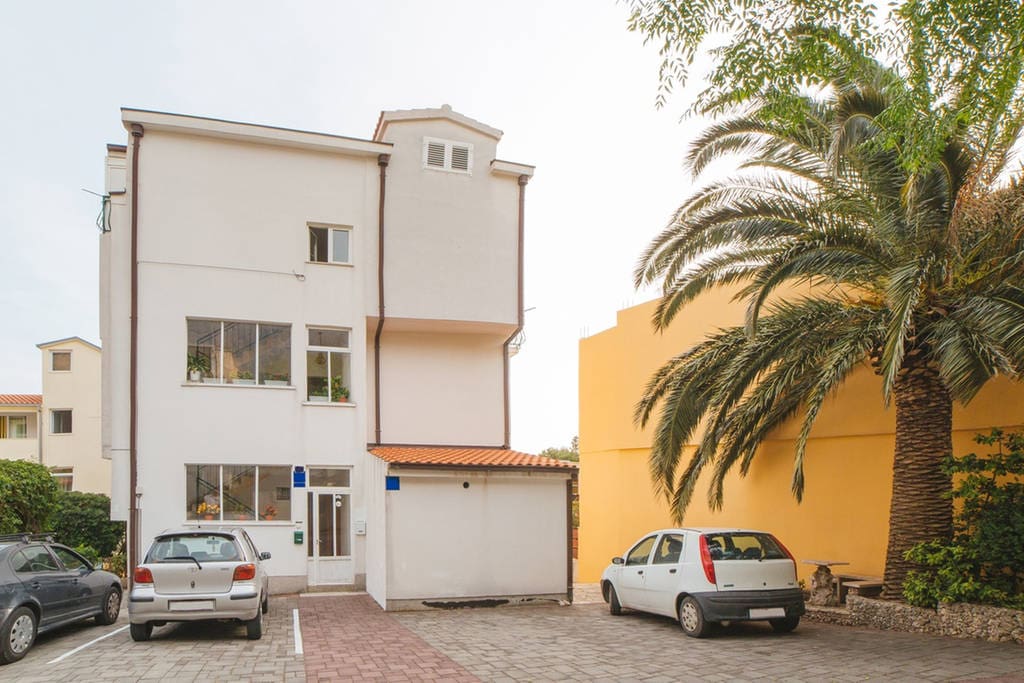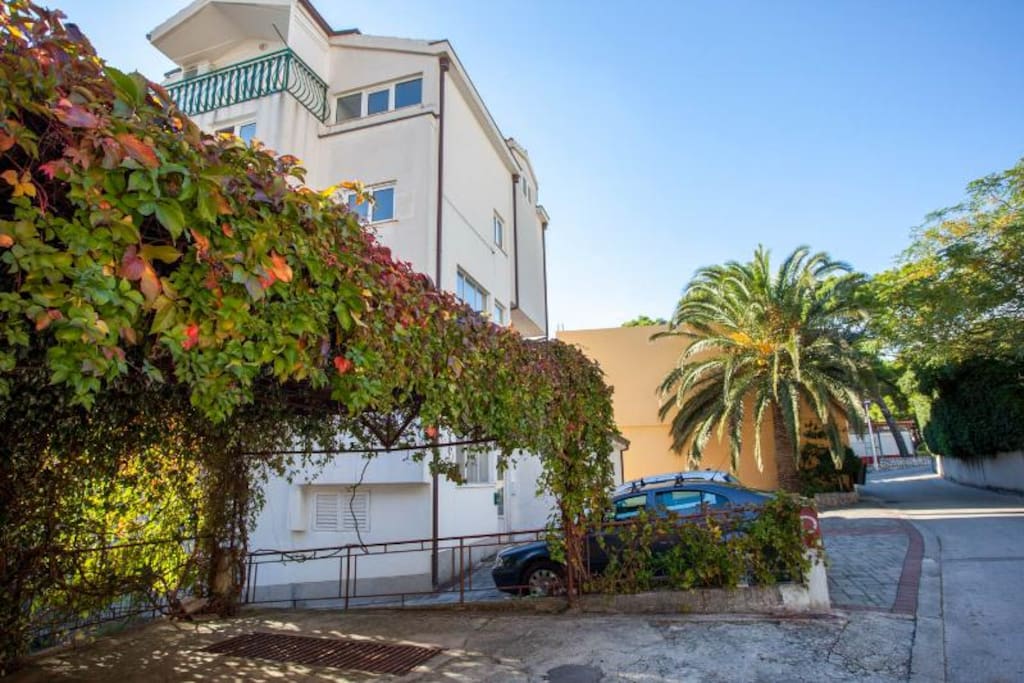 UNTIL 15.10.2017. is music in 20.00h because is city Day. Vidi također 6 More, planina i ljubav plus BESPLATNI BICIKLi na airbnb-u. Odlični domačini. SUPER položaj. Pogled na Biokovu s jednog balkona i Jadranskog mora s drugog.
Ivica je bio vrlo prijateljski i apartman je bio lijep. Komunikacija je bila na najvišoj razini! Velika ponuda! Ivicu je bilo lako komunicirati s obzirom na vrijeme dolaska, i tako dalje, a njegova mama nas je upoznala kad smo se pojavili. Ona je dragulj.
The space
Review from Anne: We were only able to stay one night, but it was most enjoyable. Ivica was easy to communicate with in terms of arrival times, and so forth, and his mom met us when we showed up. She is a gem -- if only we had a language in common! Ivica is a really nice man with a kind smile, and it was a pleasure to meet him. The apartment was such good value, clean and comfortable, and with a beautiful view. I highly recommend it.
Excellent location in Makarska, near beach. SUPER: ONE NIGHT GRATIS, if it is free for next day until 15.May; PLUS FOR 2 CHILD GRATIS. Excellent location. From 01-th May until end of November is great for swimming. The apartment doesn't have a lot of new reviews but we assure you the quality is great.
Enjoy swim, just 100 m from a pebbly beach. Enjoy a gourmet kitchen, sea view. Shops (bakery, market) 2 min. walk. The apartment is equipped with fast internet 10 Mb in sec
This apartment is located on the second floor. If you prefer peace and quietness it's a great match since it's in a calm neighbourhood. There is a pebble beach 100 m downhill from it and very easy to find. The apartment has a 2x double bed with an addition pull out bed. A fantastic balcony looking at the blue Adriatic sea and the nature around it. A 2x bathroom with a toilet, sink and a shower is included within the rooms.
Apartment is situated 100m from the Makarska beach, in a pine wood, near Biokovka Hotel with medical service: massage, subaquatic massage, electrotherapy, kinesitherapy, fango.Feel free to offer a price that you can pay for lodging or accommodations for a long time.
Set just 100 m from 4000 m long beach. These modern-styled apartments are equipped with air conditioning, free Wi-Fi, kitchen, flat-screen TV, private bathroom, private balconies with view on Adriatic Sea and mountain Biokovo and private parking.
The 10 Most Beautiful Places in Croatia:
Huffington Post posted (phone number hidden)
Half way between Dubrovnik and Split, Makarska makes a popular stop on cruises around Croatia, with its lively beaches and colorful harbor set against the craggy peak of Mount Biokovo. It might be a quieter choice than its neighbors, but there's still plenty to do in Makarska -- make the most of the family-friendly beaches, or hop on the ferry to Brač Island.
This comfortable 50m2 apartment, on the 2 floor, is A4+2 suitable for maximum 6 persons. It's composed of: kitchen with sofa bed, one room with double bed with WC/Shower and balcony for 1 couple, another bedroom with double bed and sofa with WC/Shower and big balcony where you can enjoy in wonderful seaview.
View of the sea and pine forest from the balcony. The apartment is located 100m from the beach suitable for children..You can swim from 01. May, the sea temperature is 20 degrees Celsius and in August the sea temperature is 26 degrees Celsius.
The apartment is equipped with: LCD Sat TV possibility, air condition and free fast 10 Mb in sec. WI-FI INTERNET. Parking place in court at your disposal.
Apartment is only 15 minutes of walk away from the city center and 3 minutes of walk away from the first beaches.
THERE WHERE THE BLUE SEA HUMS,
THERE WHERE I LOVED MY DEAR,
COME, SEE AND LOVE
For all additional questions, please feel free to contact me. Welcome!
Makarska is a beautiful city on the Adriatic coast with less than 15000 people. It has everything what You will need for Your perfect holidays: beaches almost 2km long, good restaurants, clubs, trips to the closest Islands, diving schools, etc.
Only what You need is to choose it!
Guests can expect a peaceful accommodation in the apartment, but also an exciting day and night life.
Nearby there are restaurants offering cheap and traditionally rich food.
If you have ever wanted to experience the all extremes of Dalmatia and its most brilliant features you don"t have to hesitate.
Makarska is ready to offer you far more than that. The Makarska Riviera stretches for 60km between the towns of Brela and Gradac with the main town being, of course, Makarska. The Riviera is one of the most famous tourist locations along the Croatian coast and is also one of the most beautiful with a number of sandy beaches (rare for Croatia!), pine trees, sparkling water and peaceful bays.
Excursions: mountain Biokovo, Split, Dubrovnik, Brac, Hvar, Medjugorje and Mostar.
Of the sea, that is said to be clearest of the Adriatic.
Come here! Kommen Sie her!
We have more rooms for sale, please check out our other listings or contact us !
Come and enjoy the healing massage of the Adriatic Sea and the smell of herbs mountain Biokovo in the apartment Milenka and Ante Gojak, Makarska, Croatia whenever you want.Thank you.
Everything was great. Makarska is a very cute little Croatian beach town but has a bunch of really good restaurants, shops, and beaches. The sunset was gorgeous. The apartment was cozy but had everything we needed (including reliable wifi) and the balcony had an amazing view to sit outside and see the ocean. It was a short walk to the beach and the center of town as well and only two blocks off of the highway (but absolutely no noise).
Free excursion on mountain BIOKOVO botanical garden .
Croatia has its own Stelvio and its name is Sv. Jure. It is the highest peak on the Biokovo Mountain and is situated above the city of Makarska. Along with Makarska, practically connected to one another are some of the most gorgeous places on the Adriatic coast.
When you look at Biokovo – a mountain range that follows the coastline south of the city of Split – you get a sense of awe and admiration. You realise at once that before you is a natural phenomenon that deserves respect and preparation before conquering it so that you can take full pleasure in its charm.
Conquering Sv. Jure by bike is an exceptional experience. The ascent starts from several directions, with every one beginning at sea level from the centres of coastal towns that captivate you with their warmth and Mediterranean scents. At times, Biokovo's proximity is in disaccord with the crystal blue sea that crashes into the rocks, pebbles, and breakwaters at the very foot of the mountain.
The road ascends to 35 km at 1762 m above sea level, and is the highest road in Croatia. The view from the top is unimaginably beautiful – on one side you see sinkholes that unveil the biological life of this nature park, and the Imotski Field. To the west, windy weather reveal the contours of the Apennine mountain range. The serpentines leading to the top resemble the Stelvio Pass, especially if you venture to climb this peak from the town of Podgora. The exhilaration of the view from the top is worth all the effort and pain you put into the climb.
The inclines are not extreme, but the length of the climbs themselves are fairly exhausting.
If Sv. Jure is too great a challenge for you, you are still in the right place. The road that follows the coast will offer you cycling pleasure worth an hour or so driving by car, a little more southward to the Makarska Riviera. Bike trails are well prepared and marked and will guarantee sheer riding enjoyment on your pre-planned routes.
This part of Dalmatia places special emphasis on the development of cyclotourist offers and so you will encounter a large number of facilities that are adapted to bicycle guests. The nearness of the sea, fishing culture, and symbiotic coexistence of the local inhabitants with the sea guarantees you the utmost culinary enjoyment in Mediterranean cuisine. The interwoven local customs from the region's continental hinterland bring a novel type of cuisine to your table, filled with authentic flavours and ingredients.

See you. Do not miss. Please look on the map to the location Apartments Gojak Milenka,
Beautiful room No.2 (number 2) with a nice balcony view on the seaside and is close to the beach and cafes - 100 m, first floor. In the room there is a fridge. Its own toilet and shower.
It is possible to rent a equipment for diving..SUPER PRICE:HALBPANSION IS ONLY 12,00 EURO AND FULL PANSION 17,00 EURO.
Come and enjoy healing massage of the Adriatic Sea and the smell of herbs mountain Biokovo in the apartment Milenka and Ante Gojak, Makarska, Croatia whenever you want. thank you
Republic of Croatia is a unitary democratic parliamentary republic at the crossroads of Central Europe, Balkans, and the Mediterranean. It joined the EU on 1st of July 2013, and it is best known for it's sunny beaches, islands and warm adriatic sea as it is a summer vacation destination for many Europeans.
We are a friendly family who will always assist our guests the best we can :)
We can arrange day excursions to the mountain BIOKOVO or to the island of Brać, Hvar and Korčula.
My family live in a house . That means you still have privacy IN YOUR APARTMENTS OR ROOMS, but also we are close enough for any help. I always left my phone number so you can reach me easily. You can ask me anything-where are the nice beaches, which restaurants are good and where to go out ;)
Price list for Excursion
(Price for one person)
1.) Dawn on the top of Biokovo – 40 euro
2.) Evening on the top of Biokovo – 40 euro
3.) Mountain ( Biokovo ) lodge under the Vošac - Štrbina – 35 euro
4.) Mountain ( Biokovo ) lodge under the Vošac - Vošac – 37 euro
5.) Mountain ( Biokovo ) lodge under the Vošac – Pržinovac – Lađena – 38 euro
6.) Ascent to Vošac 1 ( Biokovo )– 38 euro
7.) Ascent to Vošac 2 ( Biokovo )– 50 euro
8.) Villages under Biokovo 1 – 38 euro
9.) Villages under Biokovo 2 – 38 euro
10.) Ascent to Bukovac – 43 euro
11.) Ascent to Sutvid – 43 euro
12.) Over mountain Biokovo Živogošće – Duge njive – 43 euro
13.) Excursion Mount Biokovo and the Neretva river – 58 euro
14.) Imotski lakes – 57 euro
15.) Cetina Canyon - 43 euro
16.) Bol - Vidova gora, Zlatni rat – 53 euro
APARTMENT is located on a quiet street,just 100 metres from a pebbly beach.
You can go KITE SURF BEACH 50 km.
Enjoy a gourmet kitchen, seaview,and easy access to all lines.
More rugged and wild, and less developed, Dalmatia lies to the south, and can be divided into three. From the UK, you can fly direct to Dubrovnik (South Dalmatia), Split (Central Dalmatia) or Zadar (North Dalmatia).
The big pluses are the blissful pine-scented Dalmatian islands and the warm Mediterranean climate, but you also get plenty of historic buildings too (most obviously in Dubrovnik and Split, both Unesco world heritage sites), and the dramatic, soaring Dinaric Alps backing the coast. The most visited islands are trendy Hvar, with its slick minimalist design hotels and boho-chic seafood eateries, slower-paced Korcula, with its lovely medieval-walled car-free old town, and Pag, where Zrce beach near Novalje hosts a string of open-air music festivals through summer.
The main hubs for ferries to the islands are Dubrovnik, Split and Zadar, so with a bit of planning you can fly in and sail out the same day. For ferry timetables, see (URL HIDDEN)
Islands aside, the Dalmatian coast more than warrants exploration. If you hire a car and drive up from Dubrovnik to Split, you'll pass the Peljesac peninsula, a haven for foodies with its hillside vineyards producing the potent red Dingac, Ston Bay, with its acclaimed oysters and mussels, and the Makarska Rivijera, with its fine pebble beaches and turquoise waters, backed by the imposing heights of Mount Biokovo.From Makarska you can go on island Hvar, Brač or Korčula.
A local bus stop with links to Baška Voda and other small towns on the Makarska Riviera is just 100 metres from the property. Makarska Bus Station is 800 metres away.
From Makarska you can go on island Hvar, Brač or Korčula.Best is go on mountain Biokovo.Hier is convenient public transport for Split and Dubrovnik.
Makarska is a picturesque town of impressive beauty which lives off tourism and for tourism; a town of youth, culture, sports and entertainment. It was built around a natural port protected by the charming peninsula of Saint Peter and cape Osejava, and it is the biggest and only such port between the Cetina and Neretva estuaries. The town's history is best discovered in the Franciscan Monastery as well as through the works of art kept in the sacral buildings of the Makarska Littoral and whose authors are famous Croatian painters originating from this region.
The Biokovo Mountain, a majestic gift of nature, emerges from the pearly sea. If you are craving for adventure and attractive sports challenges, Makarska offers an abundance of sports facilities (paragliding, mountain biking, descending into caves and water sports). The beautiful pebble beach stretches for 2 km along the entire town.
Parking for your car is is included in price.We can organize for you how get to in your apartment from airport.
Please turn off air condicining when leaving the apartment. We don't want to waste energy, planet Earth will be mad and we don't want that :D
Guest access
House in the town of Makarska, Makarska - Central Dalmatia has accommodation units of type Apartment and is 150 m away from the sea. A beach is nearby (pebble). As the house is divided into several accommodation units, other guests will most likely be present during your stay. The hosts will be in residence during your holiday. The house owner is under no obligation to accept additional persons and pets that were not stated in the reservation request and it is necessary to report them in advance.
Interaction with guests
If you need help just come or call/ write message on airbnb.
Other things to note
It is good to go on mountain Biokovo.
---
---
Bedroom 2
1 queen bed, 1 couch, 1 crib
---
Check in time is 11AM - 11PM
Please respect our terms of accommodation; we'd like for everyone in our apartment to feel comfortable and not disturbed in any way.
Our residence and the neighborhood are a safe environment for everyone and we ask you to keep it safe too!
Be aware there are other residents in the same building, but they don't have access to your space. You are the only one who have keys to your apartment beside us as owners.
Courtesy & respect for the owner and any other staying guests.
Respect check-in and check-out times. Late check-out and early check-in have to be discussed in advance.
Do not make any noise/music disturbing your neighbors from 10 PM to 7 AM. Keep it moderate during the day.
You are requested not to smoke cigarettes in the apartments or rooms but you can smoke in the balcony or terraces freely at any time.
No friend visits to the apartment. The apartment is reserved and payed for you only. That means the maximum occupancy may not be exceeded at any time during reservation.
Leave your apartment in the state it was found.
We do not accept any responsibility for loss or damage to any of your personal property. (We will return any missing items found.)
You are requested to pay for repairs of any damage, you or your guests have caused.
You hereby acknowledge that you have read the House Rules, understand it, agree to it, and have taken a copy if needed.
Thank You, Ivica!
---
If you're looking for a place to stay, where you can leave your car safely, walk 2 minutes to the beach and be very close to restaurants then this place is great. Slight issue with our check-in but that was rectified. Only stayed one night but the apartment is in a great location and has a balcony with a view of the sea.
---
Ivica's communications were speedy, which was so handy as we booked very late in the day. We just rolled up to the building and looked for a door to knock. Even before we'd done so, the door opened wide and there were Ivica's parents, beckoning us into their home. We were a bit confused...had a booked a room in the house? Were we waiting for Ivica to come to show us to our accommodation? Actually, no. They just saw fit to invite us in for a drink before showing us up themselves, and we had a wonderful time having a little tour of some local mountain or other via the herbs the father had been infusing into some terrifically powerful spirit. We had really no shared language, but it was such a giggle and a great start (and almost finish!) to our stay. The bora was blowing like mad, so we didn't go out again. The flat itself is well-located and spacious, with views of the sea from the balconies of both bedrooms and a large eat-in kitchen. We had only one night here but it seemed perfectly set up for a longer stay and perhaps that's what we'll have the next time we're in Makarska!
---
We were looking for an apartment, where all of us three could have an own room to sleep. So this apartment was perfect for us. It even had two small bathrooms. The apartment was very quiet, stores really close, everything easy and uncomplicated.
---
Ivica is such a lovely and caring person, that it would be difficult for one not to feel welcome when wisiting his place. We think the apartment had everything we needed for a short 2 days stay and we enjoyed the pleasant walk via seaside promenade to the citycenter and back.
---
I'm Ivica. Living in a family with his wife and 4 children. I love trekking, running and spend time with my family. I will do my everything to make your stay in Makarska memorable. I enjoy being able to host adventurers in my home when they are in town exploring Makarska rivijer…
Languages:
Deutsch, English
Response rate:
100%
Response time:
within an hour
Explore other options in and around Makarska
More places to stay in Makarska: