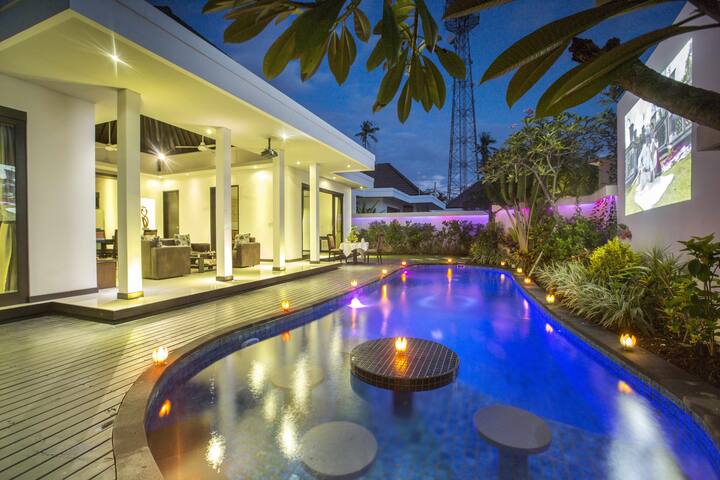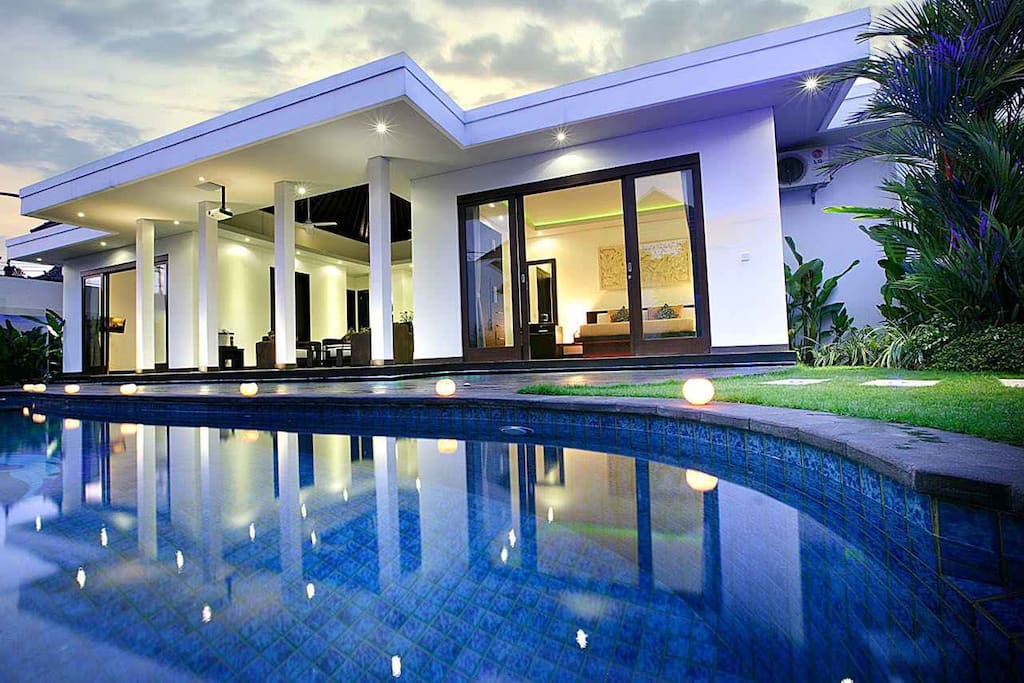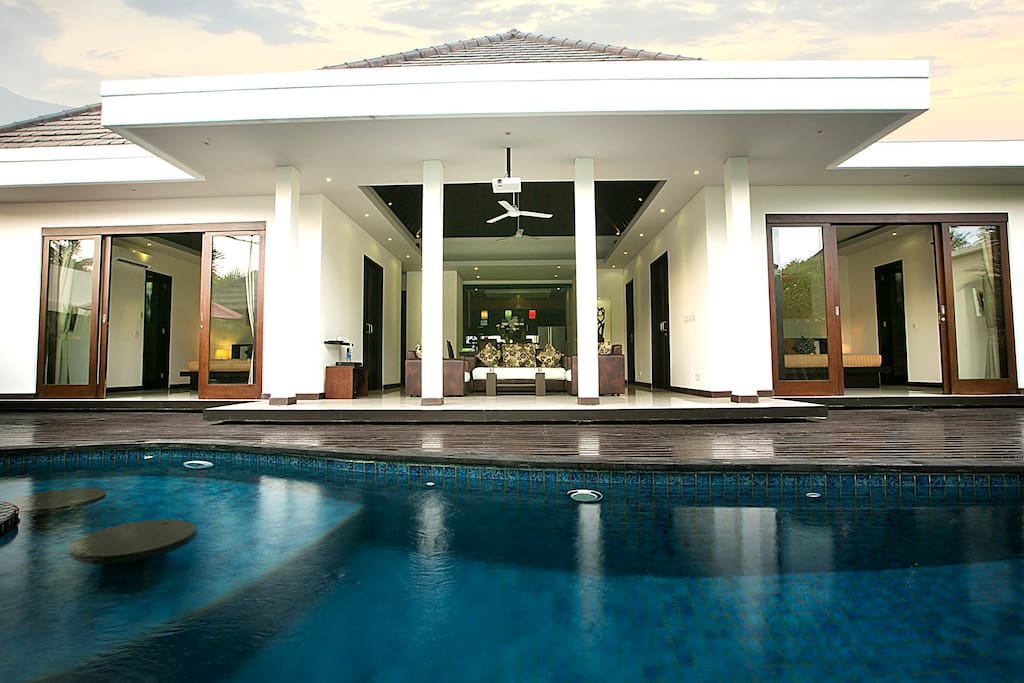 WOW! Designer Villa w/ Private pool + Breakfast!
Tucked away in a beautiful, lush tropical oasis only minutes from a picturesque white sand beach, this stylish and modern villa is the epitome of luxurious living
Stunningly furnished in an high end contemporary fashion, indulge yourself in the large outdoor pool area, soak in the indoor Spa Jacuzzi, or kick back after a long day in front of the massive large outdoor projector screen. Included in your stay is daily breakfast and daily housekeeping.
Experience Bali how it was meant to be
---
---
Always communicate through Airbnb
To protect your payment, never transfer money or communicate outside of the Airbnb website or app.
Learn more
---
HOUSE RULES
Bali Style
P: +
E:
The signature homes managed by Bali Style are pristine and carefully designed to ensure you have an extraordinary experience in beautiful Bali
This Rental Agreement and Contract (the "Agreement") is a legally binding agreement made and entered into as of the Reservation Date written below by and between the undersigned person(s) or company (the "Guest") and the undersigned owner, manager or agent ("Rental Agent"), pursuant to which the Guest has agreed to rent the residence described below (the "Property"), for the duration of the Rental Term for the Total Rental Fee and other good and valuable consideration as described herein.
OCCUPANCY
Guest agrees that no more than the maximum number of persons listed on this listing shall be permitted on the Property at any time during the Rental Term, all of whom shall comply with the conditions and restrictions imposed upon Guest under this Agreement.
CONDITION AND USE OF PROPERTY
The Property is provided in "as is" condition. Rental Agent shall use its best efforts to ensure the operation of all amenities in the Property, such as internet access, satellite or cable TV access or hot tubs, fireplaces as applicable. Rental Agent shall not be held responsible for such items failure to work, but will make every effort to correct any issues as reported as quickly as possible. Guest acknowledges that use of amenities such as hot tubs, pools, spas, fireplaces, decks, and the like may be potentially dangerous and involve potential risks if improperly used, particularly with regard to children and such use is at the Guest's own risk. Guest shall use the Property for residential purposes only and in a careful manner to prevent any damage or loss to the Property and keep the Property in clean and sanitary condition at all times. Guest and any additional permitted guests shall refrain from loud noise and shall not disturb, annoy, endanger, or inconvenience neighbors, nor shall Guest use the Property for any immoral, offensive or unlawful purposes, nor violate any law, association rules or ordinance, nor commit waste or nuisance on or about the Property.
DEFAULT
If Guest should fail to comply with the conditions and obligations of this Agreement, Guest shall surrender the Property, remove all Guest's property and belongings and leave the Property in good order and free of damage. No refund of any portion of the Total Rental Fee shall be made and if any legal action is necessary, the prevailing party shall be entitled to reimbursement from the other party for all costs incurred.
ASSIGNMENT OR SUBLEASE
Guest shall not assign or sublease the Property or permit the use of any portion of the Property by other persons who are not family members or guests of the Guest and included within the number of and as permitted occupants under this Agreement.
RISK OF LOSS AND INDEMNIFICATION
Guest agrees that all personal property, furnishings, personal affects and other items brought into the Property by Guest or their permitted guests and visitors shall be at the sole risk of Guest with regard to any theft, damage, destruction or other loss and Rental Agent shall not be responsible or liable for any reason whatsoever. Guest hereby covenants and agrees to indemnify and hold harmless Rental Agent and their agents, owners, successors, employees and contractors from and against any costs, damages, liabilities, claims, legal fees and other actions for any damages, costs, attorneys fees incurred by Guest, permitted guests, visitors or agents, representatives or successors of Guest due to any claims relating to destruction of property or injury to persons or loss of life sustained by Guest or family and visitors of Guest in or about the Property and Guest expressly agrees to save and hold Rental Agent harmless in all such cases.
RELEASE
Guest hereby waives and releases any claims against Rental Agent, the Property owner and their successors, assigns, employees or representatives, officially or otherwise, for any injuries or death that may be sustained by Guest on or near or adjacent to the Property, including any common facilities, activities or amenities. Guest agrees to use any such facilities or amenities entirely at the Guest's own initiative, risk and responsibility.
ENTRY AND INSPECTION
Rental Agent reserves the right to enter the Property at reasonable times and with reasonable advance notice for the purposes of inspecting the Property or showing the Property to prospective purchasers, renters or other authorized persons. If Rental Agent has a reasonable belief that there is imminent danger to any person or property, Rental Agent may enter the Property without advance notice.
UNAVAILABILITY OF PROPERTY
In the event the Property is not available for use during the Rental Term due to reasons, events or circumstances beyond the control of Rental Agent, Rental Agent will apply due diligence and good faith efforts to locate a replacement property that equals or exceeds the Property with respect to occupancy capacity, location and value that meets the reasonable satisfaction of the Guest. If such replacement property cannot be found and made available, Rental Agent shall immediately return all payments made by the Guest, whereupon this Agreement shall be terminated and Guest and Rental Agent shall have no further obligations or liabilities in any manner pertaining to this Agreement.
ADDITIONAL TERMS TO THE RENTAL AGREEMENT
In addition to the standard terms included herein, Guest acknowledges and agrees that the following additional terms and conditions apply to the Guest's rental of the Property:
1. check-in time is 2 pm, check-out is 12 pm.
2. smoking is allowed only outside the building.
3. Pets are not allowed.
4. If the guests would like to make a party (the total amount of guests exceeding the number of sleeping spaces) , this needs to be confirmed with us and an extra charge will be applied (price of 1 night
CANCELLATION POLICY:
AIRBNB (strict):
For a 50% refund of accommodation fees, cancellation must be made seven full days prior to listing's local check in time (or 3:00 PM if not specified) on the day of check in, otherwise no refund. For example, if check-in is on Friday, cancel by Friday of the previous week before check in time.
If the guest cancels less than 7 days in advance, the nights not spent are not refunded.
If the guest arrives and decides to leave early, the nights not spent are not refunded.

FLIPKEY (strict):
For a 50% refund of the total cost, cancellation must be made at least eight weeks before check-in.
For a 25% refund of the total cost, cancellation must be at least four weeks before check-in.
If the guest cancels less than 4 weeks in advance, the nights not spent are not refunded.

(strict):
Bookings must be cancelled at least 60 days before the start of stay to receive 100% refund
If the guest cancels less than 60 days in advance, the nights not spent are not refunded.

GENERAL PROVISIONS
This Agreement contains the entire agreement between the parties with regard to the rental of the Property, and any changes, amendments or modifications hereof shall be void unless the same are in writing and signed by both the Guest and the Rental Agent. This Agreement shall be governed by the laws of Bali, Indonesia. The words "Rental Agent" and "Guest" shall include their respective heirs, successors, representatives. The waiver or failure to enforce any breach or provision of this Agreement shall not be considered a waiver of that or any other provision in any subsequent breach thereof. If any provision herein is held invalid, the remainder of the Agreement shall not be affected. Any notice required to be given under this Agreement shall be in writing and sent to the contact information included herein. This Agreement may be signed in one or more counterparts, each of which is an original, but taken together constitute one in the same instrument. The execution of a payment, online acceptance of these terms, or digital signature shall be deemed a valid signature.
---
Strict
Cancel up to 7 days before your trip and get a 50% refund. Cancel within 7 days of your trip and the reservation is non-refundable.
---
---
---
Very nice comfortable living space and super spacious quite bedrooms with incredibly big beds! Staff were really helpful, answering all our questions and providing us with everything what was needed. Simple but nice and breakfast was served in the morning. Location is in a quite sidewalk, at the same time around 5-7 minutes walk to the beach. Highly recommended!
---
Bali Style is a professional villa rentals agency and holiday advisor. We assist our guests with ideas regarding their vacations in Bali and provide assistance during their stay. We proudly represent hand selected collection of holiday homes, luxury villas and resorts in Bali, well-known paradise island.

Our professional specialists who know everything about local traditions and customs as well as official regulations and rules have inspected each of the properties in our portfolio.

We offer our clients only the best services to ensure that their vacations are covered, from airport pick up to transportation on the Island, from SPAs to guided tours, you may rely on our deep knowledge of Bali and surrounding locations.

our slogan is: Enjoy your stylish vacations in Paradise with Bali Style!

The villa is professionally managed, fully cleaned before every stay, and for your convenience, it comes with clean luxury linens & bedding, towels, cleaning products, and everything else you'll need for a comfortable stay.

Each bedroom is air conditioned for your comfort, and Is fully stocked with top of the line flat screen TVs and high-speed wireless internet.

Your stay includes:

- On-site staff and property manager: There's nothing we can't handle
- Daily Housekeeping
- Secure, gated villa
- High speed internet and digital TV in every bedroom
- On-site parking
- Bathroom amenities and cleaning products included
- Complimentary grocery delivery


ON-SITE V.I.P. SERVICES (ADDITIONAL FEES APPLY):

Bali Style is dedicated to providing guests with a tailor-made, personalized experience. Anything you can think of, we can arrange it. Our luxury V.I.P. services include (but not limited to)

Personal Chauffeur ($70/day)
Car Rental ($30/day for manual transmission, $40 for automatic)
Motorbike Rental ($7/day)
Guided Bali Tours ($100 for 6 people)
Yacht Charter Services ($600 for 8 hours)
Helicopter Charter Services ($450 for 20 minute ride)

Your satisfaction and comfort is guaranteed.
Response rate:
100%
Response time:
within a few hours
Explore other options in and around Kuta Selatan
More places to stay in Kuta Selatan: