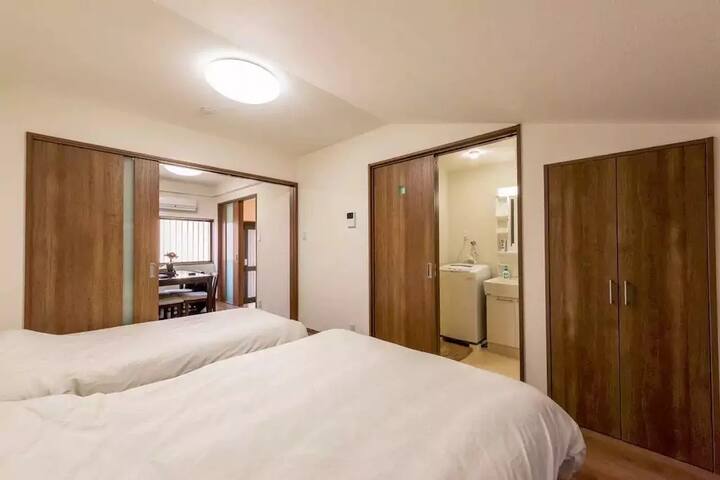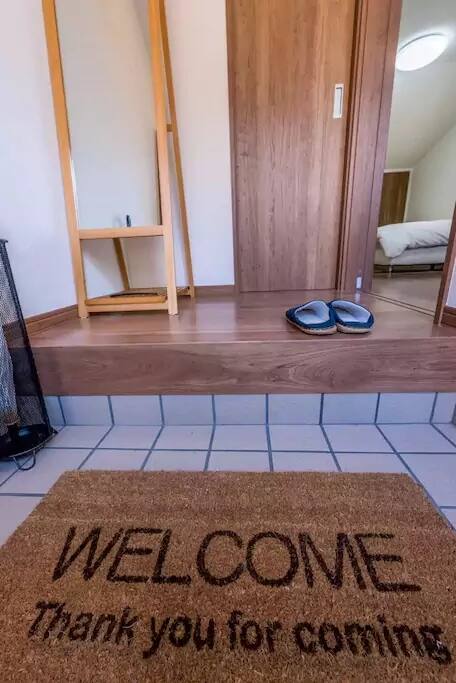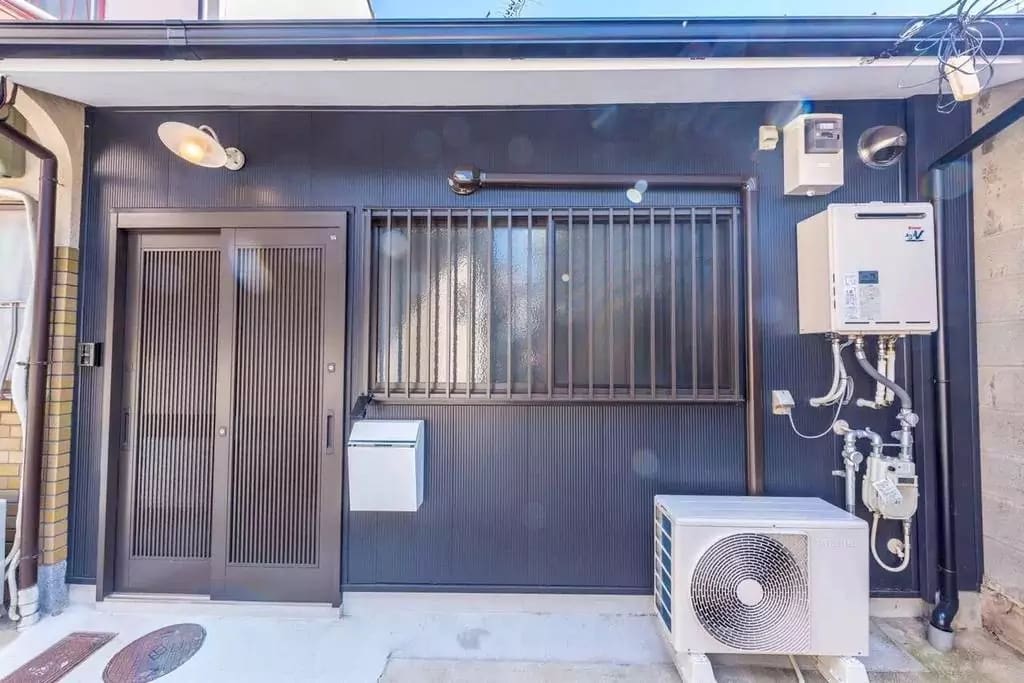 There are thousands of alleyways in Japan, possessing countless houses, and my home is just one of them. You can not even tell it and other houses, but this is our most common home, a quiet and cozy cottage. The only difference is that this home in Japan, it has the ancient atmosphere of Kyoto, it will take you into Kyoto's life. Rich atmosphere here, suitable for savoring Kyoto slow life, even just watching next to primary school Japanese children's song of laughter will be very happy Great location, 10 minutes walk to one of the three major shrines in Japan Kitano Tenmangu Shrine animation shrine encounter. Within five minutes on foot there are Japanese barbecue shop, 7-11 convenience store, fresh shop, coffee shop, supermarket and so on. ★ From Kyoto Station: 1. Taxi 20 minutes home 2. Take a municipal bus 206 B / 50 to a thousand neutral shelves 34 minutes home 3. Subway to Marutamachi, take the bus Karasuma Marutamachi to a thousand Neutral 売 27 minutes to go home ★ attractions around: 1. Nijo Castle: Taxi: 1.5km, 6mins / Bus: 230JPY, 18min 2. Kinkakuji Temple: Taxi: 2.8km, 10 minutes / Bus: 230 yen, 24 minutes 3. Gion: Taxi: 5.2km, 17minutes / Bus: 230JPY, 30min 4. Shijo Kawaramachi: Taxi: 4.7km, 17minutes / Bus: 230JPY, 27minutes ★ recently bus stop: Thousands of neutral shell station (3 minutes walk)
日本有千千万万条弄堂,藏着数不清的房子,我家就只是其中的一间。你甚至会分不清它和其他房子,但这就是我们最寻常的家啊,一间静谧而温馨的小屋。唯一不同的是,这个家在日本,它有京都古老的气息,它会带你走进京都人的生活。这里生活气息浓郁,适合细细品味京都慢生活,哪怕只是看着旁边小学日本小朋友的欢歌笑语也会很幸福
位置很棒,步行10分钟可到日本三大神社之一的北野天满宫邂逅动漫中的神社。徒步五分钟内有日式烤肉店、7-11便利店、生鲜店、咖啡店、超市等。
★从京都站过来:
1.出租车20分钟到家
2.乘坐市营206乙/50至千本中立壳34分钟到家
3.地铁至丸太町,转乘公交车乌丸丸太町到千本中立売27分钟到家
★周围景点:
1. 二条城: 出租车:1.5km,6分钟/公交:230日元,18分钟
2. 金阁寺: 出租车:2.8km,10分钟/公交:230日元,24分钟
3. 祗园: 出租车:5.2km,17分钟/公交:230日元,30分钟
4. 四条河原町: 出租车:4.7km,17分钟/公交:230日元,27分钟
★最近公交站:
千本中立壳站(步行3分钟)
Guest access
Package rental, can sleep 4 people; First floor: living room × 1, simple kitchen × 1, bathroom × 1, bathroom × 1, small hospital × 1, bedroom × 1 (double bed × 2) We have prepared: Appliances: Free WiFi, microwave, single door refrigerator, kettle, washing machine, air conditioning, hair dryer, vacuum cleaner; Wash set: shampoo, conditioner, shower gel, hand soap, toothpaste, toothbrush, toothpick, laundry detergent, bath towel, wash towel.
整套出租,可住4人;
一楼:客厅×1,简易厨房×1,卫生间×1,浴室×1,小院×1,卧室×1 (双人床×2)
我们准备了:
电器:免费WiFi、微波炉、单门冰箱、热水壶、洗衣机、空调、吹风机、吸尘器;
洗漱套装:洗发水 、护发素、沐浴露、洗手液、牙膏、牙刷、牙缸、洗衣液、浴巾、洗脸毛巾。
Interaction with guests
I will provide detailed check in guide Oh ~
Other things to note
【about the price】 The price you see on the platform is the default two price Oh ~ every additional person to pay extra personnel costs. Children above 12 years of age who are adults under 12 years of age who are not single-bed sharing beds with adults will not be charged extra. ※ If you have any questions, feel free to contact me. Frequently Asked Questions Q: Please tell me how to get there from Kansai Airport. A: It is recommended to take the MK shuttle bus (MK シ ャ Suites ル バ ス) from Kansai Airport. If you make a reservation will be 4200 yen a person to send you directly to the front door. The time required about 2 to 3 hours. If you have no place to buy, but also recommended "YASAKA bus (Yamashita shuttle bus)." You can also take JR directly from Kansai Airport to Kyoto Station and then take a taxi. However, this method is relatively expensive and requires a transfer, shuttle bus is relatively easy. Q: Can the entire building be used? A: The whole house is for you to enjoy alone ~ Q: Can the kitchen cook? A: Must! The basic equipment that the kitchen will have when it comes to cooking. Q: Is it a good law and order area? A: The location is Kyoto's traditional streets, is a good law and order area. Q: How to get to B & B and get the key? A: Because it is a self-service bed and breakfast, you need to check-in and check-out according to the directions and password in the check-in guide. We recommend that you keep it properly and carry it with you. The door is the password lock, enter the password to enter the guide can open the door. Q: Can I leave my luggage in the hotel? A: I'm very sorry, we will not be able to help you with any baggage after checking out. After the previous guest leaves, the cleaning staff will clean and check in the property, and strict compliance with check-in and check-out times is required. And no one at the front desk no one to care for your luggage, you can put the luggage at Kyoto Station Coin Lockers, convenient and affordable. Q: breakfast included? A: Self-catering bed and breakfast without breakfast, the landlord will not show up during your stay. Q: What to do with rubbish? A: Japanese garbage needs wet and dry separation. If you are not sure how to sort, please use trash bag to put all the rubbish and put it in the white trash before the door. When you check out, our cleaning staff will come to dispose of the trash.
【关于价格】
平台上看到的价格是默认两人价哦~每加一人每晚要支付额外人员费用。十二岁以上按成人计算,十二岁以下能与大人同床不单独占床位的儿童无需额外收取费用。
※如果有问题可以随时联系我哦※
【F A Q 常见问题】
Q: 请告诉我从关西机场前往的方法。
A: 从关西机场出发的话推荐搭乘MK穿梭公车(MKシャトルバス)。
若进行预约将可以一人4200日元的价格直接将您送至大门前。所需时间约2~3小时。
若已经无位可买,也推荐「YASAKA穿梭公车(ヤサカシャトルバス)」。
您也可以从关西机场直接乘坐JR前往京都站,之後转乘出租车。但此方法相对较昂贵且需要转车,穿梭公车则相对轻松。
Q: 整栋建筑物都能够使用吗?
A: 整栋房屋都是您独自享用~
Q: 厨房可以做饭吗?
A: 必须可以!厨房中具备了料理时会用到的基本设备。
Q: 是治安良好的地区吗?
A: 所处位置为京都传统街道,是治安良好的地区。
Q: 如何到达民宿及获取钥匙?
A: 因为是全自助式民宿,需要您根据入住指南上的路线和密码,进行自助入住和退房。建议您妥善保管好并随身携带。
大门为密码锁,输入入住指南里的密码就可以开门了。
Q: 可以把行李寄放在民宿里吗?
A: 十分抱歉,退房後我们就无法帮您保管任何行李。当上一位客人退房后,清洁人员会在民宿进行清洁及检查,请您严格遵守入住和退房时间。而且民宿没有前台没人为您们看管行李,您可以把行李寄存在京都站的投币式置物柜,方便实惠。
Q: 早餐包括吗?
A: 不含早餐的,自助式民宿,在您入住期间房东不会出现。
Q: 垃圾应该怎样处理?
A: 日本垃圾需要干湿分开。如果您不清楚如何分类,请用垃圾袋把垃圾都装好,扔到门口前的白色垃圾桶里。当您退房后,我们的清洁人员会前去处理垃圾。
Not safe or suitable for infants (Under 2 years)
Check-in is anytime after 3PM
大家好! 我们是【夢の宿】,专注于京都民宿。 我们在京都有二十几套房源,包括传统京町屋,日式独栋,新建别墅。 请随时联系我们能为您推荐到合适的民宿。
Languages:
English, 中文, 日本語
Response rate:
100%
Response time:
within an hour
Explore other options in and around Kamigyō-ku, Kyōto-shi
More places to stay in Kamigyō-ku, Kyōto-shi: