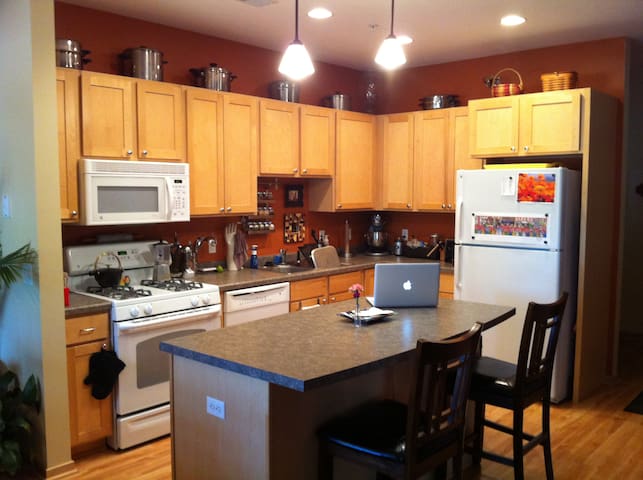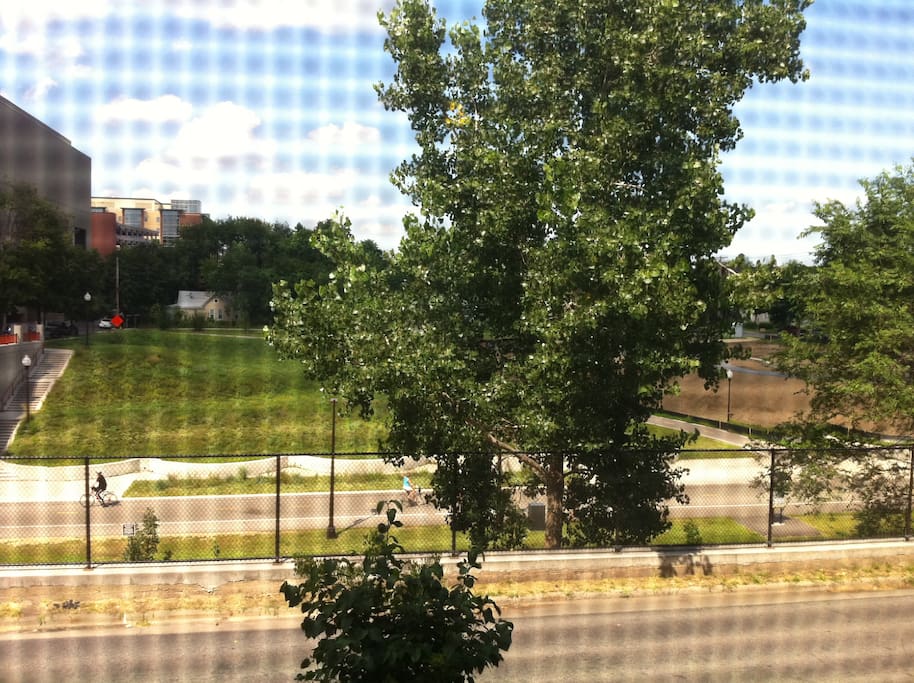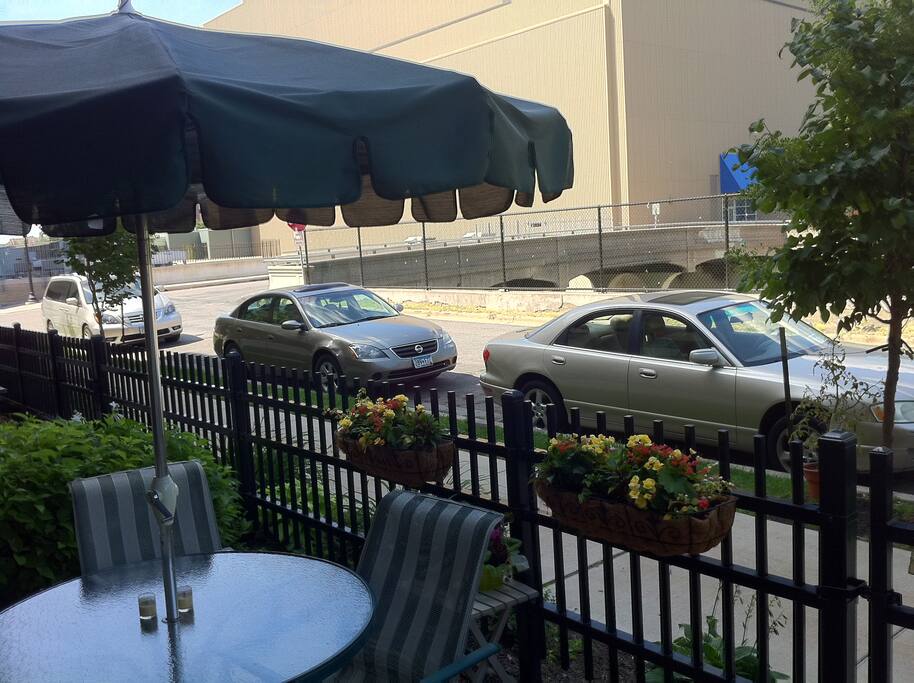 The space
Enjoy your stay in the "City of Lakes" from the comfort of our home when we are out of town. Make yourself at home!

We have a multi-level 2 bedroom condo/townhouse. It is connected to the Global Market, a renowned International food and shopping experience, located in the heart of the most diverse neighborhood in the USA.

Enjoy overlooking the Minneapolis "Greenway", one of the best trail system for an urban cycling in the usa. in fact, it recently even surpassed Portland's trail system. You can ride down the Mississippi River, then follow the Chain of Lakes through an urban cultural adventure which makes Minneapolis/St Paul the 'Minneapple'.

National Geographic notes Minneapolis as the 4th most popular destination in the world for summer getaways for the whole family or the serious cycling enthusiast.

From: (URL HIDDEN) 11/11/11
More Bikes than Boats in the City of Lakes?
Minneapolis, the largest city in the "Land of 10,000 Lakes," is adding 57 new miles of bikeways this year, with plans to add another 183 miles during the next 20 years. With these efforts, Minneapolis nabbed the top spot in Bicycling magazine's Top 50 list of bike-friendly cities and was designated a Gold-level bicycle-friendly community by the League of American Bicyclists. To learn more about the city's trails, visit (URL HIDDEN)

Accommodations & Amenities
Built in 2006
BR1 - Queen Sized Temper-pedic
BR2 - Full size futon style bunk bed with pillow top twin on top.
All linens, towels, and toiletries included.
1 & 1/2 baths
BR3 - office
Central Air
Street Parking (Ramp parking available at a cost--inquire if interested)
New Flooring & paint
Everything you need to cook anything.
GAS BBQ
Access to pool, jacuzzi and state-of-the-art workout room at Sheraton next door.
Large HD TV with cable and Apple TV (with Netflix)
High speed internet
Check-in is anytime after 2PM
Welcome to Dan & Debby's
Here are a few rules that will make your stay most enjoyable!
Max number of guests 5
No Smoking in the building anywhere.
Check in after 5pm (unless special permission given)
When you arrive:
•Keys: You will receive 3 keys: Outside door, Hallway door, and building door (but please only use outside door)
•Temperature: Thermostat on living room wall. Set for A/C or heat.
•Parking: Street Parking (The west side of 11th Ave is only 2 hour parking during the day)
When you depart:
•Keys and Parking Pass: Please lock the outside door, leave the keys and pass on the Kitchen Island and exit from the hallway door. Call us and we will come lock up.
Safety:
•Close and lock all doors and windows when you are not home.
•Close and lock downstairs windows when you go to bed.
•This is a community with 24/7 on site security guards on duty to assure your safety.
Home Hints:
•TV: We have Cable TV and will give instruction about remotes when arrive.
•Internet: "Dan Minell's Guest Network" Password: (PHONE NUMBER HIDDEN)
•BBQ: The BBQ utensils are in the middle drawer of the kitchen island. Please be sure to turn off propane gas when done.
•Kitchen: Feel free to use any of our appliances and kitchen tools but please leave them in the condition that you found them.
•Linens are clean on the Master bed and guest bed. There are fresh towels are on hallway bench. Additional towels are located in laundry room and additional linens in closet of the office.
Helpful Information:
•Dan and Debby: Dan 763-(PHONE NUMBER HIDDEN) and Debby 917-(PHONE NUMBER HIDDEN)
•
•Walgreens (24 hour) 2426 Hennepin Ave S, Minneapolis - ((PHONE NUMBER HIDDEN)

Fun: We have included websites, but feel free to call if you have any questions about any of these!
•Rent a "Nice Ride - Do" Bike (there is a kiosk across the street on the corner of Lake and Elliot Ave). The Greenway Trail is right outside your door and see map of the many other bike trails) (See (URL HIDDEN)
•Visit the Global Market (across the street in Midtown) (see (URL HIDDEN)
•Explore Lake Calhoun: Walk, Bike, Canoe, Kayak, etc. See (URL HIDDEN)
•Enjoy Lake Harriet: Bandshell (See (URL HIDDEN)
•Shop at the Mall of America (See (URL HIDDEN)
•Reminisce at the Riverview Theater: 1950's retro theater $3.00 (See (URL HIDDEN)

Eating around our neighborhood
•May Day café (3440 Bloomington Avenue).
Great neighborhood vibe with excellent coffee, homemade pastries and other yummy food.
•Lyn Lake and Uptown Area (Lake Street between Lyndale and Hennepin Ave) If you drive West on Lake Street there are MANY restaurants on Lake Street, Lyndale Avenue and Hennepin Avenue.
•Freewheel Bike (located on the Greenway at the bottom of the stairs) Great place for coffee and pastries (See (URL HIDDEN)
•The Global Market (across the street in Midtown) Recommendations below for an $8 lunch….
Safari
Chicken Fantastic or Chicken Curry -- Safari cup size $5.99 (+ Sambusa $1.50) or Entrée size $7.99
Andy's Garage
Diablo Burger w/chips $7.99 or Cheeseburger w/homemade fries $7.25
Holy Land
Lunch Buffet (med) w/drink $7.99
Pham's
Vietnamese Banh Mi Sandwich w/drink $4.99
Salty Tart
Dessert $ various
Jakeenos
Slice of pizza $3.75
Los Campos
Many specials w/drink $7.49
Grassroots Gourmet
Soup $5.25 or Gourmet Cheeses $ various
Manny's Torte
Milanese Steak Sandwich $7.95
The Produce
Fruit, veggies, juices - $ various
My wife and I grew up in Minneapolis and now live back here after spending some time in NYC. We consider Minneapolis the "Mini-Apple". We love the city and feel blessed to live in 2 of the greatest! Both of us work for a non-profit organizaton that assists churches/minist…
Explore other options in and around Minneapolis
More places to stay in Minneapolis: