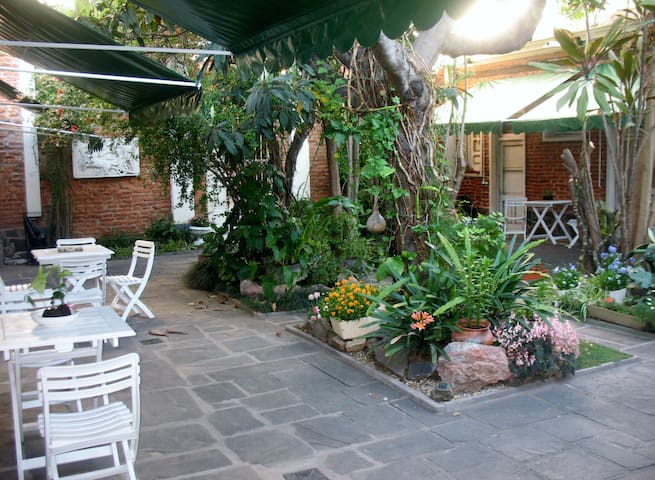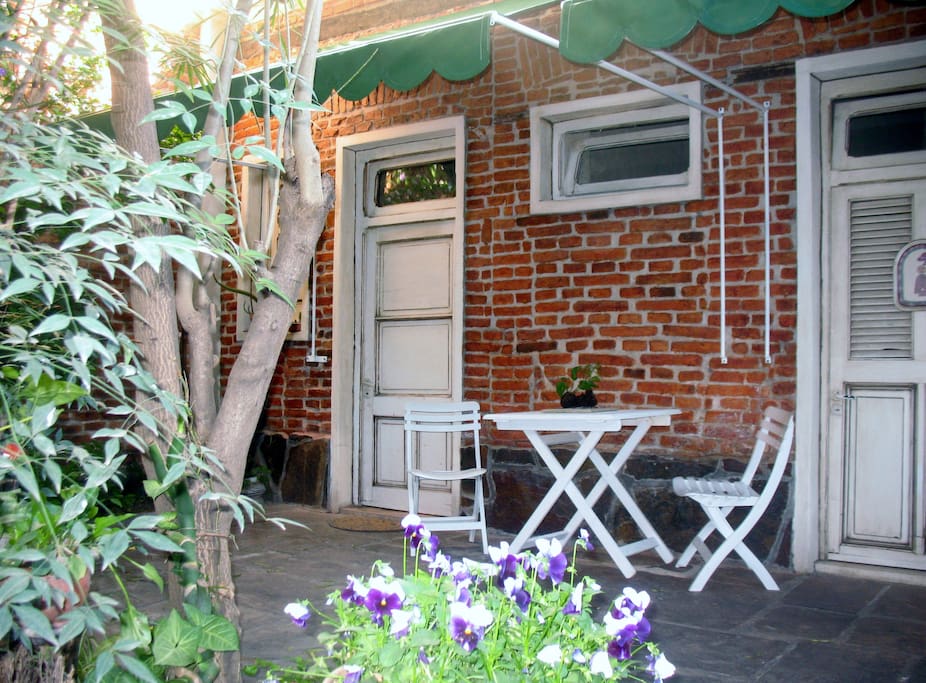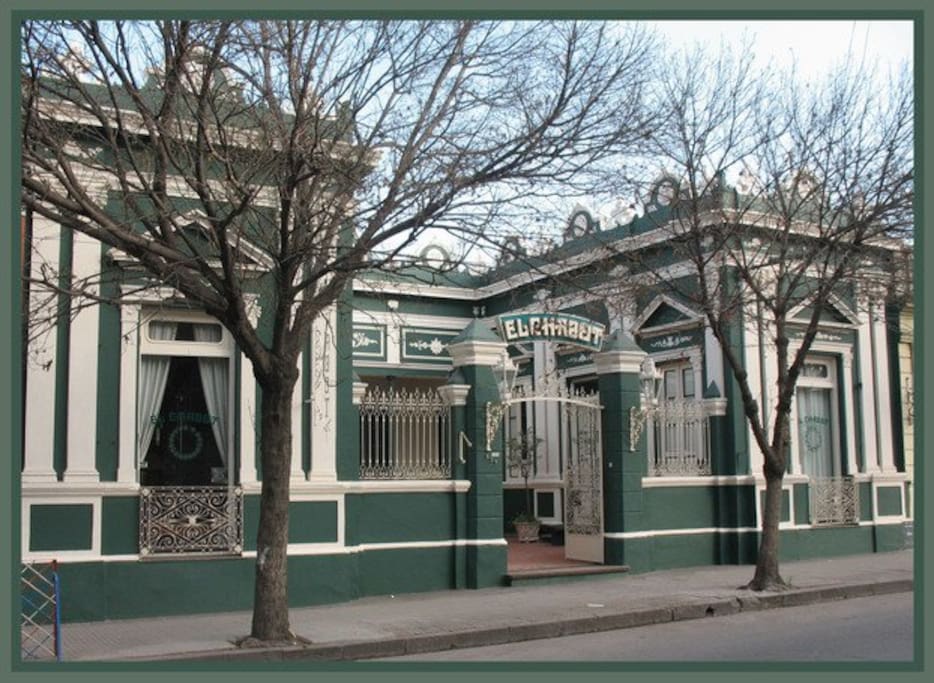 PETIT SUITE (Alquiler Temporal)
Small suite with double bed, located inside an old mansion, Architectural Heritage of the city of Salta, surrounded by art and vegetation. Personalized attention, excellent location near the place where all the cliffs and artisans are located, near Est. train to the Clouds. The rooms are located in the last courtyard of an old mansion around a courtyard, on the main side there is a walk where there is a rest-bar and some business.
---
Bathrooms: 1 (Private bathroom)
---
---
Weekend Price £38 / night
Always communicate through Airbnb
To protect your payment, never transfer money or communicate outside of the Airbnb website or app.
Learn more
---
Flexible
Cancel up to 24 hours before your trip and get a full refund. Cancel within 24 hours of your trip and the first night is non-refundable.
---
---
---
Positives: The room was lovely and clean. The garden was nice. The location is approx six blocks from the main Plaza via walking. The guy running the restaurant was helpful and really polite including his staff, he spoke English which made a real difference to our enjoyment. Negatives: The host didn't speak English and we didn't speak Spanish- so communication wasn't great via email. The host wasn't there to welcome us upon arrival and throughout the duration of our stay but did wish us well when we were checking out. The wifi connection inside the room was really bad. The drainage system inside the bathroom is rather loud. Apart from the restaurant, the building had other establishments selling services that had no affiliation to the comfort of our stay. It felt odd and somewhat disjointed. Our tour company couldn't locate us with the address provided by the host which resulted in us missing a tour. We would recommend that you use the building name (EL CHABOT) followed by the address when making arrangements.
En mi perfil dice claramente que solo hablo Español, por eso deje que te recibiera el de la confiteria que habla bien tu idioma. Con respecto a la direccion no se que problema tuviste pero aca vienen tours todos los dias y jamas lo tuvieron con la direccion Mitre 859, Intente acercarme varias veces a saludarlos pero senti la incomodidad que les provocaba cuando lo hice por eso me abstuve. Es una casona Antigua grande y el patio donde estan las suites esta separado de la galería, no entiendo la incomodidad cuando tienen un patio exclusivo con mesas exclusivas para los huespedes totalmente privada. puse una repetidora de wifi dentro de la habitacion para salvar el problema de señal ya que al ser una casona con paredes de 60cmts de ancho no llega la señal a pesar de estar a pocos metros de distancia, problema resuelto. Lamento que estas experiencias hagan crear una mala referencia del lugar pero esta bien aclararlas para que la gente que pueda venir este al tanto. la verdad que me hubiera gustado que me lo dijeran personalmente y no en una evaluacion que ponen puntos como si fuera realmente un mal lugar. Yo en realidad cuando no me gusta el inquilino me abstengo de quemarlo públicamente, y no lo evaluo ya que considero que dos dias no son lo suficiente para sacar conclusiones ni del lugar ni de las personas.
---
We had a fabulous 3 nights stay at Analias house. Beautiful interior, quiet shady garden, delicious breakfast served every morning. All neat and clean. Analia was a very friendly and helpful host, always available via (SENSITIVE CONTENTS HIDDEN). We highly recommend this place. Muchas gracias!
---
Me and my sister had a wonderful afternoon at Analias place. We only stayed one night but it was the perfect place to relax the afternoon and have a walk to the city center in the evening and a drink just around the corner at the famous bar street with night market on Sunday. Although we saw Analia only the next morning her daughter Valentina and Horacio welcomed us very friendly and were very helpful with providing some stuff to have a drink on the terrace. Much is gracias y cuando estoy en Salta otra vez, voy a volver seguramente! 100% recommended!
---
This is a great accommodation. Analia kindly upgraded us to a larger room as it was available so we did not actually see this room. The building is stunning, the patio was much appreciated for a break from the busy city centre, and the coffee shop makes it even nicer. Everything is within walking distance. Analia was very helpful and patient with my poor Spanish!
---
This quaint little secret lies hidden on one of Salta's main streets but once you are inside it offers peace and quite. Rooms and bathrooms are very clean and offer a private toilet and shower. Analia is a very helpful and nice hostess. She only speaks Spanish though. Through (SENSITIVE CONTENTS HIDDEN) translate and gestures we always found a way to communicate. The B&B offers free wifi which was great and for a few pesos she will wash your dirty clothes! The breakfast is coffee or tea with some toast and a piece of cake or cookies. Also some butter and jams are supplied. This seems to be the regional choice of breakfast. It's a great start in the morning. Ten minutes walk will get you to all the sights in Salta and the busy shopping streets. On the street parallel to the address is a strip full of bars and cafés. My girl had some trouble sleeping with the beats pumping on Friday night though. I did not hear a thing.
Gracias Rein, fue muy útil tu comentario, y tratare de aprender Inglés, aunque no me queda mucho tiempo para ello, tengo mis hijos que algo saben y cuando es muy necesario me sacan del apuro. Es muy agradable cuando uno se encuentra con gente como uds, eso me hace querer seguir ofreciendo mi casa con gusto! Ojala vuelvan algún dia! Saludos Analía
---
Unfortunately our experience at Analia's place was extremely disappointng. Firstly we thought from the photo of Analia & another girl (presumably perhaps her daughter) that we were staying at a family run establishment which is one of the things my partner & I like about Airbnb. Certainly this is the image presented in the photos & the description. This is not the case at all. Although Analia was there to meet us on arrival & was friendly & couteous, the place is run more like a commercial establishment with nobody on site & when we needed to get in contact with Analia, she was hard to reach. The room itself has character & was clean but is tiny with barely enough space for 1 suitcase let alone for the 2 of us. Sheets are very poor quality, certainly from a European perspective. As Analia is not on site & there is no in house manager, breakfast is left out for you on a tray the night before & is one of the most stingy & disappointing breakfasts we've had on our trip so far. There were only 2 teabags provided, a small pack of toast crackers (no butter) & a tiny pot of cream cheese & jam. We requested some fruit & received 3 strawberries & 2 apples. The whole offering was barely adequate for 2 people. Despite being provided with a kettle, we weren't even provided with a few teabags. When we returned from a day out around 6pm, we found our breakfast tray & scraps still lying on the table outside our room. The final frustration was that we couldn't even lock our door so had to keep our valuables with us (or locked in our car) the whole time. When we finally saw some staff & told them of the problem, they agreed it was difficult & had to lift the door whilst turning the key. However no-one explained this to us on arrival. My partner & I have both travelled a lot & have realistic expectations of hotel standards in less developed nations but this place was definitely not value for money compared to other establishments we had stayed in.
Coincido en la experiencia desafortunada, es la primera vez que alojo personas tan exigentes, y maleducadas. (se fueron sin saludar, exigiendo en todo momento)Pero para que esta "evaluación" de mi alojamiento muy parcial y sin fundamentos verdaderos no sea tomada como verdadera paso a contestarte paso a paso lo que me has puesto 1. El alojamiento lo manejo yo, y mi hija eventualmente cuando no estoy, o sea es familiar, solo hay una persona contratada para la limpieza diaria. El edificio es grande y tengo también alquilados locales comerciales al frente de la casona, no encuentro el engaño que hace referencia Justine. 2-En la puerta de la habitación, ademas de varias referencias esta mi numero telefónico, por waths App se puede comunicar cualquiera, Justine llego el sábado con cierto apuro por irse de paseo por lo que no se pudo tener tiempo a dar muchas explicaciones, me disculpo por no hablar su idioma pero en esos casos y cuando disponen de tiempo llamo a mi hijo para que el explique en inglés, pero tanto justine como su pareja no demostraron ningún interés en escuchar nada. Llegaron un fin de semana, solo estuvieron un dia y medio . Ella se comunico via mail y siendo fin de semana, domingo de descanso es el único dia que no abro mi correo pero si tengo a a mano mi celular al cual en ningún momento se comunicaron. 3- HABITACION PEQUEÑA... cito lo que dice expresamente en el anuncio "Pequeña suite con cama matrimonial, ubicada dentro de una casona antigua, Patrimonio Arquitectónico de la ciudad de Salta, rodeada de arte y vegetación. Atencion personalizada, ubicación excelente cerca del lugar donde se encuentran todas las peñas y artesanos, próximo est. tren a las nubes" hasta ahora no veo donde he mentido y realmente me ofende. 4- DESAYUNO TACAÑO. Bien el desayuno ofrecido por nosotros es el continental café te leche en polvo , mate cuando lo solicitan, medialunas o algo dulce, tostadas mermelada , manteca cuando la solicitan. Se deja la noche anterior ya que generalmente salen muy temprano a las excursiones. Ahora bien nunca puse en ningún lado que daba desayuno bufet, que parece ser lo que querían, pese a eso escuche su pedido, sali corriendo a comprar fruta, sábado noche, algo de queso que entendí sea untable y no era asi, y les deje, leche verdadera como justine dijo no puedo dejar la noche anterior, (leche en polvo es mas cara aclaro) Yo tendría que haberles contestado que el desayuno que se sirve en mi casa es el que ya detalle y punto, pero me tome el trabajo de buscar lo que pedían y tengo esta respuesta?. creo que justine debe ir a hoteles de 5 estrellas y pagar la diferencia allí va a tener su desayuno almuerzo. Tomates? eso pidió el domingo a mi hija que quedo aturdida. Dejo saquitos de te y café para un desayuno , tal vez justine piensa que debo dejar también para la merienda? 5- domingo, no tenemos servicio, es el único dia de desanso del personal de limpieza, pero recogieron la bandeja a la tarde para dejar la otra, no es que no fueron., mi hija personalmete lo hizo. 6- SI TIENE RAZON EN LO DE LA PUERTA, lamentablemente yo no me di cuenta, y ya esta arreglado, se descoloco la puerta, pero nunca me mando ni siquiera por mail ese problema, obvio que se lo hubiera solucionado. 7- Quiero aclarar tema precio (para que vean que no me pueden comparar con otrs lugares), uds pagan en dólares pero yo recibo pesos y a un cambio oficial totalmente desfavorable, para que se den una idea si yo compro dólares con el precio que uds han pagado en pesos compro un 40% menos de dólar, o sea que no puede comparar con otros lugares. Si ud pago USS 60 yo recibo U$S 36. Lamentablemente tengo tantas buenas experiencias con mis alquileres que esto me da mucha impotencia y malestar. Recibo siempre las criticas para mejorar pero esto ha sido totalmente injusto y hasta insolente. Un dia y medio y un desafortunado sello a mi casa. Gracias
---
Reside en salta Argentina, Artista plástica, pintora y dedicada a la decoración y anfitriona en las suites de alquiler temporal.
Languages:
Italiano
Response rate:
100%
Response time:
within an hour
Explore other options in and around Salta
More places to stay in Salta: