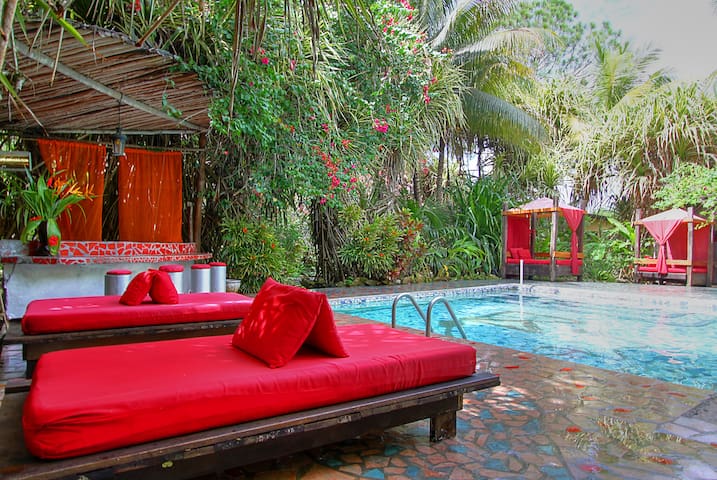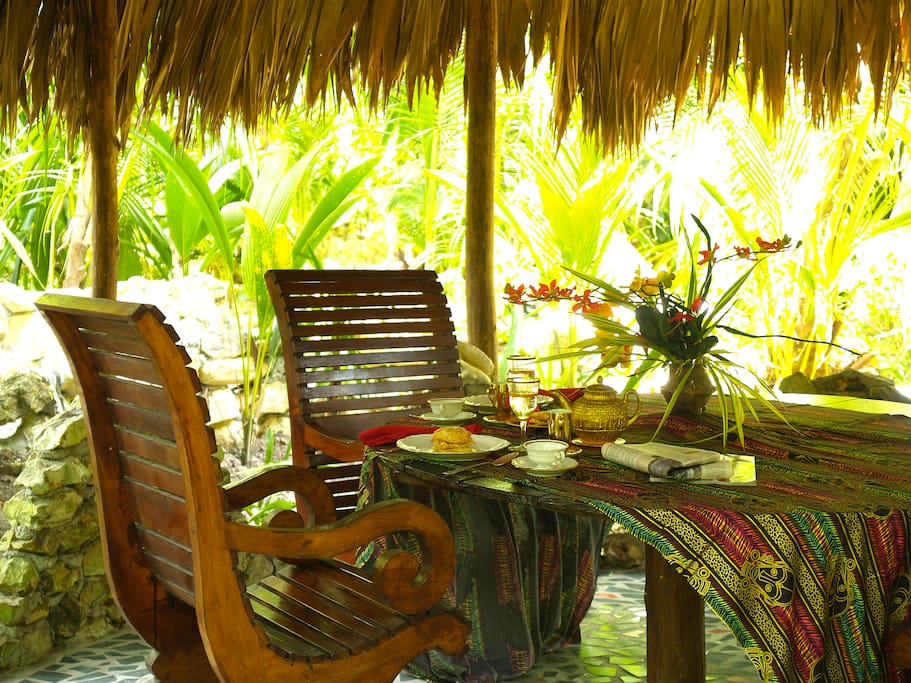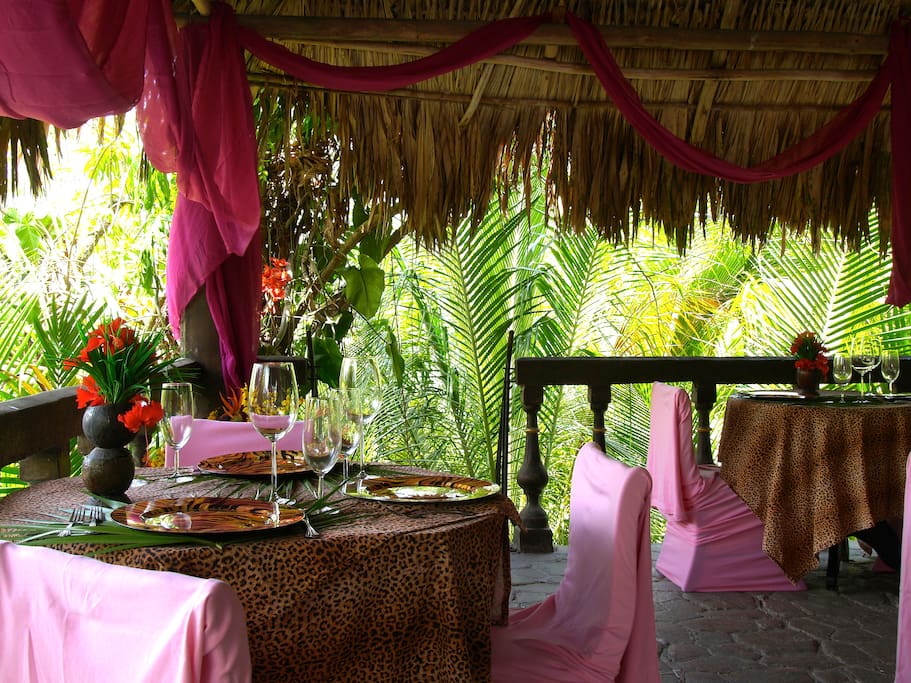 About this listing
The Mayan Loft: Uniquely designed in a Neo-primitive , tribal-chic style, using raw materials from the surrounding rainforest creating an elegant, yet contemporary, artistic atmosphere. With ornate mosaic floors, Palms,fresh hibiscus flowers adorn
The space
Get Junglized!
The Mayan Loft @Maruba Resort Jungle Spa is one of the many hidden treasures in Belize. Maruba Resort Jungle Spa is unquestionably the place to be. It is a Jungle luxury hip boutique resort and spa literally where the wild things are. If Tarzan came swinging through on a vine here, no one would blink. He'd stop for a cocktail and a dip in the hot tub. Humming birds swoop from the jungle canopy in this dreamy, romantic, and natural environment. Maruba is a quirky place that sings with nature. It is a distinctive alternative to the local day spa where treatments are derived from a meld of curative powers extracted from the remote jungle with science. This rare place on the Mayan trail is certainly not your typical style spa. The resort is an eclectic, exotic mix of Mayan, Creole, and African design. The Mayan Loft is uniquely created to evoke certain themes and every detail including the ornate mosaic floors is hand crafted. The furniture and art found at the resort are all designed and produced on site using natural raw material found in the rainforest.
This tropical paradise which is centrally located makes the perfect base for touring Belize.
Guest access
Melani and Nicky Nicholson are there to great you upon arrival to make sure that no guest misses out on the fun, or would have to dine alone, unless requested.
Guests of the Mayan Loft are a guest of the resort and have full use of the resort amenities, weight room, japanese tub, swimming pool, bar and restaurant, spa, maid service and room service.
Interaction with guests
The resort itself accommodate no more than forty guests at a time, to ensure privacy and exclusive individual care. We believe in blending relaxation and pampering with nature in an informal setting with personalized service with our guests. Maruba..... an alternative to the regimen and routine of a regular resort/spa. Not your traditional Spa or Jungle Resort, we offer something for the entire family.
Other things to note
Tours & Activities / The Spa
Maruba organizes hiking, jogging, bicycling, and boating tours. Horse fans will love riding through the rainforest with its incredible fauna, surrounded by the sounds of birds, and the deep mating call of the howler monkeys.
Only a forty-five minute unforgettable boat ride away in Maruba's own speedboat, through a jungle river filled with orchids and bromeliads, is the second largest barrier reef in the world (after Australia).
A paradise for divers and snorkelers.
Daydreaming in a hammock under a palm tree on a sandy beach, only interrupted with an occasional dip in the turquoise blue water – the "dolce vita" is just another alternative. The scenery in this tour as well as that at Maruba Resort provides the perfect background for photographs for honeymooners and wedding couples who decide on Maruba for their final "yes".
For the eclectic traveler, who is interested in the beauty of the ancient Mayan temples and relics, Maruba organizes guided cultural day tours, which include a jungle picnic – an adventure of a different kind.
Take the day tour to the Temple of Altun Ha, where the largest carved Jade head was discovered or visit Lamanai, the temple of the "submerged crocodile."
Maruba is strategically well positioned for one to enjoy a lively resort and spa vacation, as well as an adventurous vacation that includes a number of different sporting activities and cultural explorations.
Although most of the guests who visit Maruba are couples, families, groups of friends, but outgoing singles will also feel comfortable.
Franziska Nicholson and brother, Merickston Nicholson are there to make sure that no guest misses out on the fun, or would have to dine alone, unless requested.
Medicinal Safari Hike
Hike in the rain forest of Belize and learn about the medicinal uses of the vegetation and see wildlife in its natural environment. Advanced reservation required.
$25/person
Jungle Horseback Riding
One hour horseback ride through the jungle trails and Savannah. Advanced reservation required.
$45/person
Altun Ha
Ceremonial Mayan Site where the largest Jade Head was excavated.
$45/person
Baboon Sanctuary
Walk the trails of the Santuary and see the famous Howler Monkeys in their natural habitat.
$75/person
Crooked Tree
This tour is for the serious bird watchers. Best done early morning. Float along the Crooked Tree Lagoon and view the famous birds of Belize.
$125/person
Lamanai (Submerged Crocodile)
One hour jungle boat ride to the ruins, see various birds and other wildlife as you walk the trails and tour the Mayan Ruins.
$125/person
Cave Tubing
Jungle hike above the Mayan Caves, float down through the caves and see its wonders.
$125/person
Cave Tubing & Zip Lining
Take a tour of the jungle while soaring over tree tops. Feel the adventure. Tour done by request along with Cave tubing.
$175/person
Actun Tunichil Muknal Caves
Explore the Mayan underworld and experience life an the Mayan did. A thrilling adventure! Considered an extreme tour. Prepare to be in the water 90% of the tour.
$200/person
Snorkeling
Ride along the scenic Northern River out to the sea. Snorkel with tropical marine life and enjoy a couple hours of Belizean Island life.
$135/person
Marubian Scuba Adventure
2-tank dive off the second largest Barrier Reef in the world.
$275/person
Day at the Cayes
Visit the Cayes for the day by going directly by boat from Maruba.
$100/person
River Fishing
Fish the Northern River & Lagoon
$200 (2 persons)
Costal Fishing
Fish the Costal Flats & River
$275 (2 persons)
Belize City Land Transfer
Round trip land transfer to Belize City.
$160 (2 persons)
Belize City Transfer One Way
One-way land transfer to Belize City water taxi or Municipal Airport.
$70 (2 persons)
Airport Transfer
Round trip land transfer from the Philip Goldson International Airport.
$60/person
Boat Transfer
One-way scenic transfer to San Pedro, Ambergris Caye.
$75/person (Minimum 6 persons per trip)
Helicopter Tours & Transfer
Heliport on property. Tour Belize by helicopter
and experience thrilling adventures!
Parking is complimentry.
Note: 12.5% Sales Tax not included. Prices are subject to change without notice.

Maruba Therapy is a line of natural body products developed in Belize for Maruba Resort Jungle Spa. These products which are derived from natural ingredients from the jungle, were originally designed for exclusive use in our spa and are now available to an international market. Ayurvedic healing therapies can be introduced into more traditional spa treatments through the use of our products. Our line of natural body products including Mood Muds can be applied in a variety of treatments…….. They can be used on literally all external parts of the body; nails, hands, feet, face, body & hair treatments. Mood Muds aid in stress relief, exfoliate, moisturize, enhance mineral rejuvenation, detoxify, provide aromatherapy benefits, or assist in the elimination of cellulite. Mud is one of the oldest natural treasures on earth, prized for centuries for its high mineral content the ancients knew well its healing and beauty secrets. "Back to nature and experience the ancient secrets of health and beauty with Maruba Therapy products.
Spa Menu
Seaweed Massage
Seaweed is used to massage the body, relaxing the muscles and increasing the circulation. This aids in the reduction of cellulite, restoration of elasticity and revitalization of the skin.
$100
Mood Mud® Massage
Mood Mud® is used to relax your muscles through vigorous manipulation. The Mood Mud® is then allowed to dry as a pack. This treatment relaxes and relieves stress as well as detoxifies and firms the skin.
$100
Aromatherapy Massage
You are massaged with the rare essence of oils derived from the Marugan tribe. It is an aromatic massage, which is an experience of natural wonders. This is excellent for reducing stress and muscle fatigue, while improving circulation.
$90
Jungle Herbal Wrap™
Steaming linens soaked in a rare essence of exotic herbs from our surrounding jungle environment, enclose the body. Soothe and relax tired muscles, while the body is revitalized. This stimulates the circulation, eliminates toxins, purifies the skin and cleanses the pores while it provides a smoothing, firming, restorative action.
$70
Seaweed Body Wrap
The body is covered with seaweed gel and then warmly wrapped, to aid on the absorption of nutrients, as well as detoxification and purification of the skin. This also aids in the reduction of cellulite and the restoration of elasticity. Leaves skin looking and feeling smooth and rehydrated.
$80
Mood Mud® Body Wrap
Mood Mud® is applied to the body; it is then wrapped in warm linens, which aid in the absorption of minerals. Remoisturizes the skin, while eliminating toxins. Leaves skin rehydrated and replaces lost nutrients.
$90
Mood Mud® Body Pack
Experience the mysticism of ancient times as one or a combination of our Mood Muds is applied to the body. These muds are natural treasures from the earth, which revitalize, detoxify, firm, and reestablish the skin's natural pH balance. Choose an aromatic mud to stimulate your senses while the healing energies envelop you or use the muds as color therapy.
$80
Mood Mud® Bath
$50
Marugan Body Scrub™
$120
Mafasa Mud Body Scrub™
$95
African Honeybee Body Scrub™
This treatment exfoliates the skin while at the same time restores moisture and revitalizes the circulation. Leaves skin glowing and silky smooth. Try our Mafasa Mood Mud Body Scrub or Marugan Body Scrub, which, was used in ancient times to cleanse the body for ceremonial events.
$85
Sugar Cane Molasses Scrub
Leaves skin glowing and silky smooth. Adding sweetness to your soul.
$90
Benin Cellulite Treatment™
This treatment is specially designed to reduce cellulite from the hips, thighs, and love handles in men. Using a combination of our natural enzymatic mixture and Benin Mood Mud®, cellulite is broken down, circulation is improved, and toxins are removed leaving firm, tight skin. This treatment complements any diet and exercise program.
$75
Arthritis Mud Pack / Eczema Treatment
1st visit, includes physician evaluation – $150
Subsequent treatments – $50
Physician Appointments upon request
Botox-facial Rejuvenation
(prices vary depending on treatment, advance appointments required)
Facial Menu
Cleansing Facial
$65
Anti-Aging Facial
Recommended after sun exposure.
$75
Hydrating Facial
$75
Hair Pack
Mood Mud, honey, or seaweed.
Mood Mud: Depending on your hair texture & color, one of our Mood Muds is applied to the hair. Restores nutrients and moisturizes while it neutralizes the pH. Leaves hair shiny and silky soft.
Seaweed: Our Seaweed Hair Pack restores nutrients and elasticity to the hair, revitalized and shiny.
$30
Beauty Salon Menu
Manicure
30-45 minutes. Includes hand scrub, hand & arm massage.
$35
Pedicure
45-60 minutes. Includes foot, partial leg massage & scrub.
$45
Exercise Menu
Horseback Riding
1-2 hours (varies)
$45
Jungle Safari Hike
$25
One on One Exercise
$45/session
Note:
12.5% Sales Tax not included.
Prices are subject to change without notice.
Advance reservations are required for all services.
There will be a $15.00 fee for cancellations within 3 hours.
No shows will be charged full value.
Hotel transportation or Limousine services are available at an extra charge.

---
Check In: Anytime after 2PM
Room type: Entire home/flat
---
---
Always communicate through Airbnb
To protect your payment, never transfer money or communicate outside of the Airbnb website or app.
Learn more
---
Bedroom 1
1 king bed, 1 sofa bed
Common spaces
1 single bed
---
Check in is anytime after 2PM
Code of Ethics for the Responsible Traveler
•Travel in a spirit of humility and with genuine desire to meet and talk with local people.
•Be aware of the feelings of the local people; prevent what might be offensive behavior.
•Cultivate the habit of listening and observing rather than merely hearing and seeing or knowing all the answers.
•Realize that other people may have concepts of time and have though patters which are different than yours.
•See the exotic, discover the richness of another culture and way of life.
•Get acquainted with local customs and respect them.
• Remember All guests are considered special by the staff and we try our best to accommodate every guests needs
•When shopping through bargaining, remember that the poorest merchant will give up profit rather than give up his/her personal dignity.
•Make no promises to local people or new friends that you cannot implement.
•Spend time each day reflecting on your experiences in order to deepen your understanding. What enriches you may be robbing others. If you want a home away from home, why travel?!
---
Strict
Cancel up to 7 days before your trip and get a 50% refund. Cancel within 7 days of your trip and the reservation is non-refundable.
---
This place was truly paradise. Everything we imagined and more. Everyone was kind, helpful and made our stay special. The artwork and design is amazing in itself. The excursions to the ruins and the river boat ride were extraordinary and the tour guides were engaging and educational. I'd recommend this to anyone wanting to experience the beauty of Belize, the jungle and opportunity to feel pampered with a mud massage or just lay by the pool. I was celebrating my 50th birthday and the owner and staff had balloons, made a delicious cake just for me and sang happy birthday. I didn't expect that and was truly appreciative of the time and thoughtfulness. We'll be back!
---
This is the place, cool vibe and chill! From the moment we arrived at Maruba resort we knew we made the right choice of where to stay in Belize. This place is so amazing, we loved everything about our stay. When we arrived we were greeted with a delicious rum punch served in a coconut cup, which made check in a breeze. We immediately were made to feel welcome and treated so well that we felt right at home. This all continued when we were led to our loft which was furnished with the most beautiful furniture and thoughtful touches like the slippers left on giant palm leaves by the bed (not kidding this is really what they do!). My daughter couldn't get over it and I have to say it's a mother/daughter trip that neither one of us will ever forget. This place is so amazing – everywhere you look you can see different artistic touches that let you know that the owners truly care about every detail. It's almost like staying in a work of art in the middle of nowhere/the jungle. The Mayan Loft that we stayed in was the most romantic place and even though I was on a trip w my daughter, I can't wait to go back again with my husband. This place was huge and beautiful and the photos even though they are great, don't begin to do it justice. The floor is an artistic mosaic of crafted tile and mahogany beams soar overhead. When we left our loft (which we almost never wanted to do!) we found all these lush jungle paths all over the resort which lead to different areas including pools, a Japenese tub, the spa and restaurant. We really went to Belize to get away from it all and chill out, however we were pleasantly surprised to find a wonderful spa at this property – so we indulged in a massage and 2 other body treatments that were on par w those I've had at some top places in big cities. The resort offers all kinds of tours which ultimately focus on getting into the surrounding nature and history of the Mayan people so our trip to the ruins and our snorkeling adventure from the resort and back certainly did not disappoint. This is one of the most adventurous and memorable places I have ever stayed in my life and I cannot recommend it highly enough!!! 5 stars and more!!!
---
The resort and the spa were conceived and created in the 1980's by my sister and myself of American and Trinidadian/Austrian decent - designer Franziska Nicholson and physician Dr. Veronika Nicholson. The world traveled and free spirited sisters harmoniously blended the various Mayan, Creole, and African designs side by side with the jungle setting. This unusual
result is a relaxing, artistically natural environment with a vibrant flair. It is a successful combination of modern amenities, fine cuisine, a vibrant bar, hip music and a diverse spa.
My brother and his wife now manage the resort and greet the guests with a friendly Jungle vibe!

Languages:
Deutsch
Response rate:
75%
Response time:
within a day
Exact location information is provided after a booking is confirmed.
Explore other options in and around Maskall Village Belize District
More places to stay in Maskall Village Belize District: