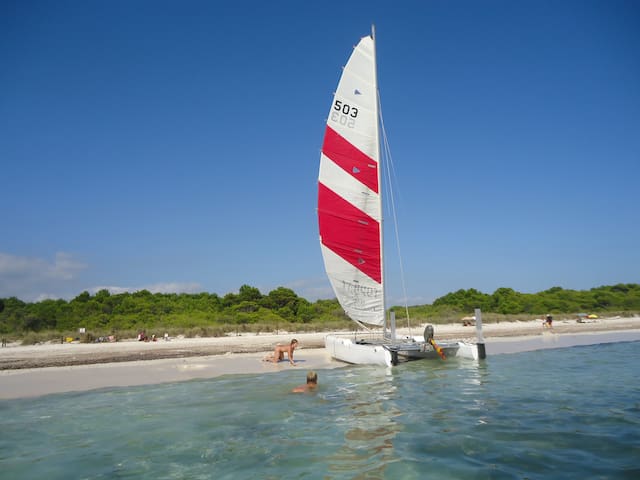 Playas Son Saura: in country-house.
Playas Son Saura: in country-house.
Private room on the Upper-floor in the country house " Sa Tosqueta". With direct acces to the terrace with sea views and the sunset on the skyline.
The space
Private room with maximum privacy and with the right to use the kitchen, pool, tennis court, and common spaces: terraces, dining room, gardens, all in an estate of 18.000 square meters in the middle of the field of Menorca.
.
We are 6 miles from Ciutadella, where you can find and enjoy:
Traditional market of fruits and vegetables, with organic produce.

Lonja Fish (cooked and prepared to your liking, and served on table and with chairs at the terrace of the auction itself, a luxury that you can enable on this holiday). Located in the historic center of " La Ciutadella".
Supermarkets Mercadona, Lidl, Dia, Eroski found in the industrial estate.

Casino "17 Gener" located on Constitution Avenue open 24 Hrs.

Racetrack "Torre del Ram" with harness racing (thoroughbred horses pulling a cart with a rider, English mode) and the ability to bet every Sunday of the year at 17 Hrs.

Peña Barcelona Football Club, located in: Av Negrete No. 1, in the "CAFETERIA OAR".
Peña Real Madrid Football Club , located in: Carrer Consolacio our Lady, in the "CAFETERIA CA'N Ruz."

Nightclub "Space" with entry discounts.

Yacht Club open free to the public throughout the year, with the possibility of taking sailing lessons for children or adults, and rent boats with or without qualifications ...) The restaurant in the club has a wonderfully breathtaking romantic views over the historical harbor.
Cultural tours guided or not (as you decided).Visiting : 1.-Castle Sant Nicola(URL HIDDEN) 2.- Municipal Museum. 3.- Cathedral of the island, although Ciutadella it is not the capital of the island (Mahón is the one), Ciutadella has the privilege of owning and hosting the cathedral. 4.- Historical old town. 5.- Ses Voltes.
We are in a prime location directly communicated with some of the best still unspoilt beaches of the Balearic Islands:
Cala Macarella and Cala Macarelleta 5 km,
Cala Turqueta 4 km,
Cala Es Talaier 3 km,
Beaches of Son Saura 4 Km.
The place for it privacy, is ideal for lovers, sports lovers in nature, hikers, climbers (Menorca is home and pioneer of Psicobloc "Deep water soloing"in the Mediterranean), cyclists, birdwatchers, and interested in the megalithic prehistoric heritage as rich and unknown in our island, where more than a dozen archaeological sites in Talayotic villages 4,000 years old and in perfect condition, with their Taulas, Talayots, Navetas, Salas hypostylas, dolmens…. are scattered strategically around the island, and we assume that this was due to the high degree of hierarchical organization should possess its inhabitants.
Menorca has inventoried 1.800 archaeological sites, and of these ones today there are 1.500 declared already: BIC (B.I.C.-----Public-ownership of Cultural Interest) and it is these B.I.C.´s that support than the island is undoubtedly "an open air public outdoor museum."
Since 2011 and after many disputes in court against the owners of several estates, has returned to recondition with notable improvements, restoring and reopening the full ancient and medieval "Way of Horses"---"Cami de Cavalls", a route of about 216 kilometers, bounding across the island along the coast and now may be passable by all public walking, horseback or mountain bike riding, thanks to the commendable and advocacy work of the many friends of this unique path.
The house has everything you need for a pleasant and relaxing stay in Menorca Biosphere Reserve today. From my humble position I congratulate you for this privilege granted by UNESCO, for your 20 years of ownership of such honorable title.
We have a pool of a mirror surface of 12x6 meters open 24 Hrs. from the 10th of June to the 30th of September and a tennis court where you can practice some sport. Here we have installed a basketball net where you can shoot the basket until well baskets. We provide racquets, tennis balls, and basketball.
In the village there are some commonly used terraces of 75 square meters on the ground floor and another 15 square meters in upper floor with views of the sunset over the sea and the island of Mallorca.
On request we have mountain bikes, diving equipment and spear-gun fishing (license required, with some restrictions on the island), tennis lessons in our own court, sailing catamaran ( with services PERFORMED PERSONALLY.Look at the pictures).
Being a house with shared kitchen and bathrooms, we expect and hope that after each use, just leave everything the same way it was found clean or even better.

My relationship with guests depends on what they need me. Try your stay on the island as pleasant and economical as possible.

THE BEST OF OUR NEIGHBORHOOD, IS THAT WE DON´T HAVE NEIGHBORS.

WELCOME.
OUR ISLAND IS YOUR ISLAND.

---
---
Check in is anytime after 3PM
By find us located 6 Km from Ciutadella, using your own transport is a must, and if you come to the island I guess than you want to visit endearing sites, so we can assist you in renting cars, motorcycles, 4x4, bicycles, horses ...

We ask for a security deposit of 50 € when you arrive to the house, and we returned to you enterelly if everything is correct.
Courtesy and consideration for the other inhabitants of the house to smoke inside of the mansion is NOT allowed.

---
---
---
This was our first ever Airbnb experience. We also have never lived in a shared apartment before, so our trip to Menorca was all about new discoveries. Overall: Jose and his wife speak fluent English and were happy to help with anything we needed. The 'sharing' part didn't bother us at all. Most of the time we were leaving very early in the morning when everyone was asleep, and coming back when everyone was still out. Luckily, never had to wait for the free bathroom or a kitchen hob. All the guests were very respectful to each other. However, it seemed like majority of guests were speaking Spanish (which is of course expected), so dinner gatherings with Jose, his wife, sons and all the guests did seem a bit awkward for us, and we never joined them for dinner. House: is very clean and looked after. There are 5 bedrooms and three bathrooms. Despite sharing the kitchen and bathrooms with other people, it was always clean and easy to access. It can get very hot in the house, if you are coming peak season, be aware - there is no air conditioning and no fans. Location: is absolutely perfect to quickly commute to the best beaches on the island, you can't think of a better place to be. Conveniently close to Ciutadella as well. Facilities: you can take out the fridge boxes, diving equipment or sun umbrellas for free. There is a swimming pool on the premises, which we didn't get to use, but it did look very clean and looked after. Jose keeps some turtles by the pool as well, who really like watermelons! :D Tip: request Son Saura room if you get a choice, as you get easy access to the balcony, where you can witness a beautiful sunset and shores of Mallorca.
---
This is a beautiful property on an island in paradise. The house is nicely located in between some amazing beaches, biking around is ideal. The house itself is layed out very nice and would be perfect to rent all three rooms if you had a family or friends trip. Just down the road either way there are local farms where you can buy fresh cheese, meat, salami, produce, and bread. I highly suggest doing this, you wont even need to go to the grocery store ;-) Also bike or drive to the beach and hike on the Cami de Cavalis to reach other beaches and walk along the coastal cliffs for some amazing views of the island. It is truely an amazing island to see, and Jose Luis's place is the perfect place to relax and enjoy the evenings after a day of adventuring.
---
A home away from home :) All rooms have been very warmly decorated and have everything you need. More importantly, José truly gives you a warm welcome to beautiful Menorca and is the perfect host. The finca itself has a swimming pool, huge porch/terrace, hammocks, turtles in the garden and amazing views. It is located along a typical country road close to Ciutadella and some of the prettiest beaches on the island.
---
Really happy we came here. Best beaches in menorca just a short drive away. House is beautiful and very clean and organised. I think José and his family love to have people stay there, it's not just a job for them. José and his wife speak perfect English. House is in a very quiet location and Swimming pool is great after a day at the beach. We will be coming back soon.
---
Hola,ya tengo XX años ( demasiados para escribirlos) y todavía conservo una pasión que domina sobre todas las demás: La Mar y todo lo que la rodee.
Aunque no por ello descarte que prefiero mis momentos con mi familia & "mis amigos", y los placeres de la dolce vitta como a todo el mundo.
Habéis pasado muchos huespedes por casa y con sus dulces momentos siempre he salido más reforzado en mi idea de seguir en este negocio, porque sois vosotros hoy por hoy los que me hacéis vivir el día a día ocupado, y por eso os doy a todos muchas gracias por venir y disfrutar conmigo de este mi paraiso "La gitana de la Mar" que os cuido para cuando queráis venir a disfrutarlo en la isla de Menorca.
Abrazo
Languages:
Dansk, English, Español, Français
Response rate:
87%
Response time:
within a few hours
Explore other options in and around Ciutadella de Menorca
More places to stay in Ciutadella de Menorca: