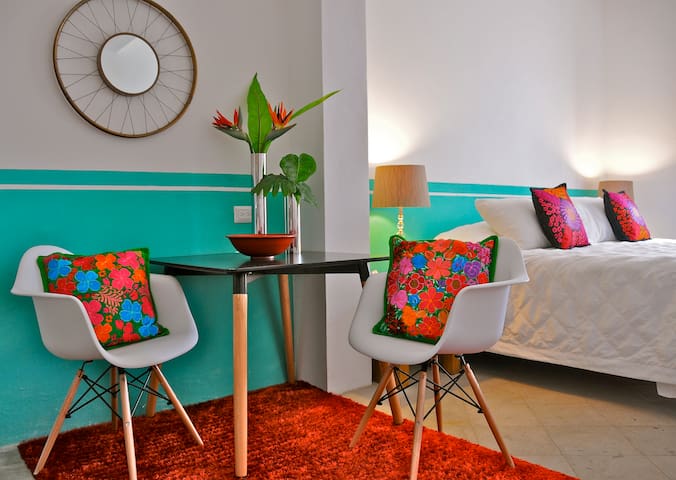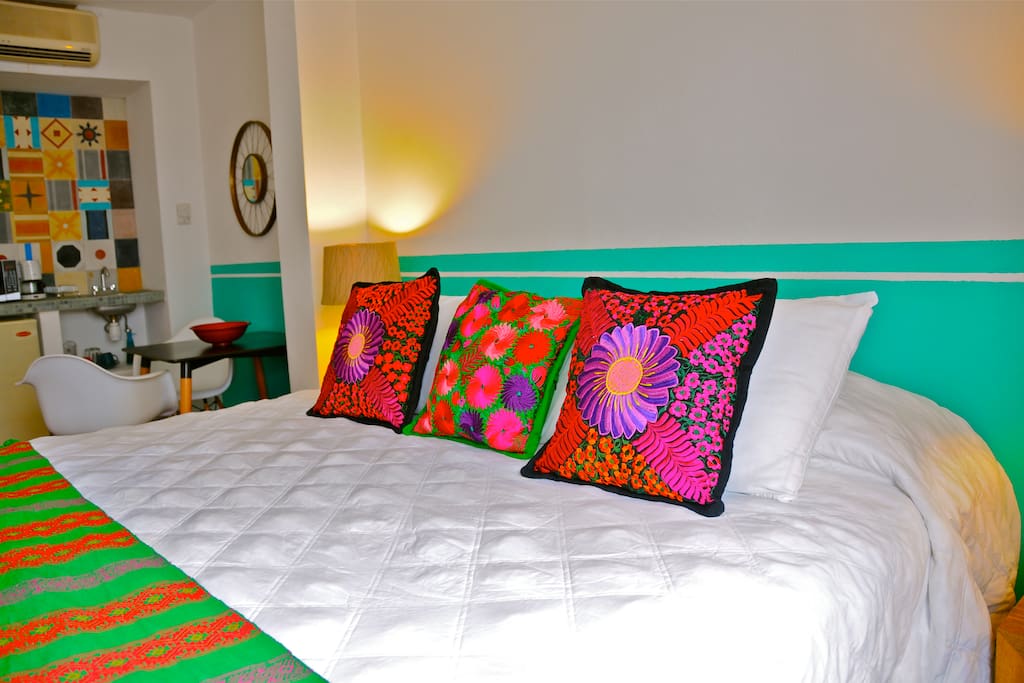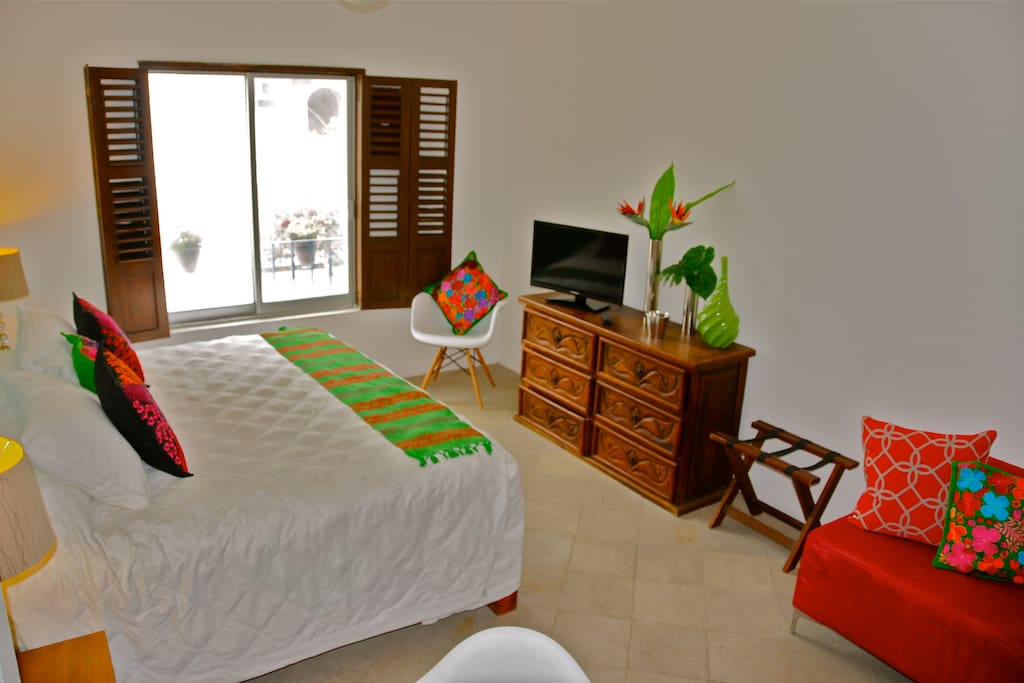 GAY BEACH-ROMANTIC ZONE JR SUITE 01
This is part of the New Mercedes Petit Hotel, THE boutique hotel in PV's gay beach. We have Studios, Lofts/Suites, PH's, 2 restaurants, convenience store, all in the premises. Concierge and daily room service. See below for more info on this unit.
The space
Spacious Studio/hotel room with mini fridge, kitchen sink, microwave, full bathroom, daily maid cleaning service, air conditioning, cable flat screen tv, ceiling fan, sofa that sleeps one person, king size bed, and access to common areas including, swimming pool, roof terrace with ocean views, lobby and concierge.
This is a 380 Sq Ft studio/hotel room. The unit features air conditioning, flat screen cable tv, wifi internet, king size bed, mini fridge, kitchen sink, microwave, sofa, desk with chair, and 1 full bathroom. We cater mostly to gay visitors who want to relax and have a good time. No children are allowed, but open-minded adults of all preferences are.
The BEST location in town if you wish to be in the middle of the gay "Zona Romantica" neighborhood and half a block from Los Muertos Beach and beach clubs. The neighborhood is very charming and safe with tons of entertainment options. Just an easy walk to Puerto Vallarta's gay night life. And there are tons of restaurants and bars in the neighborhood for any taste. Our guests rarely need to use a taxi at all. Mostly everywhere you'll want to be is walking distance from us.
Building amenities include courtyard with swimming pool, 2 restaurant/bars in the building connected to our courtyard, roof tanning terrace with partial ocean views, maid/cleaning service every day, lobby with concierge, free Nespresso for guests, and a taxi stop right across the street.
Walking distance attractions include:
* Pulpito-Amapas with its restaurants, bars and farmer's market
* Olas Altas Street with its cafes and restaurants
* Los Muertos Beach and Conchas Chinas
* The Blue Chairs beach club
* The Malecón with its nightlife, galleries and shops
* The Church of Guadalupe, Vallarta's Historic Cathedral
* The Cuale River market and river walk
* The new pier at "Los Muertos" with daily water taxis to nearby attractions and beach towns.
This is a charming building with studio rooms, one bedroom units and lofts. "Tropical Mexican Architecture", there are other units available. Please let me know of any questions. The beach photo was taken a block away from the building at the adjacent "Muertos" Beach in Zona Romantica (Romantic Zone).
VISITORS:
As opposed to most places that do not allow visitors; here you MAY have visitors in your unit at anytime!! However we require discretion and that you and any visitors respect our property and other guests please. NO big groups and/or loud parties in the units are allowed. Thank you!
We will also send you additional information that will be useful for your arrival and stay with us prior to your travel dates. :-)
---
---
Always communicate through Airbnb
To protect your payment, never transfer money or communicate outside of the Airbnb website or app.
Learn more
---
Check in is anytime after 3PM
VISITORS:
As opposed to most places that do not allow visitors; here you MAY have visitors in your unit at anytime!! However we require discretion and that you and any visitors respect our property and other guests please. NO big groups and/or loud parties in the units are allowed. There is camera surveillance 24/7. Thank you!
We will also send you additional information that will be useful for your arrival prior to your travel dates. :-)
---
---
Beautiful hotel with a great room, outdoor ambiance and very friendly service. We were able to sleep in late when we needed in the quiet neighborhood and had all the amenities we could have asked for - pool, restaurant, lounge areas, etc. Thanks for an incredible first trip to PV...would highly recommend for anyone else looking for a relaxing stay and central location to just about anything you need!
---
The place is awesome. Love it. I would recommend changing the noisy air conditioner but otherwise fantastic spot.
Response from Raul & Oscar:
Thank you so much for your review Anand. It makes us very happy to have satisfied guests that leave with a smile. We will certainly be looking into maintenance to the A/C in the unit you rented. All our A/C units are newer mini split technology which makes very little noise so this should not be happening. We will make sure this gets fixed for the unit you stayed at. Raul
---
Its a small 3 floor hotel in the Zona Romantica. We stayed in a junior suite on the second floor. it was a high room with a small kitchenette. It had a microwave, sink and refrigerator. there cups and dishes to use. I loved the colorful pillows in the room. The bed was big and comfortable. There's no central AC, just a room unit and a fan, but it cooled down the room sufficiently. The bathroom was a decent size. Theres only a shower no tub. And the window in the bathroom is always open, there is no glass. sometimes there would be the teeny tiny little black ants, but they don't bite. Id see a few every now and then in the bathroom. they did not bother me because I'e seen them before in place I've stayed at before in tropical locations. theres no hair dryer, so bring your own. The workers are very friendly and helpful. They have a small pool but it's in the shade so the water is cold. I loved the location. Just turn the corner and your at Los Muertos Beach. Excellent eateries are right next door like La Palapa, Maia, 116 Pulpito, and Coco's Kitchen (look at their reviews on trip advisor and you'll see what I mean). There is a corner store right next door for small groceries too. Raul was very easy to get a hold of and was willing to work with us since we were coming late. The lobby closes after 9pm , so make sure you contact them if you check in later than that time. Our plane was delayed and we didn't get in until 2am. Luckily i was able to contact them and they waited for us.
Response from Raul & Oscar:
Hello Maite, We appreciate your review. With regards to your comment about the "open" window in the bathroom, we need to clarify that this is NOT a big "open" window where people from outside can see you. This is a VERY small opening at 6' from the floor where no one can see you from the outside. It is also not completely open as it has a clay screen which is an important historical architectural element of the building. And it is needed for ventilation. This has never been a problem and it is a very common solution used in the tropics to bring ventilation to bathroom spaces. However, it is very important that it is understood that this is NOT a privacy invasion and no one can see you from outside since the "opening" is only 12" by 15" and located at 6 ft from the floor. Also, like I mentioned it is an important historical element of the building. We are by no means a modern chain hotel/resort, and we are not trying to be one, we dislike them and our concept is very different. We cater to guests who appreciate historic charm and integrity. Also, almost no building in PV has central A/C, they all use individual mini split systems by room. Things in Mexico do not work as they do in the USA, systems are different. But the point is, that the A/C does work very well and keeps the entire room cool and comfortable, be it central or not. As for the "shaded pool" this happens only in the months of November to February, where the sun is blocked by the building next door. Unfortunately we can't control the sun trajectory and neither can we control the height of the building next door that blocks the sun part of the day in some winter months. This is why we have a roof top terrace that gets sun all day so people can tan there during the few hours of the day when the pool is shaded (because it is NOT shaded ALL day at all, only in the afternoon). With regards to late check in, yes, we waited for you as we do with with ALL guests that arrive after 9pm. All we ask is that they let us know their arrival time so that we wait for them. This has never been a problem as long as the guest lets us know. We do send all guests detailed information with reception hours and phone numbers they can call in case there are plane delays. Just like you did when your plane got delayed and I responded within 2 minutes letting you know we would be there waiting for you. It wasn't that you were lucky to contact us, we were expecting you and were not going to go to bed that night now knowing what had happened to your flight. This is not luck, it is being responsible on our end. Thank you for you feed back, but we really needed to clarify some of your comments as they can be easily misunderstood by other guests. We are a small 16 unit boutique hotel and guest reviews are really important for us and they can harm our business very easily if things are left unclarified. The vast majority of our guests have very positive reviews and it is them that keep our business alive, so we always strive to keep happy and satisfied guests as you can see from 99% of our other reviews. Now, with regard to the tiny ants, this is Puerto Vallarta, one of the most tropical and humid places on the planet. There are of course ants and different bugs everywhere you go. BUT we do call the exterminator every month and make sure no big or dangerous bugs hang out within our premises. The tiny ants you are talking about will be everywhere outdoors and they are completely harmless. They will not be inside your room though, especially if you have the A/C on and you close your window. With regards to no tub in the bathroom, we do NOT advertise this room as having a tub so not sure why you were expecting to have that. We like to remind you and all our guests again, that this is a historic property with lots of charm but no bath tubs or central air or other things you find at big resorts, and again, we are not trying to be that. We find big resorts boring and lacking character, our concept is very different and unique. Also, our property might be historic but our furnishings and beds are all new and contemporary designed by Kartell and Philippe Starck which in our opinion creates a much more interesting and charming decor than most big resorts. Thank you again.
---
This place is paradise and I will definitely be back. Check In was easy. I did not have a chance to meet Oscar and Raul but Betsy was very helpful. Everything was clean. The location is unbeatable. Barely a 2 min walk to the beach. 5 min walk to all of the restaurants. I cannot wait to get back and it will definitely be here.
---
As has already been discussed in other reviews, the enjoyment of my stay was greatly affected by the noise and dust of the condominium construction right next door. Still, the staff at the front desk were lovely and accommodating and the cleaning staff were quick and efficient although I never met the hosts. A head's up: The pool is not heated and does not receive direct sunlight so it is quite cool and was used infrequently. Los Muertos Beach, however, is right around the corner so not a big deal. I highly recommend Maia Restaurant that connects with the Villa's courtyard. The service and food quality was exceptional and very affordable.
Response from Raul & Oscar:
Thank you for your review William. We are sorry your stay was somehow affected by the contruction next door. They are now 99% done so this will no longer be an issue if you choose to come back. With regards to the pool, we are in the process of installing a heating system for it so that will be done soon as well. The cool water together with construction next door has kept our guests from using the pool much so we're working on this. Like I said, construction will not be an issue anymore, they are scheduled to be completely done this month. Also we are almost done remodeling our rooftop area so people can tan since the courtyard gets minimal sunlight during the winter months. Thanks again. Raul
---
My business partner Oscar and I are both architects and manage a small boutique hotel (Villa Mercedes Petit Hotel) in the heart of Puerto Vallarta's "Romantic Zone", just steps away from Puerto Vallarta's Los Muertos Gay Beach and the best attractions in town. Our architecture studio is in the same building and we have an office in Los Angeles as well. We cater mostly to gay visitors who want to relax and have a good time; no children are allowed but open-minded adults of all preferences are welcome. We will be happy to help you with any questions you might have about our units, so please don't hesitate to ask. Also, we'd be very happy to assist you at your arrival (and throughout your stay) with tips and recommendations about what to do while in town.

We also manage 3 condo units we designed in the Historic Downtown Puerto Vallarta area. Please look at "Listings" for more information. Cheers!
Languages:
English, Español, Français
Response rate:
100%
Response time:
within a few hours
Explore other options in and around Puerto Vallarta
More places to stay in Puerto Vallarta: