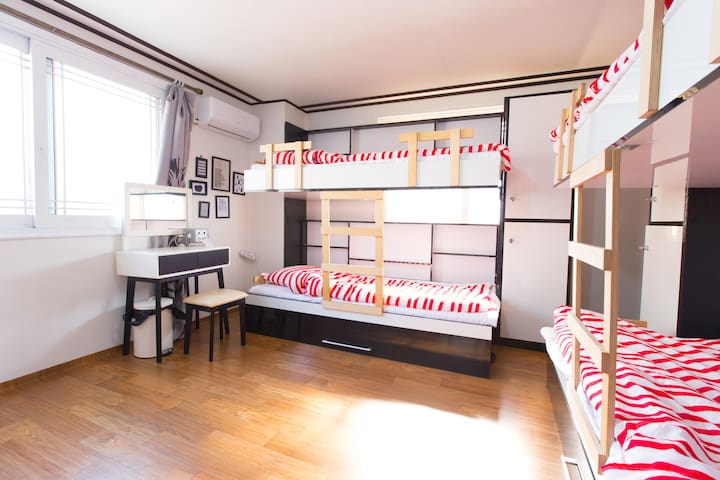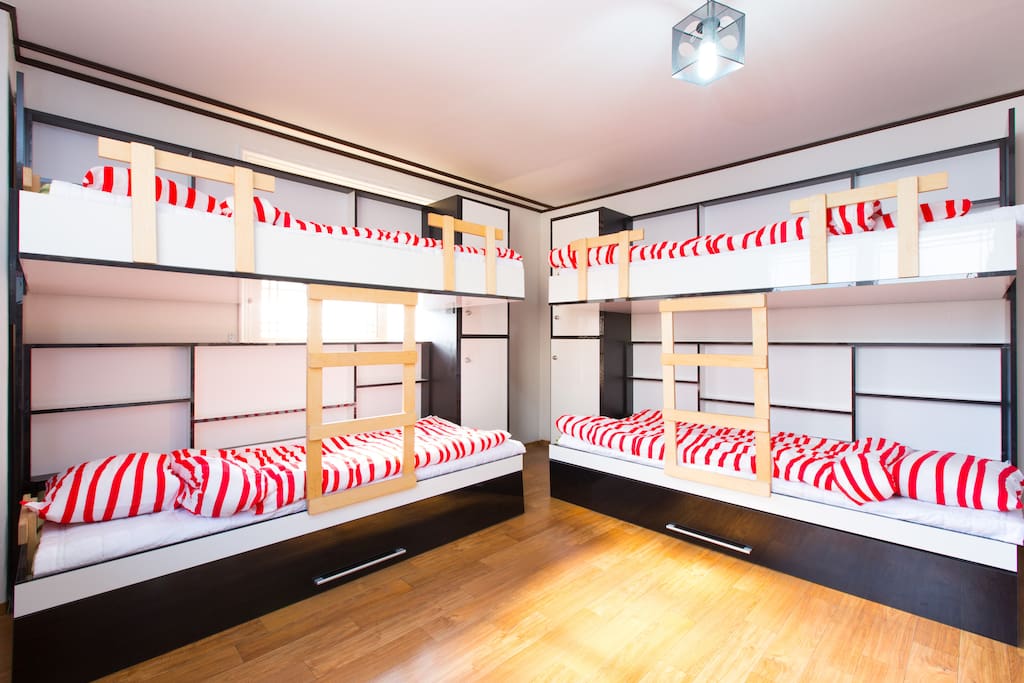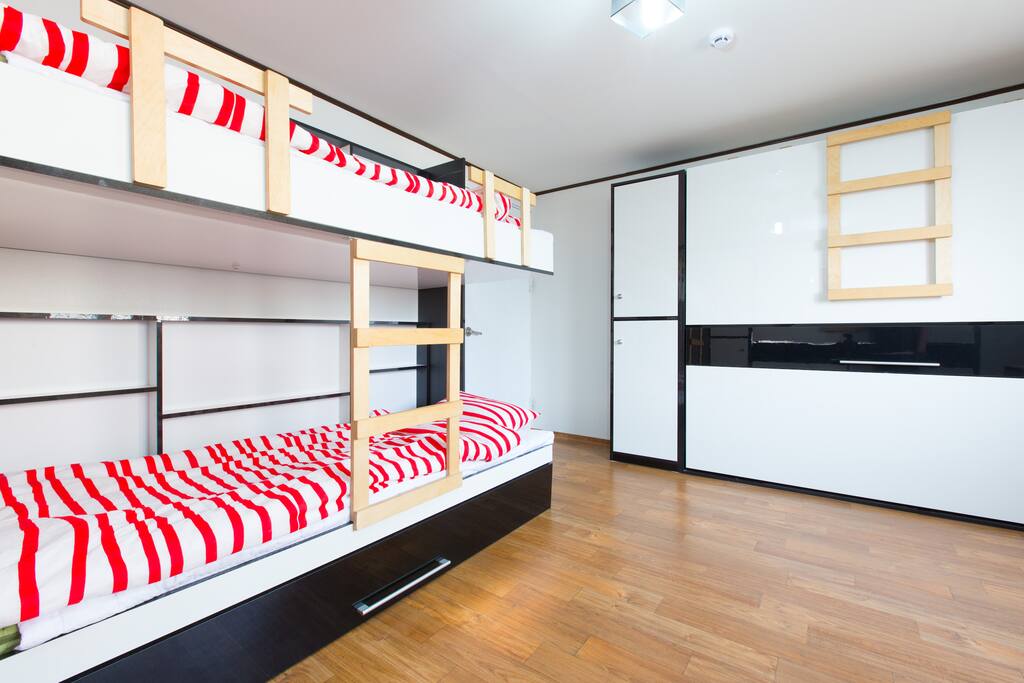 Nanu Guesthouse 6 Person Room
Nanu guesthouse is a flexible organization located in the dynamic Hongdae area. Hongik University subway and Airport Railroad are within walking distance. You can meet new people in the area, eat delicious food, and enjoy various nightlife options.
The space
Our rooms are cozy with special bunk beds, which you can fold. This means that when there are no other guests, your room will be very spacious. Each bed has a designated locker. There are two bathrooms and a living room to hang out and meet other travellers. The rooms in general are dormitories, but due to the folding bunk beds, they can also be used as private rooms for an extra payment.
Guest access
- Curfew and locking system
There is no curfew and the door has an automated locking system with password.
- Check in Check out time
We will do our best to make you feel comfortable. This means that you can check-in and check-out at irregular hours or even extend your stay after discussing this with us. However, your beds will be ready at 3 PM.
- Cosmetic sponsorship
Time Therapy, the cosmetics company was one of the sponsors for the drama "My love from another star" and is one of the sponsors of Nanu Guesthouse now. This means that you can make use of free samples, which will be ready for you on your table. Additionally, you can join their classes for free and also receive prizes after class.
- Daily life
Every room has free Wi-Fi and a locker. Towels for showering are provided and in the morning you can make toast with strawberry jam and a nice cup of tea (one Nespresso capsule is free).
- Luggage deposit service
In case you want to travel somewhere lightly after checking out and come back to Seoul again, we can keep it safe for you for $5 (one time payment). So if you check out and go to Busan for 2 days, you can leave your heavy luggage with us for $5.
- Free international adapters
We have various international adapters for the guests to use. There is a deposit of $10 for the use and after usage you will get it back.
Interaction with guests
Our employees are able to talk English, Chinese and Korean. We will try our best to help you with your questions, such as how to reach a certain area or hand out a map of the area. There is always at least one employee present and we can share our contact information for urgent matters.
Other things to note
FAQ:
1. We are only 5 people but we would like the 6 beds dormitory room, is that possible?
Yes, it is. However, if you want the room for yourself, then you should pay for the empty bed as well.
2. I want a private room, is that possible?
It is possible, but the smallest room has 4 beds. This means that you have to pay extra in order to keep the room for yourself. See pricelist in question 1.
3. We are a group of 7 but really want to sleep in one room, is that possible?
In the biggest room we have has 6 beds, but we are able to put two more sleeping places (floor bed) so that the whole group can sleep together.
4. Is there a bigger bed for couples?
Yes, we have one room with a queen size bed and one room with a super single bed.
5. Can I check-in early in the morning or at night?
Yes you can, after discussing it with one of the employees through email, AirBNB or phone. Your bed will be ready around 3 PM, but you will be able to leave your luggage and go out for a walk or dinner.
6. Is there a curfew?
No there is not, however it would be nice if you could respect the other guests by not being too loud after midnight.
7. Do I have to pay for the lockers?
No, you do not have to pay for the lockers. These are private and yours to use. However, if you lose the key to your locker, you will have pay a small fine.
8. How do we get in?
Our guesthouse has an electronic door lock. Once you arrive, all guests will receive the password.
9. Does the room have a lock?
Yes the room can be locked, however it is not common. If you really want to lock it anyway, we can do it but we do not hand out the keys.
10. Can we get help with our luggage?
Yes, once you arrive at our guesthouse, feel free to contact us and we will help you with your luggage.
11. Are the toilets shared or private?
There are two big bathrooms with showering possibilities and are shared.
12. What Internet possibilities are there?
There is free Wi-Fi within the building. We do not provide Wi-Fi Eggs anymore, so it would be best to buy those at the airport or within the city at one of the providers.
---
I'm korean and I travel a lot! Recently I went to England, France, Italy, Germany and the USA where I stayed for a few months. I've also been to China, Thailand, Taiwan, and Japan. I am the CEO of the Nanu guesthouse franchise and Nanu Job, the career education company. I'm als…
Languages:
English, 日本語, 한국어
Response rate:
97%
Response time:
within a day
Explore other options in and around Seoul
More places to stay in Seoul: