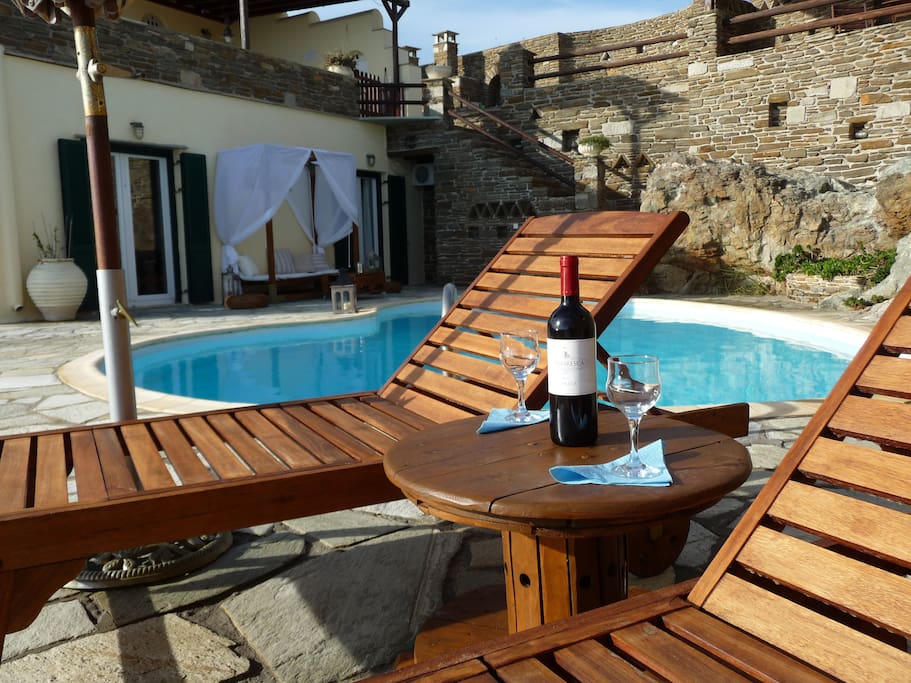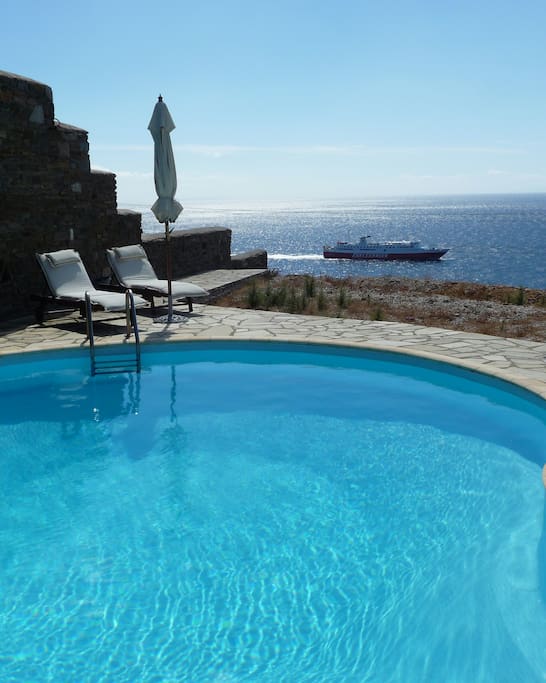 DOUBLE SEA WITH UNLIMITED VIEW IN THE AEGEAN SEA VILLAGE, 4.5 km from the port of TINOS (COUNTRY). EXCELLENT SHAPED TWO LEVELS WITH BUILT-IN KITCHEN PERFECT landscaped WITH POOL DESPOZEI TO THE BEACH WITH SUNLOUNGERS-BED AND THE SWING FOR RELAXATION AND THE UPPER LEVEL STONE TRADITIONAL living room with marble table -XYLOFOURNO- GRILL BBQ AND PARKING ample space .,
ΔΙΠΛΑ ΣΤΗ ΘΑΛΑΣΣΑ ΜΕ ΑΠΕΡΙΟΡΙΣΤΗ ΘΕΑ ΣΤΟ ΑΙΓΑΙΟ ΠΕΛΑΓΟΣ ΜΟΛΙΣ 4,5 km ΑΠΟ ΤΟ ΛΙΜΑΝΙ ΤΗΣ ΤΗΝΟΥ (ΧΩΡΑ) . ΑΡΙΣΤΑ ΔΙΑΜΟΡΦΩΜΕΝΟ ΣΕ ΔΥΟ ΕΠΙΠΕΔΑ ΜΕ ΕΝΤ(SENSITIVE CONTENTS HIDDEN)ΙΣΜΕΝΗ ΚΟΥΖΙΝΑ ΤΕΛΕΙΑ ΔΙΑΜΟΡΦΩΜΕΝΟΙ ΕΞΩΤΕΡΙΚΟΙ ΧΩΡΟΙ ΜΕ ΤΗΝ ΠΙΣΙΝΑ ΝΑ ΔΕΣΠΩΖΕΙ ΔΙΠΛΑ ΣΤΗ ΘΑΛΑΣΣΑ ΜΕ ΤΙΣ ΞΑΠΛΩΣΤΡΕΣ ΚΑΙ ΤΟ ΚΡΕΒΑΤΙ-ΚΟΥΝΙΑ ΓΙΑ ΧΑΛΑΡΩΣΗ ΚΑΙ ΣΤΟ ΕΠΑΝΩ ΕΠΙΠΕΔΟ ΠΕΤΡΙΝΑ ΠΑΡΑΔΟΣΙΑΚΑ ΚΑΘΙΣΤΙΚΑ ΜΕ ΜΑΡΜΑΡΙΝΟ ΤΡΑΠΕΖΙ -ΞΥΛΟΦΟΥΡΝΟ- ΨΗΣΤΑΡΙΑ BBQ ΚΑΘΩΣ ΚΑΙ ΑΠΛΕΤΟ ΧΩΡΟ PARKING .,
The space
UNLIMITED VIEW - DOUBLE SWIMMING POOL ON THE SEA (ONLY 120 M) FROM THE AEGEAN BLACK SEA.
ΑΠΕΡΙΟΡΙΣΤΗ ΘΕΑ - ΠΙΣΙΝΑ ΔΙΠΛΑ ΣΤΗ ΘΑΛΑΣΣΑ ( ΜΟΛΙΣ 120 μ ) ΑΠΟ ΤΟ ΑΠΕΡΑΝΤΟ ΓΑΛΑΖΙΟ ΤΟΥ ΑΙΓΑΙΟΥ.
Guest access
ΣΕ ΟΛΑ ΤΑ ΣΗΜΕΙΑ ΤΟΥ ΧΩΡΟΥ
---
---
Always communicate through Airbnb
To protect your payment, never transfer money or communicate outside of the Airbnb website or app.
Learn more
---
Check in time is 12PM (noon) - 8PM
You must also acknowledge
Dog(s) live in the house
---
---
1 night minimum stay.
From Sep 1 - Nov 30, 2017 the minimum stay is 2 nights.
---
Unlike the previous reviews I wouldn't describe our stay as pleasant, unfortunately. The house is indeed a good one, well situated and comfortable, but it is the host who made our holiday unpleasant. Kostas lives with his wife in a basement within the same house. He's always around and you lack any kind of privacy. He's constantly passing by, turning some garden or pool lights on and off again. Kostas explained he's very concerned about the electricity bill, which seemed really odd to me on top of the huge maintenance fee for the house. There are two dogs living by the house, one of them not really friendly. Left unchained one day, it has bitten our younger boy. There wasn't a big wound, but the kid was really stressed and cried a lot. I felt really astonished, when instead of apologies he advised we could go to the police and file a complain there. This was the same boy, Kostas claimed an overcharge later on. All this has actually turned my opinion about the greek hospitality upside down. I couldn't believe what was happening. We were six adults with two children (the youngest – age 5) as per our initial arrangement, and Kostas claimed we should pay in addition 150E for the little boy, even though we haven't requested any additional beds. To wrap up I would say I can't recommend the house to anyone. Shameful it is a nice house however
DEAR EVGENIYA HAVING SEEN YOUR COMMENTS ABOUT YOUR STAYNING IN OUR HOUSE , I FEEL OBLIGED TO REPLY TO YOUR ALLEGATIONS. SO PLEASE NOTE: First of all according to the terms which are fully stated and very clear on AIRBNB site, every extra bed we have to put out of the agreement has an extra charge ( up to 7 beds) . The agreed contract between you and us was 6 adults plus one child and plus one INFANT ,. When you arrived in our house the INFANT WAS NOT AN INFANT and it was a fully grown child Obviously the child cannot go and sleep in the arms of its parents so , as you also suggested we should add an extra bed. The original agreement was for 7 beds , so I politely pointed out to you the extra charge to which you agreed. Secondly, we regard to the alleged dog bite which made your child cry and all the rest!!! I would like to point out the following 1.The fact that there are 2 dogs in the area in clearly stated in AIRBNB site . 2.These 2 dogs are family pet dog with sweet nature and have been with us (part of my family) up to 8 years . We NEVER had any problem s we guests ,friends , visitors e.t.c Obviously because not everyone loves pets and especially dogs , we always keep our dog confined to another part of the house having no direct contact with the main house where you stayed. ( you described the little house where my wife and I stay.) Also there has been no incident where you said you were going to the police because of the dog bite ( you said for police.... when I asked you for extra charges last night before to leave ) . Thirdly , with regard to me going around switching of the pool lights the out door lights etc and etc., I think it is the logical to switch the pool lights off when it is 2 or 3 o clock in the morning and you are all asleep instead of leaving the lights on ALL NIGHT ( about 3000 watts energy spent for no reason ) I presume it is logical and fair , not to pay a fortune on the electricity bills just because you wanted the lights on all night while you are asleep. Finally to your alleged going to the police . that come up on your last night when I asked you for the agreed extra charge fr the extra bed we had to use ....Even at the point I politely told you to take you to the police station but in any case I would still require the agreed amount of 150 euros . So instead you told me we will discuss in the morning since you would leave the house at mid day instead you left the house in the morning without telling me anything further ..... To summarize , I don't know why you treated us like that , and to be honest if we had a civilized conversation in the morning , most probably I would not have insisted for you to pay the extra charges . We are a family owned business , this is our house with a lot of expensive furniture ., and we are trying to make a honest leaving out of it. We are friendly people known to our local community and not a faceless big corporation renting houses . I M VERY UPSET IT TURNED OUT THIS WAY , SINCE WE WANT TO BUILT A LONG RELATIONSHIP WITH ALL OUR CUSTOMERS ... IN ANY CASE I WILL ASK AGAIN AIRBNB ADVICE ON HOW TO HANDLE THIS ISSUE COSTAS
---
This place is magnificent! The house is huge and has a fascinating view and a creative detailed interior. When we came there we felt at home immediately. The Swimming pool is definitely a great plus and we will remember forever the sunset on the Cyclades… in Tinos. Costas speaks very well English and he was a great host with his wife Stavroula! They are a wonderful couple who help us so much. Kind and helpful, they gave us VERY good advice's about everything we needed or the places to visit in Tinos. Costas and Stavroula is the first reason to stay at this wonderful Villa in Tinos. You need to have a car to go around and Costas found me a good deal to rent an automatic car during our stay. The place is very clean and even better than the pictures. Seems internet in Tinos has not best connection but it works and we managed to be connected as per our need. There is a small beach at 5 min. drive from the house. The town is 10 min. drive. It is definitely the place to stay in Tinos. I would warmly recommend this place. And we will definitely come back again. Efcharisto poly for this amazing hospitality and the warmhearted owners of this wonderful home!
---
Costas est un hote très agréable, et soucieux du bien-être de ses convives. Il a toujours été disponible pour nous, pour que notre séjour dans sa maison soit parfait. La maison est placée au calme avec une superbe vue sur la mer. La maison est très bien équipée. Je recommande vivement la maison de Costas
we have been renting our house for the last 3 years and I would like to emphasize that our guests ( Hadrien Team ) are the BEST ones yet ! Since day one we began to realize that we will not have any problem with them whatsoever as the days went by we were touched by their kindness, how easy going they were , how they always leave the house clean and tidy and generally speaking how lucky we were to have these people in our house ! Also the last day when Charlotte and the other 3 beautiful girls brought these lovely flowers to us, I thought people like them give a REAL meaning to the word kindness.... in any case we would be delighted in having Hadrien team back in our house next years .
---
Languages:
English, Español, Français, Português
Explore other options in and around Tinos
More places to stay in Tinos: