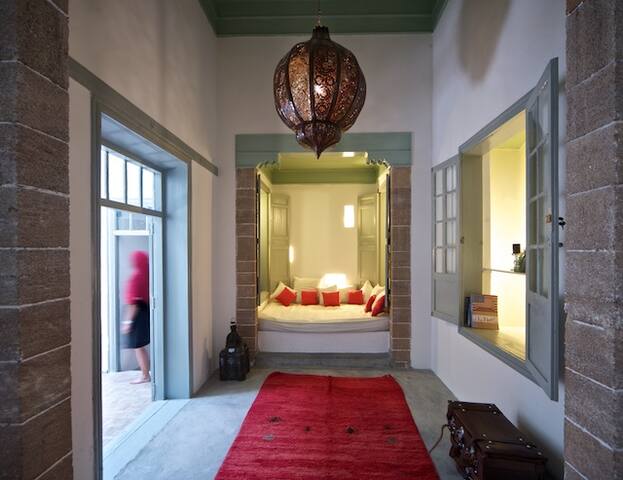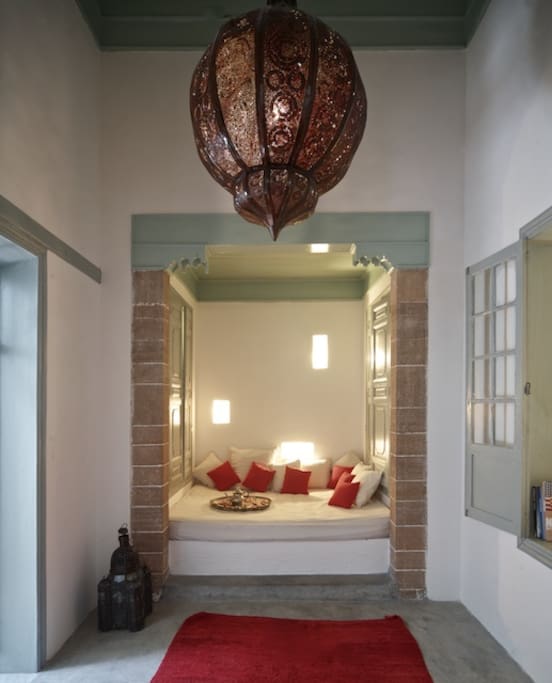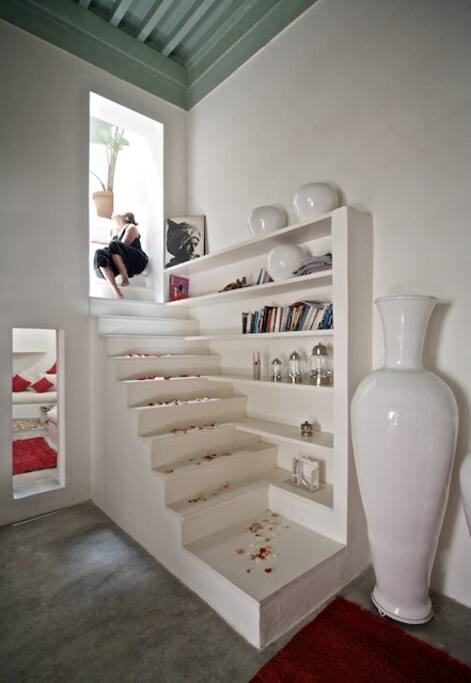 A stylish unique maroccan house, in the heart of the medina in Essaouira, great location 5 minutes from the beach, and walking distance from all the medina's best attractions. 4 double rooms just restored, each one with private bathroom.
The space
A stylish unique maroccan house, in the heart of the medina in Essaouira, great location, 5 minutes from the beach, and walking distance from all the medina's best attractions. Four rooms just fully restored, each one with private bathroom.
It's a unique mix of maroccan atmosphere and european interior design.
Room's size (in mt.):
Gris : 5.00x5.00
jaune: 3.40x3.60
blache:4.13x2.14
vert: 3.37x2.40
The property develops on two floors and two terraces, the main one overlooking the whole medina.
The living room is spacious and comfortable, it is possible to still admire the beautiful ancient ceilings a stunning feauture of the house. with a large dining table, sofas, fireplace, the idea is to make each guest able to find his own private space to be able to relax and at the same time sharing the magnificent space with friends and family.
On the second floor, at the corners of a large terrace four bedrooms with bathrooms. Each one of them, with different sizes, reflect a unique style and design. A large table and a BBQ, create another enjoyable space
The large terrace on the top floor is to discover the hidden secrets of the medina, watching the sunset drinking an aperitif
Guest access
Guest's will have full access to the riad and to 2 terrace's.
what is included in the price:
daily cleanings 2 HOURS /DAY INCLUDED ( EXTRA TIME CAN BE AGREED WITH OWNER OR DIRECTLY WITH CARETAKER )
towels (we do not provide beach towels )
bed sheets
gas/electricity
internet wi-fi flat
first load of wood for the fire place will be offered than will be charged
Asma will let you know prices etc ….
Upon request we provide cooking service : Breakfast, lunch and dinner
Moroccan cooking class is available upon request
Interaction with guests
I won't be in the riad with you because I live in Italy, Asma responsable of the riad will take good care of you, she does not live in the house ( unless you ask !) , she live's next door in another house with her family .
Asma will guide you if you like , she will give the best advice she knows our favorite restaurants, hammam's and shopping best kept secret's ! she can organize you daily tours with drivers, airport pick up etc ….you can trust her 100% she is a real help .
she normally arrive's in the morning to prepare the breakfast (if you asked for this EXTRA service) , and will clean the house for 2 hours , she will make sure you are happy and she will leave.
She might comeback in the evening to see if you need something or to cook your dinner (if you asked for this EXTRA service).
For menu please just ask me will be my pleasure to e mail it to you, Asma has a copy in the house .
for extra time cleanings you can ask Asma how much will be the extra fee according to your needs.

Other things to note
we do have dishwasher and washing machine
---
---
Always communicate through Airbnb
To protect your payment, never transfer money or communicate outside of the Airbnb website or app.
Learn more
---
Maison A is our home we love it and we hope you will love it too, we kind ask you to respect our treasure.
here some guidelines
what is considered a damage to the house , we will ask to Airbnb to keep the damage deposit if :
damage is done to property or it's contents, beyond normal wear and tear
All home keys are returned to the keyholder
All charges accrued during the stay are paid prior departure
No linens are lost or damaged
No early arrival or late arrival without prior notice
The renter is not convicted by the owner (or representative of the owner)or the local law enforcement
Other damages:
Fireplace: is under your responsibility DO NOT LEAVE the fire unattended at any time
I f there are stains of wine or food or any other material on the couches we will request to pay the dry cleaning costs.
Do not flush anything other than toilet paper. No feminine products should be flushed at anytime. If found flushed you could be charged up to 200 euros
It is your responsibility to close room doors and entrance as key holder will explain and use ALWAYS the safe available in the house. we are not responsible for any loss of money or other goods left unattended
do not leave unattended kids on the terrace
---
---
Good but not great. The layout takes a bit of getting used to but it grew on us. The four bedrooms are all off the first of three roof terraces. When being introduced to the place we were told to lock up the rooms when we were downstairs and at night even to lock internal doors. I suspect this is over sensitivity to a previous burglary but it was a pain and a bit unsettling. Not saying you shouldn't go, but perhaps just moderate expectations. Certainly ours had drifted too high after previous excellent AirBnB experiences.
---
Beautiful riad on the doorstep of the souks yet tucked away down a quieter side road. We arrived at night and were initially worried how we would ever find our way back if we left but actually it's very easy once you just start exploring! Asma made a beautiful breakfast for us on our first morning and a dinner on another night. She is a wonderful host and tried to make our stay wonderful in every way. The house is split over many levels with lots of rooms and corners to explore. Each room is ensuite and off the lovely terrace. My only advise is if travelling with small children be aware they will need supervision depending on how inquisitive and clumsy they are!
---
We stayed in Annalu's beautiful riad in the medina for Christmas week and we had a wonderful time. The riad was beautifully decorated and extremely comfortable to be in over the festive week. We especially loved the roof terrace and being able to look out over the roof tops and enjoy the ambience of Essaouira. Asma who looks after the riad was fantastic - a great help to us all. I highly recommend the riad!
---
The riad wad as descibed in every way and Asma the housekeeper was really good even checking on us one evening when there was a storm Asma made us breakfast every morning and it was well worth it for the extra cost i would recommend the riad to friends
---
We really enjoyed staying in this beautifully restored riad. It was even more spacious than the photos suggested but still felt homely and was a really relaxing place to chill. The kitchen was well stocked with equipment to cook and we ate in on 2 of our 3 nights as we loved spending time in the riad. Asma met us at the Supratours bus stop when we arrived and came in twice a day to make sure we had everything we needed and was very friendly. As the bedrooms all open onto the terrace they all have individual keys, with a front door key on the same fob, which was useful when we didn't all want to go out at the same time. Thank you for sharing this amazing place - we will remember it for a long time!
dear Vivien thank you so much for you beautifull review I just would like to underline few things because when you stay in somebody else house is quite normal to have problems . 1 lock of the house that you describe awkward and stiff are standard lock ( the only one you can find in Essaouira or kech ) that get rusty because of the proximity of the house to the sea so salt and humidity destroy a lock in 2 months just like on a sailing boat , believe me this is a common problem in Essaouira and we change them quite often but they can't be perfect like in a house in London . 2 the oven works perfectly I was in the house 2 days before you arrival and no problem yes I think was a good idea to ask asma how to turn it on ( but is a standard oven nothing particularly complicated that needed to be mentioned ) . 3 I am very sorry for the fridge I will tell Asma but I am sure you can immagine that being a 300 MQ riad it can happen you could ask Asma to clean Because she is a very hard worker but a human being .... you wrote was the only cleaning issue , personally I think that if you were happy of your staying and being your self a "owner " you could write on a private message your suggestions in sign of appreciation of Asmas work .......when I am happy of a property I normally I don't mention little problems on reviews because I understand that there is a lot of work behind especially on a house in Africa with different standards . But this is just the way I am
---
Stunning apartment. Much bigger than it looks in the photos. Very tastefully done. Great communal spaces, and also lovely bedrooms to escape to for some quiet time. A perfect place for a big group to spend a week, without getting in each others way. Annalu is very good at organising and communicating. We had a great time in Essaouira and can definitely recommend this apartment.
---
Fantastic Rhiad. Clean, great location, big terrace, lots of space and great value for money. Asma (who looks after the house) made us feel very welcome and was there to help whenever we needed her. Contacting the host in advance was super easy and he was very responsive. Would recommend getting breakfast (eggs, fruit, yoghurt, coffee, bread, honey etc) provided (very reasonable on price) as well as some of the dinners (tagine!)
---
Mi chiamo Annalisa ma tutti mi chiamano Annalu , vivo in Italia nella zona delle 5 Terre ma la mia vera terra di appartenenza è diventata il Marocco ed Essaouira , il mio rifugio , la mia avventura più bella ed il progetto che più mi resa felice ed orgogliosa affrontato con mio fratello Alessandro.
Maison A è la nostra passione comune , abbiamo cercato di creare un luogo che renda felice noi , i nostri amici ed i nostri ospiti .
Maison A ha unito le mie grandi passioni : il viaggio, la decorazione d'interni e la buona cucina che pratico per i miei amici e con Asma la nostra fantastica collaboratrice e cuoca .
Vivere a cavallo tra due mondi così belli la Liguria ed il Marocco è una grande fortuna e la bellezza di questi due luoghi sono indispensabili per me, sono entrambi terre per viaggiatori , bisogna volerle scoprire, talvolta bisogna faticare per trovare luoghi incontaminati e bellissimi ma alla fine si è sempre ricompensati .
Il mio lavoro sono le vostre vacanze, in Liguria gestisco con la mia socia ville per affitti settimanali , luoghi di charme , è un lavoro bellissimo e mi ha insegnato molto, quindi siete in buone mani , ci prenderemo cura di voi .
Languages:
English, Français, Italiano
Response rate:
100%
Response time:
within an hour
Explore other options in and around Essaouira
More places to stay in Essaouira: