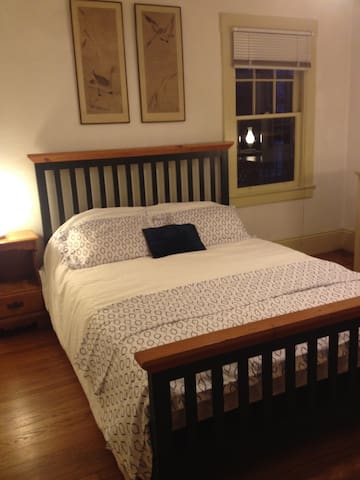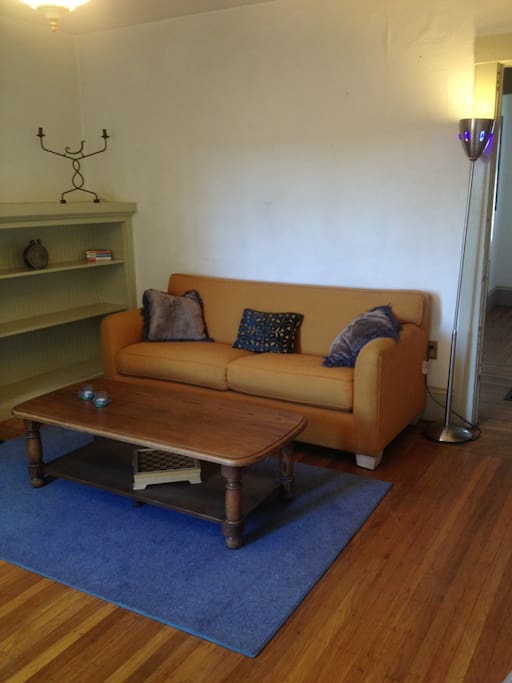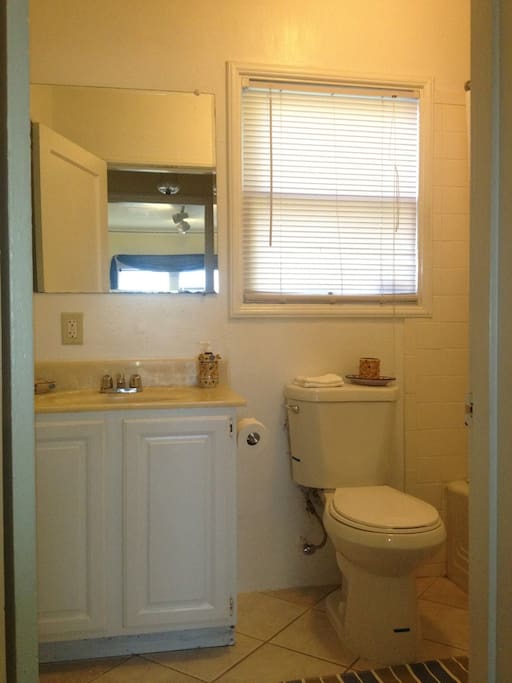 Spacious cottage apartment, clean & comfy classic
Our spacious, comfortable and clean apartment is perfectly situated to enjoy Berkeley on foot, while Ashby Bart is minutes away. The space has lots of privacy, full bathroom and kitchen, and we offer an airbed for extra guests. 3 night minimum
The space
Enjoy everything the Bay Area has to offer from this perfectly situated apartment. Walk to UC Berkeley, or Temescal or hop on the Bart to get to San Francisco. Alternatively stroll to Berkeley Bowl or the weekend Farmers Market and and cook something up in the fully equipped kitchen.
The apartment is very roomy. It has a comfortable sofa and dining table in the living area and the kitchen is fully stocked with cooking utensils, plates etc, as well as stove, oven and microwave. It also has a washer dryer, and a small back yard and deck.
You will have the whole apartment to yourself. I don't live on the property but always respond promptly to questions by phone, email or text
Great neighborhood. Very safe and close to great cafes and stores.
Just round the corner to Ashby Bart and great bus connections right outside. If you prefer, there's also several bike rental places within walking distance.
Comfortable and spacious at a price that is hard to beat in a safe Berkeley neighborhood.
Guest access
Guests have a kitchen with plenty of pots, pans plates cups silverware etc. There's a small shaded outside deck you can enjoy. There's a full size washer and dryer in the apartment too.
The bed is made up with nice sheets and the bathroom is stocked with plenty of soft towels.
Interaction with guests
I don't live on the property so you wont see me much. But I am always reachable by phone, text or email.
Other things to note
The apartment is one of four units on the property.
---
---
Check in is anytime after 3PM
No smoking in the apartment. No parties. Please be quiet and respectful of the neighbors at all times.
---
The apartment was surprisingly roomy and the location was great, just 5 minutes from the Ashby BART station. The bed was big and quite comfortable. Another plus for the washing machine and the tumble drier. The communication with Andy was easy, he usually responded within an hour or so via AirBnB, but he gave us his personal mobile number in case a direct contact would be needed. However, there was much to dislike as well. First of all, our bed linen and towels were not fresh and the bed sheet had a stain in the middle, so we had to wash everything (later Andy gave us new towels and bed linen when we informed him about the issue). Secondly, there were some dirty dishes hidden deep in the cupboards, which I believe were overlooked by the cleaning lady. We washed everything. In addition the central heating did not work, but Andy provided few electric heaters (the blower heater in the bedroom was quite noisy). Finally, we found the apartment a bit smelly, but maybe it's just because the building is old. Overall, we initially booked the apartment for 6 months, but decided to shorten the stay to about 5 weeks. We found another apartment in this area for similar price (although not via AirBnB).
---
Andy's place is indeed spacious and in a great location (close to Bart and Berkeley Bowl). It was also clean and had functional WiFi. Andy also let me check out slightly later since I had an evening flight. My main issues were that the laundry machine wasn't working; there were no instructions for the house, no trash bags, and no laundry detergent (not that it mattered in the end); and most importantly, that Andy was difficult to reach via Airbnb text messages (important if you don't have a local phone number). The house is also a bit worn down with broken cabinet doors and old plates and furniture.
---
The place was exactly what you would expect for an old Berkeley house, roomier and more competitively priced than other places we have stayed. Location was close to everything we needed. Road is noisy during the day, but we still slept just fine at night. There is no TV, so bring a laptop. WiFi worked great. Bed was a little hard for our liking but that is pretty common. (we travel a lot for work and have learned to bring a mattress topper) Couch was comfortable. Kitchen had everything we needed. We would gladly stay again.
---
I did not enjoy my experience overall. I will take responsibility for my part first - I was stressed and a bit scattered on this trip, so I struggled to find the apartment. I also didn't check early enough to clarify check out time and procedures which led to some difficulty. That said, I did not find Andy very easy to communicate with as I attempted to work through challenges. He was mostly prompt and responsive, but it often took some work for me to get clear answers. Two things were wrong when I arrived - first, the heat didn't work. I was NEVER told this prior to arriving. He provided space heaters that did the job fairly well, but at first I was very put off by this turn of events. Second, all smoke detectors were disassembled when I arrived. With a sense of old wiring in the house and four space heaters plugged in, I didn't feel terribly comfortable that first night with no detectors, but he did arrive the next day to put batteries and assemble them. The biggest challenge I had with Andy was communication style. I'm not the best communicator under stress and I wasn't handling it ideally, but I found he also didn't communicate cleanly. When I first arrived and had trouble finding the place he suggested that no one else had ever had trouble finding it. He never apologized or acknowledged that perhaps he should have told me about the heating prior to arrival. The worst part was the final night. He messaged me about check out time being 10am. I had assumed it was a bit like a hotel and asked for a 12pm check out because I had work conference calls from 10 to 12 scheduled. He was not helpful or understanding and stated flatly that check out time was 10am - seemingly laying down a firm boundary. I told him I wasn't going to be able to do that - but that he could charge me an additional nights stay or a late check out fee or whatever was needed. He didn't respond to those suggested solutions and claimed that the cleaners could only come at 10am so I needed to be out. When the cleaners arrived I told them the situation and they gladly said they'd come back later. I even offered to Andy that I would leave a tip for the cleaners to thank them for the trouble of coming back later. He told me, instead of suggested, that I leave $50. I was not comfortable with that amount but was so frustrated with passive aggressive communication from him that I didn't respond and just left a $20 tip. Which elicited another passive aggressive AirBnB message from Andy. I liked the price and the space - but I didn't like interacting with Andy and would not recommend this. I'm sure his report of me is also negative - but you can read both and decide for yourself.
---
The location and price were good, but the description and photos aren't totally accurate for the unit we stayed in. This place could use a little attention, and required a lot of "work" from us while we were there. We walked in to a chirping carbon monoxide detector, and it was clear that a caretaker had heard it (based on the smoke detectors scattered about w/no batteries in them), couldn't locate it, and gave up. The bathroom is dark and musty and only had one small roll of toilet paper (the bathroom photo is different from the bathroom in our unit), the kitchen has some issues (missing, broken, or dirty drawers, only one burner worked on the stove, no wine opener), the furniture in the living room was different than the photos (our unit had no carpet, and an old leather couch), the unit had no central heating, and the space heaters provided blew a fuse in the middle of the night. We stocked up on toilet paper, fabreze, smelly candles, and a wine opener while we were there, in addition to addressing the carbon monoxide detector and replacing a fuse. Who knows what would have been required of us if we'd stayed longer than a week.
---
It's an older home, so you should come in completely expecting that. Sometimes it has some issues with the wood expanding when its hot and messing with the door latches, but I never felt un-safe while I was there - and that says a lot! It's very close to the Bart, and Andy is very accommodating with parking and any needs you may have. Wifi is dependable, so be sure to bring a laptop for netflix as there is no TV. The washer and dryer in-unit are a HUGE plus! The neighborhood was nice and quiet while I was there, but it is across from a middle school so it could be busy during the school months. It has a little back sitting area that's nice so long as you don't mind the trashcans! I would say as long as you manage your expectations, this is a great deal!
---
I love welcoming people to the Bay Area and offering them great value places to stay while they work, study or explore. I'm an avid mountain biker, soccer player, beer drinker and music lover and find the Bay Area the perfect location to meet these needs. I love using airbnb t…
Response rate:
100%
Response time:
within a day
Explore other options in and around Berkeley
More places to stay in Berkeley: