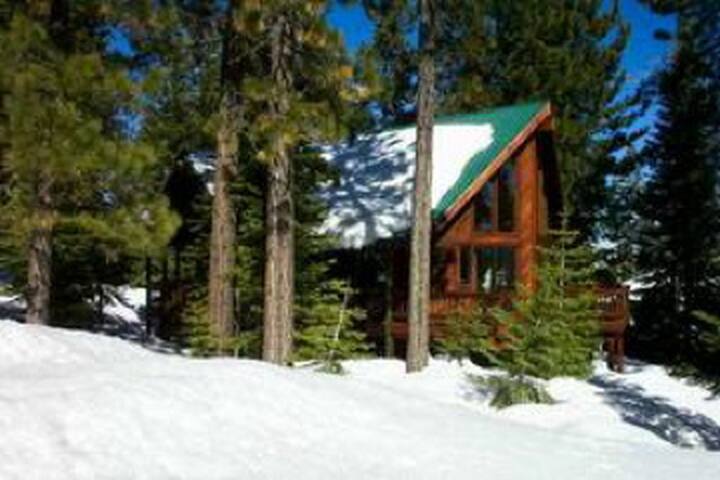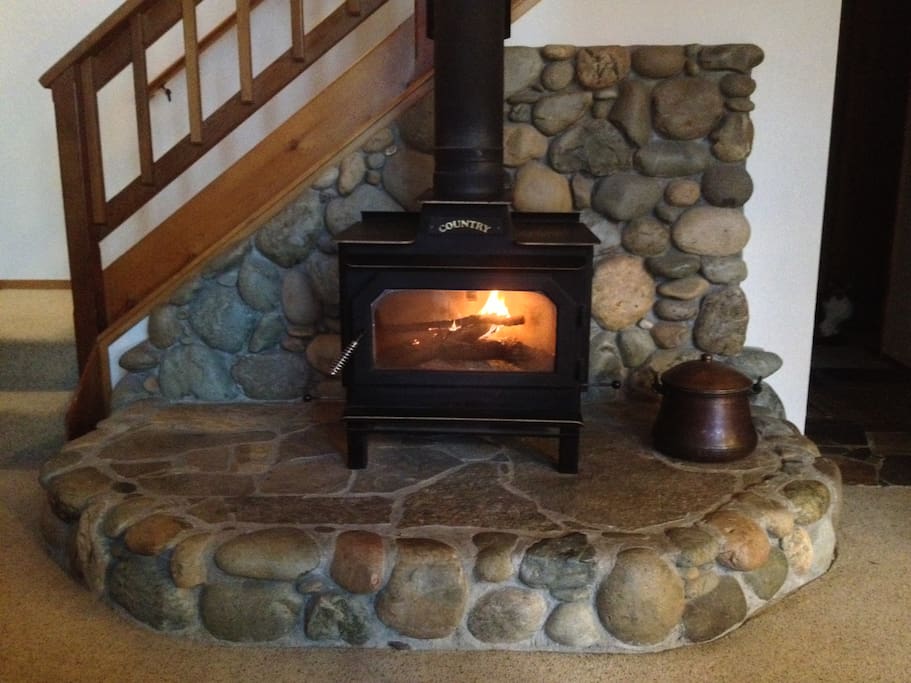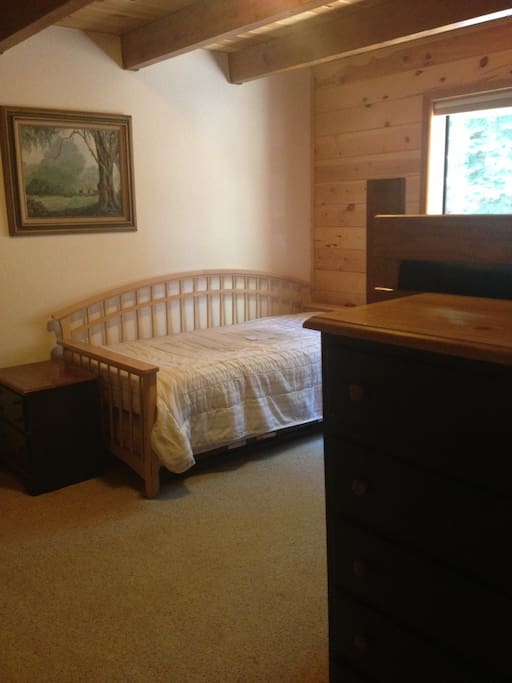 Tahoe Donner - Hot Tub - Private Beautiful - Pet-Friendly - 4 BR, 3 BA, loft, sleeps 14, two-car garage, huge flat driveway for more cars. Wake up in a beautiful wooded location, with sunshine streaming through the trees. Quiet and peaceful.
The space
So yes this is a fabulous house, set on a quiet street on one of the nicest lots in Tahoe Donner. We are on nearly half an acre with huge greenbelt behind the house. For now, we are renting the upper 4 BR/3BA plus loft, private hot tub, and two-car garage. We are very close to the deli and Tahoe Donner Rec Center yet off the busy traffic of Northwoods. We have the ideal mix of privacy and serenity, along with proximity to first-rate amenities through the Tahoe Donner Association and local attractions like skiing, snowboarding, yoga, world-class spas, and so much more.
We can accommodate parties up to 14 people. However, above 8 people an extra guest fee ($30 per person per night) must be paid in advance. Please contact me for details.
Before I get into describing the many wonderful features of this house, however, it is essential that you and I connect about what kind of house this is. This is the PERFECT house if you want a serene, spa-like environment to enjoy nature and use as a launching pad for activities around the area. This is the ideal house for making dinner with family and friends and enjoying the fading evening light on the deck. This is NOT a house for parties or people who are loud, messy, or unwilling to follow the rules.
Quiet hours for this house are 10 pm to 10 am. Yes, I understand you may want to stay up later or get up earlier. This is perfectly okay so long as the noise level is kept to a minimum. Hot tub and outdoor deck/property usage hours are 10 am to 10 pm. The hot tub will be locked at 10 pm if I am here, and I am not here but receive any reports from neighbors of noise late at night, the security deposit will be forfeited. The only exception will be New Year's Eve when the usage hours will be extended 1 am to 10 am. There will be absolutely no usage of hot tub or decks from 10 pm to 10 am, except by prior consent of the owner.
You must pay an extra guest fee for any person who will be on the property at any time. As well, you must talk to me in advance about any extra guests. It does not matter if the person is "only coming for dinner" or "didn't use the hot tub." If you have 17 people on the property at any time, you must obtain agreement from me ahead of time and pay the extra guest fees. This is not a house for hosting parties. It puts too much strain on the house and the neighborhood. You will be charged $500 plus tax if you violate this policy.
Every guest will shower THOROUGHLY before each use of the hot tub. If the water must be dumped and refilled, you will be charged $300 plus tax for this service.
Shoes will NOT be worn on the carpet at any time. If anyone in your party wears shoes on the carpet, you will be charged at least $300 plus tax for carpet cleaning. It is a good idea to bring flip-flops and slip-off shoes for use on the property.
The rules will be followed, or you will be charged for the damage and you will leave the property immediately without a refund. We want only respectful guests who are here to enjoy the beauty and serenity and activities of this area, while also respecting the neighbors, the community, the wildlife, and me. Therefore, do NOT book this property without reading our rental agreement carefully and ensuring that you and every single person in your party will follow the rules without exception.
I am a reasonable person and want you to have an enjoyable stay here. Keeping the house nice is essential to everyone's enjoyment. If you respect me, I will respect you. I value honest, open communication and will work with you cooperatively to resolve any issues that may arise.
Now on to the fun stuff … This property is not a "trashed" rental house like so many others in this area because it is also my second home. I spend enormous amounts of money and time keeping it nice. For example, in 2015, we installed at cost of $12K a brand new luxury carpet. The prior year, we invested a similar amount of money re-doing the back deck with Trex and meticulous craftsmanship. You can now enjoy the splendor of the outdoors here from a beautiful deck with patio table and hot tub that is accessible from both levels of the house. We have a front deck with a BBQ grill.
The main floor of the house has a popular "open floor" plan so the kitchen, dining area, and great room are integrated and flow directly to the front deck and BBQ. This creates the perfect setting for socializing while making dinner. The kitchen is not fancy but it is well laid out, has all the basic appliances, and is well stocked with pots and pans and other kitchen tools.
There is a piano conveniently tucked away in the loft. Piano hours are the same as quiet hours: 10 am to 10 pm, no exceptions.
We have an insanely comfortable king bed in the upstairs master bedroom, as well as a huge bathtub with jetted tub. This room has a "treehouse" type feel and a staircase that leads to the back deck and hot tub.
We have two smaller bedrooms on the main floor, which share a small bathroom. One has a queen bed, and the other has four twins. All three bedrooms have a full-sized dresser and closet.
We have two fold-out couches, one in the great room and one in the loft.
We are located approximately one half mile from the Rec Center. Without traffic, we are about 20 minutes from Northstar, Squaw Valley, and Sugar Bowl. We are about 30 minutes from Lake Tahoe and about 3 miles from Donner Lake or historic downtown Truckee. Allow extra time for traffic and construction delays, of course.
Please ask me if you have any questions. I don't enjoy being a task master, and I also don't enjoy spending my precious time and money cleaning up, repairing, and replacing due to obnoxious guests. Can you really blame me, or would you probably feel the same way in my shoes?
If you respect me, I will respect you. Let's work together for you to have a fabulous stay in our beautiful home.
Ski Lease Applicants: Generally, we have such high popularity for short-term rentals that this house is NOT available for ski lease. I would consider a ski lease if the price is right.
"This is the nicest house we've ever rented in Tahoe!" December 2014, just got off the phone with my latest rental party, and that's what she said verbatim. It feels great hearing that because I spend time at this house during the off season keeping it BEAUTIFUL. I want my renters to have a wonderful experience.
All rentals are subject to 12% tax. Certificate number 64.
Guest access
In addition to the house, you will have access to the Tahoe Donner Association amenities for nominal fees using the guest cards. See the Tahoe Donner website for more details.
Interaction with guests
I pride myself on very responsive communication. The fastest way to reach me is text message.
Other things to note
Please read the contract/instructions carefully. Lots of very important information to enhance your stay and make things easier for both of us.
---
---
Common spaces
2 sofa beds, 1 floor mattress
---
Check in is anytime after 6PM
Our Rental Contract, Instructions, and House Rules
(revised April 26, 2016)
By making a deposit or payment for this house, you agree to this contract. All members of your party are bound by this agreement. PLEASE read it carefully and ensure that everyone in your party is aware of this agreement.
A little introduction:
The purpose of this agreement between us is to enhance your stay, make everything easier for both of us, and (in the best of all worlds) get your security deposit back to you. At the same time, we want to keep the house clean and beautiful, and we want the rentals to be sustainable so that our guests and we can enjoy this house for years to come.
Yes, we are a little bit uptight and fussy when it's necessary to be. Otherwise the cleaning fee would be $700+ per visit. Please help us keep the costs reasonable so we can keep this rental sustainable …
We also want it to be easy for you to use the house. Yes, this document is a little bit long. Twelve years of rental experience shows us that a four-bedroom house has quirks that are not easy to figure out unless I provide instructions. Recently I stayed at another home in Tahoe Donner and wished they had a detailed information sheet like this one. I almost got towed from the parking lot and was cold the first couple days because I misunderstood the heater. I don't want this to happen to you. That is why issues that have come up over the past 12 years are addressed in this document.
Please be very sure to read the liquidated damages provisions. These are issues where damages may be difficult to calculate, so the agreement provides for liquidated damages:
1.Every rental is strictly non-refundable. The entire rental fee (minus security deposit) will be kept as liquidated damages, in the event of cancellation.
2.False and misleading reviews of the house or of me will not be tolerated. We expect problems to be resolved with private communication between us like mature adults. You agree to pay $10,000 in liquidated damages for each false or misleading statement that you or anyone in your party publishes about the house or about me.
3.This is a strictly non-smoking property. The entire security deposit will be forfeited as liquidated damages if we find any evidence of smoking.
4.Having extra people or pets without permission will result in forfeiture of the entire security deposit.
5.Please respect our neighbors: Having parties or at any time having more people or pets on the property than were disclosed in your original reservation, without permission, will result in forfeiture of the entire security deposit.
6.Please respect our wildlife: leaving trash outside the green bin or anywhere else on the property will result in forfeiture of the entire security deposit.
This document is the accumulated wisdom of 12 mostly wonderful years so far of renting out this beautiful home. This is not a "rental house." It is a second HOME. We so love and appreciate it when you treat it with tender loving care so all of us can enjoy it. So please, listen up!
The experience we want you, and the people who check in AFTER you, to have … is a sense of walking into a clean lovely house and breathing a deep sigh of relief … Ahhh … so nice to get away from it all and enjoy this peace and quiet of nature. Or maybe for you it's breathing a deep sigh of excitement … so wonderful to have this beautiful launching pad for outdoor adventures of every kind.
Most of my renters are absolutely wonderful. I have been blessed to host mostly people who "get it," who follow the instructions and leave the house at least as nice as they found it. I've been blessed with people who communicate in a cooperative and non-judgmental way to get problems solved quickly. I've even been blessed with quite a few people who owned up to it when they caused damage, and offered to pay for it. Then every once in a while, there are those obstreperous folks who seem to have a talent for making life stressful and difficult! We try to make everything clear in advance to minimize those "misunderstandings."
Now in an ideal world, I wish it were possible to say, "come, stay, leave the house however you want, and it will be fine." Of course, if I did that, our cleaning fee would be about $700. That is not an exaggeration. It's not only routine cleaning costs that must be taken into account, but also the spa upkeep, extensive maintenance and deep cleaning that is done after every season, the supplies that are consumed, the items that are damaged, destroyed, or worn out … and so forth. That's all to say nothing of snow plowing contracts, property taxes, homeowner association dues, a special insurance policy for short-term rentals, advertising on (SENSITIVE CONTENTS HIDDEN)/(SENSITIVE CONTENTS HIDDEN), maintaining the driveway, the yard, the house, the fireplaces, the roof, the decks … you get the idea. Trust me, when we look at the aggregate costs, the rental rates and cleaning fees are a bargain. ☺
So, with 12 years of rental experience under our belt, we have fine-tuned the process and reached a balance of what we can offer and what we need to ask you to do. This CAN be customized. We can provide more of a "concierge" service for you, if you are willing to pay a higher fee for that. If you tell me, "Erika I don't want to start the laundry on the day of departure … I want to sleep in and relax … and I am willing to pay extra for that," no problem. Where possible to do so, I will happily accommodate special requests on an ala carte basis for an extra fee. If you want firewood delivered, decks shoveled, late checkout, laundry done for you, or other extra services, let me know ahead of time. I will do my best to accommodate it at as reasonable a cost as we can.
In summary, we have provided these terms to increase the enjoyment of all our guests by keeping the cabin in good shape and by keeping costs reasonable. It is not fair for a few guests to run up unnecessary costs that would then have to be passed on the rest of our guests. We want to create an enjoyable and reasonably priced vacation for everyone. Please be especially conscientious about the hot tub instructions - everyone showers immediately before using and adds the chemicals and cleaning cycle after each use.
Non-refundable reservation: By booking this cabin, you agree that there will be no refunds for any reason. We do our best to maintain the house in excellent condition and we have an overall excellent track record of satisfied renters since 2004. If there are any issues with the house, you agree to contact me immediately so that I can have them remedied for you as quickly as possible. Once the reservation is booked, I will be turning many other people away. It is very difficult and also time-consuming and stressful for me to attempt to re-book the cabin at a later date. Because it is difficult to calculate damages in a situation like this, you agree that all rental fees (including cleaning, pet fees, and tax) except for the security deposit, will be considered liquidated damages for cancellation and will not be refunded for any reason.

Liquidated Damages for False or Misleading Reviews: I wish it were not necessary to include this provision. Unfortunately, the Internet has increasingly become a place where some people think they can say whatever they want if they are feeling angry, regardless of whether what they are saying is actually true. We have had two renters leave false and misleading reviews during the past year, and this is unacceptable. Any issues that arise need to be resolved between us like mature adults, not with false and misleading rants on the Internet. I cannot express how stressful it has been for me to deal with people who are dishonest online. From here forward, we will be taking strong legal action against anyone making false or misleading statements in reviews. (False or misleading statements in reviews constitute libel or defamation and are not legally protected). Damages from false and misleading statements are very real but may be difficult to calculate. Therefore, by renting the cabin, you agree to be liable for at least $10,000 in liquidated damages for each false or misleading statement that you or anyone in your party makes in a review. You also agree that you can be sued for false or misleading statements in Nevada County, California, or San Francisco, California, at my election. False and misleading reviews are unacceptable and will not be tolerated.
Now on to the happier stuff ☺
Getting there: The address is ____, Truckee , CA -- it's easy to mapquest it. Our driveway veers off to the right from the neighbor's driveway, and our house is set back from the street. So you won't see the house numbers from the street, only on the green bear-proof trash bin that sits in front of our neighbor's house but belongs to us. There's also a fire hydrant next to their driveway. You go up the neighbors' driveway just a bit and veer sharply to the right, and there you are.
We have a wonderful, flat, huge driveway that can accommodate many cars. During the winter, street parking is prohibited due to snow plows. They can tow cars left on the street in the winter.
Getting in to the house: There is a garage keypad. The garage code is ____ and then press enter. During the winter especially, please use the garage entrance, rather than the front stairs, which can get blocked with snow or occasionally might be slippery with ice. The driveway is nice and flat by the garage, so that is the safest option.
We now also have keyless entry through the front door (though this will sometimes be blocked with snow, and please do not use this entry if there is ice present) -- code is ____ (you probably will not use this entrance in the winter and please be gentle with this door handle).
What to bring with you (or purchase locally): The house is generally stocked with many things that you will need during your stay (such as linens and towels, pots, pans, flatware, etc.), which provides added comfort and convenience. Please bring your own toiletries such as shampoo, conditioner, soap, etc. In addition, we cannot guarantee the following items will be available – please bring these items along or purchase them locally:
-Paper towels, toilet paper, and other paper products
-Toiletries such as shampoo, conditioner, soap, etc.
-Dish soap, hand soap, bar soap, dishwasher detergent, laundry detergent
-Ziploc bags, garbage bags, recycle bags
-Firewood (can be purchased at Z Marketplace, Safeway, ACE Hardware). We no longer stock firewood due to expense and the mess that it caused in the garage and the house.
I try to keep some of these items stocked but cannot guarantee it and don't want you to arrive and not have toilet paper. Please bring your own supplies to be on the safe side. If the house has been stocked, and you use a lot of paper towels, toilet tissue, detergent, etc., or if a product is used up, I would greatly appreciate if you would replace it before your departure so that the next people who stay will have the same comfort.
PLEASE bring your own so that you will be guaranteed toilet paper upon arrival. The Safeway on Donner Pass Road as of this writing is open 24/7 and is a great place to stop on your way up the hill to get supplies. Alternatively, the Z Marketplace on Northwoods has more limited hours but has a decent selection of convenience items and is only about a half mile away from the house.
Central heater: Thermostat is located on the main floor, in the hallway near the linen closet. Air can get very dry in the winter. You may wish to bring a personal humidifier for your bedroom. We do not have air conditioning. The house does have two ceiling fans that help to circulate air in the summer.
Snow in the Winter: Every year, we contract with the best snow removal company in Tahoe Donner (Snow Tech) to have the driveway plowed. We do not have any control over what time they visit the house, as they have many driveways to clear every time it snows. There may be times in heavy blizzards when you will need to wait for them or do the shoveling yourself in order to get out of the driveway. This is life in the mountains! ☺
We don't have the front steps or decks shoveled during the winter, both for safety reasons and because it would raise the fees significantly for all our renters. If you want me to hire someone to shovel for you during your stay, please let me know and we can work out the costs for that. Sometimes I find that shoveling a little snow myself is quite invigorating, and perhaps you'll share that feeling.
Doors in Garage Area: Please do NOT lock the garage doors or the two doors inside the garage (between garage and laundry area). We had an $80 unnecessary service call this season because someone locked the garage door from the inside, and the cleaners thought it was broken. In the winter, locking these doors makes the house inaccessible and requires an emergency service call.
IMPORTANT - CHECK IN AND CHECK OUT:
Check-in time: 4 pm
Checkout time: 11 am.
A late checkout may result in an excessive cleaning fee, which I would have to deduct from the security deposit. We can sometimes accommodate an early checkin or late checkout for a modest fee. Please inquire if you are interested in this.
Shoes off in the house: For many people, it will be tempting to think "oh it's no big deal I'll wear my shoes just this once and nobody will know." DO NOT DO THIS. The carpets get dirty very quickly if people wear shoes in the house, and they are expensive and time-consuming to clean (your entire deposit might be forfeited). Please have everyone remove shoes at the entrances. I recommend that everyone in your party bring flip-flops that can be easily removed for hot tub use. The easy slip-on shoes can be left by the back door so you do not track dirt in). Flip flops with good traction are most recommended because there can sometimes be ice on the back steps during the winter.
NON-SMOKING house: This is absolutely a non-smoking house. Smoking is prohibited at all times on the entire property. If we find any evidence whatsoever that smoking occurred in the house or on the property during your stay, the entire security deposit will be forfeited as liquidated damages.
Showers in the master bedrooms: Several times, we have encountered issues where people thought that the two showers in the master bedrooms were "not working." The showers ARE working. Instead of turning the dial to get water, please PULL OUT on the handle. This is one of those issues that underscores the importance of communication. I want you to enjoy your stay. If something is not right, please let me know immediately so I can help you fix it. It's a four bedroom house. Some things are quirky or unfamiliar.
Signs around the house: I have placed signs with instructions, WiFi password, etc. on walls and other strategic locations in the house attached with Velcro. DO NOT remove these signs.
Placement of supplies in the house: Please do not move things around in the house. I am managing the house remotely during many times of the year. I am not able to help people when things have been moved without my knowledge. For example, this past season, someone moved the hot tub chemicals from the laundry area to the kitchen without telling me. This made it impossible for the next couple of parties who visited to maintain the hot tub properly. Yes, I am fussy about this for good reason. PLEASE consider the impact of your actions on me and our other guests. Leave things where they belong. If you are not sure where they belong, please ASK. Thank you for your consideration! ☺
Sleeping options: There are four bedrooms, plus loft and great room. The upstairs master has its own bathroom with large jacuzzi bath and a king bed. On the main floor, there are two bedrooms that share a bath. One of those rooms has four twin beds and the other has a queen. The loft has a foldout couch, as does the great room, if needed. There is a linen closet on the main floor with extra sheets. The new master bedroom in the basement has a queen bed, and a beautiful glass and marble rain shower. It also has a lovely gas fireplace and easy access to the outdoor hot tub. We have extra blankets and pillows stored in every bedroom. Feel free to bring your own linens, pillows, and blankets to make sure you have everything you really want for a fabulous vacation.
Window blinds: Please be gentle with them. If the motorized blinds in the great room or upstairs master bedroom are not working, please let me know. It may be that the batteries need to be changed. Do not "force" any blinds and do not try to operate the motorized blinds without the remote control. Doing so can break them, and they are very expensive to replace.
Barbecue Grill: It's a propane grill that should be covered and stored under the eaves when not in use. Recently a guest was disappointed and reported the propane tank was empty. As it turned out, the tank was not empty. The gauge will not read accurately unless the tank is hanging on the scale inside the compartment. If you use the grill and the propane tank does get very low, PLEASE let me know before your departure so I can have that issue remedied for the next party.
Guest passes: The guest passes to the Tahoe Donner resort amenities are in a drawer in the kitchen. If you use the passes, please make sure you put them back into the drawer prior to your departure. Resort amenities are (EMAIL HIDDEN)
WiFi: The security code is in brackets on the bottom of the modem, which is near the TV in the great room. Telephone is via the internet connection so in the case of a power outage, use your cell phone from any emergency calls. Currently the WiFi password info is as follows:
Network name: suddenlink-net-0550
Password: (PHONE NUMBER HIDDEN)
Water heaters: During recent renovations, we were required to install a tankless on-demand water heater for energy conservation purposes. You can find it in the garage, where it should be left on high (120 degrees) all the time. When installed, it was the highest capacity available but we still recommend not running the washing machine while attempting to take showers and stagger shower taking if possible. If it begins running hot and cold, please be sure to tell me. It may need to be serviced. It was serviced Spring 2016 and is working beautifully as of this writing.
Furniture in house: If you move furniture around during your stay, including smaller items such as dressers and end tables, please make sure all furniture is returned to its original place before you leave.
Refrigerator: Please do NOT change the temperature setting. If it is changed, the fridge will leak, a repairman will be called, and your party will be charged at least $100 for the repair. We have taped over this mechanism with a sign so that it will not be changed.
Teflon pans in kitchen: Please do NOT use metal cooking tools of any kind in the Teflon non-stick pans. It damages the non-stick coating. Use only soft silicone or plastic utensils in the non-stick pans. If they have to be replaced, your party will be charged. (Note: I have pretty much given up on having non-stick cookware. It has all been destroyed by metal utensils. So this may not be an issue for your rental.)
Turning water on (winter months only – usually not needed): During the winter, the cleaners sometimes shut the water off prior to your arrival (water shutoff is also in the basement master bedroom, in the closet to the right as you enter the bedroom. There is a handle sticking out of the carpet on the floor. It's a stiff handle, please turn the water on when you arrive if you're not getting water at the taps. Please leave the water ON when you leave if you are still running the washing machine or dishwasher or anything else that uses water. Otherwise those appliances might be damaged by the lack of water flow. Thank you!
Please also leave the central heater ON when you leave. Make sure the switch (which is in the hallway near the kitchen) is in the "on" position, the fan is on "auto," and that the temperature is set for the minimum of 55 degrees.
Gas fireplace in the basement master bedroom should be turned all the way down to the lowest temperature before your departure.
Trash: We have bears in Tahoe Donner, so trash must be left in the secure bear bin before your departure (please collect all trash from the house and place in the green bear bin in front of the house near the road). Please do NOT place trash on the street corner or anywhere outside. The bears and other animals will get in it and scatter it everywhere!! This endangers people, pets, and wildlife. If any trash is left around the house or neighborhood or outside the green bin or the green bin is left unlocked, the entire security deposit will be forfeited as liquidated damages. This includes beer bottles and cigarette butts left on the deck or around the hot tub. It is UNACCEPTABLE to endanger the wildlife and people and pets in the neighborhood by not disposing of garbage properly. Smoking is strictly prohibited at all times. A fine will also be assessed by the town. Please respect the wildlife, the house, and the neighbors, and do not leave any trash of any kind anywhere other than inside the LOCKED green bear bin at the end of the driveway.
Trash fees deducted from security deposit: Please make sure all trash is placed in the green bin by the neighbor's driveway before your departure to avoid an additional cleaning fee, or carry your trash out if you prefer. If the trash bins are too buried in snow and you prefer to leave the garbage in the garage rather than carry it out, that's okay, just two things: (1) make sure all trash is in large black plastic garbage bags; (2) make sure all recycling is in large blue recycling bags, and (3) there will be a supplemental trash fee charged from your security deposit so the cleaners can take the garbage to the dump. You can expect this fee to be at least $100. It may be worth it to you for convenience's sake -- if you have any questions about this please ask.
Recycling: We highly encourage recycling and there is a blue bin under the kitchen sink and blue bags in the kitchen drawer for this purpose. Recycle bags can be placed inside the green bear bin along with black trash bags.
Trash day: Trash day is Tuesday, and they come around 7 am or slightly later. If your stay extends over a Tuesday (for example, a Friday to Friday rental during the summer), you can take advantage of trash day to get rid of any trash and recycling that has accumulated. Please do get that trash out to help avoid an excess trash fee deducted from the deposit. The best bet is to put all recycling and trash into the bear bin on Monday afternoon so that there is no chance of missing the pickup on Tuesday morning.
Neighbors: Please be respectful of those who live around us. No loud music at late hours. No outside lights left on all night or after you leave. No trash left outside or around the house for any reason for any period of time. Use bathing suits in the hot tub. If I receive complaints from the neighbors for any reason, you will be charged out of the security deposit at my discretion.
Occupancy limits/NO parties or events without express advance permission: Your reservation is limited to the number of people you stated on the original reservation. If any additional persons are added, we must be told in advance, and the extra guest fee must be paid in advance. If we discover that a higher number of people (or pets) were at the house AT ANY TIME during your stay (day or night), we WILL forfeit the entire security deposit as liquidated damages. In some cases, we can tell that there were a higher number of people by the volume of trash or laundry left behind, or by other indicators in the house. Hosting parties or events at the house is prohibited without express advance permission. We will strictly enforce this policy, as it is not fair to our other guests for some groups to run up huge cleaning and maintenance charges that end up getting passed on in our rates.
Cleaning of the house: The house will be professionally cleaned before your arrival. To avoid any excessive cleaning fee, please leave the house in reasonably nice condition upon your departure.
Laundry – VERY IMPORTANT: If you leave behind more than one load of laundry for the cleaners, the cleaning fee may go over five hours and result in a deduction from the security deposit. This is because the cleaners must stay at the house while it all cycles through, or take the laundry off site for an additional charge. PLEASE start laundry early in the morning on the day of your departure so that you will not have to leave more than one load for the cleaners to do. Or, if you prefer to have laundry done for you, please expect that we will deduct the extra charge from the security deposit. Otherwise, we would have to increase the cleaning fee substantially for all of our guests.
If there are some beds you did not use, PLEASE leave a note on the beds stating "these sheets are clean/have not been used" so that the cleaners will not do unnecessary laundry.
Locking doors and closing windows: Please ensure that ALL doors are locked and windows closed and LOCKED upon your departure. Please also close the blinds to insulate the house and reduce sun damage.
Front door can be quirky: Please also make sure the front door is LOCKED when you leave the house. It's become quirky so sometimes we must push the "Y" button on the keyset to get it to re-set and lock. Be very gentle with the door handle.
Resort amenities: Information about Tahoe Donner amenities is (EMAIL HIDDEN)
Hot tub: Of course, use the hot tub with care and common sense. It will be set at 80 degrees when you arrive. The tub requires a few hours to warm up so turn up the temperature on arrival and report any issues with the tub to me IMMEDIATELY or else you may be charged for them. Please have every member of your party SHOWER before using it and make sure to keep it clean so that I won't have to deduct any extra hot tub fees from the security deposit. You must add sanitizer per the instructions after EVERY USE (1 tablespoon each of "Renew" or GLB oxidizer and 1 tablespoon of chlorine granules after each use, and then push the "clean" button). We have found it is entirely possible to keep it nice and clean by following these instructions. If we have to dump and scrub the tub after your stay, there will be at least $300 plus tax charge from your security deposit so please be conscientious. Please also turn the hot tub heater down before your departure to save energy. Combination for the hot tub lock is ____. Please ensure that the lock is secured back on the tub prior to your departure and be sure to add another tablespoon of chlorine and 3 tablespoons of oxidizer before you leave.
For stays of one week or longer, we also have PhosFree and SpaPerfect, which are very effective for maintaining silky clean water for you. These should be alternated with chlorine and not added to the tub on the same day.
House is NOT child-proofed: Cleaning supplies and hot tub chemicals will be accessible to small children. Please take appropriate precautions and of course use extra care with the hot tub. We recommend keeping the tub locked when it's not in use. Outdoor areas are true wilderness with wildlife and natural hazards, and should not be used without supervision. Pets should be attended at all times outdoors. I saw a coyote by the hot tub just the other day.
Internet and power outages: Every so often, Suddenlink has an outage in the area. They will get Internet access back on line as quickly as they can. This is something over which we have no control. If power goes out to the hot tub, clothes dryer, or anywhere in the house, a blown circuit is the most likely reason. We have electrical panels on the back of the house and in the garage, where power can easily be restored with the flip of a switch. Please note that the hot tub has circuit breakers BOTH on the back of the house and in the garage. If you are not able to find which circuit, please send me photographs of the breaker boxes and I will help you. The faster the power is restored, the faster the hot tub is hot again.
Wood throughout the house: The entire house is beautifully furnished with a lot of natural wood, from wall coverings to cabinets to furniture. Please do not let children or pets (or inebriated adults) scratch the wood surfaces. We now offer a piano to make your stay even more enjoyable but any damage to the piano, including scratches or chips in the wood, will result in forfeiture of the full security deposit. Damage like this cannot be effectively repaired and ultimately the item must be replaced at great expense. Please respect the house and everything in it ☺
Return of security deposit - TIMING: I return most security deposits in full. I like to return them quickly but I have found that I was not getting a reliable quote on the cleaning and other fees from my service providers until the actual invoices come in at the beginning of each month. So your deposit minus any excess fees will be returned approximately mid-month of the month following your visit. Please ask if you have any questions about this.
Deductions from security deposit: Please be aware that although it is my strong preference to return the full security deposit, you WILL be charged out of the deposit for beyond-normal expenses including but not limited to: any damage caused, unnecessary service calls, for a cleaning fee that goes over normal (no more than 5 cleaning hours), laundry beyond one load, for stains/dirt on the carpet, for trash left in the house or garage, and/or for a dirty hot tub -- and for anything else that leaves the house in a condition that requires my time or money to remedy. My time spent cleaning, repairing, or resolving issues will be billed to you at $75/hour. In the case of uncertain damages, we will come up with a reasonable estimate at my discretion.
If you are bringing a large group of people to the house, it may be more relaxing to assume that part of the security deposit will not be returned. Things tend to "happen" with large groups, and it's very challenging for the host to keep tabs on a large group.
For the sake of setting expectations, here are some things that have resulted in deductions from the deposit. These are only examples, and I am letting you know so they can be avoided:
1.Overstuffing the garbage disposal. It works great so long as it is not overwhelmed with a huge bunch of stuff all at once.
2.Clogging a toilet so it cannot be cleared with a plunger. It has only happened once. I can only imagine what someone put in there. ☺
3.Leaving lots of laundry. If the cleaners have to sit there for hours on end cycling it all through, the cleaning fee will go over five hours.
4.Spilling red punch on the carpet.
5.Ripping a piece off the hot tub. This was a $3000 repair that required dismantling the entire deck. And some people say I'm fussy lol ;)
6.Having extra guests or pets that were not disclosed.
7.Not showering or following hot tub instructions and "trashing" the hot tub. I only get calls rarely about this. "It's green and slimy and we can't fix it without dumping the water."
8.Leaving large amounts of trash in the garage. This results in the cleaners having to take a special trip in a special vehicle to the town dump.
9.Not cooperating with me in solving problems. Lots of things we can solve easily with communication, such as a blown circuit shutting down the hot tub. Please send me a text message or email, and we will figure it out. I may ask you to send me photos or other information so I can get a better sense of what is happening and solve it without having an unnecessary service call to the house.
We can boil down this document to something very simple: please treat the house (and me) with tender loving care. Please treat the owner with respect. Please understand that if there are extra costs resulting from your rental, you will be charged for them. We take very good care of this house so that everyone can enjoy it, and we ask that you do the same. From our perspective, it is not fair for a few people to run up unnecessary expenses that increase the costs for all our other renters. So we are strict about deducting beyond-normal expenses from the deposit.
If anything is not right with the house when you arrive, please report it to me immediately upon arrival. Otherwise if we did not have the problem previously, we will presume it was the result of your party and charge from the security deposit accordingly. We never charge anyone for pre-existing issues or items simply wearing out over time.
If you will have any guests or pets that were not disclosed in your original rental inquiry, PLEASE let me know as soon as possible. If we discover that additional guests or pets were not disclosed and paid for PRIOR to your arrival, the entire security deposit may be forfeited.
Refund policy: Please understand that I count on the rental income to pay the taxes, insurance, rental advertising, homeowner dues, huge maintenance and cleaning, and other bills on this house, so there will be no refunds of any portion of the rental fee for any reason. Tahoe is in the mountains, and there can be unexpected weather conditions and other issues. Please plan ahead, make sure to check weather and road conditions, give yourself plenty of travel time, and ask me beforehand if you have any questions. I highly recommend that you use a four-wheel-drive vehicle from October to May. During the warmer months, there is sometimes smoke in the air due to nearby forest fires. This is life in the mountains, and those of us who live here even part time learn to roll with it. If you are concerned about issues like this, I highly recommend that you purchase trip insurance because we do not offer refunds of any kind.
Communication: I do my very best to keep everything in the house functioning, but once in a while something breaks or malfunctions. This is simply a fact of life, so our goal is to resolve the issue for you as quickly as possible. I am a big believer in communication. If something like that happens, please text message me immediately (Erika at (PHONE NUMBER HIDDEN)) and I'll do my best to get things on track again right away.
We do expect all renters to communicate in a courteous way and to cooperate with us in getting issues resolved. If there are issues with the house after your stay, I will need to email with you to resolve those issues. The house is checked before and after each stay. If your party causes damage or extra costs, we will need to charge you for it. Please remember that I am a human being doing the best I can, who appreciates being treated with respect. I try to be very fair about this. We had a lot of extra costs this past season that I absorbed because it was not fair to charge it to any specific party. There will be times though when a deduction from the security deposit is appropriate and fair. Please expect this could happen and be gracious about it. Ideally if you know something went wrong during your stay, be upfront and honest about it so we can resolve it at the lowest possible cost without inconveniencing the next group that uses the house. Treat me the way you would want to be treated if the roles were reversed.
We also expect all guests to communicate with me directly rather than writing negative reviews online (please see the section about false or misleading reviews, which will not be tolerated). We take all feedback seriously and accommodate it where possible. In some cases, although we would LOVE to offer more services and amenities, it would only be possible by raising the cleaning fee substantially.
If you would like extra services during your stay for an added fee (for example, if you don't want to start the laundry before you leave), please let me know ahead of time so we can work out arrangements and payment for extra services.
(If you are not able to reach me during your stay, please call Serge Rigo the Alpine Butler at (PHONE NUMBER HIDDEN). Please do not incur unnecessary service calls, or they will be charged to the deposit.)
Thanks very much for staying at the cabin. We hope you have a wonderful stay and visit us again :-)
Cheers,
Erika
---
Nestled in the beautiful forest above Truckee, Erika's house is a warm and cozy retreat. She was kind enough to let us book the house last-minute after our group was forced to turn around due to bad weather on a backcountry skiing trip. She was incredibly generous and took great care to make sure we were settled. The house turned our ill-fated, cold backcountry snow trip into a warm relaxing weekend. Thank you, Erika! We'll be back and will plan for it in advance this time :)
---
Explore other options in and around Truckee
More places to stay in Truckee: