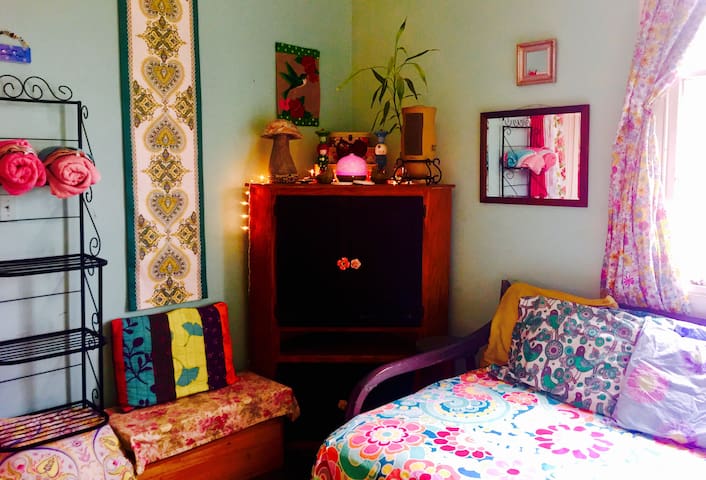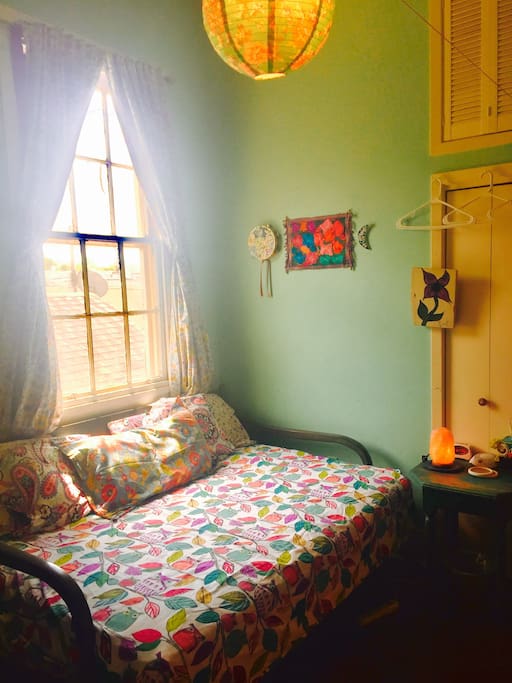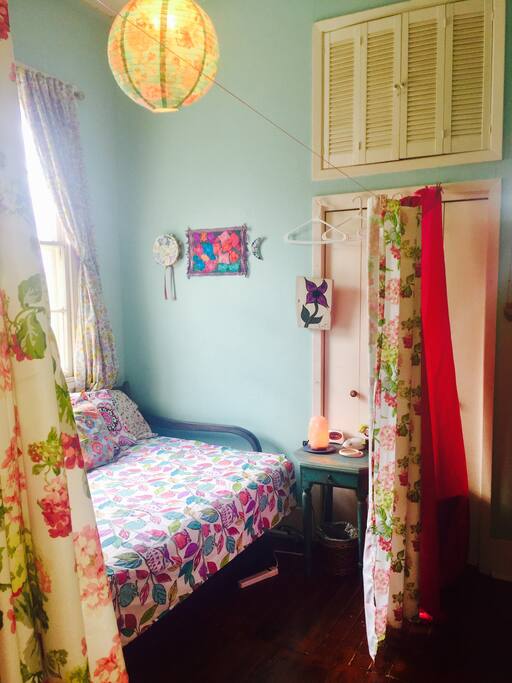 ❤️ROOM
Den
Double Bed
Middle Of Apt/Connects Queen Bedroom & Common Room
❤️APT
Shared W/Other Guests & Host
Shared Bathroom
Shotgun Style
Full Kitchen & Bath
Washer-Dryer
Courtyard & Dipping Pool
❤️AMBIENCE
Healthy Living
Organic & Natural Teas & Snacks
Organic & Natural Bath & Body Products
Organic & Natural Cleaning Products
Aromatherapies
Gentle Lighting
❤️GUESTS
Tidy
Diverse
Compassionate
Considerate
Ecofriendly
❤️NEIGHBORHOOD
Restaurants
Cafes
Shops
Parks
River
Public Transport: Tram/Bus
The space
❤️ WELCOME TO ROSIE'S COVE!❤️
Rosie or Rosy /ˈrōzē/ :
Bright, Cheerful, Optimistic
Flushed With A Healthy Glow
Consisting Of Or Decorated With Roses
Having The Characteristic Pink Or Red Color Of A Rose
Perfect for the happy, flexible, tidy, budget-conscious, "rose-colored lens" traveler seeking tropical flair, simple luxury, international community, healthy ambiance, friendly interactions & fab neighborhood!
Rosie's Cove is a true gem of intentional community building, healthy living, eco-friendly environment and good, old fashioned fun!
Organic and natural aromatherapies, teas & snacks, bath & body products, cleaning products, linens...and state of mind! Learn more about healthy living and connect to like-minded travelers with similar passions! Lifelong friendships by guests from around the world have been made at The Cove!
The information posted here will help you, the potential guest, to make the best accommodation choice for yourself. If you're looking for run of the mill accommodations without a lot of character, passion, worldly mission, or soul ~ you won't find that here. On the other hand, if you are looking for the most compassionate, joyous, collective, global human experience wrapped up into an authentic, unique, hand tended, well loved experience, Rosie's Cove is the right place for you!!
Kindly take the time to read through the full listing, guest reviews, and message exchanges with the host. Be sure to ask questions if there is any information you do not understand or wish to be clarified *BEFORE* you book, as Airbnb recommends. Sending a reservation request means you have read, understood, agree to, and are fully responsible for Airbnb, as well as Rosie's Cove policies once the reservation has been accepted. Rosie's Cove wishes for all guests to be delighted with their choices, as well as to enjoy the unique character, community, and rose colored experience of The Cove in peace and harmony!
❤️ MISSION & OVERVIEW
Rosie's Cove is fueled by teamwork, sustainability, and respect! Low rates, clean living, healthy atmosphere and peaceful vibe are generated by a community of guests taking a sense of responsibility and care for enjoying and protecting The Cove's 'ecosystem'. As part of this commitment, throughout the apartment, you will find many furnishings, bedding, decorations, cleaning products, body products, and food that are natural style, organic, fair trade, sustainably harvested, and/or locally produced.
We learn from and share with each other so, please be sure to leave your positive impact in the apartment just as Rosie's Cove hopes to do with you. Everyone and everything that enters The Cove has a story! Rosie's Cove heartily believes in considering the impact of our choices for seven generations and living simply that others may simply live!
Please remember, Rosie's Cove is my sweet, cozy home where I live and work, as well as invite family, friends, clients, and travelers looking for natural style living accommodations to share with me while enjoying the fun & leisure of New Orleans!It is not a vacation rental, hotel, motel, hostel, or bed and breakfast. Kindly treat the apartment with respect and gentleness, just as the host strives to do with all guests!
I often am in the kitchen brewing up fresh herbal teas, simmering a pot of homemade soup, baking fresh bread or dicing a salad with local veggies from the farmer's market. Come on in for a taste and to learn more about healthy living!
❤️ ACCOMMODATIONS & ROOM CHOICES
Rosie's Cove seeks to make rates affordable for diverse travelers. Mixed room accommodations in one location provide affordable stays for vacationers, students, volunteers, families, groups & international travelers! There are 4 accommodations to choose from at Rosie's Cove.
Riverbend Gem: Queen Bedroom ~ Queen Bed
Riverbend Nook: Den ~ Full-Double Bed
Riverbend Sweet Spot: Common Room ~ Single Click-Clack Futon
Riverbend Cozy Corner: Common Room ~ Single Japanese Style Futon
The best of Big Easy living full of character and charm! Come stay in this beautiful New Orleans apartment on the 2nd floor of a mixed architectural Double Gallery-Creole Cottage-Shotgun Style home where you will watch ships go by above rooftops from the balcony, smell authentic NOLA & ethnic cooking of restaurant owners from around the world, have a peaceful night's sleep in a super comfy bed, and receive top-notch TLC!
Choose from Master Bedroom, Bedroom-Den, or Common Room--all fully, furnished with bright, colorful rooms, barge board wood floors, natural-style furnishings, cathedral ceilings, ceiling fans, exposed brick fireplaces, huge double hung European windows providing light all day. Shared walk-in kitchen with fridge, toaster oven, and full sized oven (no microwave or dishwasher), common room (dining/sitting), breakfast bar, full bathroom, balcony overlooking historic park, tree & rooftop view of neighborhood from all rooms, large gated patio with seating and dipping pool in warm months, WIFI, washer and dryer available upon request.
Apartment amenities include non-central heat and air conditioning. Heat includes room heaters in each room, which keeps the apt nice and toasty. Air conditioning includes two high-powered window units, one in queen bedroom, one in common room, which keep entire apartment cool. Ceiling fans in queen bedroom and common room, box fan provided in den. Light-blocking curtains in all sleeping areas.
Please be aware that the temperature of the apartment, while somewhat flexible in each room, is determined and set overall by the *host*, with the greatest comfort level of all current guests taken into account. It is recommended that any potential guests seeking precise environmental control for their space should keep this in mind when booking accommodations.
Premises include approximately 800 square feet of indoor apartment space plus approximately 800 square feet of outdoor balcony and patio space.
❤️ RIVERBEND NOOK ~ DEN
This listing is for Rosie's Cove Riverbend Nook, the den-middle room of the apt. Furniture includes a super comfy full-double bed with 100% cotton (some organic), soft, cozy sheets and towels,, hand-painted & sustainably harvested wood night stand with Himalayan salt lamp, armoire with shelves (not hanging space), hooks and hangers on the wall, shabby-shique bakers rack shelves for clothing and personal items, wooden hope chest, colorful wicker hamper, beautifully hand-dyed wall tapestry, and large window with flowy curtains that fills the room with wonderful light and river breezes throughout the day. Gorgeous, peaceful roof- and tree-top view. As is standard with dens in the US, The Nook is the more petite of the two bedrooms...a 'roomette'! Shared bathroom with rest of apt. Soft, cozy linens. Organic and/or natural shampoo, conditioner, body wash, and lotion provided. Organic and/or all natural tea and snacks always available!
This is a private 'shotgun' style bedroom-den (each room connects to the following room, like beads connect to each other on a necklace) which is the middle bedroom of the apartment with doors on both sides, as well as a privacy curtain separating sleeping space from the hallway. 2/3 of The Nook contains furniture and living space for guests selecting to stay in this room while 1/3 of the Nook--the hallway space-- is used for bookshelves that guests are invited to read from and dresser/shelving that host uses.
This room is not a common room. You will not be sharing sleeping quarters with other guests, and it is low traffic. However, because of the 'shotgun' layout, there is less privacy than the queen bedroom and guests staying in the queen bedroom will occasionally pass through the hallway of the den during the day or may need to tiptoe through the hallway to the shared bathroom at night...zzz ;*). Also, guests staying in the den will pass through the common room to reach their room or the kitchen, bathroom, and front door. Other guests or the host may sleep in the common room at night, depending. On a privacy scale, Rosie's Cove rates the Riverbend Nook Room an 8 out of 10.
As noted, this is a shared apartment. Each room is priced according to amenities, size, and level of privacy. Please be prepared to enjoy the communal style living offered, and that you are selecting, if you choose Rosie's Cove for your stay. Guests should also be aware that if you choose to stay during festivals, holidays, graduations, or large-scale events, you are coming at peak time and each room may be fully booked. If you feel you are looking for ultra private accommodations with your own bathroom, entrance, or amenities, that should be catered only to your needs...this may not be the best fit for you. All are welcome but please choose this location based on your excitement with the offerings, as well as desire to interact with host and other guests, rather than simply on price or convenience. Rosie's Cove is holistically-oriented for all!
Check-in begins at 3pm, check-out ends at 10am. Free street parking in and around neighborhood. French Quarter approximately 5 miles. Airport approximately 12 miles. Train and bus station approximately 4 miles.
Please visit Rosie's Cove Riverbend Gem Guidebook on Airbnb for an ever-growing list of local recommendations! You'll have to search close up on the map to find the buried under the abundance of locally owned neighborhood restaurants, cafes, shops, pubs, and music venues!
http://www.airbnb.com/rooms/24999/guidebook/
❤️ CLEANING
CLEANING HOURS: 12-2PM DAILY
except when I'm traveling or have occasional appointments. Guests are requested to tidy their space for easy cleaning and leave premises promptly by 12pm. I clean and upkeep the property many more hours per day but these are fixed hours for cleaning, restocking, and routine maintenance, all necessary for a healthy, hygienic stay. If I am traveling for part or all of your stay, have an appointment during cleaning hours, or other scheduling change, I will keep you informed, as I have more info, on housekeeping hours.
Nominal cleaning fee of $20 per booking of one week or less, plus $20 for each additional week, for natural cleaning supplies and housekeeping services.
❤️ GUEST RESPONSIBILITIES
Check-out responsibilities include bringing all used linens (sheets and towels) to downstairs patio for laundering, removing trash from bedroom, unwanted food from kitchen, and bath and body products from bathroom. Rooms should be left tidy. Guests are expected to clean up behind themselves regularly during their stay and double-check to make sure they have left the apartment clean when checking out.
I periodically travel for work or family. I will keep you informed about my schedule and whether I will be at the apt for your stay before you check in. As my reviews show, I have hosted plentiful guests while on the road. While traveling, I hire weekly cleaning services and/or have a housesitter who cleans thoroughly once a week, tidies in between, and also is keen to connect with guests about all things NOLA, since she grew up here! However, guests are responsible for keeping their space tidy, along with the simple task of washing and replacing linens when I am not in town, which accounts for my lowered rates.
This can easily be done on day of check out while packing, having breakfast, etc. I have a free washer/dryer in a little house on the patio, along with laundry soap, and check-out instructions on a white board in the Common Room, which I will text you as well. You'll just need to leave enough time, about an hour, to cycle through both washer/dryer, replace linens, and return room to original mint condition in which it was found.
❤️ SMOKE-FREE
Rosie's Cove is a smoke-free environment. This includes all indoor and outdoor spaces--apartment, balcony, courtyard patio, shed, steps, walkways outside of entrances--anywhere on or directly near the premises. Guests smoking anywhere on premises will be asked to leave without refund. Rosie's Cove also is unable to accommodate guests who intend to smoke off of the property and then return to the apartment--due to the lingering smoke smell. Guests smoking off premises and returning smelling heavily of smoke will be asked to leave without refund.
The above house rule does not include guests who've been to outdoor venues where smoking is permitted thus, have picked up the scent of second-hand smoke.
❤️ LAGNIAPPE
Most importantly, Rosie's Cove hosts the greatest guests in the world! I always strives to be the hostess with the mostest and serve the guestests who are bestest!
Guest access
Guests may use the room they've booked, along with common spaces including the common room, kitchen, bathroom, and downstairs patio.
Interaction with guests
Peaceful, friendly, mature, positive outlook, respectful, clean, earthy, communal guests desired!
I truly love my awesome, one-of-a-kind Rosie's Cove community that I have knit together by hand. I can't wait for you to be my next guest ~ and friend! Lovely for seasoned travelers or newbies, individuals or groups, families, students, even locals looking for a fun, homey, relaxing, authentic experience in the Big Easy. Please visit Rosie's Cove Reviews & References on Airbnb for a glimpse of the many wonderful guests we've had the pleasure of hosting. With nearly 900 reviews, you may wish to scroll back to the early days for fun!
In almost 8 years, Rosie's Cove has hosted guests from diverse places around the world including 74 countries: Afghanistan, Albania, Algeria, Argentina, Australia, Austria, Belgium, Bosnia, Brazil, Bulgaria, Canada, Chile, China, Colombia, Costa Rica, Croatia, Czech Republic, Denmark, Dominican Republic, Ecuador, Egypt, El Salvador, England, Eritrea, Finland, France, Germany, Guatemala, Hungary, India, Indonesia, Iraq, Israel, Italy, Japan, Kenya, Korea, Kuwait, Macedonia, Malaysia, Mexico, Monaco, Morocco, Netherlands~Bonaire, Nigeria, Norway, Oman, Pakistan, Peru, Philippines, Poland, Portugal, Romania, Russia, Scotland, Seychelles Islands, Singapore, Slovakia, South Africa, South Korea, Spain, Sweden, Switzerland, Taiwan, Tanzania~Zanzibar, Trinidad, Turkey, United Arab Emirates, United States Of America, Ukraine, Venezuela, Vietnam, Wales, Guinea.
Plus 44 of the 50 US States (& Washington DC!) including Alabama, Alaska, Arizona, Arkansas, California, Colorado, Connecticut, Florida, Georgia, Hawaii, Illinois, Indiana, Kentucky, Maine, Maryland, Massachusetts, Michigan, Minnesota, Mississippi, Missouri, Nebraska, Nevada, New Jersey, New Mexico, New York, North Carolina, North Dakota, Ohio, Oklahoma, Oregon, Pennsylvania, Rhode Island, South Carolina, South Dakota, Tennessee, Texas, Utah, Vermont, Virginia, Washington, West Virginia, Wisconsin, Wyoming...and right here, close to home, from all over Louisiana!!
Rosie's Cove youngest guest was 6 months old and oldest guest had his 90th birthday in New Orleans! Guests of all ages welcome however, the average age of guests is generally between 20-60 years old. Travelers of all ages must be prepared to live with each other and respect each others' needs.
I meet almost all of my fabulous guests since I live at Rosie's Cove, too! YAY! I often spend time in the apartment chatting with guests, cooking, cleaning, or working on the computer. I spend a lot of time gardening on the property to maintain beautiful flowers, running errands at local shops in my quaint Riverbend neighborhood, and enjoying the colorful, vibrant, sumptuous space that is Rosie's Cove!
I do travel periodically, for work or family, as well as to enjoy the experience of being an Airbnb guest myself, of course! However, guests should assume I will be in New Orleans unless otherwise contacted. I will inform you of my travel plans just as soon as I know them. Please remember that if you send a last minute reservation request, I may not be able to inform you ahead of time that I am traveling.
Rosie's Cove strives for each guest to feel valued and special in this Riverbend, New Orleans 'home away from home'...because you are! We love to learn about our amazing guest. Your photo, bio, reviews, and other verifications, as well as messages and phone conversations help us to be fully, prepared for your visit! Rosie's Cove deeply appreciates every guest's unique qualities. We always want guests to feel respected, included, and relaxed in a gentle, community atmosphere filled with kindness and warmth, while offering the privacy and personal space at the same time. Please, let us know how we can best serve you.
Other things to note
Holistic style accommodations includes helpful tips on healthy, natural living, along with ecofriendly, sustainable, and/or organic:
~Teas & Snacks (Tea Brands: Yogi, Traditional Medicinals, Organic India, Newman's Own, Choice, Trader Joe's, Vitacost. Also, honey & cane sugar provided. Snacks: Various brands; usually pretzels, cookies, and dried fruit, vegetable, or nuts)
~Bath & Body Products (Brands: Alaffia, Jason, Mrs Meyers; hand soap, shampoo, conditioner, lotion)
~Paper Products & Trash Bags (Brands: 7th Generation, Marcal, Whole Foods; toilet paper, paper towels, tissues, kitchen and bed/bathroom garbage bags)
~Cleaning Products (Brands: Mrs Meyers, Dr Bronner's, Pure Majestic; dish soap, laundry soap, bathroom deodorizer, mopping & dusting cleansers, floor wax)
~Essential Oil Aromatherapies & Incense (Brands: Pure Majestic, NOW, Hem)
~Cotton Linens (Brands: Pottery Barn, primarily)
I use chlorine bleach once or twice a month in the bathroom and kitchen to remove mold and oily build up (Brands: Clorox)
Please feel free to inquire for more info if you have sensitivities, allergies, or asthma!
---
---
Always communicate through Airbnb
To protect your payment, never transfer money or communicate outside of the Airbnb website or app.
Learn more
---
Check in time is 3PM - 1AM (next day)
AIRBNB POLICIES
How Can I Be A Considerate Guest?https://www.airbnb.com/help/article/695
Before You Book: Airbnb has a diversity of listings, from shared rooms to entire homes. Make sure the space, house rules, and hosting style match your needs. Spend some time reviewing your host's listing to make sure the place is a good match for you. Get a sense of the strengths and weaknesses of the listing by reading reviews from other travelers. Feel free to contact a host with any questions you have about a listing.
Before your trip: Communicate clearly with your host about any expectations or special needs you may have. Always let your host know if you're likely to arrive late for check-in.
On your trip: Honor your commitments (including arrival time) and any house rules. Enjoy your host's home as if you were staying with friends. Be respectful of your neighbors. Explore the neighborhood and support local businesses. It's a great way to feel more like a local. Try asking your host about their favorite neighborhood spots! Get your host's permission before having guests over.
When in doubt, reach out to your host with any questions or problems that arise.
ROSIE'S COVE POLICIES
Please be ❤GENTLE AND LOVING❤ to Rosie's Cove! Rosie's Cove is a labor of love! Most furnishings and decorations are hand made! Everything is meant to be treated with respect and mindfulness. As noted in listings, this is my home and you are a guest. Guests are required to be mature, responsible, mindful, clean, and considerate.
There truly is one golden rule, be courteous! The rest are policies to make living together in a shared community successful for all...that's you: the guest, me: the host, and Rosie's Cove: the space!
CHECK IN/CHECK OUT
Standard check-in begins at 3pm. This means your room is ready at 3pm. Standard check-out ends at 10am. This means all of your belongings must be out of the room with linens taken down to laundry (to be washed by host), trash removed, and room left clean, as found, by 10am.
HOUSEKEEPING HOURS
As noted in my listing, routine cleaning, maintenance, and administration hours are 12-2PM DAILY, except when I'm traveling or have occasional appointments. As noted on my Airbnb listings prior to you booking, guests are required to leave during this time. The door will be locked promptly at noon for two hours. Starting preparations to exit by 11:30 gives guests plenty of time to have their belongings together and be out the door by noon. If I am traveling for part or all of your stay, have an appointment during cleaning hours, or other scheduling change, I will keep you informed, as I have more info, on housekeeping hours.
GUEST RESPONSIBILITIES
Prior To 12pm, All Guests Are Expected To:
Leave apt space as found (or better!)
Tidy your belongings and bed
Pick up items off floor in your room
Hang wet towels on hooks
Keep all food in fridge
Take out trash from your bedroom, if full
Clean your hair out of shower & sink
Wipe down surfaces in bathroom and kitchen when finished
SHOES
Rosie's Cove is a barefoot, sock, or slipper home. Shoes are always left on the white rack by the front door for cleanliness and to respect neighbors.
FOOD
Snacks for guests are in glass jars on counter in common room, tea bags for hot tea on common room table, iced herbal teas in glass pitchers on top shelf of fridge. If you are a big snacker, supplement with your own. PLEASE ENJOY SNACKS AND TEA BUT BE COURTEOUS AND SAVE SOME FOR OTHERS!
Sorry, all other food in fridge and cabinets is host food and should not be eaten by guests. Due to budget accommodation prices, all food and cooking supplies, aside from listed snacks and teas, should be purchased by guests, unless otherwise noted.
All guest food should be kept in fridge to prevent pests. This includes any food in your luggage, including unopened packages of snacks, pasta, rice, bread, etc. No food trash is permitted in bedroom or bathroom trash cans.
**Please inform me in advance if you wish to cook or to store more than a few groceries in the fridge.
PERSONAL PRODUCTS
Guests should not wipe makeup on towels or wash cloths. It doesn't come out. You are responsible for bringing your own make up pads and remover. No nail polish application in the apartment, as it can be unpleasant for others. You are welcomed to sit on the patio and apply nail polish.
WHEN I AM TRAVELING
As posted in my listings, I periodically travel for work or family. I will keep you informed about my schedule and whether I will be at the apt for your stay before you check in. As my reviews show, I have hosted plentiful guests while on the road. While traveling, I hire cleaning services and/or have a housesitter who cleans thoroughly once a week, tidies in between, and also is keen to connect with guests about all things NOLA since she grew up here! However, guests are responsible for keeping their space tidy, along with washing and replacing linens, when I am not in town, which accounts for my lowered rates.
This can easily be done on day of check out while packing, having breakfast, etc. I have a free washer/dryer in a little house on the patio, along with laundry soap, and check-out instructions on a white board in the Common Room, which makes it quite simple. You'll just need to leave enough time, about an hour, to cycle through both washer/dryer, replace linens, and return room to original mint condition in which it was found. The very modest $20 cleaning fee ($40 for more than a week) on my listings contributes to regular housekeeping services, including full apt cleaning and grounds upkeep, touch up room cleaning, along with natural cleaning supplies, which cost more than conventional chemicals. Alternately, guests may request maid services in advance, specifically for their room check-out, at an additional local, going rate of $100 per room.
LOST KEYS
Lost keys will be charged $50. Please, be sure to return key upon checkout or cost of lost key + $50 and/or cost of lock change will be assessed.
SECURING YOUR BELONGINGS
Please bring a lockbox, passport holder and/or other method of securing your personal belongings as you see fit.
LAGNIAPPE
Rosie's Cove is not responsible for damaged, lost, or stolen articles during your stay. Rosie's Cove is not responsible for injury to guests during your stay. By making a payment, you understand this to be a legal contract which you have read, electronically signed through checking 'I agree' boxes, and thus are agreeing to all terms & conditions of AIRBNB'S website, as well as Rosie's Cove policies.
Failure to comply with basic norms of peaceful, respectful, communal behavior as outlined on this listing will result in termination of stay without refund.
---
---
---
Jennifer's place is absolutely beautiful, and exactly as described in the listing. She communicated with me everyday to make sure I was enjoying my stay and if anything could be done to improve my time there. It is in a great location as it is only a few minutes walk to the St Charles Streetcar stop which takes you directly into town for just $3 (for a day ticket). It is also just a few minutes walk away from a supermarket. All in all it is a great location and a great place! Would absolutely stay again
---
Jennifer was a very welcoming host, the house was charming and colourful, the bed was comfortable and we slept well. Jennifer was very responsive in helping with suggestions and when I text her asking her for advice whilst I was in the French Quarter. I would recommend for a real feel of New Orleans.
---
Starting from very helpful prior to my visit, and continuing to be as so during my arrival and along my stay, Jennifer was a great host, I did enjoyed the daily conversations with her about everything. Very nice and easy going. The place was awesome, just what I needed, 3 walls and a curtain!!! All beautifully decorated to the detail. Very quiet location, so ideal to rest at night. Just a few meters from the public transport to the city centre. On my next visit to New Orleans, I will definitely stay again with her, it was a very nice experience. ;-) And remember to follow her advice as it is always great.
---
I can't say enough wonderful things about Jennifer and Rosie's Cove. Jennifer is a warm, caring, attentive host with great knowledge of a lot of things. She's very sweet, and I enjoyed all my chats with her. Her place is clean, bright, cozy, affordable and just fantastic. She put a lot of effort and pride into her home and only ask for basic respect back. Hence all her rules. She offered us tea and always made us feel safe and comfortable. She really went above and beyond to accommodate us. I wish I could of stayed longer, and I really look forward to being a future guests with her. Book her place! You will love it
---
New Orleans, Louisiana, United States
Joined in April 2010
❤️Welcome, friends!❤️

I am a Holistic & Natural Health Consultant who offers natural wellness education and modalities including Yoga, Organic & Seasonal Cooking, Herbalism, Aromatherapy, Feng Shui, and Spirituality. I provide personalized sessions, as well as group education, to individuals, families, communities, and businesses. I specialize in Women's Wellness and my passion is to help people from all over the world feel well & inspired!

I spent my junior year abroad in Spain where attended the University of Madrid during the week while traveling around the country on many weekends and holidays. I also have traveled through Andorra, Portugal, France, Belgium, Netherlands, Italy, Greece, Mexico, Israel, and Canada. I've criss-crossed the USA many times, been to most of the national parks, many state parks, seen incredible sights, small towns, big cities, countryside, desert, mountains, seashores and swamps. Train, bus, boat, car, plane, foot...backpack, duffel bag, suitcase, laundry bag...camping, home stays, B&B's, fancy suites ~ I'll take them all ~ and am ready for a good road trip any day of the week!

I love New Orleans! And I love sharing New Orleans! I have lived in the Big Easy for over 20 years; attended, as well as worked for, Newcomb College & Tulane University for undergraduate and graduate school; am enchanted by The Crescent City's music, food, art, architecture, nature, history, diversity...and best of all, community! New Orleans was voted the friendliest city in the USA and just a few minutes here will show you why. Travelers from around the world say the same so, it must be true!

I look forward to hosting you, learning more about your culture & life experiences, as well as sharing my Rosie's Cove, New Orleans home with you. I love hosting people from around the world as much as global traveling myself and believe in good travel karma! Fantastic guests are what make hosting a unique and special experience. I always strive to be the hostest with the mostest and serve the guestests who are bestest!

Please be sure to visit my blogs by searching Rosie's Cove New Orleans and Jennifer Sachs Holistic Healing New Orleans online. Feel free to message me with any questions you may have about accommodations or to set up a Holistic Wellness Consultation during your stay. Sessions also available via phone, email or videochat. Se habla español. Lessez les bon temps roulez...Let the good times roll!

~Jennifer A. Sachs, Rosie's Cove Proprietress~

*♡❤ PEACE, LOVE & TRAVEL!! ❤♡*
Languages:
English, Español
Response rate:
100%
Response time:
within a few hours
Explore other options in and around New Orleans
More places to stay in New Orleans: