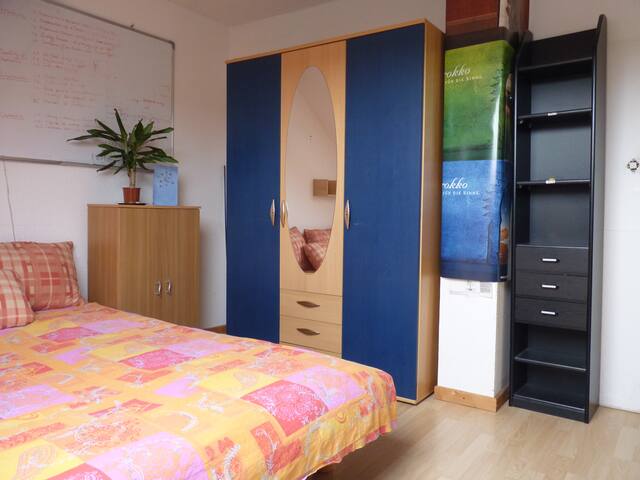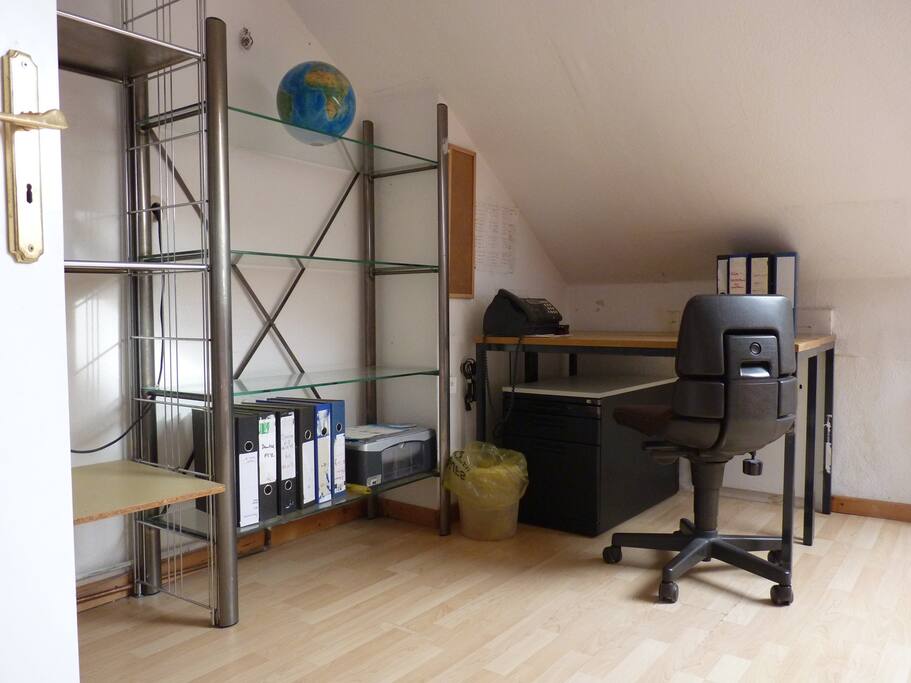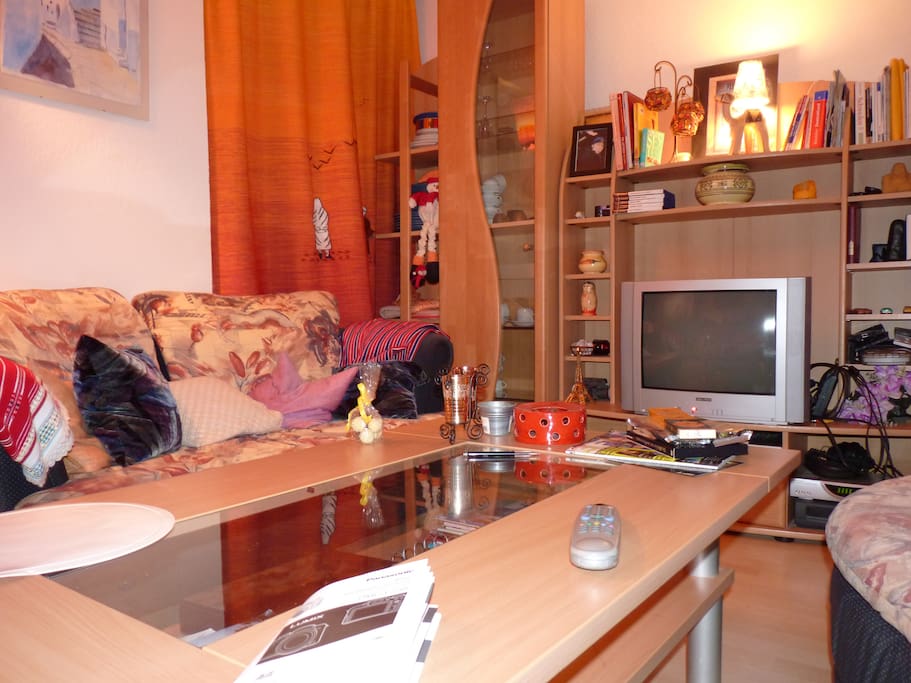 Nice Room!! not fair to Center
The rooms are furnished with bed, wardrobe, desk. In addition I have a combined kitchen with oven and other kitchen utilities, and washing machine and a bathroom wit. Breakfast ( French or German) costs separatly 8 EUR
The space
Nice fully furnished room, comes with a bed, chest of drawers, desk, chair, bookshelf, coffee table, cupboards and its own sink.
Other things to note
The area is great for supermarkets, there are a Rewe and Netto right nearby, and
a huge Marktkauf also not far away (about 7 minutes walk). The Vahrenwalder Park is also very close.
---
---
Common spaces
1 single bed, 1 sofa bed
---
The bathroom has a bath and a shower, and the kitchen has a dishwasher if you don't want to clean the dishes for the day :)
---
Redouan is a great guy. Very respectful, professional and goes out of his way to assist his guests. The location of the apartment is great; close to the metro, supermarkets and restaurants. 10 -12 minutes away from Messe by car.
---
Hello everyone, Reduan is a great person, but the first day I arrived I had to wait in order to get him to come in the evening after work. I was given the wi fi because you had to sign a contract on air bnb HYGIENE not specified but it is a separate contract, I have been given the keys even the same day, the day after the arrival I was locked in the house because I did not have the keys and had to go and wake up a girl to ask if I could open the door. avebo asked if I could do the domicile by him to be able to adjust to the common but hs refused because at least want to keep them three months. as soon as you arrive you asks you if you want to clean the house 1 or 2 times a week and if you say no you pagsre 30 euro more than the share that you have already paid. Then you have to leave a deposit proportional to how many days you stay and it is not said you laugh back, because to me is capitazo that since the room was cleaned superficially cleaning the room deducted me money. the room door did not lock it because does not have the lock and has not done so to fix, so you were with the door open and if you leave the house you never know what you can find or do not find (though I have not had any problems. no one has ever touched anything) but for my privace and security had to have the key. The house is located in a good area to get to the center of Hanover, were it not for all these problems the place could be beautiful. I apologize for Reduan but the truth is this, needless to reclaim. I'm not a liar and not belittle anyone, the truth is this
I dont know on other countries, but in Germany, we have to clean together the flate, cause we share together the kitchen and the Badroom. I want that my guets stay in a very good conditions. The guest is free not to clean herself, thatswhy we have possibility to ask other people to do that, like clean-company. Otherwise, in Germany, is the use of the Internet (Wi-Fi) is under legal conditions. My lawyer told me to give Internet- password only if the guest sign a contract to respect the national and eureopean security against Hacking-Bank-Online, or not open the terrorisme website, and not open the porno-children. Any guest want to do that, please not wit my Internet. So is the law in Germany. Thank you.
---
Redouan is excellent host, he is helpfull, friendly and responsible. The room is centrally located, clean and comfortable. There are 3-4 supermarkets, 3-4 apoteke etc.. near, and place is in only 20 min. walking distance to city center and university. I had prejudice before come to hanover because of the so serious profile picture of Redouan :)) So, I am strongly reccomended his place. Enjoy your travel.
---
I had stayed for only a few days of the entire booked 9 days. Had a incredibly harassed time with the host, as he demanded almost an increase of 600euros due the Messe even though we had agreed on the cost a well 3 weeks in advance. This demand was initiated the minute my colleagues and I had walked at 9pm and went on till 12.30AM. Yet coming off as a good hearted straight gentleman, things turned sour 3 days later as he demanded the extra 600 euros. This harassment then continued from 10pm to 2.30AM with his wife throwing insults and racial slurs to get me to pay. He threatened me to take me to the lawyer, court and also the police since I was reluctant to meet the demands as I was officially on a business trip. All in all I had left the room the following morning with the security deposit cleverly deceived to provide only 75 out of 300 euros since he was making a "loss" by providing me the room. With bitter emotions left we had decided it was not the best way to spend our time at Hannover on business as it was getting affected. We found welcoming hearts elsewhere with no such high demands for the stay. I highly recommend NOBODY and I mean NOBODY to book with Mr.Redouan as he is a incredibly deceiving person and a equally if not more deceptive conniving puppeteer of a wife. He had only one goal in mind and that was to cheat and forcibly get money of your hands with lots and lots of contracts. Thanking you and there are by far many more welcoming and warm hearted souls on this website, but trust me Mr. Redouan Brown is no such human being. Please stay away from his listing a humble request.
Tanay Shankar is lying ! everything here is incorrect ! I have my good social position in Germany , and I do not need to lose time with this bad level. We have a contract in Airbnb in that he should come here alone . Suddenly other peoples were in my flate . He and several peoples come here on the midnight full drunck, they smoked on the flate ( its forbidden here to smoke), and with a lot of noisure, and they distrubed the neighbours. Of course, I didn´t accept that , this is a fraud, and I return him the money, I have a receipt of that. I have given all the documents to my lawyer. Everybody can contact him for copies and details. Breffely, I don´t recommend nobody to give an accomodation/ flate or room to this this person.
---
Die Unterkunft ist zentral gelegen und grundsätzlich in Ordnung. Vor der Buchung sollten alle Details wie Wlan Nutzung und eventuelle Sanierungsmaßnahmen erfragt werden , den keiner lebt gerne auf eine Baustelle und kann nicht duschen. Auch sollte geklärt werden ob die Ehefrau sich weiter lauthals nachts streiten möchte , oder doch den Gästen zuliebe den Streit auf Zeiten verlegt in denen die Familie alleine ist.
---
Alles in allem nicht schlecht. Kleinigkeiten wie kaputter Backofen, schleppende Kommunikation und hätte auch etwas sauberer sein können. außerdem kein Schlüssel für zimmer vorhanden gewesen!
!!! 1. Backofen ist vom "Bauknecht Firma", 5 Monat alt, TOP ZUSTAND. Ich bin nicht verantwortlich wenn jemand nicht ein modernes Gerät bedienen kann! 2. Kommunikation: Ich habe alles am Anfang erklärt, und bin auf Dienstreise gegangen, ich muss nicht je Minute erreichbar sein !!! 3. Sauberkeit: TOP da einer Putzfrau es vorher gemacht hat, und paar Tagen vorher das Zimmer vom Reinigungsfirma gemacht, habe noch Rechnung zu zeigen. 4. Schlüssel: Whg und Haupt Tür Schlüssel gegeben, vom Zimmer war im Zimmer drin ganze Zeit. Fazit: Schade dass jemand so nicht ehrlich ist, und ich war seiner Gastgeber.
---
I´m a Scientist, Physical Chemistry. I´m living in Hanover since 2002; we can talk about the culture and life in Hanover and Germany. About my personality, I´m very open Mind person and open to other cultures, I like traveling, and I like to live in a clean environment. I like …
Languages:
Deutsch, English, Français
Response rate:
100%
Response time:
within an hour
Explore other options in and around Hanover
More places to stay in Hanover: