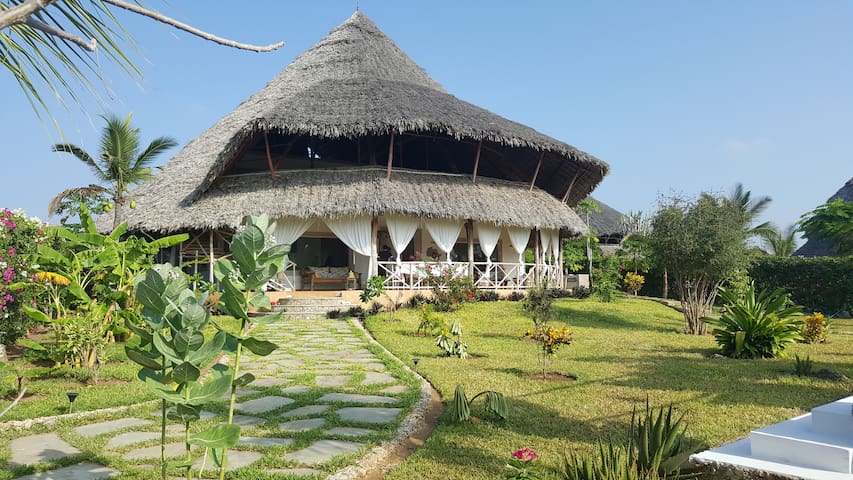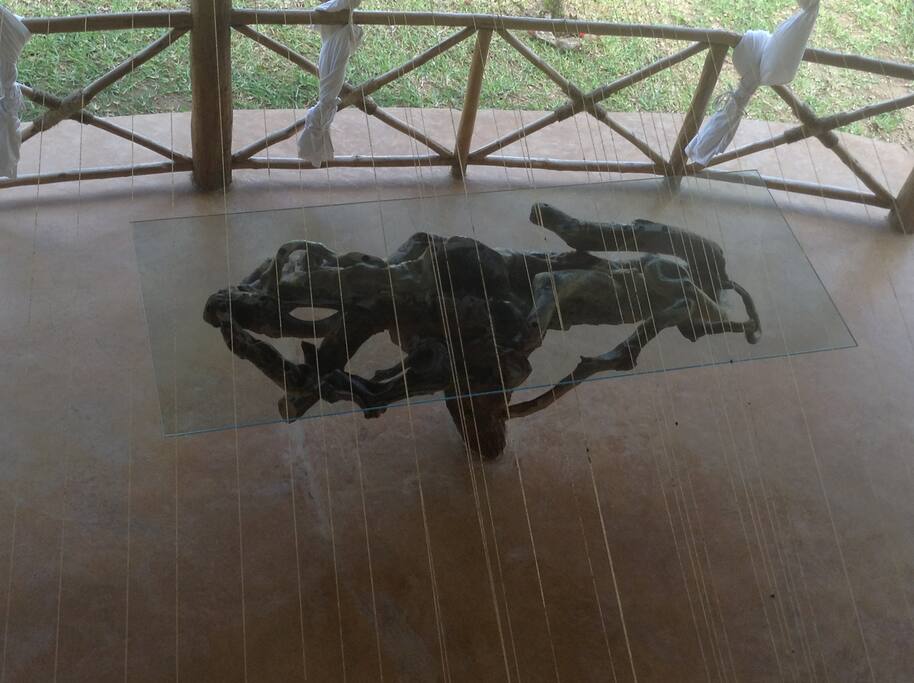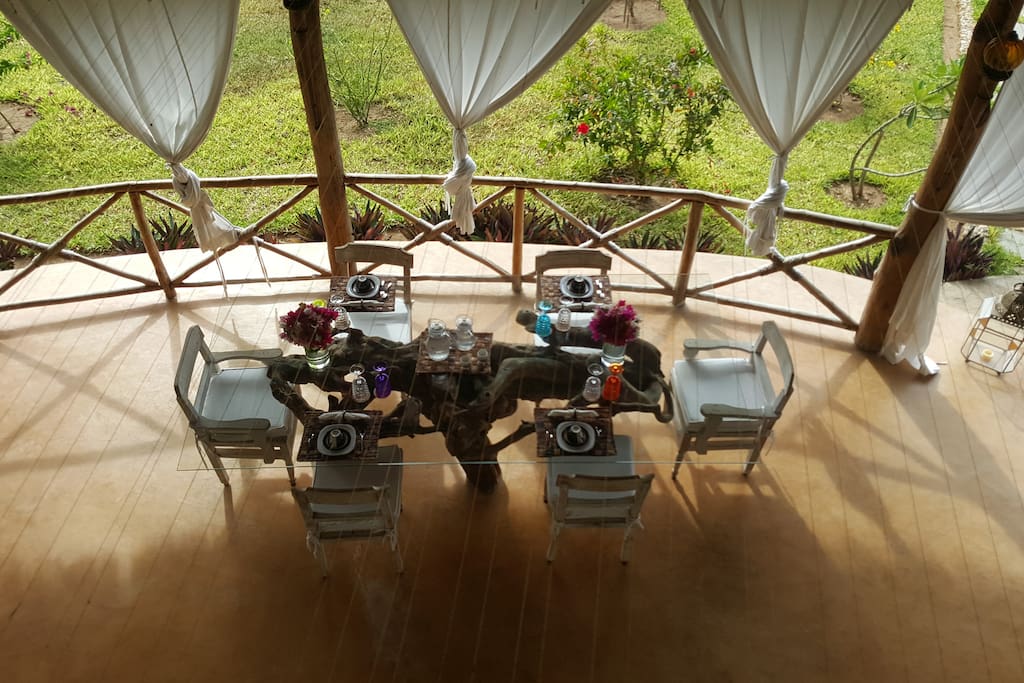 The space
-A wonderful private villa called "Nyumba Mimi na WEWE" complete with staff, part of the residential complex Nyumba Baharini (the house overlooking the sea); Is located between Jacaranda Road and Kanani Road, only 6km from Watamu, UNESCO World Heritage Site, 15km from Malindi and only 125km from Mombasa; Is located close to one of the most beautiful unspoiled beaches in Kenya, in the town of Watamu, known as "SARDEGNA TWO", a hiking and tourist destination that, with tide alternating with sunsets, the presence of Full moon and starry sky, will offer you different and exciting scenarios. The accommodation is provided with a generator set in case of black out light, for which you only need to contact the house staff (so there will never be darkness, or there will be no worries about the frozen food left in the freezer, or, There will be no problems loading cell phones).
The home is also equipped with WI-FI, just type in the existing password inside the same and, of course, with pre-charged recharging of the card.
Guest access
-The house is immersed in a lush tropical garden with a lawn of more than 1,500 sq. Ft., Featuring a beautiful gazebo overlooking the sunset, where to have an aperitif and tell the day with friends, and a barbecue area with stone Lava, where to cook naturally fish - meat and vegetables; Totally ecologically sustainable, the house is laid out on two levels; It enjoys a lovely view of the sea, the pool and the garden. It is made up of four double suites with quaint King Size Beds, fitted with mosquito nets and made of masonry and wood. Each suite is equipped with a private bathroom, with its linens (linens, pillowcases, pillows, bathrobes and towels). The ground floor features a large veranda fully furnished, a large living room, a kitchenette and two suites. The upper floor, however, has a large veranda with a sitting area and a massage table and two suites. It can accommodate a minimum of 8 people, with the possibility to use the beds the two sofas placed in the ground floor lounge. Each room has bladed fans.
- The villa has at its disposal: on the beach there are 4 typical wooden African sun loungers and umbrellas; In the pool, sun loungers shaded by palm trees, all with special care and fitting service with mattresses and beach towels.
It is recommended to bring soap, toothpaste, toothbrush, toothpaste and sunscreens not provided during your stay.
- The kitchen of the villa is furnished and equipped with stylish and prestigious utensils and appliances: stove, oven, fridge, freezer, cutlery, tablecloths, glasses, plates, pans, breakfast plates; Practically full.
- The house is lacking in air conditioning because you do not need it, as the villa is in an area that is continually and gently caressed by a beautiful sea breeze allowing enthusiasts to have fun, provided equipment, surfing Kite surf on the village beach; Also offers cook and chef service, with table service, ready to satisfy the palate of guests with the preparation of fresh pasta and typically Italian and kenyoti dishes as well as the colf service who will take care of the house and will provide laundry service And boyfriend of the house boy who could, where the guest wanted it, to work together in the shopping, and the boy who could play the Baby Sitter if needed.
 - The residence is equipped with a 24h security service. Possibility to arrange transfer from / to Mombasa Airport (2 hours by car, 60/70 €) by contacting the trusted taxi service of Mr. Watamu KABATE at No. (PHONE NUMBER HIDDEN), whether on site, or from abroad to n. + (PHONE NUMBER HIDDEN); To move from the residence it is possible to rent a car / motorbike or taxi service with the nice tuk tuk (bee), motorbike, car. For any destination, even daily, safaris and trips, just ask the house boy - PRINCE - their phone numbers or contacts.
Interaction with guests
By mail or phone, there will never be coincidence of presence with guests.
Other things to note
- Useful Guides: The local currency is the Kenyan Shilling and the use of credit cards is not always possible. The local language is swaili but the most widespread is English; Top-less is forbidden and pursued, it is not advisable to show off wealth and money.
Peace, tranquility, nature and African scents in the residence and the fun and lively frenzy of this people, as well as a wide range of entertainment, will make your vacation a dream come true.
- Restaurants: Olimpia club tennis Malindi (tel. + (PHONE NUMBER HIDDEN)), basic, but good pizza, good fried fish, great kilifi oysters to accompany with white focaccia and cold prosecco - cost per person not more than € .15 , 00; TANGERI - MALINDINA, we recommend booking (Tel. + (PHONE NUMBER HIDDEN)).
There is a large car park in the residence.
By taxi from Mombasa airport cost € .60 / 70 (PHONE NUMBER HIDDEN).
- Grocery shopping: Mama LUCY at Watamu; Nakumat in Malindi; Fruit and vegetables is recommended to buy it at the market by dealing with the price (pineapple max 100 shillings the piece, mango apple max 15 shillin the piece, passion fruit max 120 shillings per kilo, red bananas max 10 shillings one, the other to a lot Less than 30 shillings per piece, max. 30 shillings per piece, maximum 80 shillings per kilo, max. 80 shillings per kilo, zucchini max 50 shillings per kilo).
- Disconcert: Pope REMO Watamu (Tel. + (PHONE NUMBER HIDDEN)); Pata Pata Malindi; Billionaire Malindi.
- Casino: Resort Jacaranda (walking distance by beach or with tuk tuk or motorbike from the street in a minute about-cost 1 €.); Malindi Casino or Billionaire Casino (reachable by taxi in 20 minutes both on the way back and for the return, with the wait, max €. (PHONE NUMBER HIDDEN) shillings).
SERVICES
The house is equipped with generator set in case of black out light.
Smoking is allowed only outside and not in the rooms.
Outdoor service bathroom.
Pool.
Car park.
Goalkeeper.
Washing machine.
Massage table.
For families and children.
Kitchen.
Barbecue.
They intercept safety through Walkie Talkie.

TYPOLOGY Accommodation: Entire home.
Bed type: canopy canopy with mosquito nets.
Number of beds: 8.
Bedrooms: 4.
Bathrooms: 5.
Stay: Minimum Week End.
Price per day from: € .180.00 to €. 250.00
Price per week: €. .
Price per month: €.
Country: Kenya
City: Watamu / Malindi
Cancellation Terms: Rigid with Penalty.
---
---
Check in time is 12PM (noon) - 8PM
Self check-in with doorman
---
Really great place to relax with friends. The food was very decent. Very quick walk to the beach and the shared pool was very close (and we didn't have to actually share it with anyone). Not super easy/cheap to get to town, but we were looking for a place to unwind so it was great for us.
---
The accommodation is simply beautiful with the beach so close! The two women made excellent meals to our liking. Everything is very clean and we felt very safe here. Also the communication with Piermarco was very easy. The ocean is very beautiful, though consider that during the day its low tide, so you cant really swim then but you can walk really far into the beach and discover many sea animals! Very beautiful and interesting.
---
Very beautiful decor, comfortable beds, beautiful veranda and furniture. A very relaxing house with wide spaces and lovely seating. Off season the beach is full of seaweed, but the place is quiet despite the proximity of the other properties on the compound. You need to stop off at the supermarket before arriving here and buy absolutely everything you think you might need including things like shampoo, mosquito spray, tea, coffee, sugar, water, all your food etc... The local beach boys can be really annoying and trail you, talking at you non-stop as long as you are on the beach. They really don't leave you alone. The housekeeper/cook is not the friendliest...
I thank Lisa for her review, but I want to point out that her complaint of having to stop at the supermarket for the purchase of essential goods was an exceptional case, apparently because she is not well understood with the home manager. The shampoo, or the foam bath are almost always available under the bath sink, water is always available, if then an all inclusive service is required, then the costs would no longer be indicated. The cook's behavior has been censored and will no longer happen, as it admitted that it was not available to the guest for serious personal problems that had occurred in those days. So much for proper knowledge and clarification with Lisa. Thanks again. Piermarco
---
Beautiful home close to the ocean and a pool. Farther than walking distance from Watamu town, so expect to pay for a taxi if you want to get there. We were there during the off season (May) so there was just one small restaurant open within walking distance (along the beach). Loved the wrap around porch... Amazing views!
---
Persona disponibile, solare e sincera Mi piace viaggiare, amo le auto storiche
Response rate:
100%
Response time:
within an hour
Explore other options in and around Watamu
More places to stay in Watamu: