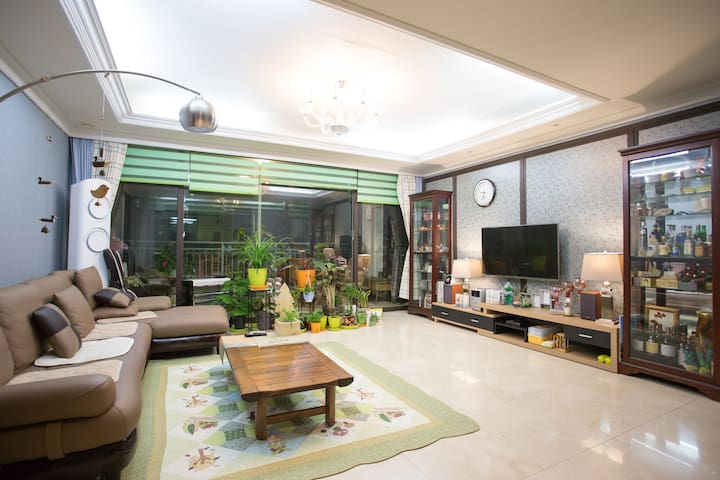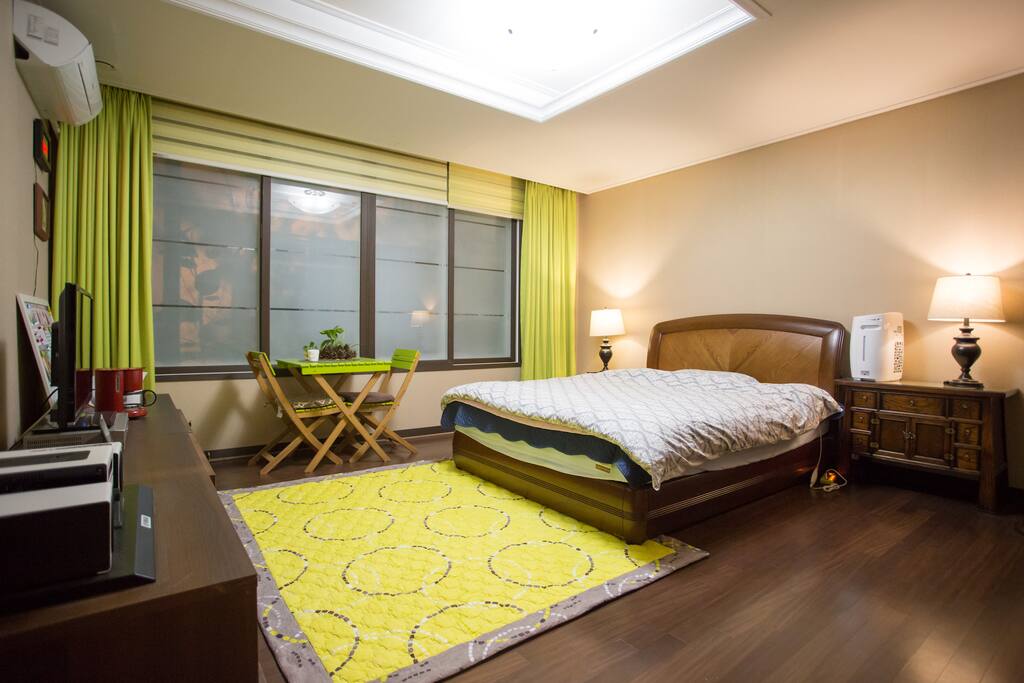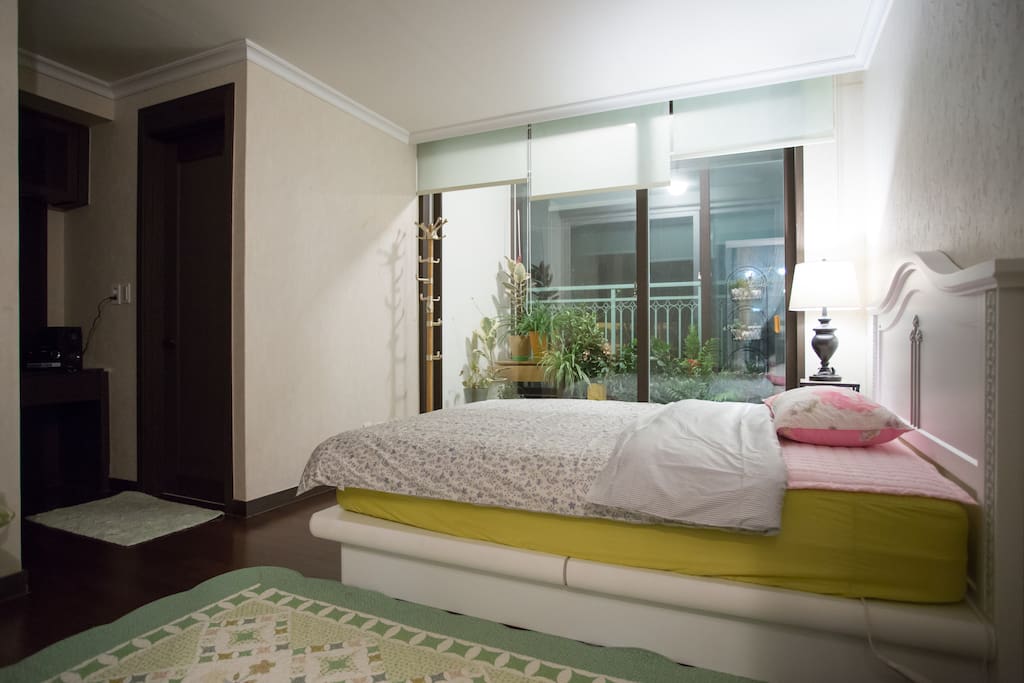 About this listing
발길 닿는 곳 마다 추억이 되는 곳 바로 강릉. 4월에는 강릉 올림픽 경기장에서 올림픽 테스트 이벤트(아이스하키)가 열리고 있습니다. 실제 올림픽이 열리면 입장료가 비싸 경기장에서 관람하는 것은 어렵습니다. 아마도 무료이거나 1-2만원으로 선수들의 거친 몸싸움. 스케이트날이 휙휙 날아다니는 소리,등 직접 체험하시면 어떨까요? 지금 열심히 일한 당신께, 자녀들에게 특별한 추억선물로 SUNI HOUSE 를 추천합니다. 여행을 살아보는 것이라고 한다면 이곳 숙소에서 살아보는 경험은 특별하죠. 경포대 송정 바닷가를 도보로 1분안에 만날수 있고 소나무 숲이 정원입니다. 1층이라 아침이면 새들의 노래소리에 손님들도 행복해요. 마음이 편안하고 넉넉해지는 57평 아파트라 도시에서의 지친 몸과 마음을 힐링하기에 좋은 별장입니다.
---
---
Weekend Price: £152 / night
---
발길 닿는 곳 마다 추억이 되는 곳 바로 강릉. 4월에는 강릉 올림픽 경기장에서 올림픽 테스트 이벤트(아이스하키)가 열리고 있습니다. 실제 올림픽이 열리면 입장료가 비싸 경기장에서 관람하는 것은 어렵습니다. 아마도 무료이거나 1-2만원으로 선수들의 거친 몸싸움. 스케이트날이 휙휙 날아다니는 소리,등 직접 체험하시면 어떨까요? 지금 열심히 일한 당신께, 자녀들에게 특별한 추억선물로 SUNI HOUSE 를 추천합니다. 여행을 살아보는 것이라고 한다면 이곳 숙소에서 살아보는 경험은 특별하죠. 경포대 송정 바닷가를 도보로 1분안에 만날수 있고 소나무 숲이 정원입니다. 1층이라 아침이면 새들의 노래소리에 손님들도 행복해요. 마음이 편안하고 넉넉해지는 57평 아파트라 도시에서의 지친 몸과 마음을 힐링하기에 좋은 별장입니다.
방이 4개입니다. 세 개는 침대가 있고 하나는 책으로 채워져 있습니다. 침대가 있는 방 세개는 손님이 사용하실 때 불편함이 없도록 침대와 이부자리가 마련되어 있습니다. 6인이 충분히 사용하실 수 있습니다.
홈스테이라 모든 시설이 갖추어져 있습니다. 사용하시고 제자리에 놓으시면 됩니다. 냉장고는 손님용으로 따로 비워져 있습니다. 편리한 아침식사를 위해 커피머신과 토스터기를 준비하였습니다.
여행객이 머무는 동안 필요하시다면 함께하지만 손님들만의 시간을 원하시는 경우는 동생집에 머무릅니다. 주인장이 서울에 있으면 동생이 맞아줄겁니다.
강릉은 바다를 끼고 있어 힐링에 아주 좋은 곳입니다. 바우길 체험이나 경포호수(1시간 소요)를 한바퀴 돌아봐도 좋습니다(가족과 함께 하는 자전거 체험). 문화와 함께 어우러진 허난설헌 생가도 추천합니다.
강릉경포대 송정해수욕장이 걸어서 1분거리입니다. 가끔씩 바닷가에서 섹스폰연주가 있으며 바우길 체험하시는 분들이 삼삼오오 모여 담소를 나누기 좋습니다. 아파트라 주차는 지하 주차장에 가능합니다.
저희 홈스테이를 이용해주신 손님들에게 감사의 뜻으로 무료 해맞이 이벤트와 사진콘테스트(주제는 스마일)를 준비하고 있습니다. 후기 중에서 한분을 뽑아 12월31일 숙박할 수 있는 무료 숙박권을 드리겠습니다. 숙소에서의 좋은 추억을 사진으로 담아 보내주시면 한분을 뽑아 무료 숙박권을 드리겠습니다. 많은 참여 부탁드립니다. 주인장이 살고 있는 곳이라 부담스러운 면도 있지만 좋은 일들로 시간 채우고 좋은 사람들로 주변채우고 좋은 기억으로 인생 채울 수 있는 장소라 생각합니다.
---
Check in is anytime after 3PM
애완동물은 머무를 수 없으며, 흡연 금지 구역입니다.
---
Moderate
Cancel up to 5 days before your trip and get a full refund, including service fees.
---
---
Gisoon was very accommodating and her home worked out great for our family. There were two bedrooms with queen-sized beds, one bedroom with bunk-beds, and three full-baths (including one with a jucuzzi tub). My kids enjoyed hide-and-seek in her long garden balcony, and appreciated the coloring pages/materials, books, and sand-toys offered. The large apartment is located on the ground floor of a high-rise apartment complex which was very convenient for wheelchair access. There is a nice playground in the complex and a picnic area just beside Gisoon's home which we also enjoyed. The walk to the beach is short and enjoyable (through the "pine forest", aka short woods walk). The beach area is fairly low-key with a small snack bar -- which was preferable to us over the more touristy areas further north. Gisoon even brought us a locally-made giant rice-cake which we all enjoyed and made the visit that much more special. There is a giant Emart located 2-3 minute drive up the main drag which is handy for getting food++ shopping.
---
Gisoon's apartment was lovely. It is beautifully decorated and meticulously cleaned. The location is nice -- near the beach at a quiet spot between Gyeonpodae and Anmok, and also close to the pine forest walking paths along the shore. Gisoon was always quick to responded to questions before we arrived, provided us with plenty of information about the place when we arrived and accommodated our schedule. Would highly recommend staying here.
---
Awesome place I had a great stay here! The apartment was spacious and comfortable, and very conveniently located. The apartment is well designed and Gisoon was an excellent host - very responsive and welcoming. Definitely living and breathing like a local! I would definitely stay here again.
---
Wow!!! Staying at this place was a amazing airbnb experience in Gangneung. First of all, the location is right in front of the beach and close to Gangneung port, so it was easy to look around many places in Gangneung. Second, the communication with Gisoon to book the listing was very easy. Also, she was very kind during our communication, and helped us a lot to get any tour/restaurant information in Gangneung. Lastly, the house was very big enough, and all facilities were well equipped. If you are looking for good and good listing to stay with your family or friends in Gangneung, I strongly recommend this space to you!!
---
Gangneung-si, South Korea

·

Joined in April 2014
Response rate:
100%
Response time:
within an hour
Exact location information is provided after a booking is confirmed.
Explore other options in and around KR
More places to stay in KR: