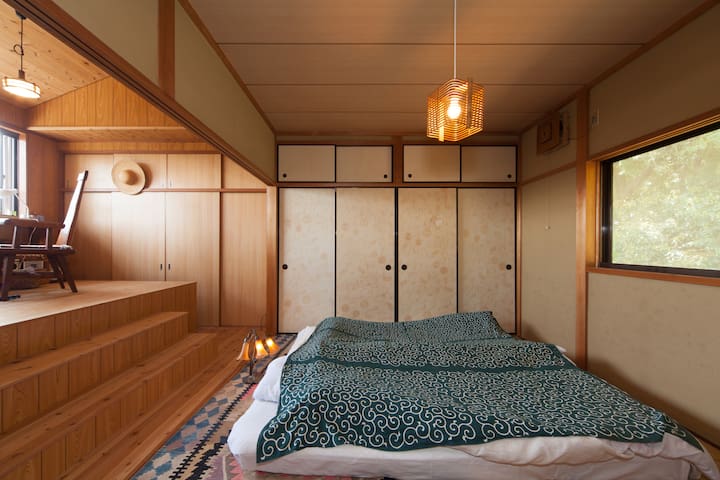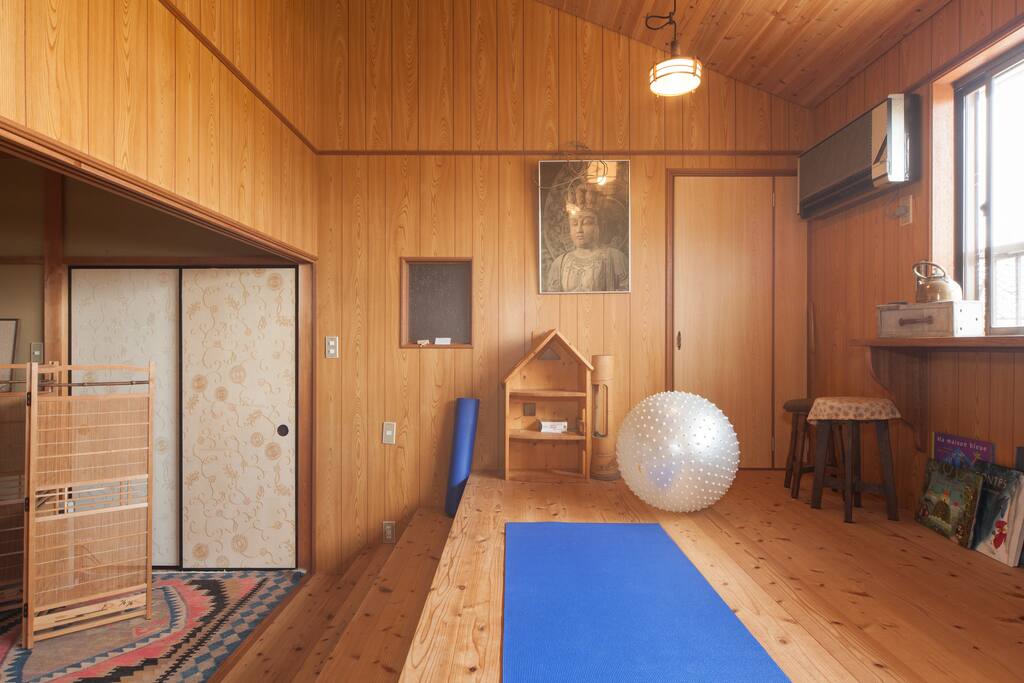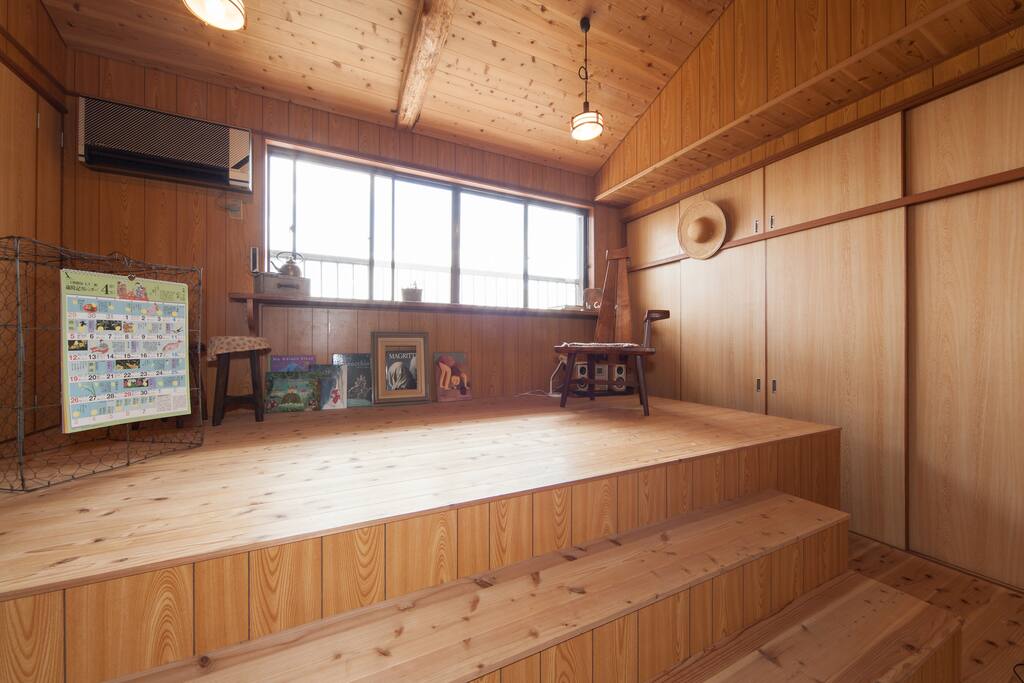 Modern, tranquil, organic-oriented house located at North of Kyoto city. Unlike city center, there are plenty of space that you would feel more comfortable. Entire-house booking is available as well, let me know if you want.
The space
Since located at bottom of Mt. Funaoka, you will feel the fresh mountain wind. If you prefer to live in the house surrounded by nature, this is your house.
---
---
Extra people £42 / night after 2 guests
Always communicate through Airbnb
To protect your payment, never transfer money or communicate outside of the Airbnb website or app.
Learn More
---
Smoking inside our house is prohibited(You can smoke freely in our garden instead!)
---
---
---
Joe was out of town during our stay, but Keiko his mother was a dream! Wonderful lady who showed us around, loaned us bikes and lots of useful tips and local knowledge during our stay. Beautiful house, huge clean and bright tatem room -super comfortable and warm. Keiko cooked us lovely dinners during our stay. We had lovely chats about life and travels, becoming friends and we will be sure to keep in touch and return in the future to visit. Highly recommend a stay here, great location and easy to navigate. Keiko made our stay so memorable, a genuine, warm, interesting and kind person. Be sure to check out the free Geisha dance held in the lobby at the Regency Hyatt hotel held every night at 6pm for free (with free bar of bubbles too!) You don't need to be a hotel guest -great tip from Keiko rather than paying out for a tourist geisha show. We loved Kyoto, amazing gardens and temples, a must stay on any trip to Japan!
---
I had a wonderful time staying at Le Colombier and found Keiko to be a truly delightful and very special lady. I was touched by her warmth, grace and generosity. She is very fun and kind hearted. I didn't meet Joe but he was very prompt at replying to questions and sent a video of directions which made it easy to find the house. The house is traditional with an artistic flair. The room is spacious and I loved the raised platform where I could do my yoga in the morning and then sit admiring the view from the window. I was a bit surprised to be staying in the house on my own at night having booked what I thought was a private room rather than an entire home - I think this could be made clearer in the ad. I borrowed a bike from Keiko and found it very easy to cycle around everywhere and visit some beautiful sites. Some of the best memories of my trip are from my time at Le Colombier - arigato Keiko and Joe!
---
First off, Joe and I never met. He works in Tokyo, so he isn't in Kyoto. But don't let that concern you. Keiko (Joe's mother) really is the very best Airbnb host I have ever had. Keiko speaks reasonable English, certainly enough to get by and this makes all the difference if you are a first time visitor to Kyoto. The accommodation is very traditional Japanese. Wooden, tatami mats and low (isn) ceilings. It's a beautiful house, set right next to a park in the North West of the City. The location (whilst quiet and rural), may not suit everyone though. There is no really close subway or train connection so it's Buses to get to and from most places. Or, as I did, you borrow one of the bikes at Le Columbier and take to the streets of Kyoto. It has to be the easiest and safest place I've ever cycled. I live in London and commute daily to work so I'm used to dealing with traffic and angry drivers. Kyoto is simply a world away from any place I've ever ridden a bike. It has more cyclists than you would think possible. Everyone is courteous, there is this effortless manner where cars, people and bikes just get along. Traffic lights are respected and 99% of people cycle on the pavement. Which are wide enough to accommodate pedestrians and cyclists alike. The reason to go to great lengths with this is due to the location of Le Columbier, it's really near two of the major tourist attractions in the city, so it's ideal in that respect. But it is a little far out and the bus (regular and easy) takes over 30mins from Kyoto Station. North West Kyoto is at the top of a slight hill, so be prepared to get your legs working! Back to place itself. It has all you could need. I found the bed comfy, the place is quiet (given it's location its really just local wildlife you hear) and if you want to escape the buzz of Kyoto, this is the place. What makes it really special is Keiko. She is truly a lovely lady. She knows the best of Kyoto and is generous enough to share her knowledge with her guests. Above and beyond anything I've experienced before. One thing to note, Keiko doesn't actually live at Le Columbier, but about a minute away, so you do have the place to yourself. Whether this is something you want or not, is up to you. It wasn't clear in the listing though and I feel needs mentioning. Joe, was really great with all communication and helped out a lot with recommendations and stuff when I needed him to. A fabulous, local Kyoto experience. ****
---
I can't express enough how impressed we were with the hospitality during our 3 night stay at Le Colombier. From the first day we met Keiko & Joe, they were extremely approachable and Keiko was very generous with her time with us throughout our stay at Kyoto. She's fantastic! a wonderful host! and ensured we settled in quickly. It had only been 3 days, but we won't want to change our memories with Keiko & Kyoto for anything! We felt very fortunate to have experienced living in such a charming house; the furnishing had real traditional character complimented by the beautiful ornaments positioned around the house. If you are looking to stay at place in Kyoto with true authenticity, this is the place for you. The location of the house is around a 15 minute cycle ride to the city center and an even shorter ride to several impressive temples, zen gardens and parks, which is worth exploring. The Funaoka Onsen is a conveniently 5-10 minute walk away and is inexpensive. During our trip we also rented a car and overnight parking was not an issue for us. If we ever go back to Kyoto again; there will be no hesitation staying at the Le Colombier again.
---
We stayed in the house for five days. It was a wonderful and special experience. I have to say that I've never seen a Kyoto like what I saw this time. The house has a very traditional Japanese style and I can feel serenity from the arrangement of the furniture. It's located in a old neighborhood which is really quite at night and the people are real nice. I think it's the place you should stay if you want to see the Kyoto without its layers of materialism and urbanization but its spirit and culture background. It's also convenient to go anywhere. There's also a world famous hot spring nearby. (Where you can enjoy yourself after a long day's travel just near the house) Anyways, I fell in love with the house from the first sight I saw it sitting above the stone steps.
---
Joe and Keiko's house was an absolute joy to stay in and explore Kyoto from. Although it's a little outside the city centre, it's easy to get in by bus, or borrow one of the house bikes. I did this and it was a fantastic way to sightsee! The house is lovely, in a nice quiet neighbourhood (with Kyoto's most famous onsen just round the corner) and there's plenty of space. The best part of my stay, however, was the kindness of my hosts. I didn't meet Joe (he lives down the road) but organising my stay with him over email was super easy. And Keiko is a wonderful lady who really made sure I was comfortable, happy and knew where to go for e best sightseeing. We also had a lot of good chats and I really enjoyed her company over the three days I was in Kyoto. I would thoroughly recommend Joe and Keiko's house to anyone!
---
I spent some lovely days in Kyoto in Joe's house! The room is spacious with a window looking over the city, it was comfortable and clean, you can even do yoga inside! There are two French girls who are very nice and friendly living in the house too. There is a kitchen, a living room inside. The location is not so close to city center and not be so easy to find at first, but it is definitely worth it because it is literately located in a nice park and the neighborhood is quite. The communication with joe was very smooth, the reply is fast, besides Joe is a very responsible, friendly host. I absolutely recommend this place to stay in Kyoto!
---
Hello, I'm Joe. Me and my mom Keiko will host you.

I've lived in...
Vancouver, BC, CAN,
Miami, FL, US,

I've been to...
China, Taiwan, Malaysia, Vietnam, Cambodia, Thailand, India,
France, Belgium, Germany, Netherland, UK,
Portugal, Austria, Swizerland, Cezch Republic,
USA, Canada, Mexico, Cuba, Bahamas,
Brazil, Colombia, Argentina, Chile, Peru, and Bolivia so far.

Never Stop Exploring!

Languages:
English, 日本語
Response rate:
100%
Response time:
within an hour
Explore other options in and around 京都市
More places to stay in 京都市: