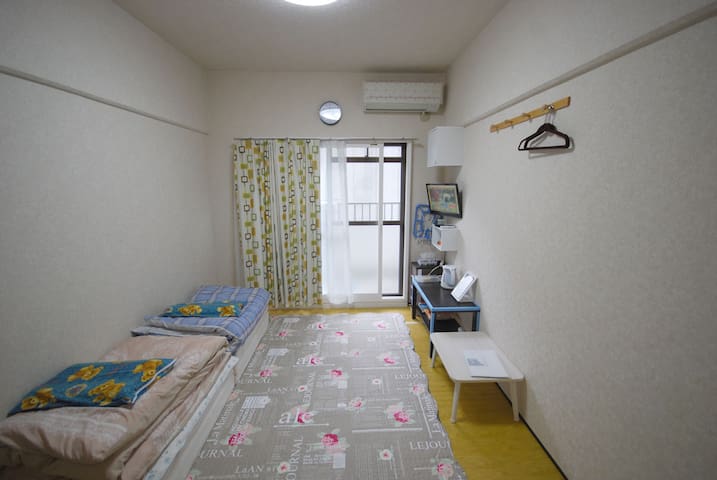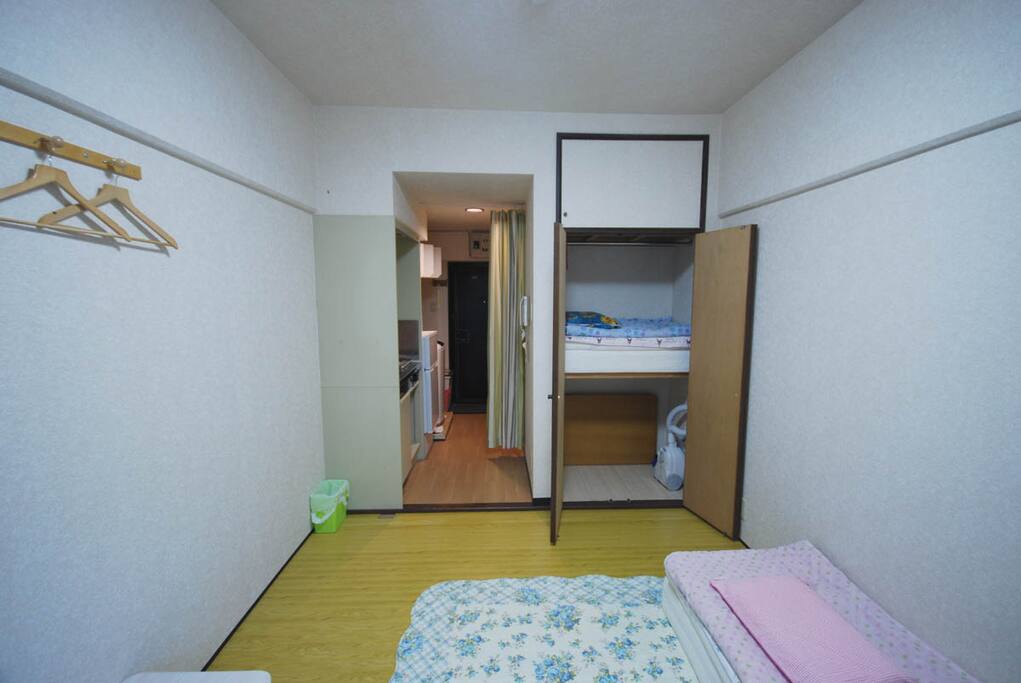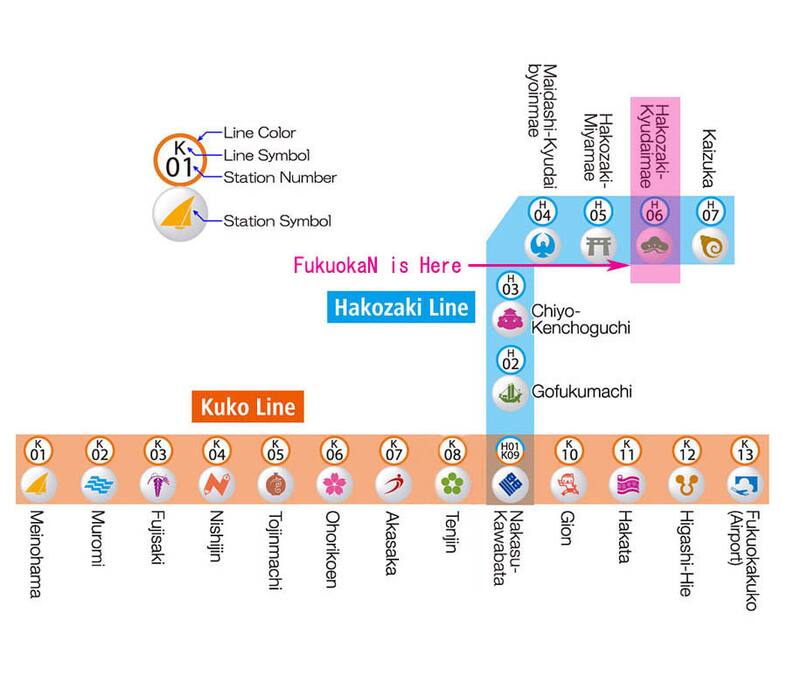 지하철역에서 230미터 17㎡!현지인의 원룸!
3 minutes from Hakozaki Kyudai-mae Station One room! It is a one-room accommodation in Korea which is a residence in Fukuoka. Hakozaki is not as busy as Hakata and Tenjin, but it is a convenient residential area with lots of shopping malls, restaurants, and shopping centers. The condo type is reserved for guests who do not share space with other guests. Kakaato ID ssjeoung LINE ID ssjeoungjp
하코자키 큐다이마에역에서 3분거리 원룸!
후쿠오카 거주 한국 소유의 원룸숙소 입니다.
하코자키는 하카타,텐진처럼 번잡하지 않지만, 마트,식당,쇼핑센터들이 밀집된 살기편리한 주택가 입니다..
콘도타입으로 다른 게스트와 공간을 공유하지 않고 예약한 게스트가 호실을 독점해서 사용합니다.
카카토ㄱ ID ssjeoung
LINE ID ssjeoungjp
The space
3 min. Walk from Subway Hakozaki Kudaimae Station. Bus stop is a 1-2 minute walk .. It is conveniently located within the bounds of the bus and subway daily pass. Hakozaki is a convenient residential area where restaurants and shopping malls are concentrated around Hakata and Tenjin. You can pay to the airport and the pier for a fee. There is no additional charge for children below or below elementary school who do not need to add a quilt. Two bicycles can be rented free of charge. Tenjin, Hakata and Momochi beaches make it easy to get to the places you have not been to by bus. By bicycle, you can go to Tenjin or Hakata in 20 ~ 30 minutes. 4km from Hakata and Tenjin. It is a place where you can experience the life of local Japanese people rather than the center. It is a convenient place for transportation, and the subway and JR stations are close by. The bus stop is located nearer. (This is the location that is included in the bus daily pass section). As a residential area, you can buy groceries and miscellaneous goods cheaply around you. Lumier and Dong Qi-hote general shopping mall Yumetown There are also many restaurants open 24 hours a day. There is also a popular bakery shop called Nagatabun, PAIN STOCK, and Furufuru.
지하철 하코자키큐다이마에 역 도보 3분 거리..
버스정류장 도보 1-2분 거리..
버스와 지하철 일일패스 이용구간 내에 위치하므로 편리합니다.
하코자키는 하카타나 텐진처럼 번잡하지 않고 주변에 레스토랑, 쇼핑몰이 밀집해 있는 살기편리한 주택가 입니다.
공항,부두로 유료송영 가능합니다.
이불을 추가하지 않아도 되는 초등생이하(미취학) 어린이의 추가요금은 없습니다..
자전거를 2대 무료대여 해 드립니다..
텐진, 하카타,모모치해변등 자전거로 다녀보시면 버스등으로 가보지 못했던 곳을 자유롭게 가볼수 있습니다..
참고로 자전거로 텐진이나 하카타까지는 20~30분이면 갈 수 있습니다 ..
번화한 하카타나 텐진에서 4Km정도 떨어진 곳으로
중심가보다는 현지 일본인들의 생활을 체험할 수 있는곳 입니다..
그리고 교통이 편리한 곳으로 지하철과 JR역이 가까이 있습니다.
대변이라 버스정류장은 더욱 가까이 위치하고 있습니다.
(버스일일패스 구간에 포함되는 위치입니다).
주거지역 답게 주변에 저렴하게 식료품과 잡화를 저렴하게 구매할 수 있는
루미에르와 동키호테 종합쇼핑몰인 유메타운
그리고 24시간영업하는 식당 레스토랑들도 많습니다..
현지인들에게 유명한 빵가게인 나가타빵,PAIN STOCK, 후루후루 등도 있습니다..
Guest access
Rooms Room size 17㎡ Toilet and bathroom Folded mats and duvets for 3 servings. Hair dryer Shampoo, conditioner, body soap towel Kitchen Induction cooker Refrigerator microwave Electric port Kitchen knife, cutting board, rubber gloves Tableware, cutlery for 3 servings. TV Washing machine (detergent, bleach, fabric softener) There is no private parking.
숙소
실내크기 17㎡
화장실겸 욕실
접이식 매트와 이불 3인분.
헤어드라이어
샴푸,린스,바디소프
타올
부엌
인덕션조리기
냉장고
전자렌지
전기포트
식칼,도마,고무장갑
식기,수저 3인분.
티비
세탁기(세제,표백제,섬유유연제)
전용주차장은 없습니다
---
---
Extra people £7 / night after 2 guests
Weekend Price £41 / night
Always communicate through Airbnb
To protect your payment, never transfer money or communicate outside of the Airbnb website or app.
Learn more
---
Common spaces
3 floor mattresses
---
Not safe or suitable for children (0-12 years)
Check in is anytime after 3PM
공항에서 숙소까지 오는 길 안내입니다.
(URL HIDDEN)
1.현지인들이 거주하는 일반주택이므로 소란스럽지 않도록 주의!
특히 베란다와 복도에서 정숙!
2.숙소내외 금연!
3.반려동물금지
4.쓰레기는 숙소안에 모아둘것 !
쓰레기는 1.타는 쓰레기 2.금속 (캔) 3. 페트병과 유리병 으로 분리
쓰레기 버리는 날짜가 저애져있으니 버려야 할때는 꼭 호스트에게 연락바랍니다.
5.외출 혹은 체크아웃시 전등과 에어컨의 전원 OFF확인 부탁드립니다.
・No smoking
・No pets allowed
・Shoes off in the house (Japanese style)
・Sort garbarges (burnabele/Non-burnable/glass containers and pet bottles)
・Turn off lights and air conditioner when leving
・Try not to be loud at night
★室内外禁煙です。
★ペットは同伴できません。
★ごみ分別にご協力お願いします。燃える、燃えない、ビンペットボトル
★お出かけの際、エアコン、電灯などの電源オフの確認お願いします。
★周りの住居者に迷惑かかることはご遠慮ください。
---
---
---
---
후쿠오카 하코자키의 콘도타입 숙소 FukuokaN 입니다.
원룸과 투룸을 단독으로 사용하는 타입의 숙소입니다.
하루 한건의 예약만 받으므로 다른사람과 같이 방을 사용하지 않습니다.
구글,에서 Fukuokan검색해서 카페들어오시면
자세한 정보를 보실수 있습니다.
후쿠오카에서 제일 저렴한 슈퍼 루미에르, 돈키호테, 종합쇼핑몰-유메타운..24시간 365일 무휴로 영업하는 식당, 라멘점, 편의점, 잡화점, 슈퍼들이 근처에 많이 있어서
언제든 불편함 없이 이용가능합니다.
하코자키는 역사가 깊은 주택가 입니다.
골목을 걸어다녀보면 100년쯤 되보이는 주택, 5평 크기의 진자같은 것을 볼수 있습니다.
아침에 숙소에서 하코자키궁까지 산책, 하코자키궁 옆의 전통가옥 빵집인 나가타빵 하코자키점에서
빵과 무료로 제공되는 커피를 한잔하고,, 일본식의 고풍스런 주택가를 걸어서 되돌아오는 것도
기억에 남는 일본여행의 한장면이 될것입니다..
문의는 호스트에게 연락하기나
ID ssjeoung ID ssjeoungjp 또는 G메일ID ssjeoungjp로 편하게 연락주시기 바랍니다..
감사합니다.

Response rate:
100%
Response time:
within a few hours
Explore other options in and around Higashi Ward, Fukuoka
More places to stay in Higashi Ward, Fukuoka: