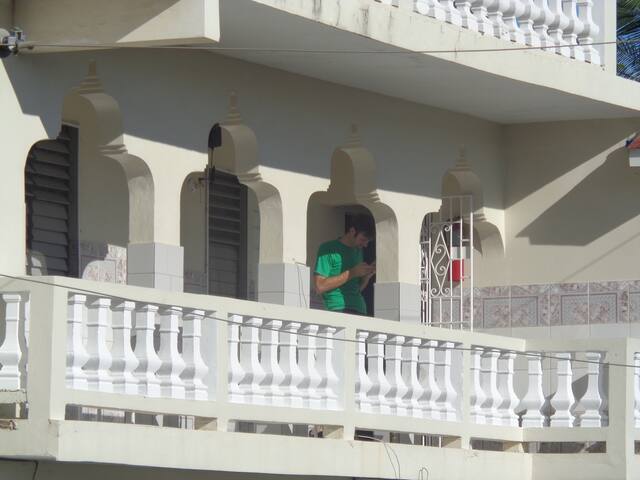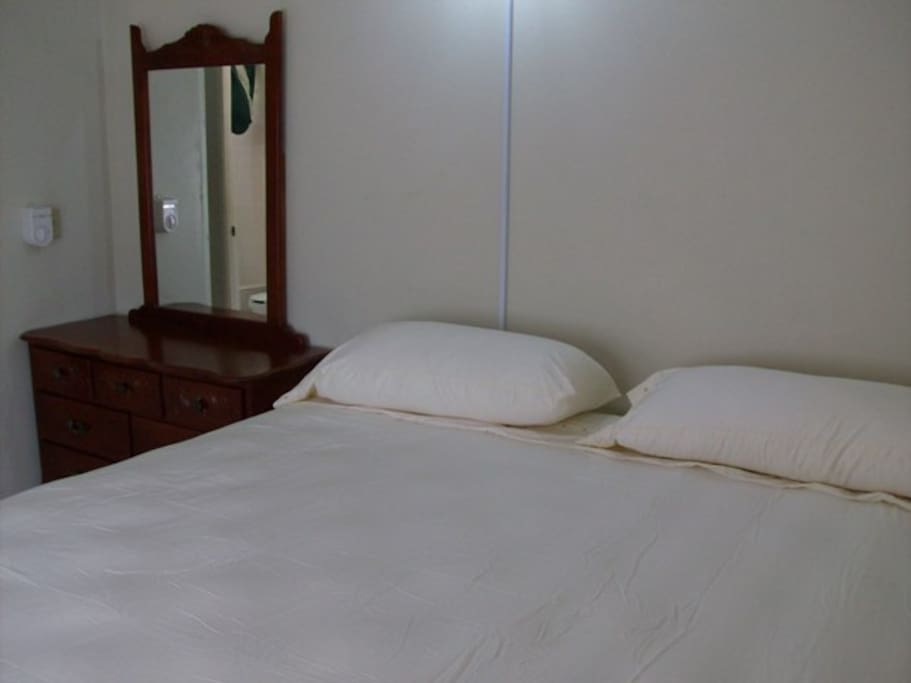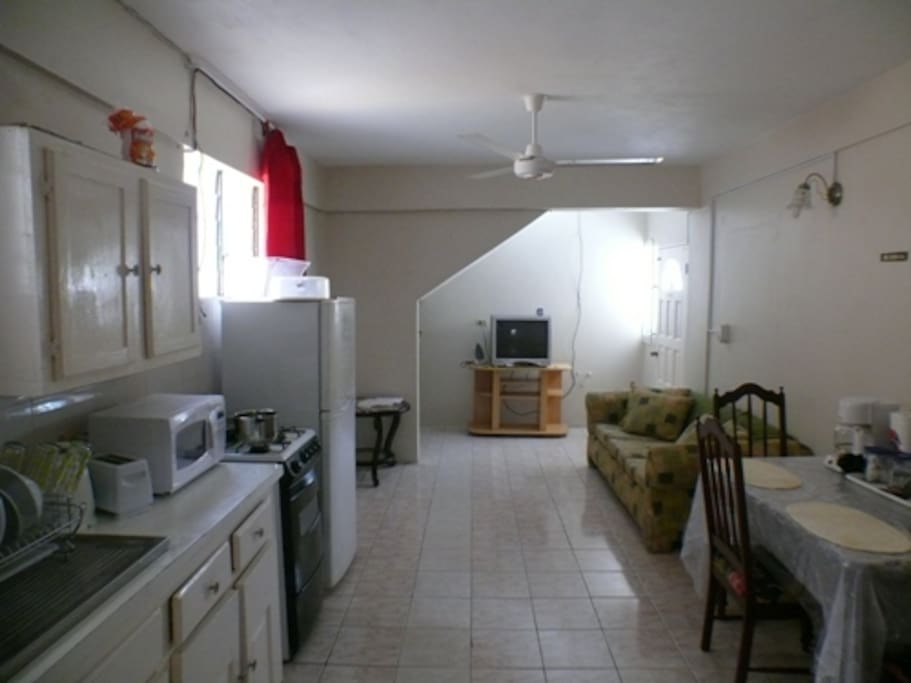 Entire home/flat
2 Guests
1 Bedroom
1 Bed
About this listing
One bedroom Apartment (for 1 or 2 persons). These are one bedroom apartments with, private bathroom, refrigerator, hot water, fully equipped kitchen, dining and living area, cable TV, A/C, all windows are screen for mosquito.
---
Accommodates: 2
Bathrooms: 1
Bed type: Real Bed
Bedrooms: 1
Beds: 1
Check In: Anytime after 1PM
Check Out: 11AM
Room type: Entire home/flat
---
---
---
One bedroom Apartment (for 1 or 2 persons). These are one bedroom apartments with, private bathroom, refrigerator, hot water, fully equipped kitchen, dining and living area, cable TV, A/C, all windows are screen for mosquito.
One bedroom apartment.
Come to Bethel Court and Go diving with Nelson. He will pick you up for free at Bethel Court and take you diving. PADI licensed instructor offering PADI Scuba Diving certification (Open Water Diver, Advanced Open Water Diver, Rescue Diver / Emergency First Response, Dive Master) from Montego Bay, Jamaica.. US$80.00 per dive (Adults/Child).
Experience the real Jamaica. Please take a look at our video.
Steve and Ingrid welcome you to Bethel Court Guesthouse
We offer free pickup from the airport. After booking you will have our contact information. You must contact us to make reservation for free pick-up after booking.
Double Bed Private En-suite for $50.00 USD per night (for 1 or 2 persons) comes with a King-size bed, for a 3rd person, we put in a single bed for an extra $25.00 per night. These are one bedroom apartments with, hot water, fully equipped kitchen, dining and living area, cable TV, air condition, internet access in rooms; all windows are screen for mosquito.
Singles, couples, families and groups of all ages are welcome.
Our units are fully furnished. Room is simple, tastefully decorated for your comfort with access to a sitting area, dining area and a fully equipped kitchen. A warm welcome is assured at your cozy, private, relaxing home away from home. Suite has King size bed or two single beds, and can accommodate additional single beds, If you have 3 or more persons that wants to stay in the same room, please let us know.
We have high speed computer connection, and this is available to our guest in their rooms.
Located at 25 Bethel Court, Mount Salem, Montego Bay, Jamaica. Just 10 minutes walk from the Cornwall Regional Hospital.
Property is situated approximately 15 minutes from the Sangster's International Airport and very close to downtown. A 10 minute drive to the beach makes it perfect for those who wish to enjoy the crystal blue waters of Jamaica for only $0.90 USD by route taxi.
Our property is located in a nice Middle-class neighborhood. We have 52 units on property. 70 percent is monthly rental and 30 percent the guesthouse.
We have security personnel, video surveillance camera, and property is well lit at night to make you feel safe.
At Bethel Court, we go the extra mile to provide a safe and secured environment.
We are located in a safe middle class Community. Our property is lighted with dusk to dawn lamps, and we have motion activated lights in special location for your added safety. All windows are grilled.
On one side we have the monthly rentals; we have a lot of doctors, nurses and other professionals with their families. On the other side we have the guesthouse.

We have picnic tables on property. You can sit and have meals or drinks and get to meet the locals.
Bethel Court Guesthouse
Free WIFI in rooms.
You will also have access to a desk-top computer, if you forget to bring your lap-top.
Video is up and running. Click on Video.
A nice place to meet other young people, to party with and to see the island with.
Guest of all ages, families and groups are also welcome.
We have couples who have one person living over-seas and the significant other living in Jamaica. They visit us at least 3 times for the year; this is their home away from home.
We have seen a lot of our couples get married here at Bethel Court.
It is a place where people of different ages get to meet each other from all over the world. They go to the beach together, go on trips together and party together. After visiting other places around the Island they are happy to return to Bethel Court.
On party nights, Wednesdays through Sundays, our resident tour guide, Richard (21 years old), organizes the party bus which takes our guests to the party spots in Montego Bay for $5.00 USD return. Over all, he is the real party animal, parting till the sun comes up. If you cannot make it all night the bus will take you back early. So come on down to Bethel Court Guesthouse, Montego Bay and enjoy an awesome vacation.
Thursday nights: Ladies night at Margarittaville, ladies get in free.
Friday night: Hot reggae party at Pier 1
Sundays from 12:00 noon to 8:00 PM Beach party at Cornwall beach, all you can drink.
The Seawind club: enjoy pool, bar and beach in a resort type atmosphere. 6 days per week. Close on Wednesdays. We have transportation for $2.00 USD per person, entry fee: $5.00 USD. Most of our ladies and couples enjoy this one, most going almost every day.
Bethel Court is a nice friendly guesthouse with a brilliant atmosphere and generous hospitality. We offer the ideal place to meet new and exciting people with whom you can explore the Island with.
WIFI is up and running! So don't forget to bring your laptops to Bethel Court Guesthouse.

A warm, friendly atmosphere makes every day special.
We get people of all ages come to us from: USA, Germany, Sweden, Netherlands, Australia, France, Norway, Hungary, Canada, Brazil, Belgium, Russia, South Korea, China, Italy, Denmark, Japan and other European countries.
Close to our property we have a fine local restaurant.
They offer tasty Jamaican meals. Ingrid and I normally have lunch there on days we don't have time to cook. Breakfast, lunch and dinner are available from 8:30 AM to 6:00 PM.
Our drivers: Mckenzie, Caswell and Minot. They are ready to take you on tours which are normally a lot cheaper than the regular tour companies.
What to do while you are at Bethel Court:
Did you know that Montego Bay is between Ocho Rios ( Dunns River Falls) and Negril ( Margaritaville seven mile beach and Rick's Café)?
Our guests that come for an average of seven nights are provided private taxi drivers who are normally 50 percent cheaper than most tour companies. During their stay they are taken to the beautiful beaches, shopping, banking and of course going on all these different, adventures tours. You see more of Jamaica staying with us than if you tried to visit other hostels all over the Island.
Some of the places to see:
Bob Marley 9 miles
Dunns River falls
Negril 7 mile beach
Rick's Café, Roaring River
Bird Sanctuary, Black River Safari
Y.S. Falls
Appleton Rum Tour
We have over, '300 Route Taxis', that are available to take you downtown. Normal waiting time for a taxi is less than 5 minutes. The fare from the Guesthouse to downtown is $0.90 USD. Taxis are available 24 hours per day.
If you are traveling from our Bethel Court to other locations in Jamaica, we will assist you, in booking your reservation, and we will also take you to the bus station and make sure you get on the right bus.
We provide tour brochures, and will assist you in making your tour reservation. We are available to take you to and from the different tour locations.
We offer free pickup from the airport.
After booking you will have our contact information. You must contact us to make reservation for free pick-up after booking.
Please email me the following:
1. Your departure location:
2. The name of the airline:
3. The airline flight number:
4. Arrival time into Montego Bay:
5. Number of males(URL HIDDEN) Number of females:
We will be at the airport (Montego Bay, Jamaica) to greet and welcome you, as we do all our guest.
When you exit the Terminal, LOOK TO YOUR RIGHT, walk towards the "TASTEE PATTY HUT".
The driver will have a sign that says Bethel Court.
Towels and sheets are provided for you.
On the first or second day of Arrival, we will give you a tour of the 'Hip-Strip', showing you all the beaches, night clubs, restaurants and souvenir Shops.
We will take you to "The Cambio" to get your money changed into Jamaican Dollars, and to the cell phone store to purchase a Jamaican, 'sim card', for your phone, so you can make calls in Jamaica and to your family and friends at home.
We take you to the Supermarket to purchase grocery for your stay with us.
We provide our guest with a map of the city and we drive you along the taxi route, and show you the different landmarks, so you will become more familiar with the city and the Hip-Strip.
During your stay with us, we are just a phone call away, for any questions you might have. If you should get lost we will come and get you, don't worry it is a small town so you will learn to get around quickly. We will take you around the city until you are comfortable to go it alone.
Some of our reviews:
Bethel Court Guest House is the best place to stay in Montego Bay if you want to see the real Jamaica. Steve organizes the safest and cheapest transportation and guides. Thank you Steve and thanks to Mckenzie, Richard and Nerressa.
I would recommend Bethel Court to everyone, I stayed there with a party of both kids & adults Feb 2010 & had no complaints, Ingrid & Steve are so friendly & helpful, anything you need they assist immediately, 1 of them is always available at any time of day or night. The accommodations are very clean, my bed was amazing. I wanted to take it home with me. Bethel Court has lots of fans & access to hot water!!!! Local taxis are very easy to access, you literally step out your front door into the car, lol.
I can't wait to get back to Bethel Court, I felt safe & welcomed, couldn't ask for more really.
In short, Bethel Court was truly an all-around, phenomenal place to call home for a week. I'm an avid traveler and have stayed at over 30 hostels all over the world. The most important things I seek in a hostel include SAFETY, attentive staff, cleanliness/comfort, good value, and location. The owners of Bethel Court, Ingrid and Steve, are hands-down some of the most amazing, sincere, invested, AVAILABLE, and caring business owners with whom I have ever interacted. The facilities are simple, no-frills, and very clean. Also, Richard, our key to 'real Jamaica,' who also works at Bethel Court, was amazing!!! I'm excited to return!
I stayed with Steve and Ingrid last summer for about 4 days during the annual Reggae Sumfest and was so happy with my stay. I know most that want to be on the main strip may not like where they are. But it is worth staying there. Steve and Ingrid took us in as if we were family. First of all, they picked us up from the airport and brought us to one of their favorite authentic Jamaican restaurants. Then we went back to the room we were staying at. We did not expect to be staying in an apartment at all. It was so nice to have a full kitchen and cable TV. That night they drove us down to the main strip to go listen to some local reggae bands where they stayed and hung out with us.
During the rest of the time, they showed us how to use the public transportation to get to different areas we wanted to visit, how to get to the Reggae Sumfest (when they were not dropping us off), and even lending us chairs to sit out at the concert over the 3 nights. They went above and beyond and they were so affordable. I have talked to many of my friends about the hospitality and convinced them to stay there if and when they visit. Thank you Steve and Ingrid for that lovely time in Jamaica.
As one guest puts it in his review of Bethel Court 'Richard, our key to real Jamaica''. Richard is 21 years old, he is our resident tour guide, and on your first day of arrival he will give you a free tour of Montego Bay and get you use to taking the local route taxi that cost $0.90 United States dollar, to downtown and the beaches.
One of his special tours is to take you through the forest to our local river and back. On the way you can learn about our native fruit trees and plants. Also, many guest have enjoyed his tours to Negril (Margarittaville and Ricks Café), Ocho Rios (Dunns river falls), all costing $5.00 United States Dollar by local bus.
Advise about check in/check out time:
Check in time after 1pm.
Check out time at 11 am.
Pay cash on arrival
Bethel Court Guesthouse is looking forward to welcome you to beautiful, exciting Montego Bay.
Book now and have the vacation of your lifetime.
Directions
-When you come to the airport "Round-about", make right
-Stay left, you will be on Queens drive
-At bottom of hill make Left (you will see Kentucky chicken sign).
-As you Bear left the Library will be on your right
-This will take you through downtown Montego Bay.
-Pass round-about go straight (you are on St. James St.)
-The 2nd traffic light make left turn (You are on Creek St.)
-Stay in the right lane
-Road curves to right.
-You will pass Jarrett park on right
-Make 1st left going uphill (follow sign that says (H) for hospital.(Mount Salem road)
-Go 1.3 kilometer
-You will pass "Cool oasis" gas station on the right
-As you reach the top of the next hill (going down) look straight ahead, you will see a 4 story off-white building with (3) red roofs on top, that's Bethel Court.
- As you down the hill, you will see "Open Bible Church" on right
-Bethel Court is 200 feet on left
-Turn left into complex, 1st bldg on left
-Look for sign that says bell, "RING BELL"
-Please call me when you get on property.
---
---
---
Explore other options in and around Montego Bay
More places to stay in Montego Bay: