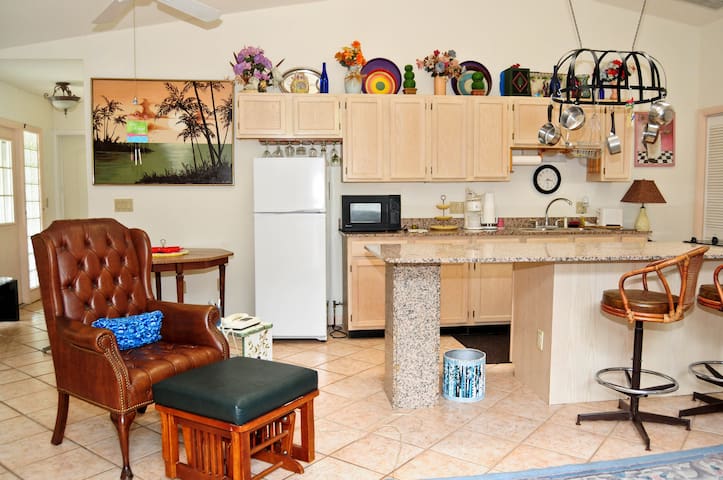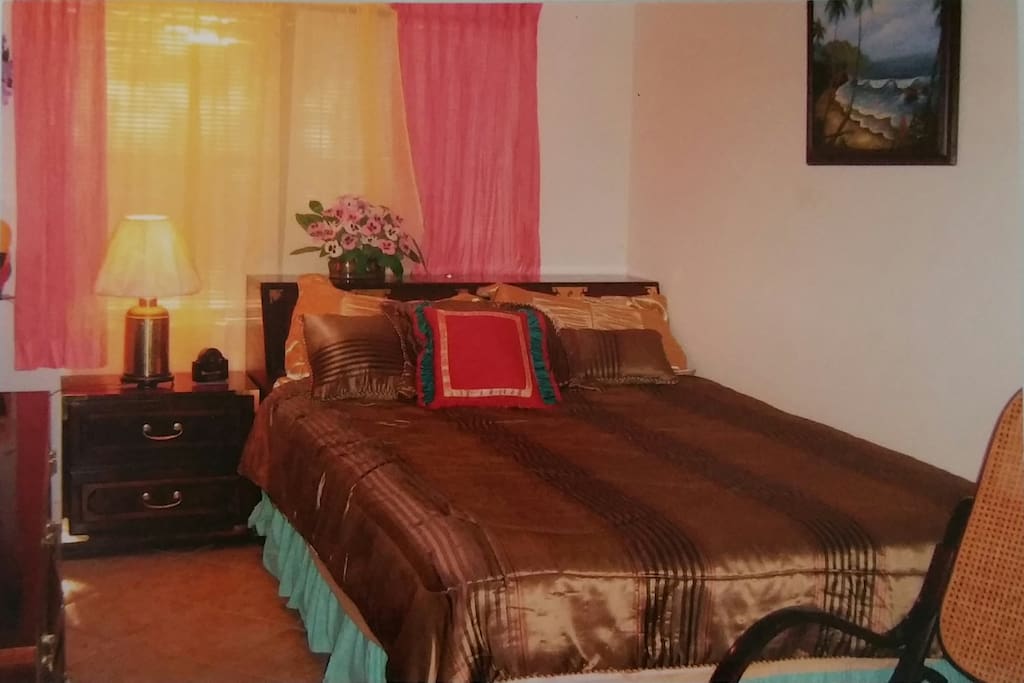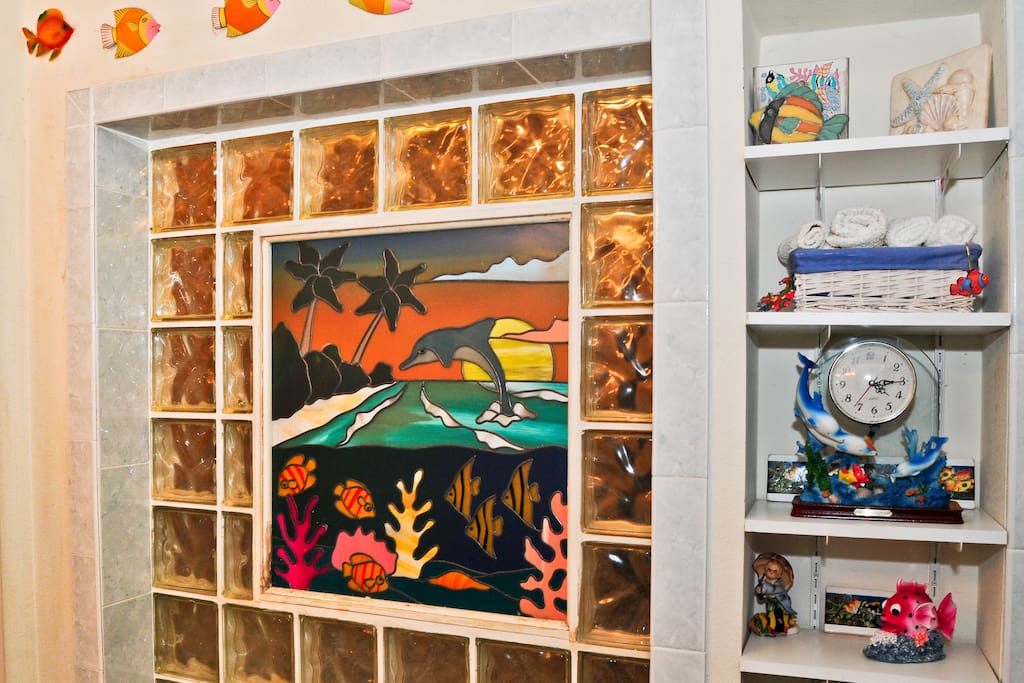 1st class complete 3 room new apt
You will love it here, it's just as comfortable as home, lots of room, a very safe neighborhood, your own kitchen, pool, near everything ( beautiful Clearwater Beach 10 minutes away) no crowds ( a relaxing way to vacation) Stay longer!.
The space
Full kitchen, large living room, beautiful bathroom with tub, bedroom with walk-in closet, and new queen sized bed. Large private deck leading to yard with fruit trees, private access to swimming pool and ping pong table in rec. room. Clearwater Beach is 3 miles away, bus 2 blocks, a large mall is close, Tampa Air Port is 50 minutes, Clearwater St Pet Air port is 20 minutes away a car is necessary, (you have your own parking site). Help with whatever is needed.
You have a real bed, your own entry, and it is safe, & quiet.
Clearwater Beach is 3 miles away (west) Busch Gardens 5 miles (east), Clearwater Mall
is a very short drive away, restaurants all over the place. You will want to visit Tarpon Springs as well. So much to see, so little time!
Guest access
Direct access to parking, pool, deck and backyard. All the fruit you can eat when in season! Oranges, grapefruit, avocado and banana. This is a quiet street with high quality homes, (very safe)
Interaction with guests
It's all up to you! I will be always available, however I also respect your privacy. I've always enjoyed quality time with my sociable guests however I also do not mind respecting your peace and quiet.
Other things to note
Don't forget your bathing suit and suntan lotion! There is central heat and air conditioning.
---
---
Always communicate through Airbnb
To protect your payment, never transfer money or communicate outside of the Airbnb website or app.
Learn More
---
Check in is anytime after 2PM
If you need to be picked up at the airport, there is a $20 charge for each way. Gas is expensive now! Call me when you land, I wait up to 11:00PM EST for late arrivals, then I go to bed. There is a shuttle at the airport.
Tap water is safe to drink and our beach has pure white sand, no stones. I have pictures and a list of what's in the apartment, all in good shape. I assume you will leave it that way. This is considered a very good neighborhood with a creek across the street and a park a block away.
---
---
Unfortunately we were not able to stay at this home because the services were not provided as listed. Eunice seemed like an nice enough woman but she was not able to resolve problems with the internet and cable. She was very upset when we put in a complaint. Since the door to the apartment into her home did not lock on the guest side, my husband stayed up most of the night thinking she might come in. Airbnb gave us credit after one night and suggested a place that was more suited to our situation so we were happy with the rest of our stay in the area.
---
Location: Nice, quiet, and safe neighborhood. However, nothing is near the house closer than 2 miles. Listed it says beach is 3 miles away...more like 6-8 miles away. Having a car or renting an uber is nesecary, possibly having a bike would work. Cleanliness: Not very clean. Very dusty and floors are not best to walk on without shoes. Privacy: This listing should really be a private room. Eunice's room or part of the house she lives in is a door away and she likes to visit/check in about each day. There is no way to lock that door from your side, she can only lock you out. Also the door to the section of where you would stay has basically a jungle you have to get through to get there. Amenities: She said that we could use the wifi, but it was never found or able to use. Also pool was not cleaned or able to use and tv was broken as well.
I can't see how the floors could be dusty since I washed and waxed them before they arrived. I only knocked on their door 2 times to see if they needed anything, I did not enter their quarters. It is listed as the back of my house. All the others who stayed here used their computers. I turned on the TV when they left, it was working fine, and it was too cold to swim in the pool. This unit has a private bedroom, living room, connecting kitchen, and large bathroom, so you can not call it just a room. The nearest shopping area is 3 blocks away I have to have the lock on my side in case of fire or some kind of emergency. (URL HIDDEN)
---
Eunice Was a warm and gracious host. She contacted us prior to our visit to get an estimated time of arrival. I informed her of our arrival time and then took the opportunity to ask her if she had beach towels that we could use, as we were trying to avoid checking a bag. She responded quickly informing us that she would have her best ready for us. When we arrived Eunice gave my wife and I a hug and goody bag with little travel essentials we might need. We sat and had a brief chat after our tour of the rental (which is totally separate from Eunice's home). There is a lovely little pool at your diposal, but to be honest we were in town for a wedding and to escape to the beach, so we didn't use the pool. The home was clean, the shower pressure was very good (always a plus). Our fridge was stocked with some sodas, water and even some beer! (Thank's Eunice!) Clearwater Beach is at most a 15 minute drive away and there are plenty of restaurants to venture to. We splurged on a lavish Sunday brunch and went to Oystercatchers in Tampa (maybe 20 mins from Eunice's home) on our way to the airport. It was the best brunch of my life and highly recommend it, but like I said it's pricey ($50/per person), but it includes mimosas, bloody marys, seafood, omelet bar, a spectacular view with live music to boot (I swear I don't work for them). We had a very pleasant stay. We booked slightly last minute and had trouble finding reasonable rates at hotels on the beach. This rental was fine for us because we were renting a car any way and the beach was still very close, but the parking at the beach can get pricey and difficult to find during peak hours, still it wasn't really that bad. If you can take anything from this review, it's that you will be staying in the home of an extremely warm woman, who wants nothing more than to make your stay pleasant.
---
First off, Eunice was great. Very sweet and hospitable. As far as a property, you can't expect much for a $100/night property. But even at that price it falls short in some areas. The place is not kept overly clean. It's not a sty, but at the same time you can tell that weekly (or monthly) cleaning isn't performed. It's just dusty & musty. Privacy is a bit of an issue as well. You can clearly hear thru to the other side of the access door to Eunice's house, and you can clearly see movement thru the frosted glass in the bathroom (nothing bad, but somewhat off-putting). Additionally, the pool wasn't usable for the whole duration of our stay. It was green and she stated that the pool guy would be there on Wednesday (our last day). All in all, Eunice kindness and personality makes this place worth staying in for the price, but don't think you're getting a steal of a deal, though, as the property is barely worth $100/night.
---
Prior to our visit Eunice was very prompt and friendly in her communication. We were very happy to find a private place with short notice. Eunice clearly takes pride in the hospitality she provides and is well-traveled herself. The house is well-located to get to many attractions around Clearwater and in a beautiful neighborhood. That said, the place itself wasn't quite what we expected based on the pictures and info in the listing. As another reviewer mentioned, Eunice's home is connected by a locked door to this apartment (does not lock from the guest side), so if you're looking for complete privacy (as in a completely separate apartment), this is not that. Noise travels between the two spaces. Also the level of cleanliness was not up to par with what we would have hoped for in a $100/night vacation rental. This could easily be remedied with deeper cleaning and better attention to detail (lots of dust in the apartment, clutter outside and in, mildew on all the chairs on the deck, etc.). Wifi also didn't work in most of the apartment. I always appreciate connection with our AirBnb hosts, but upon arriving we were exhausted and hungry after traveling all day with our two year old. Eunice was indeed friendly, but also insisted that we visit when we arrived. We were a bit bewildered and it added to the stress of our day when we really just needed to settle in and relax. She did also check in with us several times to see if there was anything we needed throughout our stay and we appreciated that.
The large deck was an added bonus, not usually available with other sites. Since my other guest left the same day, with cleaning the apt itself, I didn't have time to do any work on the outside, but it was done before they left. As for the Wifi, so far, all my guests have used their computers here with no complaints . The connecting door cannot lock on both sides, in case of fire I would need to get to the back apt.
---
From Florida, female, a very positive, low key type, is willing to provide help whenever needed to her guest, pickup at the airport at a small gas fee,instruct the best places to shop,see sights, small short trips,and answer questions. I have plenty of magizines and books, ( I read a lot), and a beautiful large private pool ,with plenty of lounge chairs to share only with me. There a large fensed yard full of fruit trees,oranges, grapfruit, mangos,bannas, and lemons, still plenty of room to runaround. Right across the street there is a creek with pretty good fishing. You are 3 minutes from a large mall, about 8 minutes from our world famous Clearwater Beach. I have traveled with airbnb, and timeshares, and friendship force, so I have many stories to tell, especially about India and China. I enjoy traveling. people, books, crafts, and business. I would like to go back to Yellowstone Park area again. Boy, do I love Airbnb, I get to make new friends, they are soo good to me, I meet so many interesting people
So far, I have seen most of the world, including China an Africa and I try to stay current on world affairs.
Explore other options in and around Clearwater
More places to stay in Clearwater: