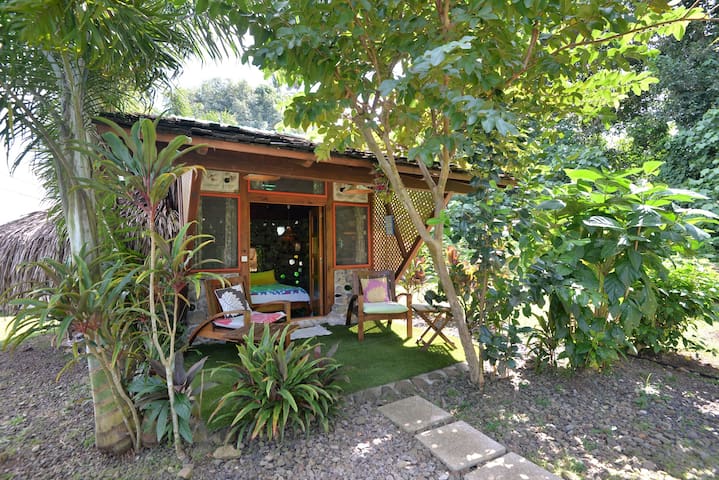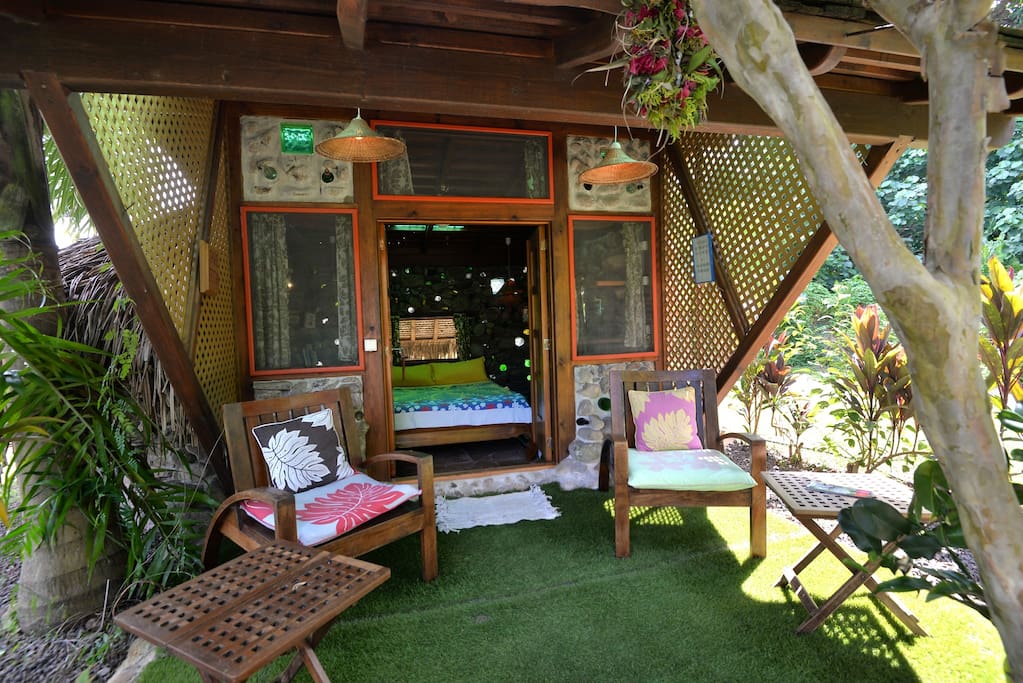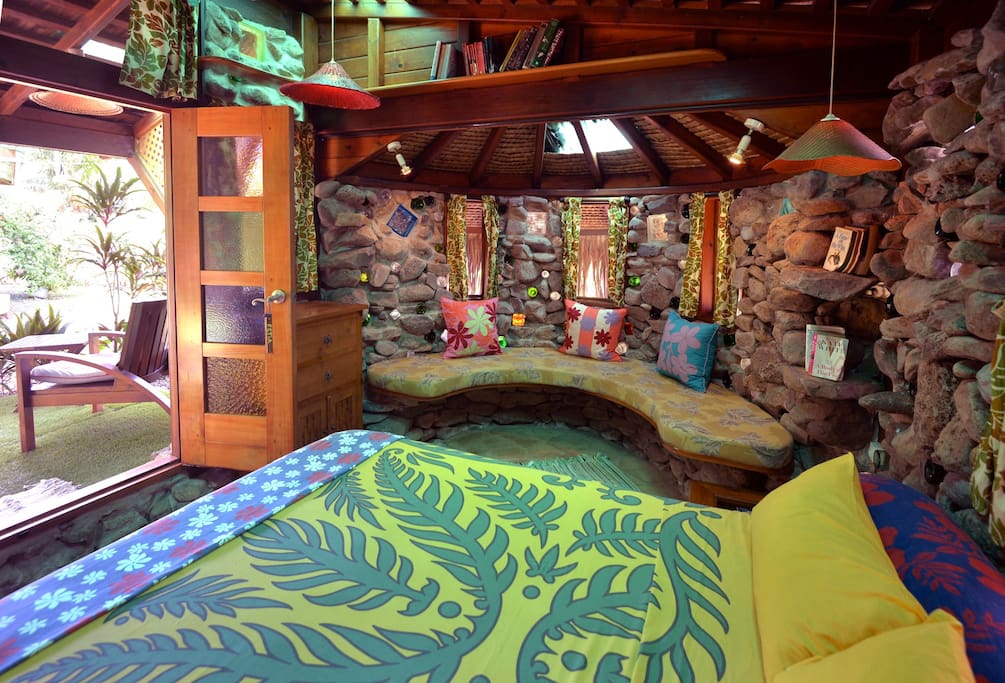 If you're looking for comfort quality a quit place then you're at the right place
We have three stores a snack a fish market two roulots and a pizzeria very close to us
We have bikes cars scooters kayaks and stand up paddles for transport
All bun
The space
This unique split bungalow is a beautiful to spend your time on the island of Moorea. The bedroom is set up separately from the kitchen/bathroom and you truly feel like you are in paradise. The bungalow is fully mosquito screened in bedroom with and a ceiling fan. There is also a little patio to sit outside and a reading area inside for pleasure reading. 15 feet away is the full kitchen and bathroom with everything you need for one night or an extended stay. This bungalow also offers a private outside shower for your use or an enclosed one if you don't. This bungalow is perfect for couples and you will be make memories to last a lifetime.
This beautiful space has everything you need to enjoy your time on the island. It is its own separate bungalow complete with a walk in shower and outside patio to have dinner. There is a large couch for the siting area as well as a complete kitchen with stove, refrigerator, pots, pans, and dishes. Once you arrive you will have everything you need from a sitting area outside to a beautiful reading area in your bedroom. There is plenty of organizational space to move in and stay for extended periods of time.
All windows are fully screened there are buses that tour the island
There are two stores within a 5 mi nit walk from marks place
Pineapple beach is a five mi nit drive with a free shuttle from marks place
There is a small restaurant also with in a 5 mi nit walk from marks place it's called a Rouault
In front of marks place there is the world fames pas of Haapiti where there are perfect waves over 300 days of the year
Mark has bikes cars scooters and kayaks for transportation
Mark has over 30 different activities to commend that are free he also can organize circle island tours safari tours lagoon tours whale and dolphin watching tours motu tour and picnic and snorkeling tours
mark is just next to the three coconut tree pass walk from the top of the island you can see the lagoon on both sides of the island at the same time the hole inter era of the island and both bays at the same time mark has an internet center and wife internet
the only thing you need at marks place is your close and food everything else in included in the bungalow we clean the bungalows every day and every three days we change all linen and towels marks garden is a surfs of 6000 sq. meters of very beautiful cut grass and exotic local plants and tress each bungalow has its own privet garden with a barbecue of its own
Guest access
to all of the village ...
Interaction with guests
If you're looking for comfort quality a quit place then you're at the right place
We have three stores a snack a fish market two roulots and a pizzeria very close to us
We have bikes cars scooters kayaks and stand up paddles for transport
All bungalows are screened the kitchens are complete hot water showers wifi internet
In front of us is the world class surf spot of haapiti it has perfect waves over 300 days of the year
To get to the pass we have kayaks it takes about ten to fifteen minutes to get there and then your wormed up to surf
You can borrow one of my personal GoPro For free (3+black) and film some awesome shots if you don't have one
---
---
Check in is anytime after 12PM (noon)
as nice as possible .....
You must also acknowledge
Dog(s) and cat(s) live in the house
---
We really enjoyed our stay at Mark's Place. The bungalows are all unique and beautiful. We stayed in Fare Miti and it was amazing. It had everything you needed to cook basic meals during your stay. Mark's Place has beautiful, quiet gardens for you to enjoy, and is very close to small shops. Mark was very easy going and gave us a lift to the ferry point no problem. He even gave us a shell necklace, which was a lovely touch. Overall, we had an amazing stay at Mark's place, and wouldn't hesitate in staying again if we were to return to Moorea.
poppy was a great client full of life happiness and a great world traveler it was a real pleasure having the two of them at marksplacemoorea we at marksplacemoorea wish poppy a great continuation on a world trip we hope to have the chance to cross paths again one day thanks heimanarii and mark......
---
Great private space. Super clean. Myna was very charming, graceful and helpful. Mark did a great job of building this eclectic lodging. Loved the outdoor shower space. Would be a nice romantic get away for couple. In a quiet residential part of the island. More local than commercially overdone tourist experience. Will need a scooter/car to get to sunbathing beaches from this location, but great lagoon access for surfing and kayaking. Loved chilling with the cats and dogs at night. Two markets relatively close. Well stocked market run by French couple about 20 minute walk or 10 minute bike ride. Gorgeous church within walking distance. Transfer to/from ferry for 2500fp or can take bus from ferry for 300 (buses meet each ferry). Bikes and kayaks were always available for 1000 per day. Scooters can be delivered to this location for 5000 per day. Mark is well know on the island and can inform you of good/reputable tours. Trust his information.
---
My partner and I both loved Mark's excellent split bungalow. It is "split", incidentally, because the sleeping hut is a short 15 feet across from the kitchen, which is open. The area is surrounded by trees and bushes, so the privacy is good. We enjoyed the little Disney-style rock house. Bottles are inset into the walls for a beautiful light effect in the morning sunshine. Overall, the living area is neat and clean. The cleaner who visited us every day kept it immaculate. Mark, who has lived on Moorea for more than 30 years, knows all of the Polynesian islands. He is well-connected and eager to help you find your dream experience. He's a great guy who enjoys swapping good stories. I feel comfortable saying that this was one of our very best memories of Polynesia.
---
My stay was all about time out and rest without wanting to do much at all. Mark's Place was a good option on Moorea for this. Mark was very welcoming and friendly. The bungalow was very clean and funky and the outdoor shower was a plus! Good price point. However, if you are looking at staying here bear in mind that it is in a very quiet corner of the island so if you want to eat out, visit the more swimmable beaches and the island's main attractions you will need transport. The local store is very limited. You also need to be prepared for lots of mosquitoes (day and night) as well as a large and very noisy group of chickens and roosters next door - ear plugs essential for sleeping!
---
This place is fantastic! Beautiful property very comfortable and private. If you are a surfer this is the closest spot you can get to the break! There is a store and a pizza place a quick bike ride away. Mark is a fantastic host! He gave us so many awesome recommendations and we had an epic vacation!
---
Moorea is described as the magical island, and I certainly agree! Mark and his wonderful property certainly adds to this reputation! My wife and I arrived in the afternoon and were welcomed with a warm smile and a bunch of bananas. We were given a tour of the property and the bungalow where we were staying. Mark built the many buildings on the property with love and care, and our bungalow was no exception. We had everything we needed, and it was a fun place to stay. The dogs and cats were an added bonus, as they were friendly but not intrusive. You could tell that every inch of the place was built around love, and Mark embodies everything that makes Moorea so great. If you're into surfing, the break is out front, but the weather was quite windy so we didn't get a chance to head out. It's good to have a car or scooter too, as Moorea has a lot to offer, especially on the northern part of the island. I would highly recommend Mark's Place to anyone. A true gem.
---
If you will it dude... It is no dream.
Languages:
English, Français
Response rate:
100%
Response time:
within an hour
Explore other options in and around Haapiti
More places to stay in Haapiti: